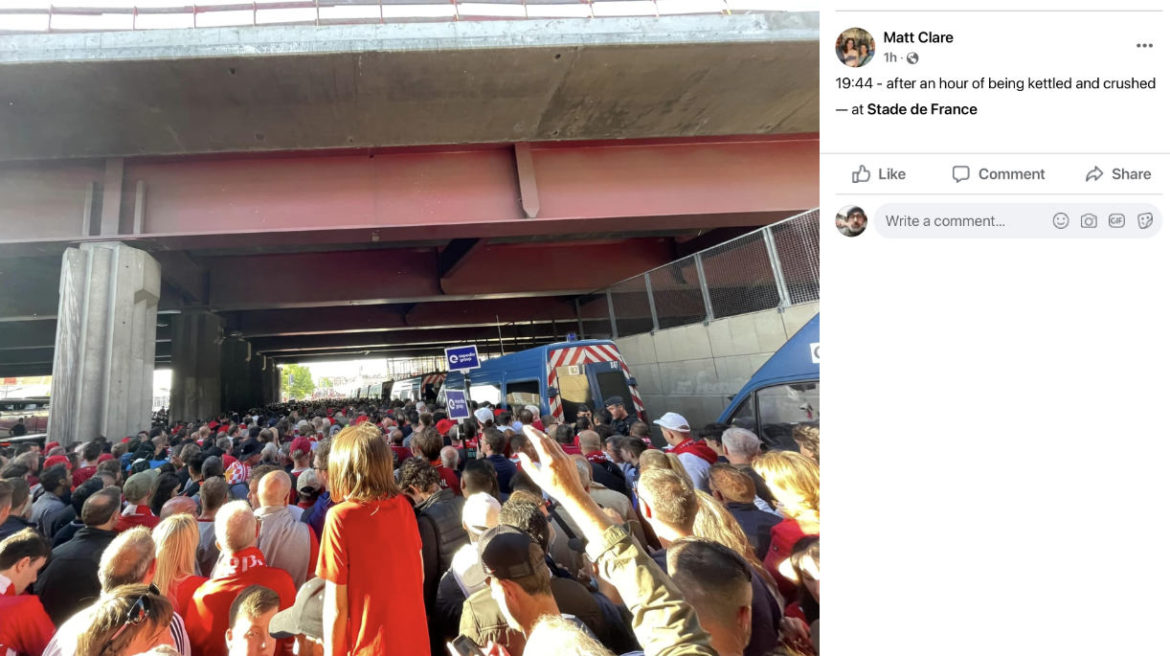 I've been going to Liverpool games with Matt since we met in 1997, by which point I'd been going with another now mutual friend Adie for a few years. He paid to fly me to Istanbul and got me a ticket when I had no job and no income, and barely the health to get there and back. I've been to hundreds of games with him.  
Matt took to Facebook this morning to share his story, albeit I'd asked him to write about the final for my new book, with his teenage son Henry accompanying him. Instead, he wanted to share his experience quickly, due to the outrageous treatment received.
1h Shared with Public
I don't post on Facebook much, but I have to after last night. 
Please don't just accept the UEFA narrative that it was just "Liverpool FC fans again". It wasn't. I was there. 
The treatment dished out to us tonight by the French Police and UEFA.com was an utter disgrace. We were kettled several times, crushed, tear gassed, pepper sprayed and had dogs snapping at us.
To give some context, I'm 52 and can't abide violence. I had my 17 year old son with me. I'm a Liverpool season ticket holder, Secretary of a large Community Youth Football Club and Director of a County Football Association.
I was at Istanbul in 2005 (no trouble but also no roads to the stadium), Athens in 2007 (shambles), Kyiv in 2018 (brilliant venue and city) and Madrid in 2019 (no ticket for that one so watched it in a bar in the city). 
Last night, We were tear-gassed just for standing in a queue for a turnstile which we'd been stuck in for 90 minutes because they closed the gates. 
And apparently we're to blame for arriving late. We arrived over two hours before the scheduled kickoff time and got in at 9:32.
The day started well, and the atmosphere in the (brilliant) The Anfield Wrap fan park was electric. It finished at 17:30 and we walked to Gare du Nord to get the RER D line to Stade de France. 
We arrived at the RER station for the stadium at 18:48 – some 2 hrs 12 minutes before the kickoff time. We wanted to get in early. The problems started there. 
I've read that "too many Liverpool fans went to the same single entrance". Well, there wasn't another option. The few Police there directed us that way. We didn't have a choice. 
Sati Yogi was already in by this point and warned us it was getting problematical at the stadium. We had no idea what was in store. 
Me, Henry and Stephen Foxwell joined a growing band of LFC supporters (and a few Madrid) following a winding route which seemed to get narrower and narrower. Along the way, Police vans occasionally reduced the width to just a couple of people at a time. 
At this point I should stress that of our group of seven people, six of us had legitimate tickets. The seventh stayed in a bar in Paris to watch. Our tickets were from a mixture of LFC ballot for season ticket holders, UEFA ballot and a couple from a friend who couldn't go. 
By 19:44 – still 76 mins before kickoff but an hour after arriving at the station (we had been funnelled by riot vans into a narrow crush beneath an underpass and it took over an hour to get through this) we reached a "ticket check" line. But, moments before we eventually got to the line, they withdrew the stewards and police, effectively abandoning the ticket check outside the stadium perimeter. The result was a stampede. Mixed into this group were people without tickets (yes, some LFC fans) including hundreds of local youths. 
We went straight to gate B – as per our tickets. I'd kept ours tucked away in a travel pouch and Steve had his in his shoe. We've seen tickets snatched at the turnstile before. I saw this happen yesterday too. 
At 21.00 – the scheduled kickoff time – we were still in the queue for Gate B, which is one of about 20 entrances. It was the same at all the others. They had closed the gates and nobody got through for over an hour (we joined this queue about 19:50).
We saw a growing band of locals hovering around the edge of the queue. Remember that the first line of ticket check, designed presumably to keep ticketless people away from the stadium concourse, had been abandoned. They didn't have tickets and we saw around 10 of them scale a fence and get in. This is the image you'll see on Sky/BBC: it happened once, at Gate B, right in front of us. It wasn't Liverpool fans. 
We didn't see any stewards or police in this area at all. The Riot Police arrived only after the youths had scaled the fence. They deployed tear gas (it may have been pepper spray) and everyone in the queue got a dose. There were families – young children – and elderly. There was nowhere to escape it – we were penned in by a wall and fence on one side and a security barrier on the other. 
The tear gas was horrific. I've never experienced it before. I have to admit, I was terrified but I could tell Henry was also scared and I wanted to try and keep him both calm and safe. We stayed put, covered our mouths as best we could, with our eyes streaming and chests tightened. 
The kickoff was delayed. We found out by people inside texting us, as there were no announcements outside at all. The stewards eventually opened Gate B at 21:08 and we somehow got through and in. We got to our seat at 21:28.
I'm not posting about the match – suffice to say, it was disappointing – but the support given to our incredible team was exemplary and they deserve it. 
Shortly before full time, lines of riot police assembled in the stadium in front of us, shields up and batons drawn. There were none in front of the Madrid fans. There'd been no incident during the match itself (most of us were in a stunned haze) so why was this necessary?
After the final whistle (fair play Madrid – took their one big chance and we didn't) we stayed to show our appreciation to the Liverpool players. I couldn't bear to see Madrid lift the trophy so we left after about 10 minutes. And it started all over again. 
Heading towards a Metro station this time, we were funnelled under an underpass by riot police all tooled-up and with vans parked so as to create a tiny gap for thousands of fans to pass through. The tear gas was used once again and we saw people in real difficulty. 
We also saw a gang of local youths hanging around and saw someone who'd been attacked by them. The Police stood by and watched, and offered him no help. 
We gave up on the Metro and instead walked slowly back to our Hotel which was thankfully only about 3 miles from the stadium. 
Will anything happen? I fully expect the story that Liverpool fans arrived late, were drunk, were violent, and were ticketless, to stick. We've been here before, haven't we?
Finding it impossible to get in the ground. This appears to be very dangerous. Absolute carnage.

— Gary Lineker 💙💛 (@GaryLineker) May 28, 2022
I'm not sure it's possible to have a more poorly organised event if you tried. Absolutely shambolic and dangerous. @UEFAcom

— Gary Lineker 💙💛 (@GaryLineker) May 28, 2022
Gary Lineker was outside the stadium and walked through our queue with other media and dignitaries and tweeted his view on things. But "fans of other clubs" will no doubt revel in another negative Liverpool story.
I was there. I know the truth.
***
In addition, a TTT subscriber had a similar experience:
Stevenson1988
The club might want to ask questions about afterwards as well. The police blocked off the route to the Metro, then unblocked it but fucked off and we had to run the gauntlet of gangs of youths looking for trouble. It kicked off in front of us and I saw one little shit reaching for a knife. I'm 6ft and 14st of ex-rugby player, but I'm also 65 and had my wife with me. Probably never felt more intimidated in my life. Safely back at the hotel, but it left a bit of a bitter taste on top of the disappointment. 
Other Reporting
Further stories of the truth to be added here, on a day when UEFA tarnished the reputation of Liverpool fans once more.
It's important to tell what happened on the ground last night as I see that there are already several versions of 'The Truth' flying around. I was on the ground from 6.45pm (2.15 hrs before kick off) when problems began. So here's a 🧵explaining my experiences….

— Rob Draper (@draper_rob) May 29, 2022
The real story of the UEFA Champions League final carnage Liverpool fans faced in Paris