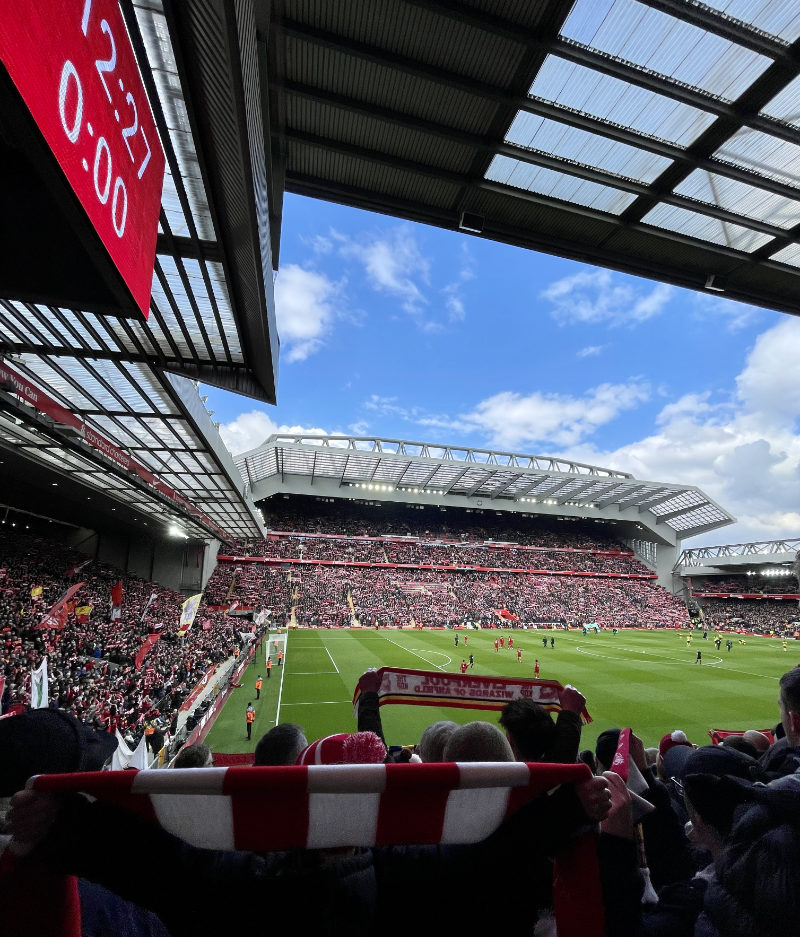 While I only get to a few matches per season these days, memories were stirred of being at Anfield in a March blizzard to see Mo Salah score four goals against Watford; of course, four years ago, Salah hadn't just come back from 120 midweek minutes in Africa, as, yesterday, sleet fell on our walk to the ground, one day after genuine April snowfall. (Prince will always spring to mind.) 
Sadly, but not unsurprisingly, Salah looked knackered, after playing more football in 2022 than some players manage in a season. Still, the Reds prevailed, and briefly went to the top of the league, having been 14 points behind Man City not so long ago.
Incredibly, Liverpool – sorry, LiVARpool – won just their third VAR penalty in the Premier League since 2019, and I was there to see it – having made the point for years now about how refs stopped giving penalties at the Kop end several seasons ago (and this time it was the VAR who gave the call; but not only that, not one of the usual cabal of referees who act like they're blind when placed in front of the bank of video screens to judge their pals and find them to be correct at a freakish frequency). 
Salah, whose averaging of the award of a free-kick every 100-120 minutes in the past few seasons (a ludicrous lack of protection when many other attacking players with less ability are awarded 5x as many fouls in their favour) was something I highlighted and Jürgen Klopp mentioned in a press conference recently, won two in the first half alone, and almost got a third but for the "play on" wave by the referee; normally he gets, on average, less than one per game. Highlighting these things shows how refs do not go on what they see but what they think they should be giving. (Even so, two free-kicks per game is still middling territory for a world-class attacker who is actually fouled at least five times most matches.)
I also got to see Roy Hodgson lose another game of football. I had hoped he would be gone for good last summer, but seeing his miserable face in the Anfield dugout brought with it some terrifying flashbacks. He was unhappy about a penalty where one of his players brought WWE tactics into set-piece marking. Roy never could quite see reality, especially when stood inside Anfield.
Again, I assumed VAR, when introduced, would be used to spot these; not little blockings off, as happens, but these overt wrestling-mixed-with-rugby tackles. Even then, Hodgson was unhappy, and the Athletic's Watford correspondent wrote an article about how it was all Jota's fault. 
As I often note, even when Liverpool get stonewall penalties there is controversy, often by people who are so biased against the Reds (or for their own club) that they cannot see the facts and the data and the clear reality. They go on the outdated notion that Liverpool win too many penalties at Anfield, at the Kop end, and no, via VAR. The facts do not back up what happens now; old prejudices remain. 
Too Early
Eurgh, the early kickoff, travelling from the midlands.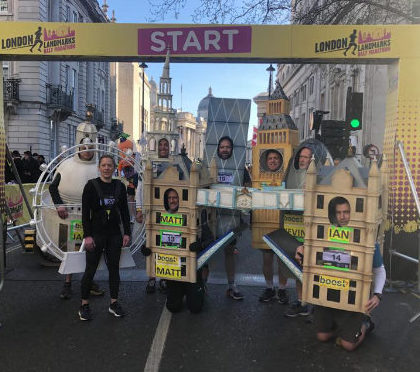 Matt, one of two friends to give me a lift to the game for many years now, spent either side of Saturday dressed as part of the Tower of London, running with Vassos Alexander in the London Landmarks half marathon, after appearing on Chris Evans' radio show this week. 
My own preparation – going to a match these days is an increasingly arduous task with my health, and I'm not getting any younger (obviously) – involved a hectic few weeks, with all kinds of personal situations to deal with (often out of the blue), but none of which thankfully involved donning foam shaped like the Shard or the Gherkin and running 13 miles. 
(That said, writing my new Liverpool book is being made all the more complicated and demanding by the Reds being so damned good. Big things often start to happen when I decide halfway through the season to write a Liverpool book, even if the season is derailing at the time I start pounding the keyboard.)
As he has since the mid-'90s, Adie joined us on the trip; we all met in Leicester from our now widely-spread lives, to head north-west. 
It was in Adie's Smart Car that, back in 2018/19 (which with the fog of Covid feels like only two years ago), when not fortunate enough to be in Matt's comfortable car, we raced to five or six games in the run-in, neck-and-neck with Man City; and to see the victory over Wolves at Anfield on the final day of the season, the ninth straight league win. (The Reds are currently on 10 straight league wins.) 
It was after that Wolves game (the title lost 98 points to 97), having dropped me back at Leicester, that the Smart, having been asked to regularly brave motorways, caught fire; and by the time Adie was parked on the hard shoulder and at a safe distance, had fully combusted. Its blackened shell was later towed away.
The title dream was over (along with a car made in that wonderful year, 2005), but of course, there was still the Champions League that season, and the league title the season after. This season there's the chance of all four major trophies.
But to me, the quadruple doesn't matter. It's nigh-on impossible, and when you fall short in the utter chaos of massive games every three days – where you can narrowly slip-up and drop out of three competitions in a week – people will only say "Ha, you fucked it up, Loserpool!" To me, the quadruple is what I drink to get to sleep on the night before a game.
At this point, Liverpool have "only" the League Cup, but the chance for three other trophies; either the league or the Champions League would make this a phenomenal season. It doesn't need all the others. Anything beyond that is best left for dreaming, to be considered only once it's down to just a couple of games. 
But even landing the League Cup is nowhere near as impressive as a 10-game wining run in the League. The latter is far more difficult, and possibly more rare. Certainly no average side has won ten top-flight games in a row (conceding only two goals, scoring twenty-five), but some pretty average sides have had favourable cup runs and landed a minor trophy. 
Of course, I thought the title was "over" in early January, as I publicly stated. Sometimes it's nice to be wrong. A lot has changed since January, as I will cover in the rest of this piece, as well as looking into aspects of the game itself.
The majority of this article is for subscribers only. See details below on how to sign up for £5 a month.
[ttt-subscribe-article]