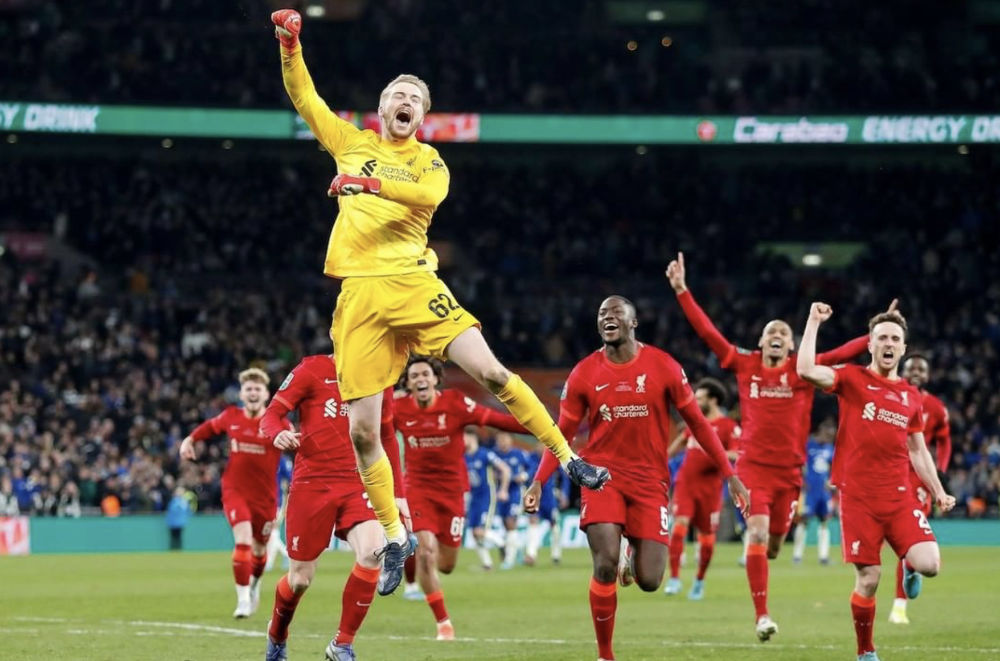 I'm not much of a fan of the League Cup, but winning trophies against big rivals, on penalties, feels special; all the more so given that Liverpool had a perfectly fine goal chalked off in normal time, against a team who brought on about £400m of subs financed by an oligarch on the run.
It was a brilliant game (credit to both teams and their managers), albeit one the VAR sought to steal from the Reds; a bit like the title last night, with the utter nonsense in not giving Rodri virtually punching the ball as a penalty. This is what football gets when mixing with oil money. As some neutrals observed, it felt like the VAR was looking to find a reason to chalk off a goal that would be given almost every single other time. (What happened at Goodison last night needs a lot more explaining.)
Football (and life) has been strange these past two years, but it got stranger still, to be playing a game – days after the ending of the UK's Covid restrictions, pandemic finally in retreat – against a club whose owner gained his obscene wealth via the very Russian despot who had just taken it upon himself to attack the Ukraine, and get his nuclear arsenal on standby. But football carries on, until it reaches the stadium door.
Chelsea's mega-expensive keeper was introduced in the 119th minute to face the penalties, got near none of them, acted like a prize idiot, then blasted the deciding spot-kick over the bar and straight towards Liverpool; while the Reds' Cork kid keeper scored the winner. Pure poetry.
The majority of this article is for subscribers only. See details below for how to sign up for £5 a month.
[ttt-subscribe-article]