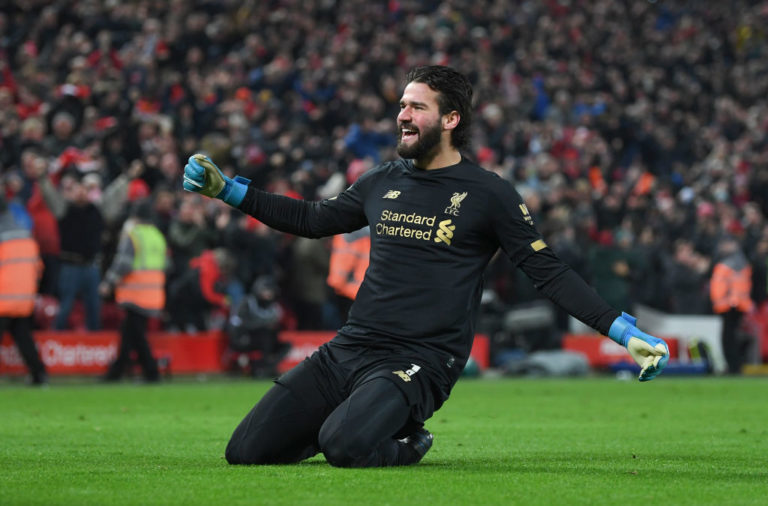 With all the attacking power Liverpool have at their disposal, scoring goals has rarely been a problem for them. However, to win titles and leagues, the back door must be locked too. Since arriving from Roma in 2018, Alisson has been helping to ensure just that.
The Brazil international has solved a lingering goalkeeping issue at the club. In terms of attributes, he is an all-round keeper who is good at almost everything – shot stopping, being dominant in set-pieces, good on the ball, excellent in 1-v-1 situations and comfortable to come out off his line to make sweeping clearances.
During his playing time at Anfield, Liverpool are averaging 2.31 points per game in the league, to date. If we cumulate that to a 38-game season, it comes out as 87.5 points (round off to 88). Prospects of the average touching 2.4 and subsequently the cumulated points tally going past 90 is there, owing to a possibility that the Reds may finish this league season strongly.
For context, Liverpool were a 2-points per game team in the two full league seasons under Jürgen Klopp before Alisson arrived. It has gone up by 0.31 in the last three-and-a-half seasons. Sure a certain "Virgil van Dijk" effect has to be considered as well, but Alisson's contributions in how the Reds play from the back and their confidence in a goalkeeper while playing such a high line is an underrated trait. Small goalkeeping errors that lead to concession of goals or chances have been cut down to a large extent. These little things make such a huge difference in how a team's defensive line is set up and how they can rely on their goalkeeper to do the things in the right manner for them to win the game at the other end.
This article is for TTT Subscribers only. Sign up for £5 a month.
[ttt-subscribe-article]