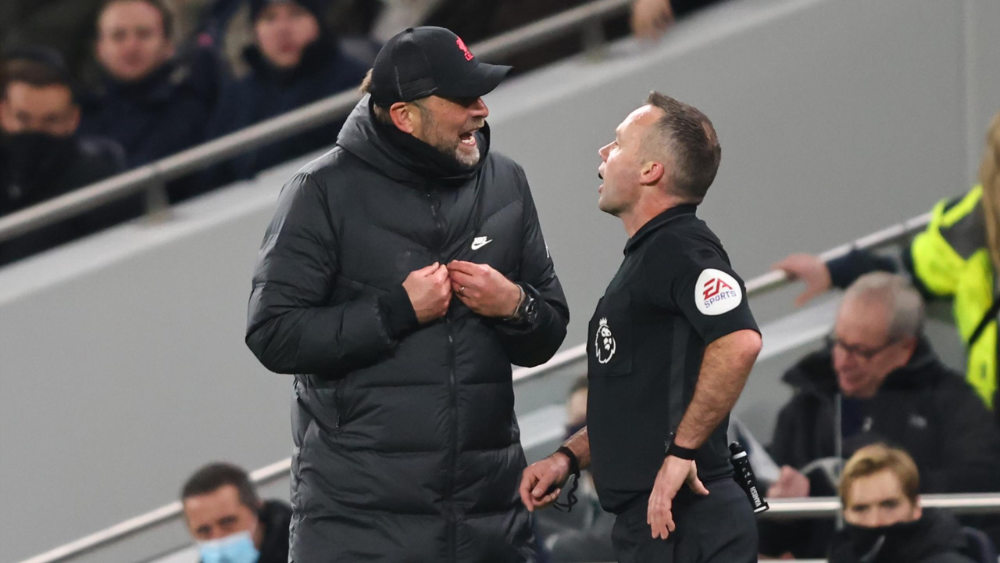 PGMOL Are Bringing the Game Into Disrepute
Really, the PGMOL and its spineless little leader, the toady Mike Riley, have really jumped the shark this time.
According to them, if you make a 100%-clear red-card foul but it doesn't injure someone because they took split-second evasive action to save themselves, then all is fine. Nothing to see here.
And, if you break your stride when about to shoot with a clear-cut chance to score and someone barrels into you from the side to totally take you out, you're not due a penalty as you slowed down, as if a) that makes a difference in most cases, and b) you can easily shoot while running at full-tilt, as Jürgen Klopp pointed out.
(As Klopp towers over all these generally little pale grey men, it's like they feel emasculated, and need to try and get back at him somehow.)
To adjust your feet to shoot you need to break your stride in some way, and the closer to the keeper, the closer the control has to be, too (which also slows you down). Also, to look at the keeper or gather your bearings slows you down. The aim is not to run with the ball at full-speed over the end-line, like in other sports, but to take a shot at goal.
And if you're not one of those players who gets sent off – because the referees research the kinds of players who should be sent off – then that's proof that you should not be sent off. Your innocence becomes self-perpetuating. If a banker is never arrested for fraud, year after year of committing fraud, that proves he's not the kind of guy who should be arrested for fraud. It's simple – indeed, it's IQ levels below 80.
Three stances from referees and ex-referees in the aftermath of just one game; a game that drew parallels, to me, to the Formula One farce in that most people could see that the officiating stank, favouritism was involved, and it ruined the outcome. (I gave up on Formula One 20 years ago and don't regret it.)
The dullard Peter Walton in The Times, offered this utter guff – but it what later seemed to be the genuine stance from the PGMOL.
"What saves the England striker is that Robertson's foot was not planted. The Liverpool man's raised leg limited the force of the tackle and convinced Tierney that there was no serious foul play. Both a booking and a red card are justifiable, therefore the referee did not make a clear and obvious error, and VAR was correct not to intervene."
(Walton was right to later point out the inconsistent application of VAR, but he often just toes the party line and contorts himself into excuses.)
Then, Walton – who sounds like the kind of mid-ranking officious person who was never quite sharp enough to think analytically – follows it with admittance of prejudicial thinking. If you're "that kind of player" who does something that looks like a foul you'll be sent off, but if you're "not that kind of player" who puts in a leg-breaker, but never gets sent-off (being England's star man and captain playing a huge role in this too), then you can act with impunity.
"Referees do study players and formations ahead of a game. They are aware that certain players need to be dealt with proactively. Kane does not fall into this category. It has been more than ten years since his last red card — for Leyton Orient away to Huddersfield Town in League One."
Harry Kane thought it was a "good, strong tackle", but he's also a bit thick, and has been known to claim goals when he wasn't even on the pitch. That he contradicts the video evidence sums up just how untrustworthy he is; he can't even admit it was a bit late and try to minimise it, like most flawed people would. This is a striker who jumps into defenders to then fall over and try and win penalties. Good old Harry (another reason I gave up on the England football team).
David Ornstein in The Athletic has clearly been speaking to someone in authority, given that the dumb narrative is the same:
"While most pundits complained about inconsistency, The Athletic understands the main reason for the VAR not punishing Kane more was that Robertson was jumping when fouled — meaning the England captain did not catch him as badly as Robertson did Royal.

Klopp said after the game that if Robertson's foot had been planted, Kane could have broken his leg but because that is hypothetical, the officials were comfortable with their decision."
Yup, jumping out the way of an x-rated tackle makes it fine. You're not in hospital, so get up. Sorry, but the pundits are 100% right on this one, as people who understand these aspects of game, and don't try to misinterpret the law.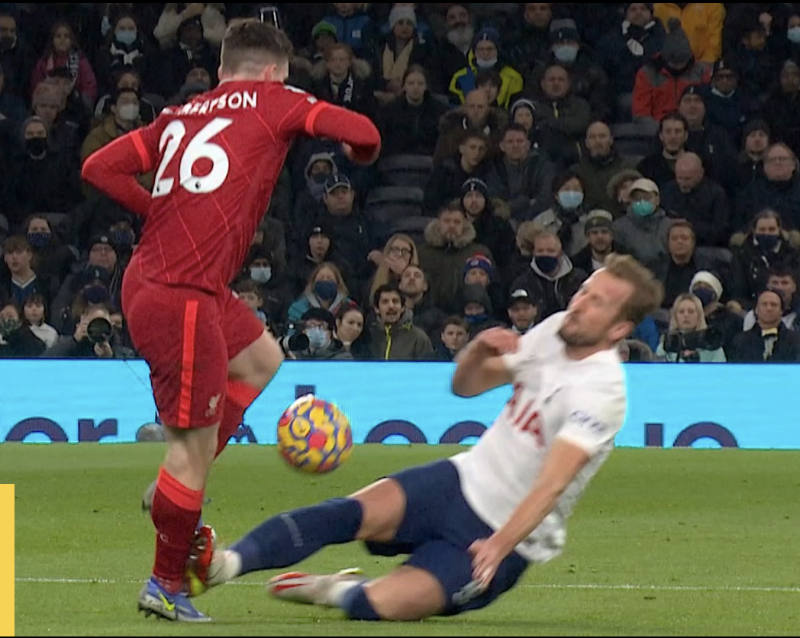 What wasn't hypothetical is that a full-force lunging studs-up tackle is dangerous play, with excessive force, from a well-built 6'2″ athlete. The damage is does to someone is irrelevant. And the idea that Robertson was jumping when fouled misses the point that he was desperately trying to jump out of the way of a leg-breaker, and still got one on the shin.
Plus, as you can see from the still image above from the BBC, Robertson's foot was still mostly planted on the floor at the time of impact. Again, Kane is a big centre-forward who is totally out of control. It was 20 minutes into a crucial game, and he got away with, as he always does. It cost Liverpool an improved chance of winning the game, on the day when Man City got yet another bizarre decision in their favour.
If a player punches someone, and the player being punched sees it coming and instead of getting a broken nose gets a graze on his cheek after taking a slight step to the side, THEN THE PUNCH IS THE FUCKING SAME. It's a red card, regardless of whether it's a glancing blow or a 10-count knockout. The severity of the injury may then come into the equation at a later date, but it's still violent conduct. Kane now plays the next game, while Robertson gets a ban, to add to a very bad joke.
The ex-player pundits, many of whom made bad tackles and received bad tackles, know about how bad tackling works.
On a roundup from the BBC:
Ex-Wales midfielder Robbie Savage said: "I thought VAR was supposed to come to the correct decision. Honestly, I'm getting fed up again."

And former Celtic forward Chris Sutton added: "What frustrates is the inconsistency. It is one rule for Tottenham today and one rule for Liverpool."

Former Liverpool defender Jamie Carragher, speaking on Sky Sports, said: "You cannot condone speaking to a referee but managers are emotional. We want managers to be honest and emotional and the decisions that go against Liverpool, it was a blatant penalty. Harry Kane should have been sent off.

"We were frustrated with VAR a year or two ago; we are OK with it at the moment but we have gone right the other way. Now we are thinking what is the point of VAR with penalties? It is not VAR, it is who controls it."

On the penalty that wasn't given, ex-Reds midfielder Jamie Redknapp said: "He just barges him. At least get some opinion from VAR. There is not a fan of football, ex-player who would say that is not a penalty. It is a joke of a decision."

Plus: "Alan Shearer urges head of Premier League referees Mike Riley to 'take responsibility' for the "unacceptable" level of refereeing decisions in recent matches."
Remember, none of these largely hardened bunch of ex-players was arguing it was fine, and saying that these things were normal in their day. They're saying that it stinks, and the majority of them have no affiliation with Liverpool FC. They just had really abominable officiating, like the rest of us. The game needs a good strong bunch of referees to keep it legitimate and keep it as a sport. It needs to avoid the nonsense of Formula One, or indeed, the WWE.
All this is before the utterly bonkers explanation from the other game that mattered in the title race: that because Man City had possession of the ball, Ederson – who slid straight into the Newcastle man – did not foul Ryan Fraser. To take out a player, off the ball, in the penalty area … is a penalty! Fraser cannot try to win the ball back or do anything. It's beyond stonewall. It's stonewall cemented to breeze-block, bolted to titanium.
Listening to the PGMOL is like hearing "the dog ate my homework", when the student doesn't have a dog, and everyone knows the student doesn't have a dog. And the homework was to weigh and examine the properties of a 5kg iron bar.
The bad decisions are hard enough to take, but the excuses and post-hoc rationalisations are perhaps the bigger disgrace, and insult the fans and undermine the league. These buffoons genuinely make it up as they go along (a bit like politicians), to try and fudge their mistakes, rather than own them. They make their decisions in shady silence, then deliver us the nonsense afterwards, often via an intermediary. It's time for the VARs and refs to be hooked up to microphones, so we can hear what they're saying, and if they are making honest decisions they should have nothing to fear.
Clarity. Consistency. Transparency.
Without it, VAR is just a tool – that mostly gets used well in other countries – operated by a cartel of Mike Riley's chums, many of whom are from his time as a ref many years ago, as if it's some old-boys' network. Indeed, it's a big tool used by even bigger tools.
Keith Hackett, who used to be in charge of the referees, said that Riley must be sacked. He also said that Michael Oliver is the only good ref. This is a damning indictment of the game, not least as he's clearly right – as we've been saying on this site for years, based on data. (I also rate the Mancunian Anthony Taylor, based on the data.) Indeed, this season hasn't been as bad for Liverpool as most previous seasons in terms of big decisions, but the standard of the refereeing is just appalling, regardless.
It's got to the stage where I'll be delving back into the big, big data we've collated on officiating on TTT over the past 5+ years to prove a few more points about how clear patterns show that officials do not apply the laws blindly or fairly, but with prejudice and favouritism, even if it's not provably due to corruption (beyond the corruption of cronyism and accepting incompetence, as well as lying to the fans and viewers).
While I may be emotional about all this stuff, it's from years of seeing the patterns in the data, that show how unbalanced the officiating really is. These are not one-off incidents but part of a years'-long trend.