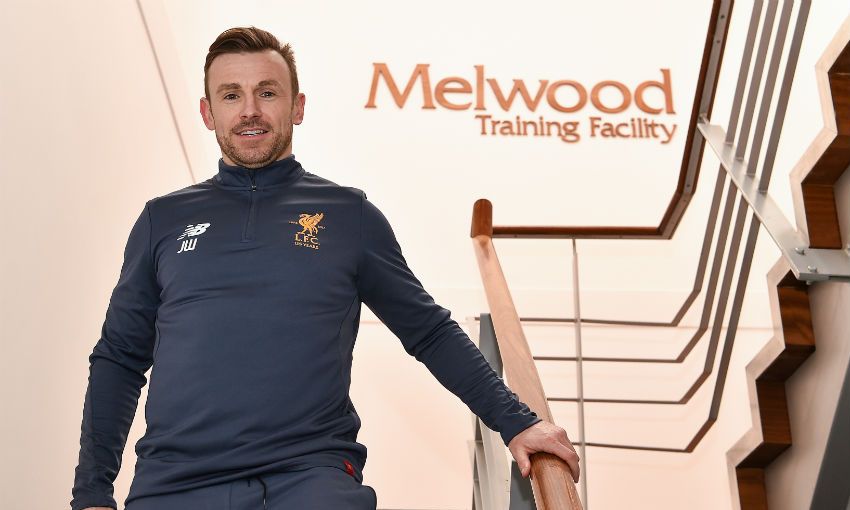 Edwards to leave in summer of 2022, his protege Julian Ward to replace him. Reasons for Edwards departure explained below, along with profile of Ward.
 A few weeks ago I was informed that, in need of a break after just passing his tenth year at Liverpool – and following a few hectic and stressful years that spanned the greatest imaginable successes and the utter left-field madness of a global pandemic (that made everyone's job much harder) – Michael Edwards would be leaving at the end of the season, to be replaced by Julian Ward. 
It was made clear that, currently, Edwards has no plans to go anywhere else; no taking the secret recipe to any rivals. 
(I also assume he's also not free to immediately take on another job, even after his contract expires, but I'm not entirely sure on that; but it's not his intention at this point. However, if he is free to do so, perhaps Newcastle United, who would clearly love to have him, are not yet classed as "rivals". Things change quickly in football.) 
Liverpool were flying when the pandemic hit, and have been affected maybe more than any other club, as the team was at its very peak (in terms of age as well as brilliance), and then the sudden loss of in excess of £100m in income – and no clear end in sight – made contract renegotiations almost impossible, and slowed down transfer activity. 
Given that there will be a predictable backlash, it's worth making it clear that Edwards feels he is leaving on excellent terms with FSG, whom he knows backed him, and where there remained a complete synergy of vision. It's not the case that they did not want to keep him on beyond the end of his current contract.
Indeed, Edwards himself believes that the "FSG way" in football was left in his hands to create; with the help of Mike Gordon, the most football-savvy of the owners, and obviously the super-smart analysts that includes Ian Graham, who also arrived a decade ago. After all, FSG are not football experts; but they found Edwards and Graham, via Damien Comolli, and then trusted Edwards to shape the way things were done. 
You may dislike some of their ownership ideas, but Edwards leaving is not something that the owners can be blamed for. (Of course, they will be, as that's the way a certain portion of the fanbase operates.)  
The "Edwards way" can continue in Edwards' absence; indeed, it has been designed to. Vital members of the brains' trust, like Ian Graham, remain in place. The methods won't change. The same would be true of hiring a new manager (albeit Jürgen Klopp is obviously unique, in being one of the "all-bases" managers who also have the gravitas to be taken seriously by even world-class players).
Edwards has no doubt that, in Julian Ward, he's handing over to an ideal candidate; a man who has mirrored his own career from modest playing days and moving up through the different levels of behind-the-scenes work in scouting, analytical and personnel specialties; a man he has had shadowing him, and learning the ropes, over what will eventually be an 18-month period by the time the changeover happens. (Indeed, ward is even shared in their names. This part may be coincidental…)
Ward speaks various languages (particularly the vital languages of Spanish and Portuguese, which help not just with Spain and Portugal but all of South America), and that will help in the international world of negotiations. Jürgen Klopp is also a big fan of Ward's from their work together over the years.
Edwards, perhaps like Peter Robinson, will go down as a rare behind-the-scenes legend; no statues will ever be built for them, but they helped lay vital foundations. 
Ward can now take that, and build further impressive layers on top. 
In an open letter to supporters posted on Liverpoolfc.com, Edwards said:
"To be part of this club during this period has been a privilege due to the people I have been fortunate enough to work with and the success we have enjoyed.

"I had always planned to cap my time at the club to a max of 10 years. I've loved working here, but I am a big believer in change. I think it's good for the individual and, in a work setting, good for the employer, too. Over my time here we have changed so many things (hopefully for the better) but someone new brings a different perspective, new ideas and can hopefully build (or change) on the things that have been put in place beforehand.

"Julian has been building up the skill set for this role for many years. Last year, he took on the role of assistant sporting director and over the past 12 months he has been introduced to other facets of the role that are vital to its success. I believe he is ideal for the role.

"Over the coming season I will continue to support him as we complete the leadership transition."
Plus, Jürgen Klopp said:
"I wish Michael and his wonderful family all the best, for whatever they choose to do next.

"I know he isn't leaving immediately or in haste, which is cool, so we still have some time to work together. If we are as fortunate and blessed, as we have been so far, maybe we can create more special memories for our club in this remaining time.

"He has been a constant presence during my period at LFC and his contribution to our success is clear for everyone to see.

"I have complete trust in Mike Gordon and the wider ownership group in their vision for what comes next. Julian and I have worked closely since he became loans and pathway manager, plus even more so in his wider role during the past 12 months.

"We have so many brilliant people here, all of whom contribute to what we have achieved and I have nothing but confidence we will continue to develop, progress and improve as an organisation."
Julian Ward Profile
As you can see below, Ward has an extensive and varied CV, that covers so many different areas, and ends with him shadowing Michael Edwards whilst completing a PhD in Applied Sport and Exercise Science, Talent Management Strategies in Professional Football.
Julian Ward, born in Aintree in 1981:
Played football for Morecambe between 1997 and 2001.
BSc (Honours) in Sports Science from John Moores University (1999-2002)
Became a Performance Analyst at the FA (2001-2002), delivering pre-/post-game performance analysis for England U17/U19/U20 international football teams.
Left the FA to become a Football Consultant at ProZone (2002-2003) – in the capacity to deliver opposition scouting and analysis for Preston North End.
Employed at John Moores University as Sports Scholarship Manager (2003-2005)
Started playing for Larne Football Club in Northern Ireland from 2005 till 2007.
Big Break: Became Head of Analysis and Technical Scouting for Portuguese National Team (2008-2010)
In 2010, moved to Manchester City as South American Scouting Strategist (2010-2012) – Talent identification, player recruitment and pathways for player development considered elite (Non-EU)
In 2012, moved to Liverpool FC from Manchester City. Joined as European Scouting Manager (Spain and Portugal) (2012-2015)
A new role was created for him as Loan Pathways and Football Partnerships Manager (2015-2020)
Promoted as Assistant Sporting Director in December 2020.
Doctorate in Applied Sport and Exercise Science, Talent Management Strategies in Professional Football (2018-2021)
Big Break (2009)
• Ward on his big break with the Portugal national team.
• More on Ward on his big break with the Portugal national team.
"Julian landed his dream job as part of a four-strong scouting team in July last year when Portugal manager Carlos Quieroz, the former Manchester United coach, signed him up last year after his appointment."

"It can be a small world in football," explains Julian.

"Someone I worked with for the England FA was appointed to a job at Manchester United and Mr Quieroz got to know about me when he was looking for a person familiar with the software and the technical programmes they used."

"I went to the World Cup in Germany with my brother Dominic but we camped out over there and it will be a very different to see it from the inside.

"Being part of a professional set-up, you are learning so much every day and for me it's about being a sponge and soaking up as much knowledge and experience as possible..
About Ward's playing itch while working:
And at one time Julian had hoped to make it as a professional footballer in his own right.

He played as a midfielder with Morecambe and Southport in the North-West and other clubs, which helped subsidise him as a student… until work got in the way.

"I miss playing football and still get that feeling when seeing the Portugal guys even training, but I am lucky to be able to work in the sport at this level."

Julian graduated with a Sports Science degree from John Moores University in Liverpool, where there was a strong connection with Premier League clubs developing computer-based tools used to analyse match data and performance.

Many of the students spent time at clubs such as Liverpool, Everton and Manchester City as part of a mutually beneficial relationship and from Julian went to work with the England FA youth set-up. 
"…Around September 2015, we realised that there was this bridge that we had to create to help players make the step from U23s football to Melwood and first-team football…"

Consequently, a new position was created: loan pathways and football partnerships manager.

It's a role Ward was asked to take on and remains in to this day.

"I became responsible for making partnerships and networks with clubs around England and Europe," he explains, during a recent conversation at Melwood.

"It's my job to work with our coaching staff and sporting director to make sure we have a network of good options in place for when the younger lads are ready to go out into senior football, or when fringe first-team players need competitive game time.

"We also need to put in place support processes to manage each player's pathway once that decision is made.

"We need to first identify positive environments for players to go to and then make sure that when they go, they are developing remotely."
On different types of loans:
There are, Ward explains, three different types of move when it comes to players leaving Liverpool on loan.

Along with 'established first-team players who need game time… the club also sanctions temporary transfers for non-EU players…

"They're all top talents within their generation, they all play for their respective national teams at U20 level, but we know that work permit-wise it's a bit of a longer journey so we try to get them adapted to life and football in Europe and started on the process where they gain competitive experience," Ward says.

"Hopefully that will increase their profile and credibility so when the time's right, we can make that work permit application and bring them back into the fold."

The third group involves the club's 'elite Academy players, who have proved themselves at U23 level and are looking for that next challenge'.

"The bar's really high. 

"To nudge out of the way a Mo Salah, a Sadio Mane, a Firmino, our young players have got to be able to show that they can compete with senior international players, not only in games but in training. 

"We've got to make sure that the competitive experience they get is a positive one, right through the U18s and U23s and then when we feel they've reached a level where the next stage is playing for points and under pressure, a bit of exposure to the senior aspects of the game, then we have to look at other environments."

…

"With the first or second loan, the players earn it by their performances in the U23s. They generate interest and the clubs across the Championship, League One, League Two are always in good attendance at our U23s games. 

"We discuss each player on a regular basis and try to judge whether they're ready to go out, whether they're needed to be part of the U23 or Melwood group, and we have to then balance that up with the other options in terms of loan interest. 

"Then we've got to try to make sure that we get the right coaching environment, the right competitive level that allows the player to continue on that journey of development."
On loan player monitoring:
By no means does Ward's involvement end once a player leaves Liverpool on loan, though.

"I coordinate the communication between the clubs," he continues.

"The different departments across our club are connected with the loan club where we place a player – whether that be medical to medical, sports science to sports science, analysis to analysis or coaching to coaching – just so that we can make sure that when a player leaves us, the club they're going to are fully furnished with where they're at in terms of technical and physical development. 

"The very first week of the loan is about connecting different key contacts in the relevant departments so that the training load the player's been exposed to prior to going out on loan can be communicated, as well as any medical issues and also development points.

"We look at areas of their game that we think 'OK, this is where the player is at the start of the loan, by the end of the loan we'd hope to see some progress and improvements in these three or four specific coaching areas'. 

"Then, the clips from all the players' games are fed back to us within 24-48 hours and I liaise with our scouting department and coaches to make sure that we get regular live viewings of games, but also we get out to the training ground to see them working in their environment Monday to Friday. 

"That's well established now. It's a combination of putting good communication processes in place and planning with the coaches and the scouting department to make sure we've got coverage so that the players still feel connected to the club."
On Transfer Windows:
Ward's work throughout the year helps to ensure the club are fully prepared for all eventualities when the summer and January transfer windows come around.

And, while 'last-minute' interest in Liverpool players is commonplace, he says the club are 'very reluctant' to get involved in such business as they strive to conduct background checks on all potential destinations prior to authorising a loan deal.

"My job prior to the windows is to have a good knowledge of the squads, have good relationships with coaches, heads of recruitment, sporting directors and get a feel that they know our players," Ward states.

"With our games being very accessible with getting to Prenton Park or watching them on LFCTV, when a coach or head of recruitment phones up asking about a player generally they know the specific characteristics of them and we hope that starts the process. 

"We'll go and look at what kind of opportunities there would be for those players to play, whether there's a lot of senior players in their path or there are two or three places where they can go and stake a claim for a place in the team. 

"We do that due diligence ahead of the two windows and then if Jürgen, Alex and Michael think the time is right then the options get filtered down to positive ones, the stars align and the button's pressed and the player goes out on loan.

"Obviously the player's involved too. We keep them up to date with what we think is the plan for them between pre-season and Christmas and then the level of competitions that we're in can change during the season.

"We have to balance that games programme with each individual player's point of progression."
Ward "…has proved to be a huge asset for Liverpool since arriving from Manchester City as the club's European scouting manager for Spain and Portugal in 2012.

He was appointed loans manager in 2015 and since then his responsibilities have continued to grow.

Ward has massively impressed Gordon and Edwards with his knowledge and expertise as well as the relationships he has developed with staff, players, agents and rival clubs. Led by Ward, Liverpool have proved adept at using the loan market to develop young talent and enhance their value.

He has previously assisted Edwards on a number of transfers and contract renewals at academy level, and Liverpool see expanding his role as a logical next step.

He already enjoys a close working relationship with Edwards and that will be enhanced going forward.

Internally, Ward will be a key link between all of the different departments at Liverpool, from Jurgen Klopp and his coaching staff, to the medical and sports science team, and academy director Alex Inglethorpe.

Externally, Ward will be tasked with building on the extensive network of contacts he already possesses as he deals with players, agents and clubs to assist Edwards when it comes to selling players, buying players and contract negotiations.

The promotion of [David] Woodfine to the role of director of loan management is also important. Like Ward, he's rated highly by both Gordon and Edwards. This is reward for his fine work as head of football projects and scouting operations since joining the club from West Ham United in 2014.

Liverpool are proud of their record in the loan market and believe that will be maintained with Woodfine at the helm. The transition period from Ward to Woodfine is already underway ahead of the January window.
The Future
Here's to the next chapter in Liverpool's story. The coming years will be testing, as key players age-out and Jürgen Klopp presumably still leaves, as planned, in 2024. 
As such, Liverpool are getting their reorganisation done now, ahead of those further transitional challenges, so that they don't all collide; a potential parting gift from Edwards, to get his own succession sourced and sorted so successfully (it seems) without waiting until chaos reigns, and reactivity becomes the order of the day. 
Other clubs wait too long; Liverpool get things sorted.