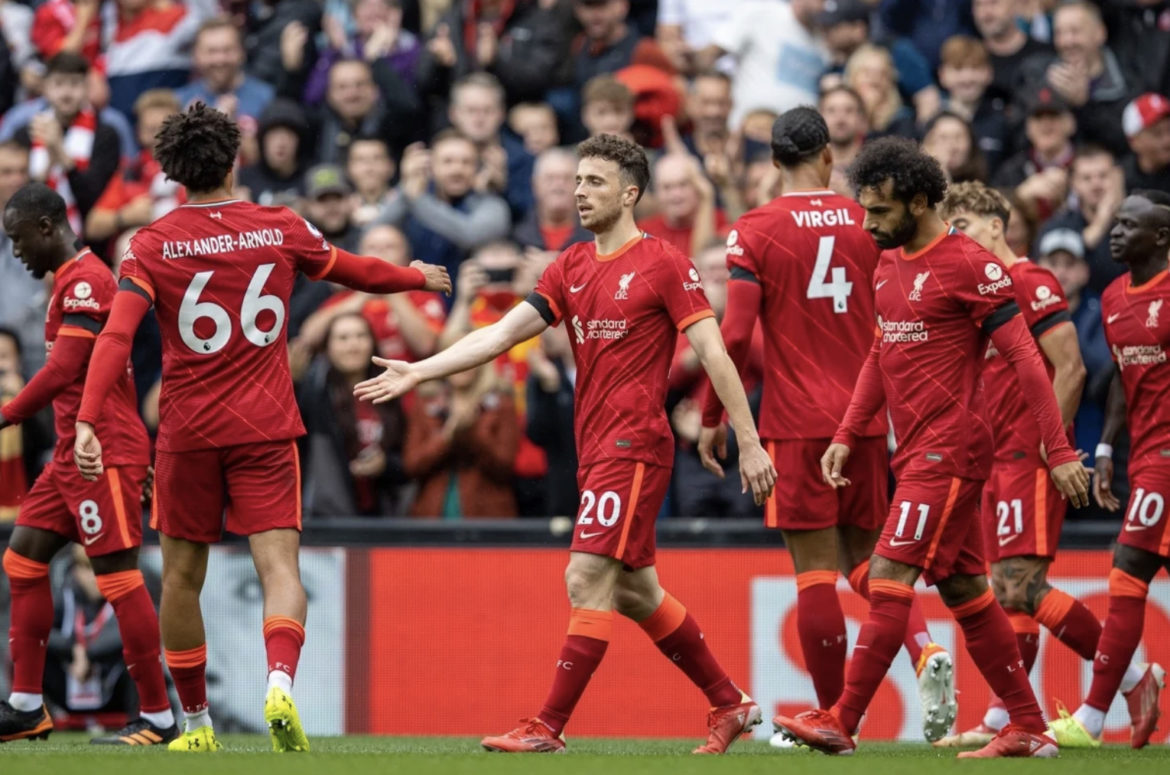 Best posts of the week, as chosen by Chris Rowland and Daniel Rhodes.
1 – Mobykidz's summary after the Burnley game:
Liverpool fully deserved a hard fought win versus Burnley. With over 27 shots the treat of seeing a confident Mane lash a shot past Nick Pope was a release to 55,000 fans whose tribute to the 97 was outstanding.
Sean Dyche's choice of team with squad numbers 1-11 apparently was "old school" football. They had some chances and I thought McNeill had a good game. With 12 fouls and arguably Dyche targeting Elliot it was typical of a team that within 10 minutes were time wasting.
Mike Dean let the game "flow" and it was refreshing. But somehow a referee who took delight in giving cards used yesterday's game to kill off that statistic at the expense of Liverpool's players.
Burnley's approach was not atypical but Dean's refusal to tell Ben Mee after the first half that they were treading a fine line was atypical of a referee who's change in behaviour will be scrutinised when he officiates another top 4 game not involving us.
But to have Jermaine Jenas defend Burnley's tactics is fair. This is a contact sport and views differ. But its only his view. Klopp stood watching and could see the opposition players intention when they beat a path to Elliott's ankles. That's the opinion I trust.
Elliott didn't get bullied. He spent a season in the Championship and feared worse. I suspect Harvey thought he was back playing an East Lancashire derby. Let's hope Burnley are there next season.
And all those years of playing cage football with those bigger and stronger lads meant Elliot is fortified. If that was James Rodriguez he'd have screamed like Janet Leigh seeing Norman Bates, pull back the shower curtain, in a Burnley shirt without the knife.
Interestingly Shaqiri started against Burnley in January with Thiago and Wijnaldum. So maybe it wasn't a huge surprise to see Harvey start with those quick feet.
The player of the day for sheer will power was The Greek Lad. A player who looks like he's been awake since birth, with a dour look to match, was excellent against Burnley.
Kostas' ability on both feet is interesting and his floor pirouette in between kicking a lump out of Burnley warmed my cockles. But his statistics were very good vs. Burnley (courtesy of Tactical Times) including a peach to Jota's head:
74% Pass accuracy
4/9 Crosses completed
4 Chances created
1 Assist
7/12 Ground duels won
2/3 Aerial duels won
3 Clearances
0 Slaps in the face.
I bet Kostas was glad Milner was injured. Norwich will remain the outlier for the slap statistic.
An important performance by Naby Kieta. That was 80 minutes in the tank. Though I'd like Klopp to keep him on for 90 (like Elliott yesterday). He had less touches than Henderson and Elliott but made four tackles (winning 3) playing in tandem with the captain.
Its two games in a row. Naby seems certain to start against Chelsea. What's crucial is avoiding any niggling injuries. If Dr Schlumberger saves us a Gini-sized transfer fee that will be a triumph for the Club and Kirkby's recovery team. One game at a time Naby-lad.
Trent was superb. The dink for Mane's goal was wonderful to watch. Complementary to Elliott's chest control it was Liverpool at their best.
Trent had 96 touches. He pressed as much as Jota and made two tackles, like Jota. With Trent, Left foot Harvey and Left foot Mo on the right this was an effective tactic that bamboozled Burnley at times. We looked on the front foot.
Joel Matip was everyone's drink of water yesterday. If Dr Schlumberger keeps the thin colossus fit that will be significant. He won more aerial duels than Van Dijk and completed over 90% of his passes.
Matip had three times as many touches (32) as VvD in that midfield area. Progressive is our big guy and like Keita it's a quiet but significant performance. Matip is a class act when fully fit. Just stay fit.
Virgil is definitely a calming influence. He enjoyed the physical battle of two centre forwards. It's Lukaku likely next. I think after that Chelsea game a rest might be in order if Matip stays. Konate is an absolute beast. Its scary to think Joe Gomez could end up fourth choice because he's really not.
5 goals. 4 forwards scored. 3 v Norwich. 2 v Burnley. And top of the PL tree. With 0 conceded. Mo, Mane, Jota, Bobby and Taki look in great shape. Fab, Thiago, Robbo (great to see him on the bench), Ox, Curtis, Taki, Konate and Gomez to come. And one more significant addition to the squad still a possibility.
There's nothing amazing in our start. There's been no incredible goals. No soloist performances. No luck. No VAR hang ups. Just a superb system, that has proven so successful, kicking into gear with all parts now available.
Liverpool is a massive game for Chelsea early on just like last season. For Liverpool its the right game at the right time. Anfield will be looking forward to this.
And for most of the 20 BBC pundits who wrote off our title chances I care little of what they think. Its just motivation to prove, quite literally, everybody wrong.
The Big Red Machine is beginning to purr.
YNWA.
2 – Madchenkliop on Harvey Elliott's performance against Burnley:
So wonderful today. It was like the footballing equivalent of watching a birth of a child, watching Harvey Elliott come to life in that atmosphere, on that stage. There wasn't one breathtaking moment like a goal or an assist, but everyone could see it for the first time. Not the first time I or Jürgen Klopp or his teammates have seen it – but the first time that EVERYONE has seen it. I was tempted to get him replaced by Firmino at half-time, I think mostly out of a 'quit while you're ahead' kind of knee-jerk, but he finished the match with thirst for more and you could see he was just revelling in the fans' adoration afterwards. I think it could be the start of a beautiful love affair!
What really marks him and his performance out to me is the way his teammates were seeking him out and interacting with him (in footballing terms). The way he plays demands it. It seemed like he was facilitating and actually in many cases, instigating movements – coming out of defence and forming rotating triangles with Salah and TAA. He kept closer to Salah and seemed to have a more symbiotic weight of delicate touch passes than most others I've seen doing that role recently. Ox, Shaqiri and Curtis have performed similar, but were not quite on the same wavelength as Mo except spasmodically.
I know it's just one game (and a bit), but you can see there's an awful lot of determination in that lad and I know there's quite a lot of competition for his place with his opportunity today coming with a few rivals suddenly unavailable, but… he took it. I could see Thiago, Curtis and Ox being hard-pressed to get it back off him.
3 – Paul Tomkins on reaction to Klopp's comments about Burnley's aggression:
If the police consistently let someone off for driving at 128mph, then the fact that they have no charges against them is irrelevant if your complaint is that the police were letting certain people get away with speeding! Alan Shearer in The Athletic has also condemned Klopp.
This is not like cases where there is no evidence, and I'm asking for innocence until proven guilty – there is ample video evidence, as El Indio shows below, of Burnley's violence!
Several elbows, various lunging tackles, two fists thrown loosely into Matip's face, a shoulder into Tsimikas' face by the same player who held his face when TGL shoulder-to-shouldered him, and all kinds of cheating, like holding shirts at corners. These are not within the rules.
Milner got booked at Norwich for a foul that wasn't as bad as the one within two minutes by a Burnley player. Cork persistently fouled and committed two challenges that could have been yellows on their own. Cantwell didn't get sent off against us for a dangerous and cynical high lunge where he didn't play the ball but the man.
I'm all for reducing fouls for minimal contact, but this is yet another bizarro world we've stumbled into. The PL wants more rough and tumble and contact, but fouls that are fouls by the laws should be given, and cards should be given consistently. You can't have Burnley deserving to pick up 4 or 5 cards and getting none, but other teams on the same day got 4 or 5 cards. No cards meant they could continue to foul with impunity.
4 – Tony Mc on the same subject:
In previous posts, I have perhaps clumsily expressed my preference for the way PL games have been officiated so far this season as opposed to the way they were officiated during the "fake football" period at the back end of season 2019/20 and all of season 2020/21, with so many stoppages and so many incidents the subject of interminable VAR checks that the game became virtually unwatchable. I stand by my preference for a free flowing game but that does not mean I favour a free for all which would allow thuggish teams like Burnley to prosper.
Your comments above about the stupidity of PL referees nail it for me. PGMOL (and I bow to no man or woman in my contempt for that corrupt and incompetent organisation) seems only to be able to turn the dial completely to "Draconian" or completely to "Liberal" without being able to set it correctly between those two extremes; and their dim-witted, unthinking match officials do not have the wit to do anything other than respond to the turn of the dial. PGMOL appears to be responding to the generally excellent refereeing we saw in the Euros without the intelligent leadership or quality of personnel to get it right.
5 -Southie joined the debate:
Broadly speaking I have been disappointed with the media response to Klopp's comments about the refereeing in the Burnley match. It has mostly been a combo of Klopp is being unfair/ trying to gain an advantage/ soft. Most of the media seems to broadly say Burnley has a right to play that way and LFC need to move on. Honestly I wonder if most of them watched the match or just a highlight package.
Of course Burnley has a right to play in their physical style, but fouls are still fouls. In the match there were at least two yellow card worthy fouls by Burnley and a yellow card plus penalty foul that all went completely uncalled. Jota was literally picked up and thrown to the ground, Matip was wrestled to the ground (in a way that unfortunately reminded me of Salah in Kiev) and Jota was literally run over from behind in the penalty box. All of these fouls could have caused injury, yet nothing.
The argument from referees and the PL is that they are trying to let games flow to be more watchable. I'm sorry how do so few people in the media need not realise that games are less watchable when stars are injured? Were LFC that watchable last year when 10 first teamers were injured? Why increase the odds of that happening again?
Also with this flow argument, how are media analysts so short sighted? I mean yes at first if you call fewer fouls games will flow more, but then teams will adjust their styles and become more physical. Is a game where the stars are constantly held and kicked that watchable? No it is dogshit to watch.
So it seems like the PL has misguidedly made a decision to make games less watchable with more injured stars and too much of the media class is mindlessly going along with it.
6 – El Indio posted a video of some examples of what Klopp was referring to and which many pundits seem to think is OK:
Video analysis of fouls on LFC players and other standard of play events by Burnley.
Events:
2′: Foul on Elliott
7′: Foul on Elliott again
7′: Time wasting example
9′: Feigning injury by Gudmundson
17′: Penalty claim by McNeil
20′: Foul not given to Elliott – lunge near LFC box.
31′: Foul not given to Tsimikas
45′: Foul not given to Alisson for elbow
48′: Foul on Tsimikas
49′: Tarkowski collision with Mane
61′: Foul on Matip
64′: Foul not given to Jota
67′: Keita fouling Burnley player after series of challenges
79′: Tsimikas fouled again
72′: Foul on Elliott
79′: Foul on Elliott again (Lunge on the player)
83′: Foul on Matip not given
87′: Tsimikas body checked by Cork
90′: Tsimikas fighting for possession
95′: Trent injured during run of play
Bonus – Ashley Barnes being a d*ck.
Edit: No sound as it is a screen grab.
Articles published since last Friday, with excerpts:
Saturday August 21st:
Reds Pummel Brainless Burnley Bullies In One-Sided Match, by Paul Tomkins.
Liverpool absolutely dismantled a bamboozled Burnley in the second half, and yet you'd wonder if teams on a limited budget have to play such retrograde football when clubs like Brentford, Norwich, Leeds United and others can come up and make for a watchable sport, while being competitive. Just like Loaded magazine, The Backstreet Boys and a fat Neil Ruddock, some things from the 1990s are best forgotten.
Mike Dean, who has never given Liverpool a penalty but has managed to give two against the Reds at Anfield, seemed to ref like it was still the 1990s, too; perhaps as all the refs seem to be in their 50s now after starting out in the 1980s. Change the fouling laws, keep the same old tired refs who are decades older than in other elite leagues, and get the English game even further away from the rest of the world. No bookings for some pretty horrible tackles by the away team.
Sunday 22nd:
Post-Match Analysis: Liverpool 2-0 Burnley, by Daniel Rhodes.
The biggest struggle against the Burnley Brutes has always been chance quality: too many low value attempts, often high amounts of blocked shots and a difficulty in breaking them down. This was very different: early shots, three big chances (with one disallowed) and crucially the goal in the 18th minute. Now, it didn't mean the visitors allowed themselves to gamble and commit more players forward, or indeed stop their shithousery, but once the Reds came out for the second half it was a fairly routine domination as we created over 1.5 xG in that half alone!
Monday 23rd/Tuesday 24th:
Who Sold Out! My Day At The Match: Liverpool 2-0 Burnley, Aug. 21st 2021, by Andrew Beasley and Daniel Rhodes.
Andrew Beasley:
… of the many conversations Mr. Rhodes and I had at the match, two in particular have remained lodged in my brain since the event.
1) If you're a Burnley fan, and watch them every week, how do you judge if they played well or not? We agreed that we can't blame the low-budget Clarets for playing in the style in which they do, but they did not change their approach on Saturday at 0-0, 1-0 or 2-0. Is the scoreline the only way to assess their performance?
2) It may well be that 10 years from now, we will be boasting of the fact we were present to witness the first Premier League start of Harvey Elliott's illustrious career.
Daniel Rhodes:
Arrived in Chester to find out all the trains left that evening had been cancelled. Brilliant. Sat with a coffee and tried to work out a plan. Maybe bus to Rhyl and get a connection there? Weirdly, and thankfully, about eight minutes before the 17.24 was due to set off there was an announcement that they'd found another train (like it was down the back of the sofa) and changed platforms. I'm guessing it was the potential build up, because it was packed now so imagine another two or three lots of train passengers turning up all at once trying to go in the same direction with no trains to take them. Got on the train home, and to finish, about two stops later a father and son, with Liverpool scarfs on, got off the train and walked along the platform. The lad was about fourteen. He turned to his dad, with the biggest beaming Klopp smile, clenched both his fists and screamed "GET IN". His dad flung his arms around his shoulders and they had a bloody big hug. Here's some stranger on the train with something in his eye again. This was a truly special day for so many people, football is back. With a vengeance.
Wednesday 25th:
Why FSG Can Break the Wage Barrier to Extend Salah's Contract, by Mizgan Masani.
The Egyptian will have deserved that hike and extension as well, having produced stunning numbers since arriving at Anfield in 2017. He is just four shy of 100 Premier League goals in 160 appearances for the club, averaging a goal every 127.4 minutes. He is only 30 behind Robbie Fowler and 20 behind Michael Owen having played way fewer games for the club (Fowler played 266 league games, Owen 216). Talking about great African forwards in England, Didier Drogba comes to mind. The former Chelsea man has 104 league goals. Salah is expected to surpass that before Christmas.