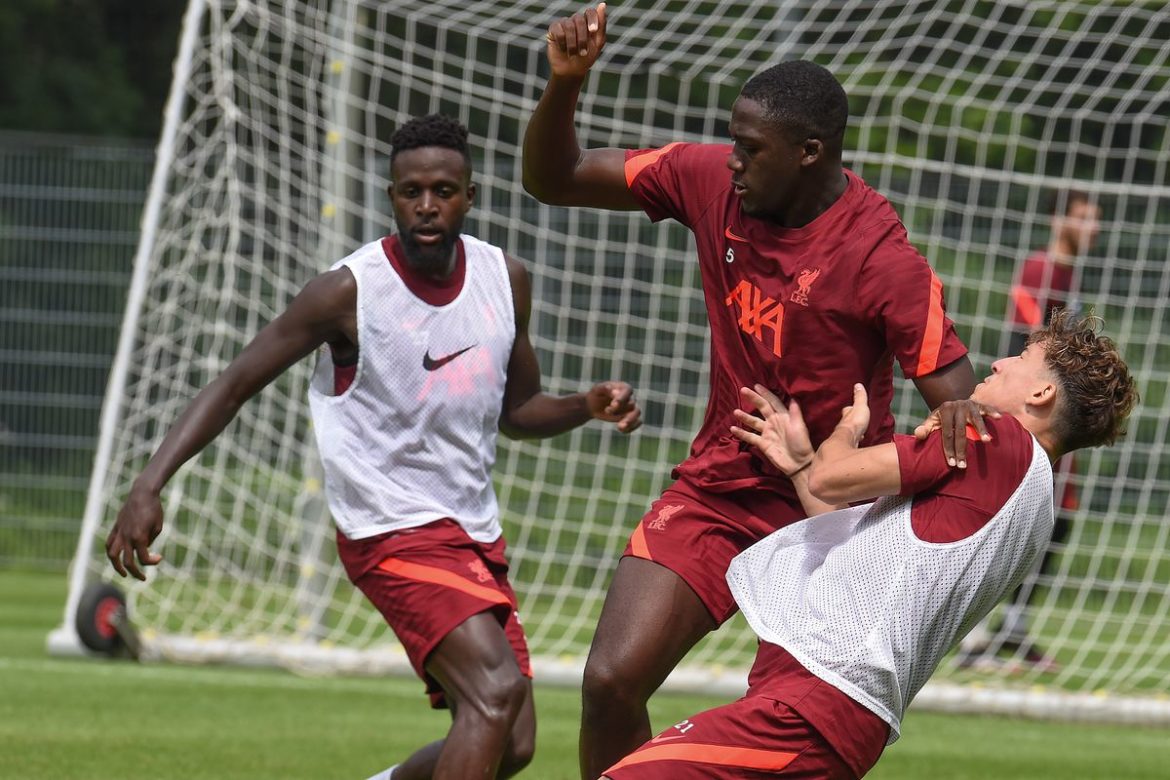 One thing I have never wanted to do is make The Tomkins Times about transfer tittle-tattle. But it's where the money surely lies. We have now been producing paywalled content on TTT for 12 years, but we provide analysis, not clickbait.
For many fans, "winning" the summer transfer window is greeted with more excitement than winning the league. Websites overflow with transfer rumours, as it gets clicks. No one is happy with what they currently have; everyone wants more. This is a societal malaise.
As such, this is an in-depth article about how Liverpool are likely better off just keeping what they've got (albeit having added Ibrahima Konaté and presumably replacing Gini Wijnaldum), and the many layers of complexity involved in replacing any single player with another. This article is partly in response to our regular Should They Stay Or Should They Go series for subscribers, where I think too many people are too eager for turnover.
While I introduce new themes here, I go into even more depth on the science of teamwork in my 2020 book "Perched: Jürgen Klopp's Liverpool FC – Champions Of Everything" (which they were at the time!)
New = Better?
Fans of all clubs are now obsessed with new signings, just as we are all obsessed with new gadgets. "New" has come to mean "better".
But as anyone who gets something new soon realises, the excitement quickly fades, and the new smartphone is just as unexciting as the old one within a few days, except now there's a 3-year contract you're tied to as you ponder the expense (and you'll have got another new phone before even having paid off the latest one).
This is the hedonic treadmill: we all return to our baseline of satisfaction or dissatisfaction within a short period of time.
(Studies show that lottery winners tend to return to their emotional baseline six months after they become millionaires, just as people who lose their limbs return to their old levels within time. Not that these outcomes are guaranteed, of course, and a lottery winner has far more choices in life than a quadriplegic, but the set-point theory of happiness and contentment largely stands.)
Unless your phone is broken, upgrading is expensive. It sells the dreams of a better life, but is all about the quick bump in excitement. (Hell, social media is all about the quick bump in excitement, and that harms us all.) Our brains have been hijacked by the attention economy, and there's the constant redundancy of things that are perfectly fine in order that something new can come along and do more.
Selling readers the idea that Liverpool need fewer transfers is not the way to make to money, but I've never done this to tell people what they want to hear.
If Liverpool ever needed a complete overhaul I wouldn't be afraid to suggest it. In late 2010, I would have happily suggested a dozen players that could depart to no great ill effect, and although I've evolved my thinking on team unity since then, I would still think that much of that squad was disposable; not least because it wasn't very good, either individually or collectively; although the bigger problem at the time felt like Roy Hodgson, and the financial chaos left by George Gillett and Tom Hicks which contributed to so many duds arriving (and which meant FSG had inherited a club close to going extinct).
But this is a Champions League and Premier League-winning squad, still mostly at a good age, that became so insanely successful by gradual evolution; and so, presumably needs to be refreshed with gradual evolution.
(Just as Manchester City, despite much more money than Liverpool, gradually evolved with the losses of players like Yaya Touré, Vincent Kompany, David Silva and now Sergio Agüero, as each hit the age of c.34. They spent a lot of money in 2020, but not on a lot of players; £120m-or-so on just three players, and one of those was as a back-up.)
Fixations
People have to stop fixating on players as individuals who can be plugged and played in new systems as if they'd produce the same output surrounded by entirely different teammates each time; see Lionel Messi's Argentina career – prior to 2021 – for the myth of that.
(Weirdly, with the weekend's Copa America success it's finally going better in South America than at Barcelona, especially now that Barcelona has become a basket case of a club, which looks to bankrupt itself just to keep the ageing superstar, who was the best player of his generation. I also find it fascinating that, having noted in "Perched" how Brazil had won nothing with Neymar – and then won the Copa America in 2019 with Roberto Firmino instead – Neymar returned to be the focal point, and yet again Brazil choked. How many big games has Neymar gone missing in? It may be coincidental, but it's more circumstantial evidence against the talented prima donna, and more for the collective.)
We all know that it generally takes a year for players to learn how to press properly in a system like Klopp's. This is fairly common knowledge across football, even if some players may pick it up sooner, if they have experienced something similar at a previous club.
It can take a player a good six months to settle into English football (many of the best imports took that long).
Thiago recently noted how insanely fast and physical English football is compared to other leagues. This is often why players can star at World Cups and Euros but not quite adapt to English football, where the ball has to be moved more quickly, and where tackles crunch in much earlier.
It can take any player a year or so to settle into any new environment when factoring in house moves, relationship issues (settling the partner and the kids into new jobs or schools), language challenges, making new friends on and off the pitch; and that's before not having the foggiest idea if, during a key moment in a game, Player X is going to square the ball, cross the ball high, check inside to pass, or have a shot himself. All these things take time.
Some players bypass the process and seem to settle immediately, but they are often exceptions, doing so as a single addition into an already settled team. Mo Salah, in 2017, benefited from Roberto Firmino having arrived in 2015, and Sadio Mané having arrived in 2016.
The Terrific Trident were not just thrust together at once, like jumbled jigsaw pieces.
Then came Diogo Jota, in 2020. He settled very quickly (albeit he did not start the first few games), but it was into a system of settled players. Even then, he still ran into Mo Salah or chased the same ball a few times, in a way that showed they weren't yet fully on the same wavelength.
Everything learned with every year at a football club which is built on a stable system like Klopp's is gathering vital information that cannot simply be downloaded into someone's brain as soon as they've held aloft their scarf at the unveiling. The shared understanding between players is almost unquantifiable.
Many managers spend their first six months working on the back four, to get them to move in unison, with repeated drills (often following the Arrigo Sacchi method, that players find tedious, but which ultimately helps them to become synchronised as a unit). Any new player can be at odds with the synchronicity. That famous AC Milan backline became a machine because of that training.
Indeed, if you return to the analogy of the new smartphone, your new phone will be a slightly different shape. It may fit into your hand better than the last one, but into your pocket less well. It may come with a different charging socket. It could have a different operating system, like moving from Android to iOS, or just a newer version where things are in different places.
As humans are biological, a player will have the basic operating apps (how to kick a football, how to head a football, how to make a tackle), but none of the bespoke apps, nor none of your specific in-app data. You have to learn about the phone, and it has to learn about you.
You have less bespoke information on your new phone than the old one; in this case, the guy who has just been sold for £12m.
The departed player will then have to do the same at his new club: he'll retain the knowledge of the operating system at the club he's left, and the in-app data learned and accrued almost seven days a week over several years, via multiple training sessions and sometimes three actual games within seven days. Every club does things slightly differently, every manager has different tactics, and every group of players is utterly unique.
I'll return to some other quotes from ex-Chelsea and Newcastle winger Christian Atsu later, as he said a few interesting things in an interview today with The Athletic. "Playing on loan is not easy because you have to be a different player at every club you go to" – but of course, this is also true of every transfer, too (you just don't have to leave after 12 months, if you finally get settled).
The great Barcelona side of a decade ago could have played the exact same formation with different players, but they were great because the individuals were exceptional (Messi, Gerard Piqué, Xavi, Sergio Busquets, Andrés Iniesta, et al), and because they had grown together within that system.
If Messi, Xavi and Iniesta were replaced in the same system with three new players, then no matter how good those new players were, the team would be weaker; in part because the players could not be as good, but if somehow they were, they would not be as cohesive. Equally, if Messi, Piqué, Xavi, Busquets and Iniesta all arrived in 2010, then Barcelona would likely not have been a great side in 2010/11. Some of those on-field relationships had been developed for eons, with the core formed at La Masia.
In Pep Guardiola they had an innovator who knew the league, knew the club, knew the culture, in a way that he didn't five years later when he pitched up and had a disappointing debut season with Manchester City.
He also instilled a greater sense of pride and humility, which meant parking the egos (as well as the sports cars).
As noted in a Sky article, "One of his first decisions upon taking the Barcelona job in 2008 was to remove Ronaldinho. Guardiola valued humility and work ethic too much to build the team around the Brazilian. He moved quickly to change the culture at the club."
When he arrived for massive money, Zlatan Ibrahimovic did not fit in. He was in no doubt which of the big-name managers was better: "Jose Mourinho is a big star … he's cool. Mourinho is Guardiola's opposite. If Mourinho brightens up the room, Guardiola pulls down the curtains and I guessed that Guardiola now tried to measure himself with Mourinho."
Then, "Barca players were banned from driving their sports cars to training. I thought this was ridiculous – it was no one's business what car I drive – so in April, before a match with Almeria, I drove my Ferrari Enzo to work. It caused a scene."
Yeah, and didn't exactly help Ibrahimovic succeed at the biggest club of his career, even if he has proved to have incredible longevity. But so too has Guardiola as a manager, while Mourinho – well ..
Graham Hunter explained Barca's new philosophy in the early days under Guardiola:
"Training starts at 11am but that doesn't mean players coming on to the pitch at 11 – everyone has to be out there and ready or everyone will be fined … There was a famous incident in October where one player came out at a minute past, with his laces undone. He bent down and tied his laces and was probably ready by 11.02. Pep stopped everybody and said 'he's fined and you're all fined'."
Experiment
Here's a quick thought experiment. What's the best way for Liverpool to move the ball forward from the back?
Obviously Alisson is excellent on the ball, albeit not quite as much as an expert outfield passer. Then you have Virgil van Dijk, Joel Matip or Joe Gomez (and now Konaté), advancing the ball upfield with a quick burst of positive movement. Fabinho can drop deeper to gain possession and spread it wide, or Andy Robertson could charge up the wing with the ball (he also hits a pretty good long pass, and can switch the ball to the other flank). Then, van Dijk can hit those stunning 50-yard rakers that turn teams so quickly. Yet so can Trent Alexander-Arnold.
Okay, so now you add Thiago to the equation, who can also hit stunning longer passes. Which means, from a deep position, van Dijk, Alexander-Arnold and Thiago can all do something extra special – but they can't all do that thing at the same time. Only one player can hit that raking long pass. Which one should it be?
Equally, there are now three players opposition players have to try and stop making that raking long pass, instead of just one. The three could play short passes to each other, and teams wouldn't know which one would hit the breakout ball. Yet that would also require understanding within the Liverpool team, both amongst those who are doing the passing and those who are making the runs.
As it happens, the trio of elite long-range passers were only on the same pitch for a matter of minutes last season; and for part of the season (last autumn-into-winter), all three were absent.
The more ways that Liverpool can play out from the back (and the quicker and more effectively they do so), the greater the overall threat of the team. But it will also take time.
(Now there's the elite-appearing dribbling ability of Konaté – in the top 85th percentile in the Bundesliga despite being a centre-back in a fairly dominant side. Will he just dribble straight past Thiago?!)
Thiago was insanely good in his first game and a half, before his knee was the victim of a flying six-studded assault. When he came back into the team, he was not match fit, and there was no van Dijk. There was no Gomez, and soon no Matip. Then there was no Fabinho in the midfield, and no Henderson in the team.
The team was a mess in no small manner because it was like a machine cobbled together with spare parts. Thiago was surrounded by new players, different players, rookie players, and nothing clicked. But within a few months he was absolutely bossing the games.
By keeping a settled XI in the absence of Henderson and the key centre-backs, inferior and/or inexperienced players (like Phillips, Ozan Kabak – who, at just 20, was new to the Premier League halfway through the season – and the raw but increasingly impressive Williams) were able to form a "unit", rather than just being a group of strangers. Fabinho moving back into the midfield helped provide Thiago with protection, and the unit grew stronger.
It was nowhere near Liverpool's strongest XI on paper, but it won eight and drew two of the final ten league games, which is an elite sequence of results that even the best XI would probably only better every now and then. (Albeit, the Reds had some insanely good runs in 2019.) It wasn't just an impressive run, but it was also a high-pressure run, with no margin for error in the fight for the top four.
So it's worth pondering the way we saw that team gel in front of our own eyes. Rather than be about "momentum", I would posit that the run was due to team developing its understanding; although of course, when your goalkeeper scores a last-minute winner, you probably feel like the football gods are on your side.
Evolution, Not Revolution
Fabinho, arguably the best defensive midfielder in the league (Gary Neville often seems to suggest so), was beyond hopeless in an early game at Arsenal. He was barely seen in those early months, looking shellshocked – and that was in November, not August. He was physically fit (i.e. he wasn't injured), but a slower, shorter and ageing James Milner knew the system. He knew where to be.
Liverpool beat PSG 3-2 and won 2-1 at Wembley against Spurs with Milner, not Fabinho.
Against PSG, as in other games, it was the settled midfield of Milner, Jordan Henderson and Gini Wijnaldum.
People often criticised that midfield as pedestrian, but on the way to winning the Champions League it also started other key games, including wins against Napoli and the incredible 3-1 thumping of Bayern on their home soil, before Fabinho finally established himself in the latter rounds. Had Fabinho started the season in the team then the Reds could have gone out at the group stage (who knows?).
It didn't matter how high the ceiling of Fabinho's potential was in those early months. He was playing one type of football – the one he had learned in Monaco, in a lower quality, slower and less physical league – and Liverpool were playing another. When there's not much time on the ball, you play passes on instinct; but instinct comes with understanding. If you don't have time to look where someone will be, you need to know where they will be.
Liverpool could ease Fabinho in during 2018/19, and it's also the only season I could find in the Klopp era where the Reds signed two genuine first-team contenders for the same department: in this case, the midfield.
In 2016/17 there had been the arrivals of Joel Matip and Ragnar Klavan, but Klavan was always intended as a clear back-up. Looking at the defence, Andy Robertson arrived in 2017. Virgil van Dijk arrived in early 2018. Kostas Tsimikas was signed in 2020. Ozan Kabak arrived halfway through 2020/21 (albeit unplanned, as an emergency), and having only been on loan, left for Ibrahima Konaté to arrive in the summer of 2021. Prior to the hasty addition of Kabak, last season Liverpool signed a defender, a midfielder and an attacker.
(Of course, Ben Davies arrived in January 2021 too, as Liverpool had all four first-choice centre-backs out injured. But then again, did Ben Davies arrive in January 2021, or was it an illusion? Of course, one of the reasons he didn't play was because to try and field two brand new signings at centre-back halfway through a season would mean zero experience and understanding. At least Nat Phillips knew the system.)
And even in 2018 when two central midfielders were signed, Naby Keïta was actually signed in 2017, with the deal delayed by a year as the only way to secure his signature. In terms of other instant first-team contenders, Gini Wijnaldum was signed in the summer of 2016, Alex Oxlade-Chamberlain in 2017, and Thiago in 2020. (Marko Grujić was an early cheap young gamble from January 2016.)
Keïta immediately started some games in 2018/19, as the one introduced more quickly; but Fabinho had to wait until closer to early 2019 to become a regular. They weren't rushed together into the team.
As already noted, the famous front three arrived across three different summers, and Jota three years later.
But by contrast, look of the chaos of the summer of 2015: in came Firmino, Christian Benteke, Divock Origi and Danny Ings. Four strikers!
Firmino took time to settle (in part as he wasn't wanted by Brendan Rodgers), Ings started brightly (if not sensationally) before getting injured, and Benteke had some bright moments (mostly long-range strikes rather than all-round play) without ever looking like he belonged. The net result, in those early months, was chaos, and Rodgers out of a job. Origi was a slow burner, who approached the end of the season in fine form, before his season was prematurely ended.
Overhaul
Even in 1987, which I always think of as the perfect example of selling one highly-valued asset (Ian Rush) to bring in four game-changers to revamp a squad, was possible because the deal for Rush was sealed in 1986, and that gave time to plan things and stagger the arrivals; so early 1987 saw John Aldridge arrive (January), then John Barnes and Peter Beardsley pitched up in the summer, then Ray Houghton was signed in the latter half of October.
So even that sudden revolution had a clear transition – although even so, that those four attacking players meshed so quickly was still a marvel; and, I suspect, an exception rather than the rule. (Albeit, thinking back, Barnes and Beardsley were England colleagues who starred at the 1986 World Cup, and Houghton and Aldridge played together for Ireland and, of course, Oxford United – who incidentally were run by one Ghislaine Maxwell.)
Years ago I would have said that, based on it taking an average two signings for every single success (which I found as the average when assessing several thousand Premier League transfers from 1992-2010), that you should sign a lot of players: 10 for every five who will succeed.
But Jürgen Klopp's philosophies (along with many studies I have since read on teamwork) have convinced me that, most of the time, evolution beats revolution when it comes to football, and that, with the modern game increasingly about interplay rather than individualism, it's even more important.
Indeed, Thiago told the Guardian:
"[Football has] taken up a different pace, rhythm: more accelerated, more physical. The figure of the No 10 has almost disappeared. We see less magic, less fantasy. Footballers do more but faster. There's no need to dribble because you run. Players are more developed in every sense. You lose that player who's different, who 'breathes'; the playmaker who was slower even if he had sublime technique doesn't get the opportunity to turn. Those of us who are not so fast with our legs have to be faster in our heads. It's like anything in life: adaptation. Things keep moving. Football changes constantly, expressed differently."
And then:
"… Football is a collective sport. If the collective works you don't need [that magic] … in the end, that magic appears naturally in a moment of adversity. And if you know the movements you have to make, the passes you have to give, the way you defend, there are few great adversities."
Weak Link Sport
The following is from a blog (that a TTT subscriber shared in the comments to a recent article) that discusses how individuals have less effect in football than many other sports:
"What does is mean to be the 'weak link' or the 'strong link' in a scenario? Malcolm Gladwell gives examples of both weak link and strong link in his podcast, 'My Little Hundred Million.'

"Gladwell discusses how soccer is a weak link and basketball is a strong link sport.

"Studies show that if people want to win a game of soccer, they should upgrade the worst players on the team. In the game of soccer Gladwell says, 'You will never see one person dribble the soccer ball from one end of the field to another.' A lot of players have to touch the ball to make a goal. If one does not upgrade the weakest links on the team, they will drag the rest of the team down.

"In soccer the worst players on a team are the most important. On the other hand, Gladwell also states that basketball is a strong link sport. A strong link is like professional basketball because studies show that if people want to win basketball games, you should upgrade the top one to two players on the team. Basketball is a star playing game. For example, LeBron James does not need anyone else to touch the ball if he wants to win. A basketball team doesn't get that much better if upgrading the weak links, it's more of a one person sport. Although some sports relate to strong links and weak links, it's also relatable in the real world."
Whether or not the worst players are the most important, what's true is that individualism is less important than in many other sports.
Still, weak links in a side are clearly a problem, and new players are often inherently weak links. It's almost like they are links in a chain fixed not with an immediate weld but with slow-drying glue: they get stronger in terms of bonds with time. At first, they can be torn apart.
Hedging Bets
Yes, you can hedge your bets across various signings, but you also have the collateral damage of the unhappy flops (who lose their transfer value and who cut unhappy figures). The quantum leaps made by data analysis also means clubs are more aware of what they are getting, even if you can't guarantee a sure-fire hit.
Fewer signings of greater quality, with more time to integrate them – more time coaching, more time analysing the opposition, more time developing playing strategies via data and video analysts – seems the better way forward. So much has changed since 2010, when I first showed how half of all signings fail to make much of an impact, and how the more you spent, the greater the chances of success – but only within a fairly small envelope. (Half the costliest ten players in the Premier League era, when adjusted for inflation, were flops, but on the whole, the range tended to see an increase from 40% to 60% across the cheapest to most expensive brackets.)
Watching the transfer policies of Liverpool (in particular) and Manchester City (after the debut season overhaul by Pep Guardiola, in which eight players were signed) in evolving their system-heavy sides made it clear to me how much can be lost through churn.
As an aside, Chelsea had massive churn last season, and yet won the Champions League; but their league form was well below par for the money spent on the entire squad, and they only clicked in the second half of the season. You can argue that Thomas Tuchel instantly got a tune out of them – so, it was simple – but if you include the new-manager bounce of greater effort from a hitherto struggling squad, there was also the fact that Frank Lampard had the chaotic task of pulling a team together and forging unity in those early months – the dirty work, perhaps, from which Tuchel, albeit also a clearly superior manager, then benefited. I also noted halfway through the season that I thought Chelsea could be a force, once the players settle – and that big seasonal spends tend to see a big improvement not that season, but the season after. In the end, they cobbled together enough understanding and individual quality to win a few big matches in Europe.
But Liverpool have never had the scope to write off flops like Chelsea and City before FFP kicked in (and with FFP relaxed in Covid times).
One of the main reasons I think Liverpool should focus on getting Alex Oxlade-Chamberlain and Naby Keïta fit – rather than sell them in a deflated market – is because they are of sufficient quality (at the very least to be in the matchday 18), they are excellent pressers who know the system, and are settled into the squad egosystem. At their best, they can do more than just make up the numbers.
This is what Man City did with İlkay Gündoğan, who overcame missing 1,000+ days of his career (and hundreds of games) in to have a great season in 2020/21.
Also, when is it ever good to sign three new players in the same position in the same season?
There's no guarantee that "Ox" and Keïta could be kept fit, but to offload one would mean two first-team midfield signings, and to offload both would mean three, with no new youngsters clearly ready for the first-team picture, with Curtis Jones having joined the ranks last season; unless Harvey Elliott is considered (but he's like to replace Xherdan Shaqiri in the attacking department).
Given that Thiago is still relatively new (and missed half of last season), that would require a lot of gelling.
I also keep forgetting about Takumi Minamino, but he's a talented player who works hard – but perhaps he doesn't suit the system. Equally, his time in English football has been very stop-start, and he could be a bonus this coming season.
The same applies to Divock Origi, who undertook extra personal fitness training this summer. It's easy to see him as disposable and worthless, but how many players can come in and start one game every two months (due to the insane fitness records of the Terrific Trident, and now the addition of Jota) and look sharp? It's almost a no-win situation.
Then again, Origi himself proves the value of the settled fringe player who causes no friction; the 5th or 6th choice who trains hard and is well liked.
He didn't score many times in the first half of his debut season, but then, after a period of adjustment, scored five goals in April 2016: in both games in the famous tie against Borussia Dortmund, two against Stoke as a sub, and then one against Everton. Coming in from the cold, he got those five goals in just 13 days, before his leg was broken in that Mersey derby (which meant he only lasted 53 minutes of that game).
He then fell down the pecking order but still scored 11 goals the next season, and had a year out on loan – but famously came back into the side in another Mersey derby, when Jordan Pickford helped turn him into a cult hero. Again, Origi ended that season – this time in the month of May – with four huge goals: at Newcastle (to keep the title race alive), the famous double against Barcelona, and the Champions League final-sealer.
You can argue that Origi often doesn't do enough to retain his place in the side upon a rare appearance (as he often looks off the pace, due to lack of game-time and a slightly laid-back style), but he's had two super-hot streaks in a red shirt as part of a rare runs of extended minutes, and both runs were ended not by bad form but by the season ending (in the first case, thanks to Funes Mori). But few backup strikers at any club could displace the Reds' four main options. The truth is, we hardly know what Origi would be like starting most of 10 or 20 games in a row, if required.
Cohesion, understanding and wavelength-sharing are all part of what Origi offers, even if he'll never be the player he appeared capable of becoming at 19. But that's fine. As with all fringe players, unless they want out, then there's often no harm in keeping them.
If you look at this successful England side, it's not a collection of the best players seen in this country's history, but a settled side with shared experience and no managerial upheaval (and with set-piece/heading expertise that stems from the Premier League's aerial focus, aided and abetted by home advantage). The goalkeeper and back four all started in the World Cup semi-final of 2018, along with Harry Kane and Raheem Sterling. The younger players came through together in England youth sides. Ex-Ireland youth player Declan Rice, an exception, is already at 20+ caps aged 22. Kalvin Phillips was perhaps the one surprise, but even he was in the England setup at a year ago.
(Obviously one of the craziest things was letting a teenager who had never taken a spot-kick before take the most important penalty in the country's history, but the failures are not those who miss but those who don't even step forward. At the same time, forcing players who are not confident at penalties to take one has its own drawbacks, but you'd still prefer an experienced player to a kid, especially when 18-19-year-olds have the worst conversion rates, and penalty takers get better with age, as you might expect. But what a player young Bukayo Saka is.)
So it's not that Liverpool need any kind of overhaul – but there is one issue that might be concerning.
Age and Contracts
One of the major concerns for Liverpool is not so much the number of players aged 29/30, but the expiry of their contracts.
More important than new players could be extending the deals of Virgil van Dijk, Mo Salah, Sadio Mané, Roberto Firmino and Jordan Henderson, albeit the latter, already 31, is unlikely to be as effective at 33 as the others will be at 31 (and seems more likely to drift into the James Milner role). Also out of contract in 2023, according to Transfermarkt, are Alex Oxlade-Chamberlain, Fabinho and Keïta (as well as some fringe younger players, and Shaqiri). And while Joel Matip's contract situation is better (it expires in 2024), he's about to turn 30.
Indeed, one of the only reasons to sell either of Oxlade-Chamberlain and Keïta would be if they refused to sign new deals. Meanwhile, Origi is out of contract in 2022. (Another reason to consider selling overseas players is that Liverpool have a fraction too many for the quota rules, and maybe one or two will have to leave.)
New deals seem a priority for key men in van Dijk, Salah, Mané, Firmino, Henderson and Fabinho, in particular, while Keïta and Oxlade-Chamberlain will lose transfer value if not offered new deals. Ditto Nat Phillips, another whose deal expires in 2023.
Gini Wijnaldum's contract was allowed to whittle away in part due to Covid-19, in that the sudden collapse of TV money and gate revenue made it harder to for Liverpool commit to longer deals for older players (in the process of unexpectedly losing at least £100m that could not be foreseen in 2019).
It seems that crowds will be back as normal in 2021/22, although a massive spike in positive virus cases may change that; albeit as yet there has been no real change in the relatively tiny number of deaths seen this summer, contrary to the two other large infection spikes.
More and more people should either be vaccinated or carry some antibodies by the time the new season starts, so it seems like things can return to normal – but it would take just one far more deadly variant to undermine football once again. Nothing feels quite as certain as it did prior to early 2020.
As such, how do you plan ahead? Will there be Covid clauses in players' contracts, as seen with relegation, when income is obviously hit? (In googling the idea, it seems it's been mooted.)
As such, players could be promised very healthy contracts, that will entice them to sign new deals, but they will know that another downturn will see their salary take a big hit. (And if they are rational, they will know that there will be fewer and fewer clubs able to pay what was, until recently, the going rate, if football finances continue to take a hit.)
Across Europe, some may simply choose to see out long-term deals in order to avoid such a risk, as clubs in Spain and France suffer massive financial peril and are eager to offload big-earners.
(Reading about Christian Atsu in The Athletic, he chose to spend last season with Newcastle's U23s rather than lose his income, and also because his family was settled in the area – as is his right, while the club tried to force him out. Also, interestingly, he says he struggles with intense training, as he experienced it at Bournemouth under Eddie Howe, and prefers to save his energy for match-days – which is the opposite of what's expected at Liverpool. Klopp will only have intense trainers who can then be even sharper at the weekend; the interesting takeaway is whether Atsu is just not keen on hard work, or just genuinely can't handle that kind of physical routine. There may be some players who arrive at Liverpool eager to train hard, but just cannot cope with the demands – although over time they could get fitter, and cope better. It's another reason why some new signings may take six months to get up to speed – not just on the pitch, but in training.)
Another important aspect for Liverpool will be the transition via youth prospects; Harvey Elliott is now 18 and ready to play some kind of role, and Kaide Gordon (still only 16 until October) could possibly be fast-tracked, based on the spate of young players maturing very quickly, including Jude Bellingham, Jamal Musiala, Jadon Sancho and others who have excelled at 17, albeit mostly gaining their first-team wings in Germany. Mateusz Musialowski is another who has that searing pace that helps with earlier breakthroughs (slower players tend to take longer as their games require experience), and there's a lot of promise at the Academy.
I wouldn't bank on any of the kids (bar Elliott) yet, but it could be that, like Phil Foden at City, they are very gradually phased in over a 2-3-year period, and that could start now, to be ready (if all goes well) when the core of players aged 29-31 begin to fade. Curtis Jones started this process three seasons ago. (Incidentally, I've wondered lately if he could revert to an attacking role at some stage, as he matures and as the Terrific Trident are phased out.)
The fact that the kids now train at the same location as the senior squad has already allowed some to gain experience of first-team training, if not first-team games.
Whatever happens, signing the existing players to new deals – albeit perhaps not every single one will choose to extend (or be offered the terms they desire) – has be the priority ahead of signing new players.
But like anyone else, I do like the buzz a transfer or two, and a little bit of freshening up can also have its benefits. It's just not something to obsess about.