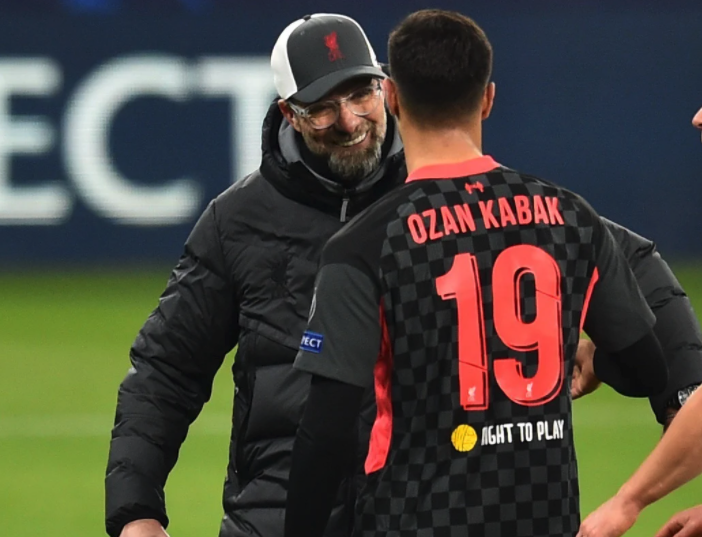 Best posts of the week:
Chosen by Chris Rowland and Daniel Rhodes.
1 – Daniel Rhodes opening the Leicester Post-Match Analysis thread with reaction Klopp's post-match interview:
That press conference is incredibly sad to watch. Klopp looks like a broken man, and understandably so… He needs to be honest with himself, because the needs of the club are secondary at this point. But, and I'm sure this is the case, he's already considered it carefully and decided to carry on. He needs our support at this moment.
On the match, it was an objectively good performance: we were dominating until their opening goal, and had created chances through pressing, possession, crossing and through balls.
No complaints at all, and fingers crossed all the players take something from that and see the last 15 minutes as a product of frustration with external factors rather than their process; but, of course, we do need to cut out the mistakes, especially from our best players.
2 – Jeff on the Premier League's failure to protect the players this season:
I know some here do not like to look at football as a business but in fact it is a business. The most valuable asset of any football club is the players under contract. Anyone who knew anything about fitness could have predicted the problems in regard to injuries that have plagued Liverpool and other clubs this season. The failure to anticipate and deal with the fitness problems this condensed season before the fact is an indictment to some teams in the Premier League and the Premier League itself. We can talk about officiating but we should also be talking about how the Premier League did not properly deal with the consequences of condensed season and its failure to act to protect players.
3 – Grover with a salient point about VAR and referee accountability:
The clear difference between VAR and their equivalent in Cricket and Rugby is that you can hear the person on VAR in those other sports and they explain how they arrive at the decision. You might not fully agree but you understand why it was given and this gives credibility.
Apparently the broadcasters hear the VAR referee in football, but I don't believe they hear all the reasoning. This then allows arbitrary decisions to be made. It would definitely cut out quite a few dubious decisions if you got to hear these idiots, but would also clearly identify that most don't know what they are doing.
4 – Yiannis argues that it's not VAR technology that is ruining the game but how it's being used:
… there is a comment that I've made before and want to make again, which is that I wish people would stop referring to "VAR" when criticising refereeing decisions. VAR is just a piece of technology, a tool to be used, and the problem has always been how it's being used. To me it's like blaming the restaurant's oven for your food poisoning and letting the chef off the hook.
Obviously I know that both your thinking and your writing have much more nuance than that, but everyone who writes or talks or thinks about football – even me – is guilty of this shorthand. Of course we are. Whether you say it as "VAR" or spell it out as "V.A.R." it rolls off the tongue easily. Other people you talk to will instantly understand what you mean, so I fully understand how it makes communication easier. However, I think it is vital that we all try as hard as we can to break this habit, as every time VAR is mentioned instead of the referee or the PGMOL is another reinforcement of the narrative that it's not the referees to blame, or the organisation that controls them. It's that new-fangled foreign technology that our poor referees are being forced to use against their will that's ruining our good English game.
For a perfect summation of the impact of the narrative, take a glance at the Wikipedia page for VAR:
https://en.wikipedia.org/wiki/Video_assistant_referee
You don't need to read the whole page. Just quickly scrolling down and skimming it will show that it's a fairly standard Wiki page, organised into sections breaking down what VAR is, how it works, its history, implementation and controversies, backed up by over 80 citations. It's still Wikipedia, so it's hardly the deep dive of research sites, but it's a reasonably detailed summary that's broadly informative, with plenty of links for further research.
Now look at the Wiki page for the PGMOL:
https://en.wikipedia.org/wiki/Professional_Game_Match_Officials_Limited
There's nothing to it, is there? Barely a dozen lines of text, with a mere six citations. About as much content as you would expect on a website welcome page or a business directory, but a hell of a lot less than I would expect for the organisation responsible for every refereeing decision in the English game for the last two decades.
Even the controversies are skated over in the most desultory fashion. Mark Halsey's accusations of what amount to CORRUPTION AND FRAUD are waved away with a simple "PGMOL denied the claim, and no further action was taken." Oh, well I guess everything's ok then? Business as normal, no need to ask any awkward questions. After all, there's no way a person accused of CORRUPTION AND FRAUD could ever lie about it, right?
Also, am I the only person who's just finding out now that these fuckers actually count as self-employed and fought in the courts to retain that classification? So in addition to being a self-policing old boys' clubhouse who can have their mistakes highlighted on a literal daily basis by media the length and breadth of the country and at every level of the game, from tweets and blogs to multinational media conglomerations, and still be immune from any form of genuine scrutiny or investigation, like the entirety of Niagara Falls coming off the back of the world's most waterproof duck, they don't even have the basic level of oversight that come from an employer/employee relationship within their own damn company?!
The fact that this wild west free-for-all gets to perform a role that relies on impartiality, accuracy and honesty is a travesty of justice, but we've seen large organisations with little to no oversight commit travesties of justice and weave the narrative in their favour before, so we shouldn't be surprised. This is hardly a new development in human history. A lot of the time, controlling the narrative is enough to allow them to get away with it, but sometimes even the biggest organisations lose control of the story and get forced to do things they didn't want.
The PGMOL is not beyond reform, despite the mass clear-out and influx of new blood that would need, but the only way they will ever be forced into action is with an unstoppable avalanche of public opinion, backing from the leagues and support from at least some key financial players, primarily in the media. At the moment, our complaints are just a storm of pebbles raining down ineffectually, but every avalanche starts with the right pebble falling in the right way.
5 – Mädchenkliop with a reality check on Liverpool's youth development:
"We are starting to win the battle to attract the top youth talent."
I'm not sure if this is entirely true. I think we're definitely in the conversation and have been for a long while, but we're not necessarily winning. We've had some successes with Elliot and we've just got our paws on Kaide Gordon, but I don't really see that as too much difference for when we managed to get Sterling and Ibe a decade ago. The Manchester clubs are doing equally well at attracting players and judging by recent performances at U23 level, they are ahead of us in terms of quantity and quality. Other teams like Arsenal and Southampton are producing talent and (tbf, mainly because they're a bit shitter and don't have a choice) those players are getting more opportunities at first team level so developing faster.
We're definitely winning at making money out of our youth talents which, in the current crisis, is probably more important than we realise. There are amazing number of former Academy players out there making waves for smaller clubs like Ejaria, Canos, Ryan Kent, Herbie Kane and many others and Edwards always makes sure we clean up on the transfer fees. I think that so many youth players are looked after and going on to have good careers is definitely helping to attract quality players to LFC, but it's wrong to think we're world beaters in this respect.
As to whether our talent production line is going to add to a top level first team is still in the balance. For sure TAA has made the step but he's the only one. Curtis is close, but there's a fragility about his performances which many people are pointing to as a sign of drop off in quality. Of course that's understandable, but in reality, even though I'm hopeful, I think he could go either way from this point. Kelleher likewise looks really promising, but hasn't been properly tested – which when it comes to a goalkeeper is basically like being at square one.
Then we've got players like Neco, Rhys and Nat Phillips all who've had a mixture of good and not so good games for the first team. I think it's been really noticeable how Klopp has avoided giving most of them many minutes during this run of poor form we've had. I know he likes to introduce young players in a very controlled and systematic way, which is a good thing, but that he's not trusted them in these crisis situations can also be interpreted as a reflection on their overall quality. It's definitely partly down to us having reached such a high level, it's too far for players to make the step up and that goes for new recruits like Tsimikas and Minamino as well. Without getting a serious amount of minutes to develop, they will always be coming in undercooked – but this is a failure of the system, not necessarily the players themselves. Ironically, it's only when you have less success that you get the opportunities.
Chelsea have a host of youngsters; Mount, Gilmour, Abrahams, etc. United have Greenwood, Brandon Williams and of course, the second coming himself, Marcus Rashford! It's a big part of Solskjaer's cachet that he's the one ushering in the homegrown talent and that is helping United's resurgence.
City have Foden. I think they are more like us in that it's virtually impossible to break into the first team. But they have more talent waiting in the wings than anyone else. I've seen them at U23 level.
All in all, because Klopp (and tbf, Rodgers before him) doesn't like to stockpile talent and will send them out on loan rather than have them sitting around, it makes it difficult to access where we are and tell whether we are winning in youth development terms. I find it actually quite alarming seeing the lack of squad youth depth available to Klopp whilst this injury crisis is going on. Our 2 top youth strikers, Glatzel and the little guy (always forget his name!) are always injured and players who might actually help like Harry Wilson or Elliott are unavailable. Seeing the tiny and relatively inexperienced Leighton Clarkson on the bench against Leicester is on the one hand really exciting, because he's a wonderful prospect, but on the other, completely traumatising, because he is ridiculously undercooked at this level.
I guess it's like everything else at the moment; the best laid plans have been torn to shreds so we just need to get that water under the bridge to find out where we're at further down stream. Apologies for going into full scale youth appraisal mode when the initial comment was about whether we are attracting the best youth. I guess I just wanted to put that in some context. I think we're fairly healthy, but in truth, we're not ahead of our competitors.
6 – Tony McKenna on black swans:
The original Black Swan piece, `Making Sense of the Black Swan`, was a post on TTT. I had long been influenced by the incidence of chance, randomness, and luck in football. (That's too long to go into here). But I knew that too many people did not buy this notion. I did not wish to repeat the debates I had within my own social circle. Quite vociferous it was too, at times. So, I had even dithered about posting it. But then I relented, thinking probably no one will notice anyway.
The next time I logged into TTT, the Black Swan, was staring back at me. It had been made into an article. This was a random event in itself. Blimey. It really brokered my long standing relationship with TTT. So, it was a great thing.
Not long afterwards, Anderson and Sally, published the Numbers Game and devoted a whole chapter to luck in football. Randomness and Black Swans had finally become serious and acknowledged entrants into the football debate. I kind of breathed a sigh of relief. I will never know why so many people had, or still have difficulty, with accepting the incidence of luck in the game.
They do so, at their peril. Because, they will forever miss out on the true health of their team. This can lead either to unwarranted despair on one hand, and misguided hope, on the other. Black Swans can be inimical or fortuitous. You really do need to know which has been in play.
Currently, and as this latest TTT article shows, Liverpool have had a host of inimical Black Swans. So, perspective is due. And these situations are being played out, all the time, season on season, for all teams. Obviously, to differing degrees. I thought I would briefly summarise the events that led to the original `Making Sense of the Black Swan`. Another season of discontent. And, to be fair, to illustrate just how unlucky, Kenny had been at the helm.
Liverpool were 6th, prior to Christmas 2011, jointly tied with Arsenal on 29 points, who were 5th. Both teams had a goal difference of plus seven. More significantly, those sides were only outside the top four, by a measly three points. There was still everything to play for. The champions league was far from out of reach.
Liverpool, incidentally, had the best defensive record in the league, at this point, having only conceded 13 goals. Problem was, we had only scored 20. Which was 11 less ,than the next team in the top six. For context, City, the league leaders, had already scored 50. And, bottom of the table, Bolton, had only registered 20: just like Liverpool.
Of course, everyone knows that this was the Woodwork hits season, when shots ricocheted either off the bar or posts, on 33 separate occasions. It was an abnormal volume. Liverpool finally finished a disappointing 8th that season. We only scored another 27 goals to finish on 47; regrettably, we leaked another 27, as well, conceding 40, in all.
But you think about the lack of goals, in general, and probably Kenny's most unlucky event was one now largely forgotten. And it happened off the pitch. Suarez was bought to link up with Torres. Right? Both surely would have been starters. Except, the Spaniard had decamped to Chelsea. That partnership would have been a piece of Liverpool's history. It is probably one of the biggest things we have ever missed out on.
I will end with a quote from the original `Making Sense of The Black Swan`. Partly, because it is relevant to the present. Partly because it is also relevant to the past: when fortuitous black swans had made a manager seem better than he was. The euphoria even earned him a eight year contract. And that very same manager got fooled by randomness, himself.
"You either accept the longevity of a strategy resulting from meticulous design – the type that Liverpool's owners are trying to apply – and accept that Black Swans will eventually disappear, or else you buy into the `Pardiola` hype that they bestow on the Newcastle boss.
Pardew has even become seduced and made dizzy by his `success`, by ignoring the randomness that entailed his own appointment – in a casino of all places. With feigned modesty, he claimed surprise that Newcastle were a `year ahead` of schedule. So, he had a Two-Year Plan to secure Champions League football?
Bullshit. As John Lennon sang:
"Life is what happens when you're busy making other plans".
Articles published since last Friday, with excerpts:
Sat. Feb. 13th:
Post-Match Analysis: Leicester City 3-1 Liverpool, by Daniel Rhodes.
Before Stuart Atwell came on as sub for Leicester this was a very intriguing contest: Liverpool got in behind the home side on numerous occasions in the first half, and were either thwarted by good defending, tentative finishing or being tripped up without consequences. And yet, it was the Foxes who ended the first half on top, with a Vardy shot onto the bar (potentially offside, but it wasn't given) and then a header by the same player straight at the goalkeeper. The first half finished with the visitors edging the shot count nine-six. The Reds had created three times the amount of xG at this point as well (1.5 – 0.5).
Unbelievable Results For Liverpool – But Store the Pain to Use As Fuel to Go Again, by Paul Tomkins.
You may think that I make too much of the VAR and poor refereeing, but the tight and subjective calls have almost all gone against the Reds this season, in an accumulative manner I can't recall (but where, like 2009/10, problems started to pile up, one upon another).
VAR is clearly being used for ages in games to study situations that might work against Liverpool, and then not applied to situations that would help. That's abundantly clear, virtually every week. The Reds have conceded more penalties than they've won, in part because they are penalised for tiny infractions – sometimes through minutes of VAR analysis in slow-motion that is not supposed to be used – and then don't get them awarded at the other end, despite doing 70% of the attacking in almost every game.
Mon. Feb. 15th:
2020/21 Champions League | Last 16 1st Leg | RB Leipzig | Puskás Aréna, by Gary Fulcher.
Domestically, Leipzig sit in 2nd place, four points behind Bayern Munich and have won their last four matches including the 4-0 win over Bochum in the DFB-Pokal Cup. They've lost just two of their last 17 matches, winning 13 and drawing three and it will be interesting to see how Leipzig's highly rated defender Dayot Upamecano performs following the announcement by Bayern Munich that he will join the Bavarians on July 1, after they met his buy-out clause.
Wed. Feb. 17th:
Post-Match Analysis: RB Leipzig 0-2 Liverpool, by Daniel Rhodes.
The first half was dominated by the Reds who took eight shots to Leipzig's four, with one big chance missed as well. In the second half, Liverpool had two shots, two big chances, two goals and virtually secured their place in the next round. They didn't even attempt another shot after the 58th minute, with Leipzig attempting seven shots without reply – but did fail to convert the two big chances they had.
Thurs. Feb. 18th: 
The Mother of All Black Swans In a Tailspin – TTT Subscribers & Writers Give the Real Reasons For Liverpool's League Struggles 
Liverpool got back on track with a very impressive away win against German neo-giants Leipzig – although the stats showed that the Reds have been lucky defensively in the Champions League (teams not taking their big chances) and unlucky in the league (opposition teams taking more of their chances than last season).
The league form continues to be well below expectations, for a whole host of reasons that– as this site's writers and commenters – we will try to unpack below. This piece aims to add to previous attempts like my dismantling of the arguments of numpties like Roy Keane), with new dimensions, and with the intention to try to think of every last thing (whilst obviously accepting that such an undertaking, in a season of so much craziness, is nearly impossible).
A lot of the issues can be dated back to the utterly insane game at Goodison Park, so it's timely that the return fixture takes place this weekend. (How many Liverpool players will Jordan Pickford and Richarlison try to maim this time? What a shame the Kop will not be there to give them a warm welcome!)
We've also tried to collate many of the most illuminating graphics and charts that we've created or which we've stumbled across, many of which have appeared in other TTT articles – but the aim here is to try and make this article as close to a full health check for the Reds from a team of medics, rather than a cursory glance from a distracted doctor. (Even then, we won't catch every little ailment.)
Subscriber Tony McKenna first introduced us on TTT to the Black Swan a decade or so ago, and this is a piece he wrote in 2014 on the issue:
Based on the work of Nassim Nicholas Taleb, the Wikipedia definition is that:
"A black swan is an unpredictable event that is beyond what is normally expected of a situation and has potentially severe consequences. Black swan events are characterised by their extreme rarity, severe impact, and the widespread insistence they were obvious in hindsight."
Chris Rowland: To say much has been made of Liverpool's travails lately would be an understatement worthy of calling the Atlantic a 'whole bunch of water' (copyright Terry Gilliam, Monty Python!).
Little of it has been analytic or in-depth, or taken any account of context. Or even got the basic facts right. Just damn them with generalised and superficial cliches and pretend that's job done.
Example: Martin Keown after the Leicester away game:
"That central defensive position is where the problems lie.

"Klopp has lost defenders and taken two midfielders out into the defence. That is four changes from the team who did so well and he doesn't need to do that. It is too many.

"Without Gomez and Van Dijk they have one hand tied behind their backs. The wheels have come off. Klopp needs to get that position sorted."
Fact: but it wasn't just Joe Gomez and Virgil van Dijk missing injured was it? It was also Matip, Fabinho and new signing Ben Davies. Fabinho couldn't have played in midfield, or defence, or anywhere else!