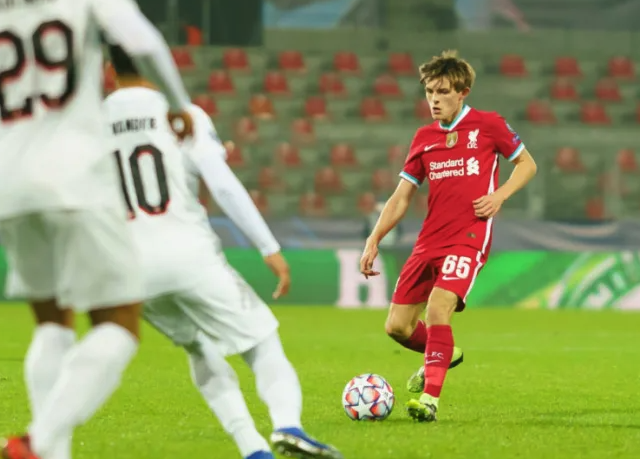 Best posts of the week:
Chosen by Chris Rowland and Daniel Rhodes.
Stat of the week

From Opta:
"Liverpool have won 31 of their last 32 home league games (D1), scoring 93 goals while conceding just 25 in this time."
1 – Paul Tomkins echoing the view that MOTD2 showed every Wolves attack and made them look as though they had been better than they were:
Just watching the MOTD2 highlights as well, and it did indeed show every Wolves attack in the first half, including where Traore crosses and it goes out for a throw, plus a shot that sailed harmlessly over.
But I just logged on to post as just seen the "penalty" again, and in the blur from my terrible Amazon stream I hadn't seen how angry our players were. To me, with the blurry pictures as Mané tried a crazy overhead kick, I assumed it was a penalty. Looked stonewall. But I hadn't noticed how angry our players were, and Hendo going mad at the ref, then seeking out Coady, and calling "bullshit" to him. We miss that without Hendo – not to abuse the refs, but to stand up for ourselves.
Well done to VAR, whoever it was, and the ref, for overturning it – but baffling how there was no yellow for diving. Yes, Coady may have been anticipating the contact that didn't come, but that's still a dive – not least as he didn't have to dive over contact from Mané (evasive action from a lunge can still be a penalty) as the leg was withdrawn. Coady ended up gifting us a goal, and being called a cheat by the Kop. I'm sure it would be forgiven if he ever rejoined us, but it's not something he'll be feeling good about – and he was trying to cheat.
2 – Mike Taylor in appreciation of Jordan Henderson:
By the way, I continue to be amazed at how underrated Henderson is in the media even after all these years. It may seem a funny thing to say when he's the current Football Writers' Player of the Year(!), but to me he's the single player who Liverpool miss most when he's absent. His presence binds the team together, gives it shape and coherence, urges the other ten players on to up their game — and all that is before you look at Hendo's own direct contribution! One of the most important aspects is how often, when we win the ball back in defence, he's the one who plays the visionary pass that turns defence into attack instantly. Funny that, after years of no-one appreciating his leadership skills, now no-one outside of Liverpool can see what a fine actual footballer he is!
3 – Here's Mobykidz looking at Van Dijk and comparing with other centre backs over the years:
Looking at Virgil Van Dijk what sort of career might he have?
[Let me start by saying this is based on no real scientific enquiry – more the type of conversation I might have with my mate over a drink. So advance apologies for errors, misleading assumptions and back of a stamp style thinking. Especially to Jeff if he reads this – to whom I send my best wishes for a full and speedy recovery so he can bring balance to the TTT universe]
If we look at two defenders (arguably) with successful careers with trophy laden years then Ferdinand and Terry seem to be two players we can use as examples. If we take their careers from 26/27 years of age (which is the window in which VVD started the season he joined us) we can see the number of games Terry and Rio played for Chelsea and Man Utd. I am assuming VVD stays with us until 35/36. For interest I have put the number of PL games played each season in brackets (). I've also looked at Jamie Carragher's stats too – he was a monster like Milner in fitness.
Rio Ferdinand 27 years onwards at Man Utd:
27 – 05-06 = 52 (37)
28 – 06-07 = 49 (33)
29 – 07-08 = 51 (35)
30 – 08-09 = 43 (24)
31 – 09-10 = 21 (13)
32 – 10-11 = 29 (19)
33 – 11-12 = 38 (30)
34 – 12-13 = 34 (28)
35 – 13-14 = 23 (14)
John Terry 26/27 years onwards at Chelsea:
27 – 07-08 = 37 (23)
28 – 08-09 = 51 (35)
29 – 09-10 = 52 (37)
30 – 10-11 = 46 (33)
31 – 11-12 = 44 (31)
32 – 12-13 = 27 (14)
33 – 13-14 = 47 (34)
34 – 14-15 = 49 (38)
35 – 15-16 = 33 (24)
36 – 16-17 – 14 (9)
Ferdinand: 27-35 years = 340 Av. 37.77 games per season
John Terry: 27 – 36 years = 399 Av. 39.9 games per season
Virgil Van Dijk
27 – 17-18 = 34 (26)*
27 – 18-19 = 50 (38)
28 – 19-20 = 50 (38)
29 – 20-21 = 8 (5) – currently injured.
*inc Southampton games (12 PL games only)
VvD average 17-20 = 44.67 games
VvD average if not playing this season 17-21 = 35.5
If you look at John Terry and Rio Ferdinand none suffered a season ending injury as early as Van Dijk. I've not looked at that precisely but you can clearly see Rio only played 13 and 19 games between 09-11 and John Terry in 12-13 played 27 games. I hope Virgil's injury is the once in a career injury that drops the average. If you take the Terry and Ferdinand average between the ages of 27-end of their careers it is 38.84 games per season.
I fully expect Virgil Van Dijk to be a Liverpool legend with a longevity equivalent to Ferdinand and Terry. Assuming he stays with us for another 6 seasons I expect Van Dijk (with LFC remaining competitive in Europe) to have played by the end of his LFC career a total of 375 games, which means he falls in between Terry and Ferdinand.
This is where Jamie Carragher was an absolute monster in terms of fitness. From 27-34 years for Liverpool he played 433 games – which is an average of 54.13 games per season, which is absolute bonkers and way higher than Rio and Terry.
VVD was meeting Carragher's stats for the past two seasons until that wa*ker smashed the Dutchman's knee. If we assume that this season is a one-off (like Rio and Terry you see a dip at their peak) and he maintain's a Carragher like 50 games per season then VVD's LFC career could seem him play a total of 442 games, which is MORE than Carragher.
So that means VVD might play between 375-442 games for Liverpool. Carrager's career was based on a Liverpool side defending slightly deeper. Can VVD still play a high line at 35? Paul's talked about melting points, defenders coming into their prime laters, etc.
But its interesting to understand what our long-term vision is and it comes back to Liverpool's handling of Gini Wijnaldum, Bobby, Mo, Sadio, etc as they lose that quart of pace and whether we adapt our style or transition now or a mix. The way we played against Wolves (razor edged with disciplined control) and slightly deeper could be in the long-run what will work. But we started the season with a higher line, four upfront, etc. Just got me thinking.
Its fascinating to put these stats together (with the caveat that these are not precise and only estimations based on a back of a cig packet over lunch conversations). But if we get Van Dijk up to 370 games plus then dear god we could be in for a hell of ride. It's just interesting what that means on our long term playing vision.
All sources are Wikipedia:
https://en.wikipedia.org/wiki/Virgil_van_Dijk
https://en.wikipedia.org/wiki/Jamie_Carragher
https://en.wikipedia.org/wiki/Rio_Ferdinand
https://en.wikipedia.org/wiki/John_Terry
4 – Nick on the use of VAR and the search for 100% accuracy:
I don't think you have to have an official time limit because like the offside and peno last night, there are two issues to review. The review should aim to take place in a timely fashion which means that if it is not obvious that there was a definite handball, or definitive contact in a foul, or even that a player is clearly offside based on visual scrutiny then the check is completed.
As said in an earlier post, we are not looking for perfection, no-one was unhappy with players being offside by millimetres and few were unhappy at accidental handballs that lead to goals. All of this would be so much easier if we understand the officials thinking, therefore we get them miked up when discussing the issues.
A goal like Mane's last night and at OT last season should stand. Goals like that of Willy Boly against City and Solanke against WBA should not. I believe in both cases they were completely accidental and that neither player knew much about it but they were very clearly handballs which would not have gone into the net without the hand.
You or other fans may ask, is there much difference between Mane's last night which led to a goal scoring opportunity and Solanke's which actually scored a goal? To me there is, in that it was definitely Solanke's hand that scored the goal whereas there is no clear evidence that it was definitely Mane's hand and not the defender's arm that deflected the ball therefore the goal should stand.
Too many people are trying to overcomplicate things and get 100% precision in a sport where that kind of precision is impossible to achieve. The handball rule is considered a simplification of the rule, it hits the hand, it's not a goal but the complication is examining everything to the nth degree. Just don't do it. Stop it.
Some things will still be subjective, like the Robbo penalty at Brighton. He clearly and obviously caught Welbeck but the ball would always have hit Robbo and travelled away from goal therefore it becomes subjective as to whether it should be awarded or not and not everyone will agree about the amount of contact etc. We can't fix everything but let's try and fix what we can.
5 – David on Clarkson's debut in the Champions League:
Clarkson done a proper nice interview after the match. I really liked the way he was able to answer all the questions a bit thoughtfully – not that they were that difficult or nothing, but he had that unusual thing in a young footballer of trying to give an interesting answer, rather than the 'right' answer. Particularly good was the answer to, 'how did you think you did?' which he answered with a Kloppesque mini analysis of the game! I really think he's a bit special. Just the way he looks on the pitch with such great balance and that instantaneous pinging it about. He's got exceptional awareness and made very few mistakes considering the intent of the opposition who I thought were pretty scary – a bit like rampaging Scandinavian trolls; they sure did want to win it!
Articles published since last Friday, with excerpts:
Monday Dec. 7th:
Post-Match Analysis: Liverpool 4 – 0 Wolves, by Daniel Rhodes.
Speaking of defensive errors, it was Coady's mistake that led to Salah's 52nd goal at Anfield – but in fairness, it was more the anticipation of Mo rather than a clear error. He was like a sniper, and put the chance away perfectly. It was the Reds' first big chance of the match, with a value of 44% on Understat, and while Gini scored a worldie from outside the box, and Wolves an own goal – we also converted our only other big chance of the game with Matip in the second half. Considering we failed to convert six out of seven against Leicester, it is a lot less stressful when we are this clinical.
Tuesday Dec. 8th:
2020/21 Champions League Group Stage | Matchday 6 Preview | FC Midtjylland | MCH Arena, by Gary Fulcher.
Liverpool's final Champions Leaguer Group Stage match of the 2020/21 campaign is a rare event for the Reds in this competition: a match with nothing riding on the end result.
Liverpool booked their place in the last 16 of the competition with a 1-0 win against Ajax on Matchday 5 and with Midtjyllland rooted to the bottom of the group, the Danish side will be playing for pride on Wednesday evening, while Klopp is likely to take the rare opportunity to rest a number of players.
Wednesday Dec. 9th:
The DNA Of Liverpool's Goals – November Belongs To Jota, by Andrew Beasley.
Liverpool set a new club record against Leicester City, by scoring a goal with a 30 pass build up. The whole move lasted for 91 seconds.
It's all about searching for angles and space and passing triangles and weakness and gaps and breakdowns in Leicester's banks of four and five. How much ground must they have covered while not preventing Liverpool from scoring in this period?
Does Marc Albrighton get too close to Robertson, and then easily beaten by him, if he isn't mentally exhausted? Does Jonny Evans get dragged across unnecessarily by Mané, leaving an ocean of space for Jota to swim through and score, if he hasn't been driven dizzy by watching the ball go from side to side in front of him? Honestly, you could write a thesis on this goal.
Thursday Dec. 10th:
Reds' Young Guns Are Having Some Fun by Paul Tomkins
Every ten years or so I start a piece of writing with a lyric penned by George Michael; it's a strange and infrequent habit to have, but occasionally one will seem strangely appropriate. 
(Whilst writing the article I donned some tight shorts, located a shuttlecock, and sprayed a bit of fake suntan. TMI? I won't mention the later lyrics from other bands and artists, that see me going all trans – albeit too briefly to change my pronouns – as well as donning a big black backcombed goth frightwig and wonky lipstick. This article was a journey.)  
This season, the Reds' young guns have certainly gone for it. It hasn't all been smooth sailing, but no transition to a far more testing standard ever is. However, overall it has been better than could have been hoped, with results barely suffering. Vital experience has been gained, and players we had only really seen in the U18s have become, at worst, very handy squad players, on the road to becoming important squad players, and then maybe eventually, first-team regulars. 
The heart of the Reds' side in Denmark, against the team whose name I cannot spell (and who shall henceforth be called The Danes) had a 19-year-old holding midfielder starting his first game outside of the League Cup, a 19-year-old centre-back who had never played above non-league level before this season, and a 22-year-old keeper with half a dozen professional games under his belt. On at half-time came a centre-back who was still 17 until a mere month ago, with his only sighting for the first team a brief eye-catching display in preseason; a mere babe in arms for such a position.