"England's England's number 1, England's number 1".
I wonder how many times Ray Clemence heard that cascading down from the Kop as he sprinted towards it before a game?
Ray Clemence died on Sunday November 15th 2020, at the age of 72. It is with pleasure and wonderful memories that I look back over his career with the Reds, alongside great sadness and a profound sense of loss. Like the music that defines your youth – whenever and whatever that happens to be – Ray is integral to my formative memories of my life as a Liverpool supporter. And they stay with you for life. He's my Led Zeppelin and Pink Floyd, my Black Sabbath and The Beatles. He and a few others  – Ian Callaghan, Tommy Smith, Emlyn Hughes, Kenny Dalglish, Ian Rush et al.
Clemence was signed by Shankly from Scunthorpe United in 1967 for £18,000, in an age when we routinely acquired players from lowly clubs in the league pyramid, players who would become superstars. Kevin Keegan also came from Scunthorpe, Phil Neal from Northampton Town, Ian Rush from Chester, Larry Lloyd from Bristol Rovers.
Having served his apprenticeship in the reserves, as was the wont in those days, Ray became an integral part of the new dynasty that Shankly built at Anfield in the early 70s, replacing the 60s hero Tommy Lawrence. Shanks was forced to accept that Lawrence, and several of the other stalwarts of his epoch-forming mid-60s side – the ones who had got Liverpool back into the 1st Division, and won it twice, as well as winning the club's first FA Cup ever and taking their first exploratory steps into European football, a path that was to become so well trodden later – were, in modern parlance, melting.
It was an FA Cup quarter final defeat at 2nd Division Watford in 1970 that confirmed the need for change. It was the end for club legends like Yeats, Hunt, St.John and Lawrence. In their place came Shankly's new dynasty, of Keegan, Toshack and Heighway, of Peter Cormack, Larry Lloyd, Alec Lindsay – and Ray Clemence, who was given his full League debut at Nottingham Forest on the last day of January 1970, not long before that era-ending Watford defeat.
He was there when Liverpool won their first ever European trophy, the UEFA Cup in 1973, and when we memorably won the league at Molineux in 1976. He was there for arguably the greatest moment of them all, our first European Cup in Rome, 1977. He was always there. League titles, one merging into the next, more European Cups, domestic cups.
This was the team I grew up with, and as a Kopite, for me Ray Clemence will forever be a pivotal part of it. Shanks and Keegan went, Sirs Bob and Kenny came, but still there was Ray. Always Ray. Till now.
Ah what the hell, there will still always be Ray inside of me. You can't remove him from the memories, he's inextricably tied in them. He'll stay alive inside of me.
Internationally, although Ray ended up with 61 caps for England, it has to be conceded that he was not always England's No.1 – mainly because of a rival called Peter Shilton, who had an equal claim to the title, even if Liverpool's fans weren't having it. Also. because one of his most memorable moments for England was not in a good way, when he let a feeble shot squirm through his legs and over the line for the winning goal in a game against Scotland at Hampden Park. The scorer was a certain K.M.Dalglish. In the minds of the watching millions, it cemented Shilton as the rightful occupant of the England keeper's jersey.
There's one record that Clemence set at Liverpool that will never be broken.
The title-winning 1978/79 campaign, under Bob Paisley, saw Clemence and his defence set a record of conceding only 16 goals, and four at Anfield. Clemence kept 28 clean sheets.
Chelsea are the only side to concede fewer in the history of the English top flight, but their record of 15 in 2004/05 was over 38 games, whilst Clemence and Liverpool's was over 42.
Clemence has kept more clean sheets than any other stopper to represent the Reds throughout their history, with 323 in 665 appearances – 48.57 percent of his starts, also the highest of any Liverpool 'keeper. Alisson is the next-highest of those to make 25 or more appearances, with 47.72 percent.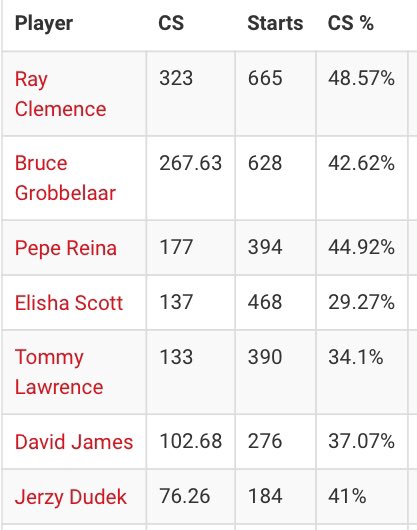 Table courtesy of Andrew Beasley.
As a goalkeeper, Ray was an alert sweeper keeper who would be off his line in a flash if he saw danger looming, and as someone who played through a very successful era for his club, had enormous concentration – when you've only had back passes to deal with for half an hour, it takes something special to make a crucial save when you're suddenly called into action. At times his elastic agility was something to behold.
Fitness and consistency were also hallmarks of Clemence's career at Anfield. Across 14 seasons he made 665 appearances in all competitions. Only Ian Callaghan and Jamie Carragher have made more. In every season between his first as the automatic keeper, 1970/71, and his last, 1980/81, he made over 60 appearances in six of them and over 50 in the other five, and played 336 games without missing a single match between 9th September 1972 and 4th March 1978.
I mentioned he played in an era of success – his trophy tally at Liverpool is spectacular:
5 League Championships (in 8 years!): 1972/73, 1975/76, 1976/77, 1978/79, 1979/80
3 European Cups: 1977, 1978, 1981
2 UEFA Cups: 1973, 1976
1 FA Cup: 1974
1 League Cup: 1981
1 European Super Cup: 1977
Plus half a dozen Charity Shields, should you wish to include them.
A lovely man, but a winner with a steely inner core – Clemence was a key element in ensuring Liverpool won that European Cup in Rome, coming just four days after an FA Cup final defeat to Manchester United. It was Clemence who, after being so down about the Wembley defeat, felt a surge of determination that it would not happen again against Moenchengladbach in Rome, a determination that was infectious and dragged his team-mates along with him. Not that the likes of Hughes, Smith and Keegan needed much encouragement to be positive, but Clemence was right up there with them. This does not slip, indeed.
His last game for Liverpool came, fittingly, in Paris, winning the European Cup for a third time in the victory over Real Madrid. Although approaching 33, it was still a seismic shock when Ray Clemence was sold to Spurs that summer. Clem admitted the pressure for his shirt from the younger Bruce Grobbelaar was a key factor. His first competitive match for Spurs was against his former teammates, at Wembley where Liverpool retained the League Cup by three goals to one. Ray enjoyed a new lease of life at Tottenham, playing almost until he was 40 and eventually making over 1000 appearances in total in his fantastic career.
A few weeks after joining Tottenham, he travelled to Anfield with Liverpool needing a win to secure their thirteenth League Championship. As Clemence ran towards the Kop goal at the start of the second half he received a fantastic ovation:
The first half I was playing at the Anfield Road end and they were still chanting: 'England's number one to me' so that was nice. I could never have envisaged when I came out at half-time and ran down to the Kop, the reception I would get. The whole stadium stood up and every single one in the Kop. It's probably the most emotional I have ever been at a football ground. It definitely brought a lump to my throat because I could not believe the reception from them. It was just one of the best moments you could possibly have.
After his playing career was over, Ray moved into coaching, first with Spurs and then as part of the England set up with youth development. He also had a brief foray into club management with Barnet, from from 1994 to 1996.
He has battled with advanced prostate cancer since diagnosis in 2005.
All I can say is, see you Ray and thanks for everything, I'll miss you, and so will many thousands of others.