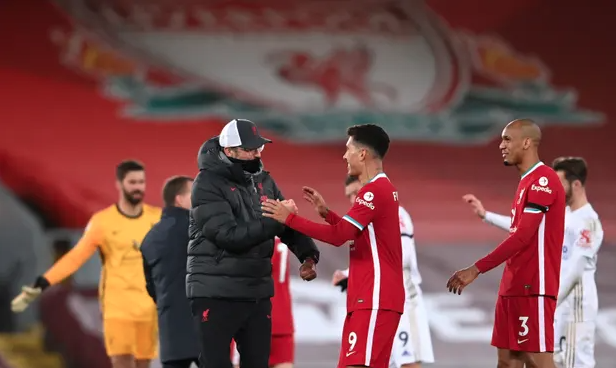 Best posts of the week:
Chosen by Chris Rowland and Daniel Rhodes.
1 – Sacksinthecity reflecting on the performance against Leicester:
THAT performance. Cannot get enough of it. Highlights reel over and over.
Just finished reading Robbo's book "Now you gonna believe us". A theme he mentions consistently is that this team, Jurgens team, have the mentality to rise to the occasion when the 'perceived' chips are down. Best illustrated by that Barca game. The run up to this Leicester game had a somewhat similarish feeling – key players missing, the pundits and bookies backing the opposing team who was on great form (Leicester aint a Messi Barca, but it could be argued that Vardy in better form than Messi at the moment and the supposed lack of pace in defence with our quickest defenders injured ). But this team just steps up when the chips are stacked agains them. Mentality monsters.
In this season, mentality is going to be crucial for all teams – no crowds to fire you up, no rest between games – especially for the teams competing in more comps, and especially for Liverpool opposing teams will raise their game against the champions – see Villa – or to break the Anfield record.
For these reasons I think that Hendo is actually the most important player in the squad for this Covid season – he is the conductor of the teams mentality momentum, with Milly his trusted lieutenant. We are fortunate to have a team spilling with big mentality players (and captains of respective national teams), where other contenders in the league visibly lack such players (see City, mentality has never been the same since Kompany and Silva left) – it is also v noticeable how Robbo for example has completely raised his levels since Virgil injury, almost like he feels it his solemn duty to take on Virgil responsibility in the defence. But Hendo and Milly are the most crucial mentality monsters.
With Hendo missing last night , it was imperative that Milly started – Milly impact on the performance was so visible even though other players might have won more plaudits for their skill levels on the night. Klopp knows this.
The only thing lacking last night was the Kop belting out Si Senor… Bobby misses his song!
YNWA
2 – Mark Cohen on the same topic:
Literally, a performance like that can make you fall in love with football all over again.
The pressing. The precision. The genius on the ball, the decision making, the calmness in defence. The beauty of the Jota goal. The incredible effort of Bobby. The calm and assured technique of Jones – what a player he will be.
What about Robbo? I mean, seriously, what about Robbo??
Milner then? The oldest man on the pitch, but with a mind like a furtive snake, slithering across the pitch to nip the trouble out with just the right amount of venom, every time.
It was a night to lay down a marker, and lay it down solid. Where others falter, Liverpool carry on. When others suffer mass injuries and lose their heads, Liverpool carry on. When good teams start well and sit proudly puffed atop the premier league table, Liverpool match them.
Liverpool under Klopp must be the most ferocious son of a bitch thing that any league has ever had to face. It's quick, it's cunning, it works endlessly, tirelessly… it loves a fight, and it loves to have fun. It ducks, it dives, it's beautiful, it's brutal, and it's bloody fucken ours.
Let's be clear – any team who dares end above Klopp's boys in 20/21 deserves a Premier League trophy.
Good luck.
3 – SimplyRed takes the Giaurdian's Barry Glendinning to task:
Barry Glendenning on Klopp being a 'serial moaner' (https://www.theguardian.com/football/2020/nov/25/maybe-klopp-and-friends-should-stop-moaning-about-fixtures-and-get-on-with-it).
I am most indignant about the way he framed this piece. First, by saying that the broadcasters have a point (in deciding on when matches are played), it is like saying that indentured workers should not complain about working hours and conditions, for while they have a point, they did sign a contract. He is essentially putting forth the argument that a contract is sacrosanct, that it should be followed to the letter of the law, ignoring the possibility that humane flexibility could be exercised, particularly in the current pandemic situation.
Second, does he have a bee in the bonnet about Klopp? Labelling Klopp as a 'serial moaner' has the potential effect of starting a meme in the media that would be hard to defend against, especially when it gets repeated at every opportunity by the rest of the media and rival fans. It would have the same effects as labelling, or insinuating that, Mo is a diver.
Third, by selectively focusing on Klopp, and giving only passing mentions about dear Ole's and Frankie's similarly passionate 'moaning', the bias becomes apparent. Further, he failed to recognised that Klopp has consistently refrained from 'moaning' about most decisions that went against us. In fact, his attitude has inculcated in the players so much so that sometimes I wished we could react more strongly to a bad refereeing decision, such as we see the two Manchester clubs consistently doing it. However, I truly respect and admire the restraint displayed by the players. It provides a constant reminder about the sportsmanship aspects of the games, which are sadly lacking and deteriorating. It is a shame that 'journalists' and 'pundits' such as Glendenning simply focus on riding their respective hobby-horses; which unfortunately, seems to be to the detriment of LFC's reputation, painting an unrepresentative picture of the club. I wish a label can be placed on articles such as his that says 'likely biased article', something like twitter placing fact-checking warning on the tweeter-in-chief.
4 – Mike Taylor reacts after the Atalanta defeat:
The big picture of course is that this is a game we could afford to lose — unlike league games. So this was the time to put in such a weak performance, and none of us need to get too upset about it.
That said, there are also two concrete lessons to be learned, I think.
First, the great thing about matches like Leicester has been how well non-first-teamers has slotted into the XI, guided by the senior players. Last night that didn't happen and I think it's because there were just too many changes for that continuity to take hold — if you like, there was nothing for Rhys and Neco and Tsimikas to slot into, because Matip was the only defender with any experience at all. You could look across the back four last night and say that all four of them actually had OK games; but as a unit, they weren't really at the races. No-one's fault particularly, just too many moving parts switched out at once. I bet if we could play that game again, Klopp would put Robinson in at LB (maybe with the hope of getting the game won in the first half taking him off in the second). That would mean the two Williamses would be slotting into defence with two experienced colleagues, which is a completely different proposition.
The second lesson I think pertains to Origi. Like everyone here, I love him to bits and always will. But it's increasingly clear that he just isn't the right player for the way we play. He's a striker, and we need forwards. He's at his best when he has no time to think, putting away chances that appear suddenly — most notably of course in the Champions League semi and final in 2019. But the way we play with our front three, we need all of them be football thinkers, in a way that Firmino is and Origi is not. As a result, every time the ball came to him, the attack stalled — and the knock-on effect was that every time the ball came to Salah or Mané, I think they were (at least subconsciously) thinking "Better not give it to Divock". That's why I think we would have done much better last night with Firmino, Jota or Minamino as the nine — they are all thinkers, among their other qualities.
I actually think Origi can go on to have a really good career as an out-and-out striker, maybe even for a top team. He could be a Lukaku type (not just because they're both Belgian!), thriving in the right team. But it ain't Liverpool.
5 – Proudred on the quality of Atalanta and the challenge of so many injuries:
Atalanta got to the quarter finals last season they are no fools. I mean we have lost to a good team and really it was just too much for us tonight. To expect athletes to be at the top of their game without sufficient recovery time between matches or long distance travel or Covid 19 is asking a lot. Then we have a brilliant coaching team and a world class medical team trying to do their best. We have no right to be asking for more from the lads really.
Imagine being Jurgen tonight, he knows we play again midday Saturday and then Tuesday evening and somehow achieve excellence in each game. In between is basically recovery time, hardly a chance to catch their breath and try tactical formations. The longer this season goes on the more ridiculous it will get, and don't get me started on the lack of a 5 substitute rule in the PL. Common sense seems to have gone out of the window in 2020. But if anyone likes a challenge it is our Jurgen Norbert Klopp.
6 – Paul, and others, on Maradona:
Shit, just seen about Diego Maradona. An absolute headcase, but the best player of my lifetime – although others have achieved more by not being so fucked up (mentally and physically) later in their careers. But at his peak he could do things no player has got remotely close to.
The punishment he used to get was insane, too. Football is a more beautiful game now that fouling is less tolerated, and the pitches are better, but he was an undoubted genius.
(Taskin)
RIP Diego.
The 86 World Cup was quite simply the most stunning individual performance I've ever seen. He carried that team in a way that Messi has never come close to doing and in a time when there was no protection at all from the authorities. He did it at Napoli too. What a player he was.
One of the biggest joys of learning Spanish was to understand the Argentinian commentary of his 2nd goal v England. The commentator ends it in floods of tears. There will be plenty more of those around the Argentinian community tonight.
I hold him right alongside Pele as the greatest ever and personally find it impossible to separate them. But I would equally find it too hard to argue against anyone who argued in favour of one them being the better. Where Pele was head and shoulders above Diego was in his mentality and that is very probably why he has out-lived the much younger rival.
A sad day for football, despite all his troubles.
(NickM)
I want to say it's a shock but to an extent it's also not based on his history. His probably my third football related memory, my first being Heysel unfortunately, the second the 1986 FA Cup Final and then the World Cup of 86. I was nine at the time but my whole family being WAB fans, you can tell there wasn't much interest in football
Truly gutted that there isn't better footage of his playing days because I truly believe he was a better dribbler than Messi especially considering the treatment he faced from opposition players. The game was maybe less tactical back then but he would have faced man-marking where the player doesn't leave his side.
It is again such a shame that he, like many others, was exploited by those around him. A troubled figure but an absolute genius on the pitch.
RIP Don Diego.
Edit: If you haven't seen the film Diego Maradona, I would highly recommend it.
And finally, Klopp:
"It's like, I'm 53 years old and it feels like my entire life, he was part of it. When I was very, very young – maybe eight or nine, 10 years old – I saw him for the first time and he was 16 or 17.
"In any video, juggling the ball, from that moment on he was the player for me.
"It's like, from an international point of view there's Pele, Maradona, Messi, if you want – one Brazilian and two Argentinians. I saw his documentary not too long ago; Diego was a sensational guy, Maradona had some struggles, let me say it like this. I will miss both."
Articles published since last Friday, with excerpts:
Sunday Nov. 22nd:
Post-Match Analysis: Liverpool 3 – 0 Leicester City, by Daniel Rhodes.
Perhaps the most impressive stat of the match though was the seven big chances we attempted, which equals the joint-highest we've managed under Klopp (West Ham 4-1 victory in 2017/18). Incidentally, we've had ten matches in the past with six, so this is a fairly rare occurrence. Leicester recorded three big chances themselves in this game, which would constitute the continuation of a worrying trend of conceding more than two on average in every match this season, but as ever, at least one of those was offside and is still included in the totals.
When I'm 64 (Unbeaten) – Liverpool Pummel Leicester (Free Read), by Paul Tomkins.
But Klopp's trust of fringe players paid dividends yet again, with the most mature performance yet from from Curtis Jones, who is learning when to dribble, when to pass and when to cover back, and James Milner is defying time, logic and gravity; as well as defying the laws of physics, the Highway Code and the Night Poaching Act of 1828. He was one of the best players on the pitch and he is due to turn 100 later in the season. 
Andy Robertson has been much better this season, after some struggles (with extenuating circumstances) last season by his own high standards, even if he was often still effective in the title win. His powerful surges forward look stronger than ever, and this is a player currently running on only one hamstring.
Meanwhile, at the back, Joel Matip has oozed class and calmness, as has Fabinho alongside him. There's no blistering pace there, but they both read the game so well, and have legs longer than a giraffe.
If anything, maybe the team – in his absence – no longer feels it can just rely on van Dijk. I do wonder if the Reds got a bit sloppy in thinking he could solve every problem, but while his laser-guided passing and his unstoppable set-piece threat have been missed, so far his defending (which had grown a bit sloppy) hasn't. 
Tuesday Nov. 24th:
2020/21 Champions League Group Stage | Matchday 4 | Atalanta | Anfield, by Gary Fulcher.
Liverpool are back in Champions League action on Wednesday evening, hosting Atalanta in an 8pm kick off UK time.
The Reds thrashed the Italians 5-0 in Italy in matchday three and another win for Jürgen Klopp's side will seal qualification to the knock-out stages with two matches to spare.
Liverpool have been flawless in European competition so far this season, winning all three group games and have yet to concede a goal, despite the many injuries and the various COVID infections that have had an impact on the squad.
Atalanta drew 0-0 at Spezia in Serie A over the weekend and have won just one of their last six matches in Serie A and the Champions League, losing two and drawing three.
Wednesday Nov. 25th:
Pass Combinations Already Show How Thiago Could Be Liverpool's Key Man, by Andrew Beasley.
For a player so renowned and revered for his passing ability, his total of three low quality chances – they have an expected goal total of only 0.21 between them – seems a little disappointing.
But this misses the point about what his main strength actually is. It isn't to play the pass too often but rather the one before that. The pass which punctures and deflates a stubborn defence, allowing the forward players to do what they do best.
Thursday Nov. 26th:
Liverpool Reserves Losing a Game to Italians is No Big Deal by Paul Tomkins
It amazes me that people still fail to understand the importance of "team wavelength", often fetishising individuals but not understanding the group dynamic. Unless they are – or rather, were – the sensational Diego Maradona, the team trumps the individual. Only a handful of players in the history of the game could win things in weak sides.
Team unity, understanding and cohesion – team dynamics – is one of the things I've focused on increasingly (I've covered the science and research in my past two books), and while a new player might arrive and instantly be on the right wavelength (like Diogo Jota), the more common reality is that, in order to do that, there's usually ten other players already gelled as a machine. (And it's still likely that the new individual will take time to settle.)
There were only four "first XI" players in the Liverpool lineup, and one of those was just coming back after Covid-19. At the moment, Curtis Jones, who made his debut almost three years ago, is starting to find his feet and look good enough to at least do a job (and in time he will grow and develop into something much more), but as a pair at least a year behind him in terms of development at the same age, Neco Williams and Rhys Williams are going to need more time, as they're still quite raw. It's all part of the process. (Idiots abusing young players, or indeed any players, on social media doesn't help. Players are almost always trying hard, but confidence is vital.)