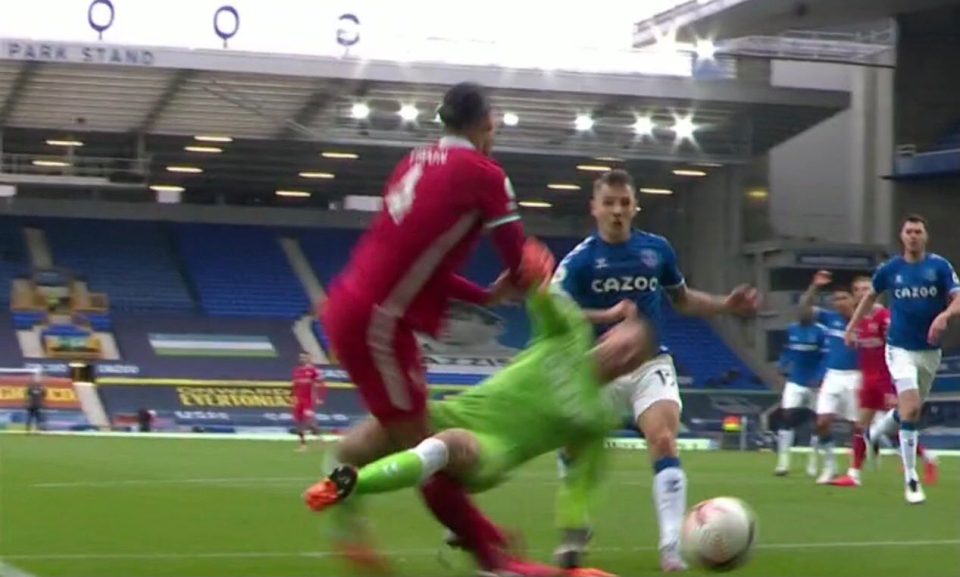 While I'm taking some time off from the daily running, moderating, admin and interacting on this site, the urge to write articles will remain strong, and since Saturday I'm just feeling more angry – or perhaps let down – by football. As such, this article is more therapy than work.  
Specifically, I, like other fans, feel let down badly by the way VAR has been implemented in England, and even more specifically, by David Coote.
The game itself is getting ever more fast and skilful and inventive, but the officiating, which I accept is not an easy job, just gets worse. Clearly we can all hone in more closely on mistakes now, but the entire point of VAR was to allow an additional official – indeed, several are involved in the process – that same technological advantage. They still have to make a decision under some kind of time constraint and under huge pressure, but some just don't appear up to the task.
I don't think I've ever been as dumfounded by any officiating I've seen in any sport, and the fact that it denied Liverpool a clear win in the Mersey derby (being 1-0 up and playing against 10 men would have been a 90% chance of the win, and disallowing the last-gasp winner turned a 99.9% chance of a win into a draw, with no time for either side to score again), and added to the situation where two of the Reds' best players were either in hospital or lucky to still have all their limbs intact, just makes it all the more mind-boggling.
Thiago is clearly lucky his leg wasn't snapped in two, and had Pickford already been sent off, as merited, then the match would have taken a different course, with all probabilities suiting the team in red. Liverpool could have been 3-0 up, Pickford wouldn't have made five crucial saves, and Richarlison may have already been hooked. It's "what ifs", but what ifs based on logic and probability. 
The thing with David Coote is, if he thinks that subjectively there was not a red card offence when viewing the footage of Jordan Pickford's karate-style assault on Virgil van Dijk from all angles, then he is not fit to be involved in football ever again. It really is that simple. 
Really. It's that simple. And while I am against the oversimplification of all things complex, and oppose the cognitive dissonances of black-and-white thinking, this really was a clear-cut issue. 
This was no "orange" card; this was as red as any red card in the history of football short of head-butting someone so badly you go to jail for it.
If he genuinely watched the multitude of angles and reached that conclusion – "nothing doing here" – you have to conclude that he is either as blind as a bat (that may or may not have been the cause of Covid-19), or he is incompetent. Or, the third and less likely (but not impossible) possibility that he is not being honest. That only really comes into play due to the confounding nature of the other explanations. 
My hunch, since Saturday, is that perhaps he forgot to view the footage from the various angles BT Sport was showing as he'd been so caught up in the offside bureaucracy; or, equally worrying (as with the beachball at Sunderland all those years ago), he didn't know the rules, and assumed, incorrectly, that the incident was no longer worthy of his examination because the play stopped for the offside. (This has now been claimed by The Daily Mail.) 
These explanations are the most generous and charitable. But it was claimed by either the Premier League or the PGMOL that he had studied the incident and deemed it not worthy of a red card, which is highly alarming. This would suggest that the people involved have lied to cover their backs and provide Pickford with no case to answer, because to say that wasn't a red card is like saying Diego Maradona didn't handle the ball in 1986, when replays proved he did.  
"Subjectivity" gives officials an out, and it just allows for corruption, of a moral kind – if not a conspiracy or match-fixing kind. It allows him to fudge, and lie, to protect his ego, rather than protect the players who make the game what it is. He can say that he saw it, even though he didn't, because then the word "subjectively" allows that conclusion. 
With the 'out' of personal perceptions, apparently anyone can justify that even the most dangerous of fouls, where 15-stone of Mackem maniac can fly in, two-footed, knee-high, is subjectively not a problem. 
Maybe he thinks that if it was not a red card there there wasn't actually any contact, which is sometimes used as a fudge; but that would confirm that he has something wrong either with his eyes or his brain. In which case, he needs to get some help, quickly.
There's another kind of corruption in the broader sense about how tight calls can be made with a desire to find the evidence to fit their agenda, rather than the split-second reactions of the referee, which can still be prone to bias, but where, for a ref, there isn't time to play with the footage, or the lines, to suit an agenda, or maybe just a whim. Indeed, on the still frame chosen, the ball had already left Thiago's foot for the 'offside' pass. Why not wind it back one frame?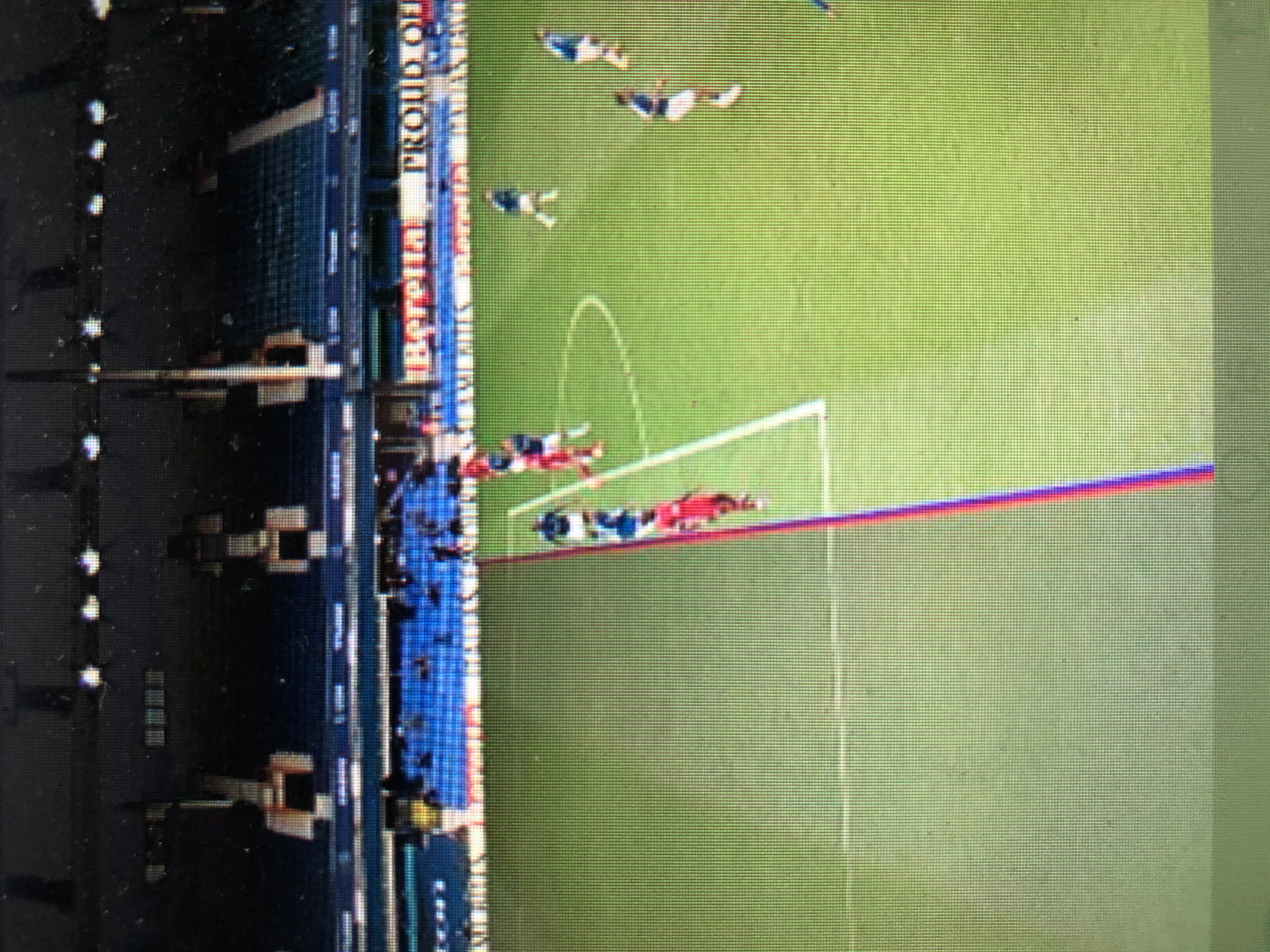 The fact that what appeared clearly to be two dead-level offsides could be manipulated to either onside or offside at the VAR's will – given that even a single pixel on a monitor equates to inches of the pitch – then he, or whomever manipulates the lines on his behalf – can effectively 'play God'. The margin of error is pretty significant, given that the players themselves may be slightly blurry due to the limited frame-rate and their movement, and the hairline can be manipulated across several inches of pitch or players' bodies to get the desired decision, and as noted, the ball had already left Thiago's boot.
Roberto Firmino's "offside armpit" was ludicrous last season, but at least you could argue that yes, his armpit may have been offside. Here, every part of Sadio Mané was onside. But Coote and his cohorts could move the hairline pixel-width line so that it fell closer to Mané's upper arm, to make out that maybe more than the merest tip of his elbow had strayed beyond the Everton back line – and even then, his elbow looked onside. 
Liverpool were fortunate last season when Wolves had a goal disallowed for an offside toe – but the tip of the boot, on the floor, could be seen to be marginally offside, albeit by an inch or two, not a millimetre or two. As silly as that is in some senses, it was a point where an offside-appropriate part of the player's body clearly ended; but defining armpits under shirts was ludicrous. Now they're fudging the issue of where to draw the line somewhere between the elbow and the shoulder, as if they had zero common sense when redefining the laws, to allow for yet more fudging.
If a borderline call takes minutes of manipulation to get to a decision, and due to the ligations of the technology it can't even be right with a margin of error to within millimetres let alone inches, then something is very wrong. The only natural conclusion was that the on-field decision should stand. Every neutral has said so in this case; I've yet to see anyone say it wasn't a red card and it was actually offside. If it's too close to call it should go with the attacking side, as deemed level, and/or it should go with the on-field decision (but the assistant referees are told not to flag if it's tight, so in these situations there may be no on-field decision).  
The overall result was just soul destroying. Even Everton fans know it was a farce; Andy Hunter of The Guardian admitted as much on their football podcast. It gave a sense of genuinely ruining the game; at least, it ruined this one. It felt like the wilful vandalism of what was a beautiful work of art, created by Thiago and co..
And Coote is making a habit of this. And while I don't want to say anything definite about his character, as I don't know the guy (just his awful decision-making with half a dozen incorrect major decisions in Liverpool games in the past 12 months, all favouring the opposition), I do wonder why we default to this position that referees are all just honest people doing their honest best in tough circumstances; that may be true in most cases. But all cases?
The second half of this article is for subscribers only.
[ttt-subscribe-article]