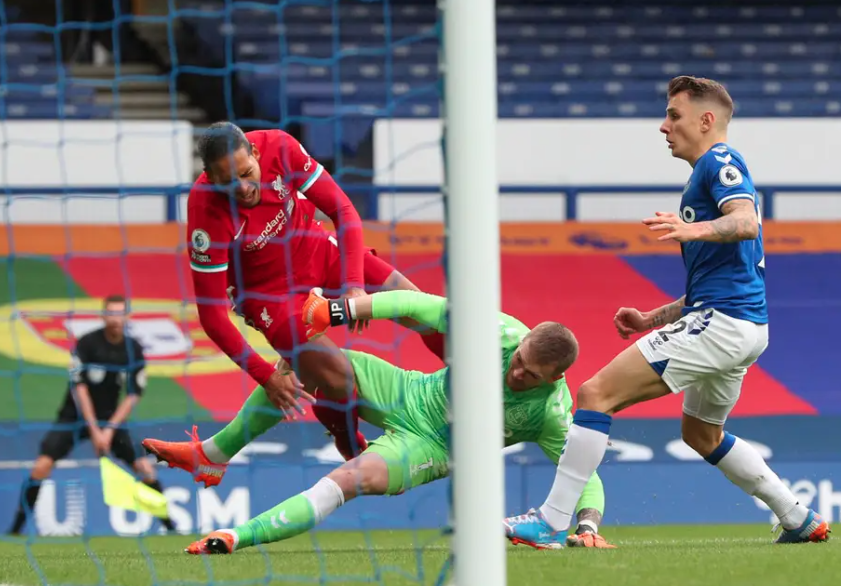 Best posts of the week:
1 – Stevenson1988 with just one of countless comments on the officiating car crash in the derby:
Former referee Keith Hackett in this morning's Telegraph is clear that Pickford should have been sent off and that Henderson's goal should have stood. Precious little consolation, I know, but the consensus is totally with us – apart from seemingly the PGMOL who continue to bury their heads in the sand. I really don't know what it will take to make them take notice, but I'm pretty sure I can hear the sound of lawyers sharpening their briefs! At some point there will be a legal challenge – I'm surprised it didn't come from Bournemouth after they were relegated last season. Had the Sheffield Utd goal been (rightly) given at Villa, Villa would have gone down and not be 2nd in the PL this morning. The quality of the officiating is heart breakingly atrocious and until they realise that they are as bad as they are, I can only see a legal challenge as the way forward. FSG have already shown with their involvement in Project Big Picture that they are not afraid to go out on a limb in pursuit of something in which they believe, so many more decisions anything like as bad as the ones we have endured of late and I can see them saying enough is enough.
Going off slightly at a tangent, but on the same theme of poor officials, I watched the highlights of the Utd game at Newcastle. Did anyone else think that golden boy Rashford threw himself to the ground for their weekly penalty? Also, for their 4th, he looked suspiciously level with the last defender, yet no reference was made to a VAR check. I know I'm absolutely paranoid by now, but I'm getting totally pissed off at the crock of shit that is thrown at us every week when others seemed to be blessed with every decision going their way. Ok, rant over, soap box away – until the next game! 😉
2 – and MichaelT with another:
I have seen on Twitter that D. Cootes was the ref that denied the blatant penalty against Burnley at Anfield last season – you know, the one where Robbo politely asked 'what's the point of having you?'
This denied Liverpool a chance to win all 19 home games and better 100 points!
Plus he was the VAR that decided Origi wasn't fouled in the build up to the MU goal at OT.
You could say he has form.
Ignoring the expected tribalism from 'fans' of other teams, today's coverage in general seems to be one of outrage and questioning what the officials are up to.
This could be the moment people realise the emporer has no clothes, in which case PGMOL will finally be brought kicking and screaming into a world of transparency and accountability.
Alternatively, they may just blame one bad apple – Cootes – and continue on as before. Hopefully they go for transparency, but I fear they will cling on to their old ways 🙁
3 – Chris Rowland on plans for a new European Super League:
My concern in the stampede to play exotic European opposition every week is the failure to grasp what makes it special – precisely that it DOESN'T happen every week. In the league, games against Utd and Everton and City etc are special because we don't play them very week, we play Burnley and Brighton and Palace in between, and it's that contrast, that light and shade, that is the very core of the football experience. If we only played the heavyweights, it's blindingly obvious that the special quickly becomes the normal, the mundane. You can't play a Bayern or a Barca every week and it remain exciting. Caviar every day? You need some basics as well as the luxuries for the latter to stand out and remain luxuries. If you can afford to eat at the Savoy every day, you'll soon forego the pleasure of a good cheese and pickle sandwich! The luxury must punctuate the everyday norm or it ceases to be luxury.
I can't for the life of me comprehend why that point seems to elude some of the proponents of a Super League. When games against Barca and Bayern become the norm, there are no highs left.
4 – … and Taskin/Tash with another:
If a European League is the norm, then after the initial excitement wears off it's just a league. I don't want to watch us play Europe's elite every week. Because they won't be Europe's elite anymore. It'll just be another league game.
I would also miss the games that are apparently of no importance. I don't want a game v Burnley, Palace or Villa to only take place in a random cup draw. This is assuming these elite clubs will belittle themselves enough to remain in domestic Cups. Or will that be European too?
I don't want to be in a league where the winners are the winners, but the team who finish bottom couldn't care less because they'll still be in the league next year anyway.
And I don't want to be in a league where the best of the rest never have any hope of being invited to the party. Liverpool being it this league is a no brainer now. What if this was implemented in the barren years, where we had still had our name in the history of European football, but precious little else to argue our way in? A league like this may have banished us from the top-table for ever. It doesn't make it OK to me that instead it banishes others. Simply put, a league isn't a league if you can't be relegated from it.
And what cost for the fans?
I don't think anyone would be surprised if this brave new world comes with a brave new price tag to boot. With an exclusive membership of this new league you can look forward to exclusive new prices too.
And what of the travelling fans – who we already argue have been affected by reduced ticketing in the Premiership? They travel abroad now because it's still relatively special – because it's often easier to get a spare away at Atalanta than it is away at Brighton – and again, because it feels special playing in Europe. But will they want or be able to go to Europe for the Tuesday night game versus Napoli or Valencia when it's simple 3 points in a full league season rather than the knockout stages of a special competition? Will their fans in turn travel to Anfield in the reverse fixture to give it the potential of a great European Anfield night. And won't they all just be European nights now anyway? I don't look forward to seeing matches played in front of a 99/1 ratio of home to away fans. It takes 2 to create a proper atmosphere and it takes years for the memories of those atmospheres create proper rivalries.
Will Everton be at this party – or is it the end of Merseyside derbies?
The big clubs – especially English teams – do have worldwide fanbases, but I'd argue that they have significantly less footprint in the countries who will take part in any European League. I don't know any native Catalan/Spanish person here in Barcelona who supports a team outside of La Liga. That differs in the Far East, the States and Australia because their national product is that much less of a draw and, in some cases, still a fledgling set up. That will be much less the case in England, France, Italy, Spain and Portugal.
At what cost to the smaller local clubs in each country? They will die or shrink, replacing the semi-pros who then replace the amateurs etc. Something, somewhere will give.
And at what cost to the game in those countries left behind? Does the national game in Turkey, Greece, Belgium etc carry on with the same dream if their is simply no path to this new Promised Land?
I think the game is simply too big to argue that it will kill football, but it will being taking a very large sledgehammer to much of it.
In case it's not clear I absolutely hate the idea. If Project Big Picture while not perfect at least offered a lifeline to the EFL, this is pretty much a death sentence.
5 – Andrew after the Ajax game:
It wasn't until I read Jamie's post on here that began "Wow that was really quite emotional" that I realised how much was roiling beneath the surface of this one. But once it was pointed out so explicitly, it was so apparent. From Jurgen's constant fury and gesticulation, to Milner's rabid closing down of anyone stupid enough to dwell on the ball, to the gritty, determined faces and performances of a team often light-hearted and fancy free in their dispositions and displays, this was a Liverpool team lower than I've seen them for some time. It reminded me of the feeling during the latter stages of the Kyiv final – a main man injured, results not going our way. But while Kyiv represented progress and the beginning of a phase at the very top of the sport, Amsterdam represented the very real possibility of a fall, or at least a hiatus, from the pinnacle.
Or it could have done. Instead, it represented the very real probability that this team will not give up the pinnacle without a fight. Unlike others in Merseyside, they know the fight must be figurative, non-violent and legal. Battered and bruised by blues that should have seen red, it was the reds who were facing blues of their own this night, and though they could have been forgiven for a sombre and uninspired performance against one of the more energetic and proactive teams on the continent, what they served up instead was cold steel.
Not that that cold steel wasn't raw and jagged at times. For the first half an hour, in fact, it looked as though they might proffer plaster instead of platinum (stick with me on the alliterative, material-based metaphors here), as Gini forgot his batteries, Curtis showed a rare glimpse that he is actually a real teenager, and Adrian… well, Adrian did some Adrian things. One of the glaring problems in that first half hour – no doubt born of the muted Gini and overwhelmed Curtis – was the space frequently exposed between back four and midfield. Ajax exploited it with relish and abandon, making life extremely difficult for Gomez and Fabinho, and on another night the Dutch club might have found themselves ahead.
However, the embattled Englishman and the boundless Brasileiro showed their metal (sorry), and laid the concrete foundations of what would end up being a solid, if not overly aesthetic, performance. Gomez was strong in the air, floated across the turf, and oozed calm in a display that almost seemed designed to pay homage to his bruised brother of the backline. The flexible Fabinho could have fooled many that he wasn't playing out of position, but to those who have watched him often he again proved he is a centre back of pure, not fool's, gold. While the goal line clearance was the zenith of his alchemical industry, his tackling once again underpinned his defensive sorcery, his legs performing miraculous manoeuvres with immaculate timing to leave the Ajax forwards bewildered. If there was a school for stripping your opponent cleanly of a football, he'd surely be it's head teacher.
And once those foundations had been laid, it was up to the rest of the team to respond. Without Henderson on the pitch to make his runs down the right and create space for Mo and Trent, and with the midfielders fighting their own battles, it was up to the left to provide an outlet, and Robbo and Sadio responded with aplomb. When a team is as dominant as Liverpool have been over the past few years, there is a tendency to take certain players and dynamics for granted. Juxtaposed against the struggle for cohesion exhibited by the rest of the team, watching these two effortlessly link up and cause problems for the Ajax defence was a reminder of just how good our left side is. Robbo was everywhere, winning 50-50 contests and then finding those sneaky little passes to hold onto possession, or sending one of his side-line hugging curlers for Sadio to chase. And Sadio was, if not quite at his balletic best, more than a handful for the young Perr Schuurs, spinning and stepping his way in behind the back four. The goal was lucky, there is no denying that, but the build up to first occupy that area of the pitch, and then exploit that occupation, was all down to the exceptional workrate and quality of our Lords of the Left.
The second half was one that belonged to our leaders – Jurgen and Jordan. The former's first undertaking, to bring on the latter, was an obvious one. But his second was as conversely unexpected. With their team struggling for fluidity and dynamism, who in their right mind would take off their three most skilled and dynamic footballers? A man who understands his players better than anyone, that's who. While the front three hadn't been poor, in fact they had all been at least solid, the hit of energy and intent that Shaq, Jota and Minamino provided was a great boon for us. All three provided something new and useful. There have been questions about Shaq's workrate and fitness almost his whole time at the club, but there were question marks about neither after just a few minutes from the powercube, who pressed with the fervour of a hound on the hunt. Jota showed again what outstanding business we have done in securing him, as he glided around on the left, finding spaces where there seemed none and opening them up with his intricate dribbling. And Minamino is starting to show what he did against us in last year's group stage, harrying and tackling, passing and moving, buzzing about like a fencer on the piste.
And Hendo. I have always been a fan of Hendo. Even still, if you had told me five years ago that his arrival off the bench would calm my fraying nerves with his mere presence, let alone his industry, tackling, tempo and range of passing, I would have challenged you with some vigour. But that is what he now does. He is the consummate leader of a football club, and once again he led us, slowing the play down, pinging when required, coaxing the best out of his peers.
When you look back over the Klopp reign and identify the biggest wins, most of them are drama filled – Dortmund, City in the league and CL, Origi's derby, Corner Taken Quickly. We're a team for the big occasion, and there is good reason that this team has earned the tag 'mentality monsters'. But behind the dramatic wins, there have been the important wins – Middlesbrough, Hoffenheim away, Napoli. We haven't always been at our best in these games, but we've found a way, and they have become pivotal moments on our journey to best in the land, continent and world. They've required us to be mentality monsters in a different way. This game feels similar. It feels like a stake in the ground and a message to both ourselves and the rest. And the message is "we shall not be moved".
Articles published since last Friday, with excerpts:
Tuesday October 20th:
2020/21 Champions League Group Stage | Matchweek 1 Preview | AFC Ajax | Johan Cruyff ArenA, by Gary Fulcher.
In what has already been a bizarre opening few weeks to the season, Liverpool were dealt multiple blows during the Merseyside derby draw at Goodison with Everton 'keeper Jordan Pickford's assault on Virgil van Dijk going unpunished and an injury-time winner for the Reds ruled out by VAR, to name just two massive incidents that went against the Reds. Big Virg has since been confirmed to have received Grade 3 – the most serious – ACL damage to his knee from the assault and the likelihood is that he will not feature again this season.
Liverpool will be heavily reliant on Joe Gomez, Joel Matip and Fabinho to stay injury free until at least January and given the injury records of the first two and the volume of matches to be played (17 between now and the end of the calendar year), it's a big ask.
Phantom Offsides and the Subjectivity of a Man as Blind as a Coot, by Paul Tomkins.
Again, that's not to insist that Coote did (or is) something sinister, but in the same game we have seen what many neutrals in the media are describing as an assault and what has also been described "as the closest offside yet decided by VAR" (as just one of many neutrals in the media who could not spot anything offside about the incident). Two of the freakiest decisions against the same team in the same game. And that's giving Coote the benefit of the doubt on van Dijk being offside before he was hit by an out of control madman.
Name any collective of people who are that pure? Were vestal virgins? I'm not saying that Coote is corrupt, but when he has made so many outrageously bad decisions against Liverpool – five big calls, all called terribly incorrectly even according to neutrals – you have to wonder. Either that, or he's just incompetent. Neither option is good enough. 
How Much Do You Know About Liverpool's Opponents In Their Champions League Group?, by Mizgan Masani.
Atalanta are becoming a rapidly-emerging force not just in the Italian circuit but also across Europe. Last season's appearance in the Champions League group stage was their first, and they went onto to reach the quarter-final stage, before a late Paris-Saint Germain winner broke their hearts. Gian Gasperini's men are an exciting unit to watch, and they could be tough to beat this season.
Thursday October 22nd:
Postcards From Obscurity – Tomkins In Exile As Reds Beat Ajax by Paul Tomkins
Okay, so taking a total hiatus from writing about Liverpool isn't so easy when the big games come thick and fast (although I'm still on a kind of sabbatical for the rest of 2020, if possible – limiting myself to shorter articles, submitted remotely, with none of my usual frequent on-site interactions and with a total social media lockdown; plus, for now I'm referring to myself in the third person, which is clearly an early sign of madness).
Indeed, the games are coming so thick and fast that Jürgen Klopp took off the entire forward line in Amsterdam with 30 minutes to go.
In a season where the Reds had conceded a crazy number of goals even with Virgil van Dijk in the XI, the weakened XI saw others up their game to bring a rare clean sheet.
Though weakened on paper, we saw the imperious Fabinho, a more dominant Joe Gomez and even a late debut for Rhys Williams, plus the not-too-commanding and recently ropey Adrián between the sticks. (Though a bit flappy at times, Adrián did make one excellent save at a vital time, and a couple of good ones, and whose only real mistake was one delayed clearance.)
Indeed, with Covid and injuries, the large midfield roster was still pushed to the limits; the Milnertron 3000 almost playing a full game, having run almost a kilometre more than anyone else on the pitch. (He had cramp after 87 minutes, then got smashed in the head on 88 minutes by a heavyweight shoulder. Only Klopp could get him off the pitch, it seemed.)
It's a season where Liverpool may have to use the midweek European subs rule to rest players, as there is an entire calendar of football squeezed into two fewer months, with the frankly absurd situation where van Dijk (and Gini Wijnaldum) were recklessly forced to play 90 minutes three times for Holland in a week, which can't have helped keep Klopp's defensive leader out of the red zone (not that it caused the ACL rupture – that was a flying lunatic – but it probably didn't help the elasticity of the ligament, from my very limited and possibly dangerous medical knowledge).
Club fans fund football; international managers try to wreck players, it seems. Frank de Boer took the complete piss by playing them in all three, even the friendly.
And so, with all this in mind, Klopp protecting the players may be more important than protecting the points, although both would be nice.
It was also fitting that the winning goal came from a throw-in, in what is literally the Group Of Thomas Grønnemark.