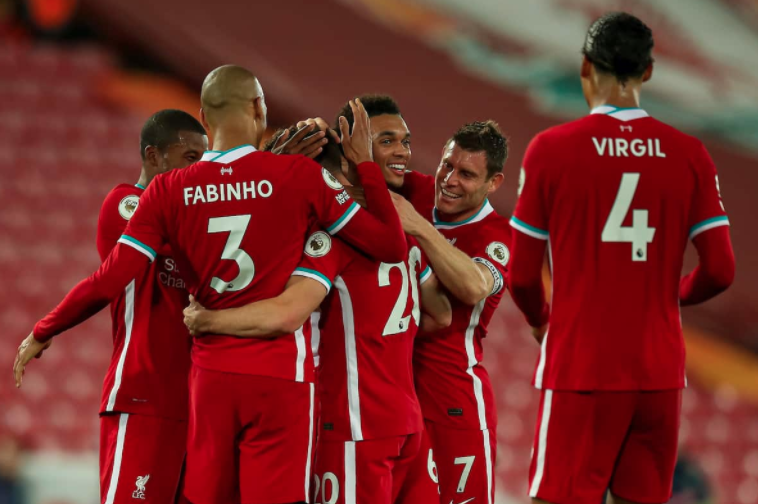 Best posts of the week, as chosen by Chris Rowland and Daniel Rhodes:
Here are some comments we've picked out this week:
1 – Garythespud on criticism of Man City following their 5-2 home defeat by Leicester, and comments afterwards by Rodri:
To be fair to Pep and City, Liverpool are only two rubbish results away from sniping and assertions we're done just like them. The key to it all, and what makes Klopp and VVD et al transcend what is happening over the way in Manchester, is the fact that Klopp and his team own their mistakes. They respect the opposition. Klopp understands the fact that the squad should be harmonious. They should appreciate opponents can bring trouble to our door and win. It's a fact of life. Success is not written upon the foundation of the dollars, it is written upon the success of the individuals to become a team. That's the difference between Liverpool and Man City at the moment and looks like it is a gap that can only widen. It's a tectonic moment between the two clubs and more power to it. Let's hope it becomes a grand canyon.
2 – NickM on reports that many lower league clubs may be about to go to the wall due to lack of paying fans through coronavirus:
I have no problems with Premier League clubs sustaining lower league clubs but at the same time many clubs are finding themselves in trouble because they are being mismanaged financially. This may be driven by the desire for promotion to higher leagues and the obvious wish to stay there once it has been achieved but the owners need to be made responsible for the correct running of the clubs and making them financially viable.
Now is the time to review the whole sustainability of football clubs as viable businesses. If clubs want to stay viable they need to review their whole setup from top to bottom and stop paying player salaries that are out of line with their finances and therefore not sustainable especially if their circumstances change. For some clubs it may come too late but the ones left behind need to ensure that they are viable going forwards.
Supporting your local club is easy to say but the reality is different. My local club was Kidderminster Harriers. My local big club could have been anyone of Wolves, Birmingham, WAB or Villa with the most of my family all being WAB fans with a lot of my school mates all supporting the Villa and a smattering of others supporting Utd, Spurs, Everton and Liverpool.
I have lived in Northampton and Reading and also abroad but now live up in Salford. I could have supported any of the above teams but I am not someone who will usually travel hundreds of miles to watch my side play. I am not the only person like that. That means my club gets little to no money from me except for the odd shirt now and again. Everyone knows that football is about one love and so whilst I lived in these different places you don't switch your allegiance to your new local club although of course you can 'support' the new local club by going and watching a few of their games but many don't have the time for that and the actual club they support.
I watched many a Harriers game as a kid, going to far flung places like Merthyr, Northwich, Woking, Yeovil etc. I also attended some Reading matches as well as many a Real Madrid game and the odd Atletico Madrid game. Obviously the latter two hardly need the money in comparison to those lower down in the English football pyramid but supporting your local club when you are young doesn't mean that you will be of any financial help to them as you get older.
It is not as easy as just supporting your local club, especially as my local clubs are Salford City, FC United before of course the unmentionables of Utd and City who don't need my support. I suppose I can also include Bolton and the currently non existent Bury, both of whom probably need(ed) any financial help they can get. I am however really not inspired or inclined to go and watch any of them.
3 – Madchenkliop continuing this theme:
I have to say that when we mention the problem facing smaller football clubs and the potential redistribution of wealth solution from the richer clubs, I can't help feeling a sense of vertigo at the wilful disconnect we make between football issues and the wider world.  I know this is a football site and we're not supposed to discuss politics on here, but when we talk about smaller football clubs, we're not just talking about the odd micro-economy effecting a few tens of thousands of people here and there who might lose their hobbies – we're talking about virtually every social activity that involves leaving the house and forms the backbone of communities everywhere.  Concerts, museums, theatre, all the other sports, markets, bingo, festivals, any kind of social gathering.  These aren't just an assortment of individuals who have had their fun spoiled, they are facilitated by organisations, often run by volunteers, who rely on incredibly fragile financial systems and yet are the life blood of our cultural lives.  And any sportsperson or artist or entertainer who has managed to scrape by on these scraps, living in semi poverty and supported mainly by their own passion is having their vocation wiped out by this pandemic in a potentially irretrievable way.
We argue on here about the toxic effect of social media and attention culture, but weigh that up against the effect on young people's lives of taking away all the small places and organisations and vocations where they might be able to go out and meet and live and play! in person.  No wonder teenagers suffer from depression. The social model encourages us to sit at home and consume and culture is only paid for by things like tourism where entertainers are paid to be living exhibits in a re-enactment of times past.  Essentially, small football clubs are part of this undervalued communal culture which is forced to compete against the greedy giant corporations whose growth continues unchecked.  And now we're in a situaton where the only hope for the small clubs is that the corporations offer a bit of charity.  Ok, maybe this would be just a temporary measure if hopefully the pandemic eventually passes, but I just can't see any solution to this cultural erosion problem which doesn't acknowledge the destructive power of our political systems.  If the trickle down effect really worked, where is it right now?
4 – Jeff in praise of the modern-day Liverpool after the Arsenal match:
Jürgen Klopp and the powers that be in Liverpool built a team designed to do one thing and that was to win matches and Liverpool win match after match after match. What we saw today was why Liverpool win match after match. Any money paid to bring Alisson to Liverpool was pennies on the pound as he is clearly the best keeper in the world. If you looked at all the 10 outfield players today, you saw them working as a team time after time after time. For example, if you watched Trent Alexander Arnold go forward you should have noted that Keita dropped back to become the de facto right back. This team never gets pulled out of shape because it has 10 outfield players who know how to cover for a lad who goes forward in an attack or goes out wide to defend or whatever happens on the pitch there is a Liverpool lad covering for his team mate.
Sometimes in this world one must acknowledge that match fitness and team cohesion do not happen over night but take time. In today's match I saw Joe Gomez showing that he is rounding into match fitness and every time I see Naby Keita play for Liverpool he looks sharper and sharper and more of a force on the pitch. When you have the best keeper in the game and 10 outstanding outfield players you are going to win match after match after match.
I know Paul noted this somewhere above but it should put the first three matches into perspective. Liverpool have beaten two of the teams that are considered top 6 teams and a promoted Leeds team that has  only lost to Liverpool. Paul wrote two years ago that he said it would be difficult for Liverpool to achieve more than it did amassing 97 points and I agreed with him. Liverpool showed me that they knew better then I did and racked up 99 points. This seasons Liverpool barring an unfortunate run of injuries is going to amass a huge number of points in the Premier League and after three matches is showing that it is getting better and better and better.
We are seeing something special in Liverpool and we should all enjoy it for as long as it lasts.
5 – Paul on the future of Harvey Elliott:
Does Elliott now possibly get a loan somewhere? Or does he wait for the FA Cup in early 2021?
I'm a bit worried that although he's already physically stronger than Wilson aged just 17, he's a bit like Wilson in that it appears he's not quick enough to be a wide forward. Wilson's all-round game has never been great but he's a superb finisher in the box (or was for our U23s before his loan to Derby), as well as from his long-range shots. But he's not really convinced as an all-round player. So he's neither a midfielder nor a winger/wide striker. I thought Wilson might become a Lallana type, as he also never suited the wide role in a front three, but became a very busy midfielder who, for half a season, looked like he could score goals. Wilson started last season on fire but then just disappeared from view.
The difference with Elliott is that he's miles ahead of where Wilson (and Lallana) were at the age of 17, and has time to become wily and clever, not least as he's in a better environment to learn. And maybe he'll still grow an inch or two and perhaps become suited to a different role. I just fear he won't suit the current system, but at least he has time to adapt. In my head he could be like Gini Wijnaldum, who was also a winger in his youth but isn't quick enough to be a winger in our current system.
Then again, Curtis Jones appears to be another who has dropped back from the forward line to midfield. Jones is ahead of Elliott right now on merit, although Jones was poor tonight and every trick he tried failed. Sometimes those tricks were bad ideas but he can unlock doors when they do come off.
On Grujic, he made some important headers at both ends, and one great tackle on the edge of the box. In the 2nd half he controlled the game. I'm not sure what his pressing is like compared to the press-monsters we have most weeks, and his defending always used to be a bit clumsy. But he's clearly improved after two very good years in Germany. He passed nicely in the way that you want the midfielder to just lay the ball a few yards ahead of the running teammate, but Thiago has turned up!
It feels like Grujic might be 90% good enough, but not quite have that final 10%, which would leave him as a very good PL players but not necessarily a great one for LFC. Then again, it felt like Jordan Henderson was like that in his first two seasons in the team, and he only really clicked in 2013/14. Then he got lost again, and bounced back. And even then, it's only the last 3 years where he seemed an automatic choice.
We have so many players that I'd like to see get a chance and run of games – but only in a parallel universe, as I want all our best players fit and in the team in this universe!
Articles published since last Friday, with excerpts:
Monday September 28th:
Pressing And Provoking Errors: The Blueprint For Liverpool's Success, by Andrew Beasley.
The Reds were able to get better quality opportunities than normal from the locations they shot from when an error had led to the chance, and that always has to be the aim.
On the last occasion we looked into this aspect of the game, Mohamed Salah had been involved in the most shots. And he was again in 2019/20, but now that we can factor in expected goals, it was Mané who proved to be more important.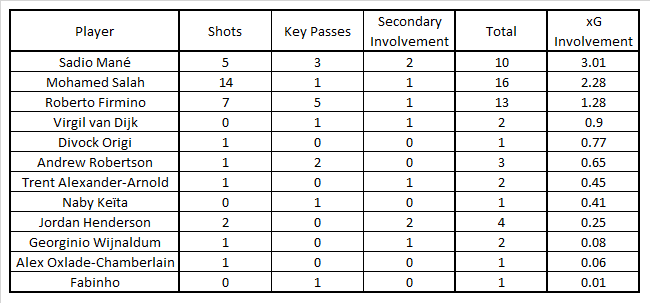 Liverpool had eight post-error chances worth 0.31 expected goals-or-more last season, and their Senegalese star was involved in five of them, including goals against Burnley, Newcastle and Everton. We can add his recent goal at Stamford Bridge to the ledger too, which – after only two matches, admittedly – is the highest value chance Liverpool have had so far this season, even including Salah's spot kicks against Leeds.
While Kepa's blunder only helped to seal the result at Chelsea, it's remarkable how many of the goals which followed defensive errors proved to be important to the outcome of matches last season.
Tuesday September 29th:
Post-Match Analysis: Liverpool 3 – 1 Arsenal, by Daniel Rhodes.
It was Liverpool versus Arsenal, we know the underlying script: more than twenty shots (21), tick; Arsenal barely even register a shot (4), tick; eight shots on target to three, so they were efficient if not much else, tick. We achieve my mini-benchmark for winning the league (have at least three big chances a game – Four), tick.
Although, we could do with tightening up at the back because according to Opta we conceded three, which is below average. However, according to Caley below, one of Arsenal's biggest chances was offside, flagged, but still counted in the stats. <insert confused emoji>
All the xG models have us with – at least – double that of our opponents. The more advanced models, such as Statsbomb, give us nearly three times the total, in line with the final score. Can we play you every week Arsenal? Or Chelsea. Both were destroyed, and pummelled into the ground.
Wednesday September 30th:
2020/21 League Cup 4th Round Preview | Arsenal | Anfield, by Gary Fulcher.
This will be the 16th meeting between the two clubs in this competition and the fifth time they have met at this stage, with the most recent being the 5-5 goal-fest that thrilled actual spectators last season, which Liverpool went on to win on penalties 5-4.
Including last season's ten goal epic (plus nine penalties that were scored), the last four ties in this competition have produced 28 goals, with Liverpool winning two and Arsenal winning two.
The Toxic Rot of the Unhappy Superstar And How It's Not An Issue For Klopp's Liverpool, by Paul Tomkins.
Klopp is carrying the weight of a massive club, with huge expectations, and yet he has only served to raise expectations, and smile in the process. Contrast that to the manager the current owners inherited a decade ago – Roy Hodgson – who was looking to laud even potential mid-table finishes as an achievement; and who at least twice stated how eager he was that his Liverpool team didn't lose 6-0 (one of which was in a preseason game against an obscure Middle Eastern side); and so when his side only lost 3-0, as it did in his second league game (at Manchester City prior to their rise to dominance), it was a big achievement. The weight of the job seemed to crush Hodgson within weeks, just as David Moyes was almost immediately squashed by the scale of the job at Manchester United (although apparently his face always looked that way). 
Thursday October 1st:
How Liverpool's Front Three Evolved, and Their Current Backup by Mizgan Masani
It is hard to argue against Liverpool's current front three being the best in the world. It has been for the last two or three years. The consistency of their performance levels, combined with the fact that they work so well as a unit, is something to behold.
What Firmino does is totally different from Mane and Salah. The Brazilian is more of an instigator of pressing from the front, making unselfish runs, dropping deep and conducting everything that is going forward for the team. On the other hand, both Salah and Mane are superb at making out-to-in runs in the opposition box, help in pressing from the front, track back and also link with the onrushing full-backs.
Combining these traits makes for a front three that is unique in its own way and is probably irreplaceable in more ways than the other. A look at their stats season by season below show how massively they have contributed to the success of this team.