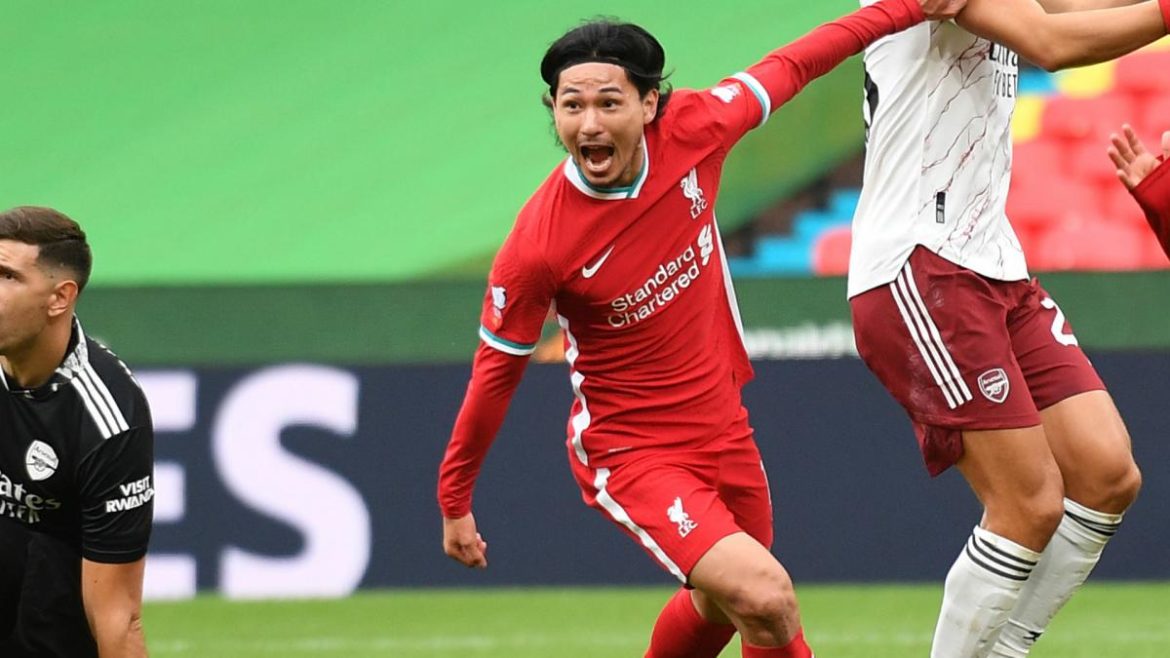 This article is part of The Tomkins Times Free Fortnight, where for two weeks up until the start of the new season, all articles are free to all to read- there is a full explanation here.
As with everything about life in 2020, pre-season was a little unusual this year. Liverpool played nine summer friendlies in each of the last two years (if you include the Community Shield) but the shortened break this year means there was only time for four.
Nonetheless, it's still worth taking a look at who has played and contributed to goals, to see who looks to be in form ahead of the first proper match of the new campaign against Leeds United on Saturday evening. Here's what occurred in the Reds' quartet of warm up games.
Liverpool 3-0 Stuttgart, August 22
In classic 'opening game of pre-season' style, Liverpool deployed two entirely different XIs for each half of the match, with 23 players in total seeing some action. Five of them directly contributed to a goal, with Roberto Firmino, Naby Keita and Rhian Brewster the scorers.
Whichever players happened to be on the field at the time, the Reds were largely in control throughout. Stuttgart finished second in 2. Bundesliga last season, so tougher challenges lay ahead.
And while the German side actually edged the shot count by 14 to 12, Liverpool's five goal attempts within the six yard box ensured it was a comfortable victory on the expected and actual goals front (as the below images from 11tegen11 will illustrate). It would also prove to be the only match this summer in which the Reds scored the opening goal of the game.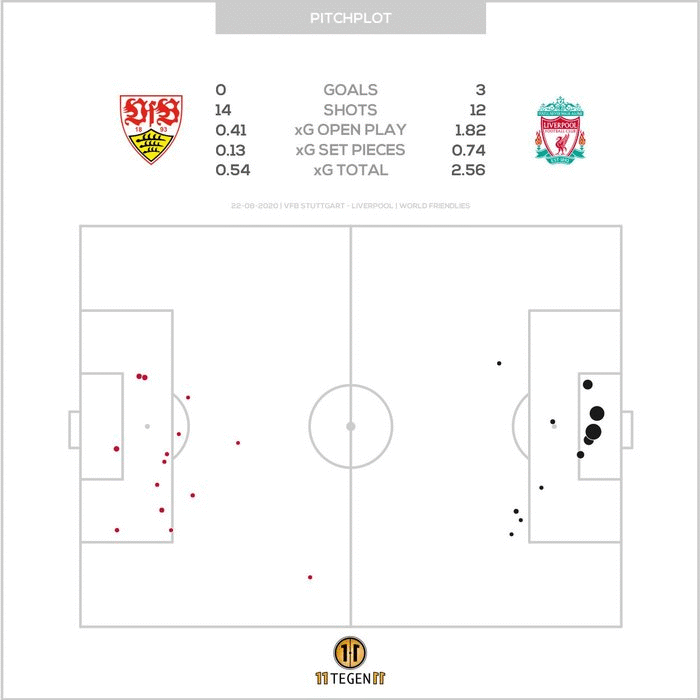 Salzburg 2-2 Liverpool, August 25
A match against a Champions League quality opponent, even one shorn of their best players from last season, would likely turn out to be a tougher assignment and so it proved.
After going two goals down, both Sadio Mané and Mohamed Salah missed what appeared to be clear-cut chances. Just as well Brewster was later on hand to show them how to put shots away. The boy is undoubtedly a top finisher.
His first goal was assisted by James Milner, just as his goal against Stuttgart was. Who'd have picked them as Liverpool's most potent preseason combination?
Liverpool 1-1 Arsenal (4-5 on penalties), August 29
And so to the Community Shield, the match that either counts or doesn't depending on whether you win or not.
Liverpool went behind in the first half, before equalising through an unlikely source after the break. The Reds had the better chances but couldn't make them count, and unfortunately lost 5-4 on penalties.
But enough about the 2019 showpiece, what happened in 2020?
For the second meeting running, Liverpool failed to beat Arsenal in a match they deserved to win, but in both cases the result was a minor irritant rather than being of any major significance.
The main positive from Jürgen Klopp's point of view was Takumi Minamino scoring for the Reds for the first time. It was his longest appearance alongside all three of Liverpool's premium attacking trident, and it certainly paid off for him.
There was one negative moment worth mentioning too though – Alisson Becker conceded a rare goal from outside the box. After two years with the Reds he has yet to allow a Premier League goal from in front of the penalty area. Long may they be confined to largely meaningless occasions.
Thanks to an excellent write-up on Between The Posts, and the Crab Stats account on Twitter, we have a wider selection of graphics for this match.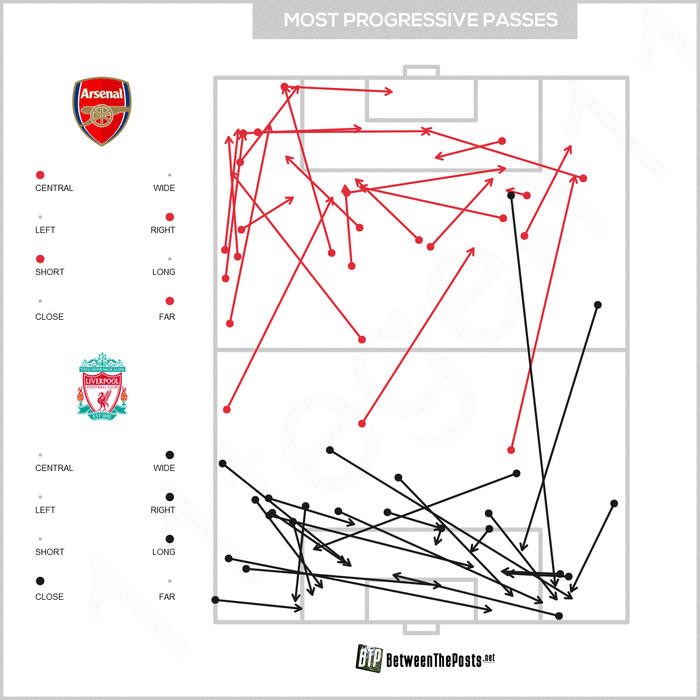 And here's the shot placement for the penalty shootout.
Arsenal beat Liverpool 5-4 on penalties in the FA Community Shield
(Initial positions, I think Luiz is higher) pic.twitter.com/0qF0erruPC

— Penalty Kick Stat (@PenaltyKickStat) August 29, 2020
Brewster's orange blob on the penalty chart determined proceedings, and it appears that Liverpool's goalscorer took marginally the best spot kick (at least based on the historic likelihood of a penalty placed there going in, anyway).
Liverpool 7-2 Blackpool, September 5
Liverpool's back four from Wembley all missed this game as they were away on international duty. Perhaps it was no surprise that a back four of Hoever, Matip, Koumetio and Milner conceded a couple of soft goals.
With Liverpool 2-0 down to League One opposition and half-time approaching, the response on Twitter was depressingly predictable from people who should know better.
And hopefully the second half shut them up. After scoring seven goals in the first 322 minutes of their pre-season, the Reds finished off with six more in the final 38. Perhaps the contribution of Divock Origi deserves the biggest praise, as he both scored and assisted a goal within his 28 minute pre-season. His per 90 figures will be through the roof.
Summary
Let's review the statistics from the four games. The following are all taken from Sky Sports.

WhoScored claimed Liverpool had three clear-cut chances in the Community Shield, while Blackpool's penalty should count as one too. The totals are also skewed by the final game, but the figures are decent enough (with the possible exception of the Salzburg match, but there's no need to go overboard).
Here's the appearance and goal data. Cells in green are starts, and an 'X' indicates an unused substitute.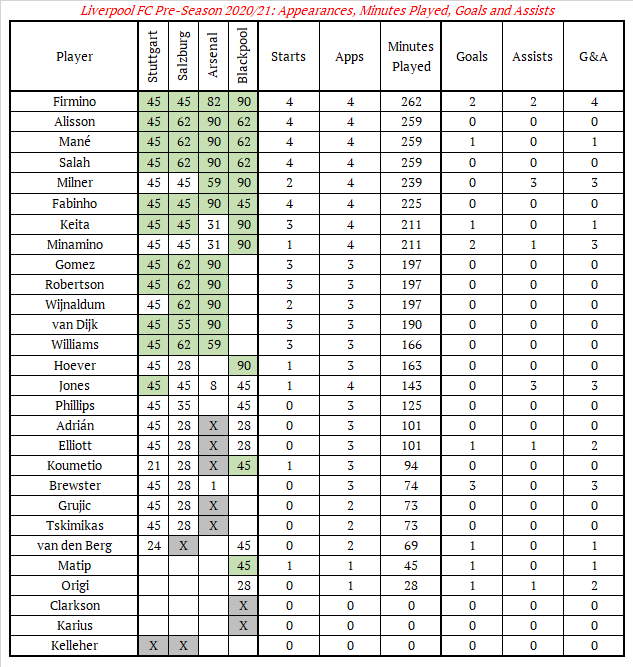 The gap in the middle of the Blackpool column clearly indicates a group of five players who would surely have started that match were it not for international duty.
And two key names missed the summer entirely, with another valuable squad member absent too. Trent Alexander-Arnold missed out (though he played for England), as did Jordan Henderson and Alex Oxlade-Chamberlain. With the captain unable to play, is Milner's increasing appearance length indicative that he will start against his former club when the Premier League gets underway on Saturday?
As you can see, 11 different players scored/and or assisted a goal – and Mohamed Salah, weirdly, wasn't one of them – so here's how they linked up.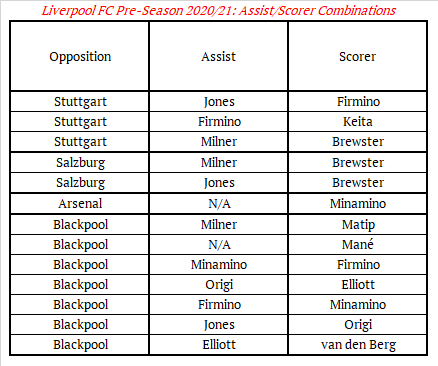 It's hard to draw many conclusions of substance from such a short, disrupted warm up programme. If you were worried about Liverpool conceding 12 goals in nine league games following the restart, the four friendlies this summer won't have done too much to win you over.
But six goals in half an hour against Blackpool doesn't tell us much about how the Reds are going to fare going forward either. And will we see more of the 4-2-3-1 formation which Klopp deployed at times? The four matches possibly left us with more questions than answers.
The team is in quite a weird position. The summer break was shorter than usual, yet it's over two months since they played a match which truly mattered; you could argue in some ways that they've had an 11 game pre-season, which began with a loss at the Etihad. With a newly promoted team first up, ahead of a trip to free spending Chelsea, let's just hope the Reds hit the ground running.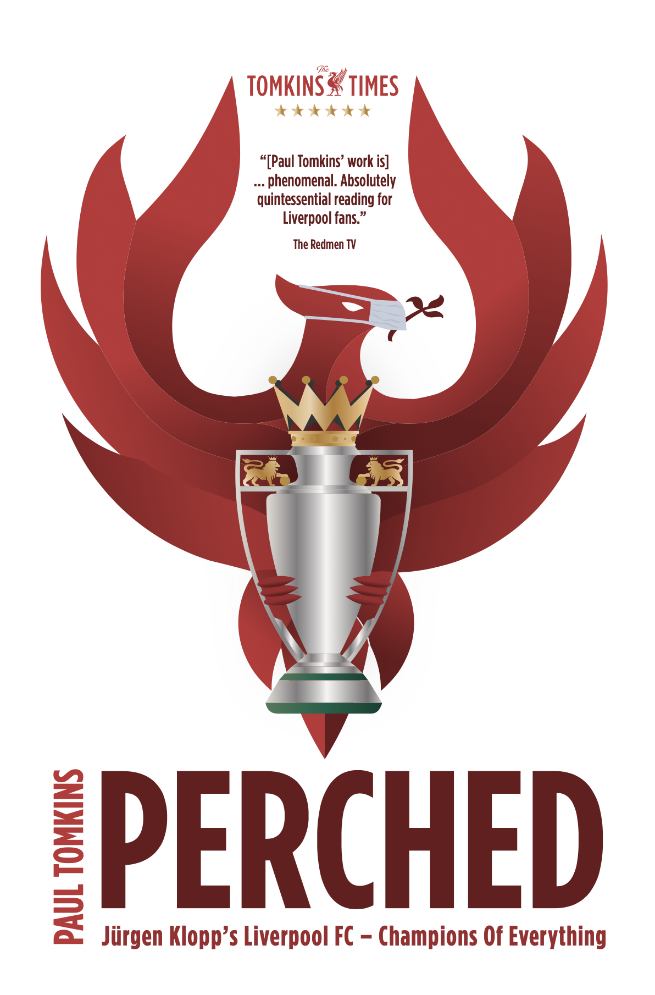 Paul Tomkins' new book "Perched: Jürgen Klopp's Liverpool FC – Champions Of Everything" is available NOW!
The paperback should be available in all major Amazon stores (UK, USA and a few others that provide the service), and the Kindle version on any store that sells Kindle ebooks. If you can't get the paperback on your local Amazon store then use the UK or US ones: