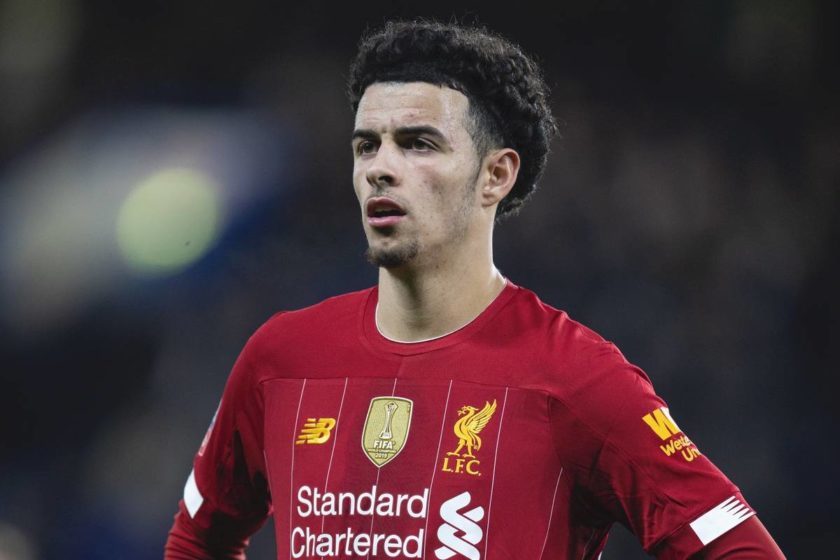 By TTT Subscriber David Fitzgerald.
(This is the latest in our Free Fortnight series, which will become a quarterly feature. Click on the link for an updated list of the articles that are not paywalled.)
It's a summer tradition on TTT to take a close look at the prospects for Liverpool's youth operation and Academy – and I think this next season is going to be more interesting than most, for three reasons.
At some point the move of all operations to Kirkby will take place. Even if, as some reports suggest, the full move isn't completed until next summer, I think we are already seeing (and have been for some time) logistical changes to how all levels are integrated into the training programs. The idea is to smash down any vestige of the metaphorical ivory tower. Even if the physical move hasn't actually taken place, you already hear references to how the layout will work, and the specialists will no longer be peripheral or occasional – like for instance, how the psychologists will be at the centre of the new complex, easily accessible at all times. For the Academy, this means youth players are having more and more psychological barriers to progression removed.
Vitor Matos, the Elite Development Coach, has now got his feet under the desk and his influence will be even more telling. A major reason that LFC were able to successfully develop Trent Alexander-Arnold (TAA) was that Klopp's Assistant Pep Lijnders was constantly on hand, ensuring that TAA was making progress on his specific weaknesses and setting the benchmark for his professionalism. Then Pep moved and I think it was noticeable how the youth supply chain dried up. I think the Pep role was somewhat experimental, but they recognised how successful it was and have now replicated it with Matos and we're seeing a more systematic approach. The evidence for this methodology is that we are now seeing a very specific group of three youngsters being integrated (Curtis Jones, Neco Williams and Harvey Elliot.) That there are only three and that it's this specific three, I think is not so much down to them being the most talented, but the fact that LFC can only realistically afford this amount of first team minutes and that Matos only has a limited amount of time he can invest into ensuring that they do develop.  It's all about being specific. However, it will be particularly fascinating to see if there are any fluctuations from this course and if other players can break into this elite group.
As evidenced by the above three youth players being included in the first team squad for the last games and PL celebrations, the club now has an established pathway for integration into the first team. All the signs are that there is a real commitment and investment from Klopp and the club into ensuring the process of youth development and integration is successful, but we still only have the one clear example in TAA of an Academy lad who's truly made it. The transitional period is clearly well advanced for this new group, but this next season should see whether the deal is sealed. It will be so important, not just for first team success and the players themselves but also for the whole operation and mood at the Academy.
In summation, what we're seeing unfurl before our eyes at LFC is a long term strategy, in the image of Jürgen Klopp, with winning and success at its core, but also a holistic culture of inclusion that is increasing the effectiveness of teamwork and familial support. We may have already won the big prizes with our first team, but there's been a concurrent plan running alongside that success and another finishing line is coming into view. I think we're at a significant juncture where the risks taken, with so many youth development irons in the fire, could potentially see some exciting rewards.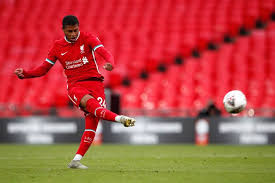 I haven't included Rhian Brewster in the list of Matos's charges as he, as a loaned player, has been progressing down a different route. I will look at the progress of the loanees in a separate section, but on return to the club I think it's easier to think of them as potential new signings where they need to compare favourably to all available options on the market. Their ability to fit in, whilst it doesn't have to be instantaneous, (as we've seen with the likes of Fabinho, Keita and Robertson who were afforded half a season or more) needs to be more independent and self-realised than with the youth players. As Brewster has already demonstrated, this can also be an advantage, combined with the right mentality, giving an opportunity for a player to express their individual attributes without the burden of JK's team of micro-managers whispering in your ear.
The earmarked!
As before, when Trent Alexander-Arnold and Woodburn were name-checked, LFC are running an 'accelerated progress' group with Jones, Williams and Elliot. I think Paul Tomkins is absolutely right that there is a good chance that the four youngsters (including Brewster) will be steadily but surely incorporated. It was interesting to hear Harvey Elliot going out of his way to credit Vitor Matos as having a significant role in facilitating the transition. As already mentioned, it was Lijnders' doing that TAA made it into the first team and that role is obviously a vital one in making the whole process more predictable and transparent so the young tearaways don't hit the skids a la Bobby Duncan or creep back into their shells and develop retentive complexes.
I'd say Curtis Jones is 75% there already, but the way they've kept his feet on the ground has been masterful. With his almost ridiculous 'confidence', I could just see how some unwanted publicity could have spiralled into a destabilising distraction, but they've been on him the whole time. We still need to see how he might react to a period of adversity, but the hunger and focus seem to be there and it's hard to see him failing from this point. He's lost that 'I'm going to sulk if I don't score a goal' immaturity and seems to have understood and bought into the team ethos.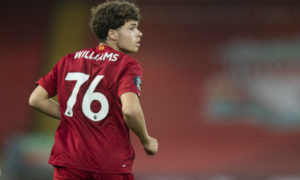 For the other two I'd say it's still 50/ 50 whether they advance. I'm personally a tiny bit sceptical about Neco Williams. At one point, I thought it looked like the enormity of the situation could overwhelm him and having seen him in his earlier days, I still think he could bottom out a bit and revert to being a bit more ordinary. That still might be enough though. For me though, Hoever has more quality as a right-back, but he needs to react to the challenge if he's to force his way back into the picture. More on this later.
Also, more on Elliot later, but it just doesn't seem like anyone is in a hurry with him yet.
I think that Matos' presence makes it more likely that all three can make the step up and that, in turn, could have an effect on the balance of the first team as a whole, but the likelihood is only one will be fully introduced this coming season.
Realistically I can only see Jones getting regular PL game time. The others will be key components in the cup games, but no more than emergency backup for the PL. By the end of the season, I could see Jones becoming the main competition to Keita and Ox in the CAM role and having a slightly rejigged midfield triangle being a tactical switch – just because we now have the type of players to penetrate through the middle. Ox was intended for this role too, but has been unlucky with injuries and has had slightly patchy form, although I'd say he's been useful. Nevertheless, I think there's every chance of him being usurped this season. It could be an interesting battle, but the cocky Jones is going to fight I reckon.
The Loanees
With the sudden tightening of purse strings as a result of the pandemic, it will be interesting to see how LFC's loans are affected. It could have a serious knock on effect with a lot of players hanging around. Will they agree to cut price loans just to ensure their players keep fit and engaged?
It's interesting we've given out so many new contracts to young players. It suggests to me that the business part of the operation is taking precedence and the club are determined to make money on their investments, rather than that they have serious expectations that most if any of these players will progress to the first team. But how much will these profit margins reduce in the current climate I wonder?
It's also true that the club see having a high volume of youth players competing for places is an effective way of raising standards. There's an article in TIA on the goalkeeper situation, which quotes an unnamed source 'close' to the Academy as saying, 'incomings are designed to produce a "good standard" in the youth ranks, with the "vision for the club" to allow these players to "thrive and improve."
I still find it a bit bemusing, looking at the sheer numbers of young players, and struggle to know exactly what the Academy aims are. It's sometimes hard to see how this policy of abundance is an economical strategy or one that operates in the interests of most of the youngsters themselves. It seems pretty obvious they are not seriously considering handing over the reserve keeper gloves to the likes of Kelleher for games deemed important. Given they got Lonergan on a short term deal last season as well as Adrian, it tells you that experience counts for a lot in the estimation of Jon Achterberg and the other coaches.
And yet we have almost an entire team of goalkeepers on the books: Alisson, Adrian, Karius, Kelleher, Grabara, Shamal George, Atherton, Jaros, Orzynski, Winterbottom, Harvey Davies and Mackenzie Lyle (who I think I saw play once). There's even one on the official Academy roster called Oscar Kelly, a 'scouser' who I've never seen play. We've also just signed another polish lad, 16 yr old Fabian Mrozek.
So to those who went out on loan:
Kamil Grabara
I feel sad for Grabara, who got a horrible concussion injury that finished his season early. It sounds like he'd gotten some excellent experience to that point. He played over 50 games and the Huddersfield manager, Paul Clements, said that despite getting 'tired' towards Christmas where he made a couple of mistakes and lost a few fans, Clements thought he'd done 'unbelievably' well. Huddersfield don't want/can't keep him and he's now back at LFC where he'll be joined by Karius. (What on earth must the vibe be like at Melwood right now!? It must be like a player superstore!)
Rhian Brewster
I pretty much agree with everything Paul Tomkins has said about Brewster. He looks special with a special confidence and attitude to boot. The thing that stands out about him for me is how he leaves nothing to chance. He's not just a gifted opportunist – he forces the opportunities with that hunter's instinct of where to be and how to shape his body in expectation. Paul says he reminds him of Torres but I'm going to raise him a Dalglish!
He looks ready to me NOW – positively bursting at the seams – and I would not like to see him go out on another loan. It looks to me like he's at a perfect stage to benefit from Klopp's guidance if he wants him to improve his positioning and involvement in play. That's not so likely to happen at a different club. In fact I think it's more likely that the opposite kind of habits would become ingrained. I also think it could potentially do the front 3 and the shape of the whole team no harm at all with this busy fixture list to shake up the blueprint a little.
Harry Wilson
I think the bus has passed for Harry. With Bournemouth going down it seems most likely he will be sold and not loaned. Leeds are apparently showing interest.
I would still love to see him in a better side. I think the chances are he could blossom with better skillful players and runners around him. The question has to be does Klopp want to see that? JK seems to like players who work first, play later. Look at Minamino for instance, who is probably the biggest reason that Wilson won't get a chance. Mini is so industrious and mobile and seen in that light, in the context of competition with HW, I would suggest the former's performances so far score him much higher than Wilson, who scored the odd goal in last preseason but didn't manage to convince with work ethic. Wilson may well score you more goals, but he might also leave the back door open and lose you the match.
What's more, Harvey Elliot looks like he has a lot of the things Wilson has, but perhaps, if he can manage to add more goals, he has more industry and mobility too which Klopp will prefer.
The verdict on Hazza, much as I love his unique style, is he's off. He's desirable and to be honest, it would be better for his career. His loans have proved he can be effective at  the top level, but also that his style has become more and more about winning free kicks, and his long range shooting. He's definitely got attributes that are going to make me regret his having left, but I will be amazed if we don't take the opportunity to earn a few quid off him.
Marko Grujic
Grujic isn't really a youth player anymore either, but he's still relevant to this discussion in terms of his development.  From what Jeff and others have said about his performances for Hertha and his brief display in the pre-season games, it really does seem as if he's become a far more polished player.  What impressed me was how he took responsibility for the team as a whole, possibly at the expense of more selfish aims.
He wasn't faultless and I still have doubts about his athleticism and stamina to get about the pitch for a full ninety, but I'm not sure that he's any further off from that level than Fabinho was when he first arrived. I think you need to compare him with the likes of Hendo or Wij busting a gut to stop a breakaway – that's the level that Klopp would demand of him. If he could achieve those levels then I'd say the rest of his game is up to scratch. He can pass as well, if not better than Hendo and certainly better than Wij. He's great at turning quickly and shielding the ball and looks much improved in terms of ball retention and tackling. He looks like an intelligent player to me, with the potential to be a proper string puller and to keep improving.
In short, he's done what's been asked of him; he's come right through the whole development process and deserves his chance in my view. Of course, it never seems to work quite like that and hell! We've won the PL and the CL not by Klopp keeping his word with every bit part player. So who deserves what clearly doesn't come into it. I guess the pay-off is that Grujic has probably earned himself a transfer to a decent European club. It would be nice to see someone succeed via the loan route though. Brewster could prove the exception to that rule.
Ben Woodburn
I can't actually remember when Woodburn last had a run of games. He made appearances in Oxford's (failed) final thrust to move into the Championship through the play-offs, but only as a late sub. I still light a candle for him and the marvellous maverick dig a goal out of nothing talent that he showed when he was being discovered by Pepjin Lijnders alongside TAA. It gets less and less likely that he'll find his way back, but it's always worth noting whether a player has contributed to their own luck or not and in his case, who knows, maybe this spell out of the limelight might have done him good.  (Incidentally, I notice he played for the under 23s last week so who knows where he's off next.)
Nat Phillips
Phillips has had a solid season with Stuttgart in Germany. He's had to compete for a first team place playing just over half of the available matches. He has a solidity and calmness and I'm sure this is what Klopp likes about him. I think the way he recovered from that shaky start in his one off cameo in last seas0n's FA cup game v Everton was typical of him. Not easily phased. But his passing can be error prone and I think he would be highly likely to cost a few goals if he were the fourth choice called into regular first team action.
He's in a difficult situation without being able to get the regular game time to improve his consistency. I could imagine him performing a similarly spirited role as Klavan did a little while ago, but then again, we've improved since then. Stuttgart have expressed an interest at keeping him there for longer and another loan is likely.
Herbie Kane
Kane got a season-ending hamstring injury at the beginning of July and the disappointment at Hull City, who were subsequently relegated, is testament to how highly they rated him. He did really well on his previous loan at Doncaster too. He looks like the kind of player who can really shine in the lower divisions and I doubt there'll be any difficulty in obtaining a proper fee for him. I personally think he's a bit underrated at LFC but I expect him to be sold. I think Hull would have liked to buy him but he's definitely too good for League One now.
Sheyi Ojo
After a promising opening, Ojo 's stint in Glasgow fizzled out and he mainly featured from the bench as the season progressed. He wasn't offered a contract and it looks like the end of the road at LFC for him. He is now on loan at Cardiff City for another year.
Rhys Williams
William's loan at Kidderminster Harriers apparently went well and was extended. He played a lot of games and says he's better at 'basic defending'.
Anderson Arroyo
Arroyo has been injured and 'struggling for game time' out on loan at obscure Czech side, Mlada Boreslav. The mind boggles as to how a young player can keep their hopes up so far from home and with such a slender chance of getting noticed, but according to AS Columbia he is, (hopeful that is.)
Taiwo Awoniyi
Another one whose progress got prematurely truncated. This report from June: 'The 22-year-old moved to the Opel Arena last summer on a season's loan and had struggled initially. But Awoniyi has improved dramatically since the resumption of the Bundesliga, recently scoring his first goal for the club.'  Shortly after that he got a concussion which finished off his season.
So to end with here's my five to get excited about – who, (I reckon, FWIW!), could actually make it …
Harvey Elliot
Watching the preseason games I find it interesting to observe the slight difference in approach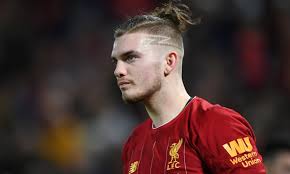 between Rhian and Harvey. The former probably has more life experience and has had to make his own running, away from the limelight and Klopp's paternal presence, whereas the latter has never been far from the support/ constant interventions of Vitor Mattos, Lijnders and all the rest of JK's extended family of awe inspiring coaches, not to mention the first team players. Of course, Harvey's also quite a bit younger than Rhian. However, I think you can really tell that one player has a clearer mind than the other in terms of what he's going to do when he gets the ball, whereas young Harvev looks like he's living a Christmas fantasy dream.
To me, Elliot looks like an extremely aware and intelligent young man who has completely bought into the idea that he's being educated by the best coaches in the world and he's following their advice avidly – he doesn't want to miss a single nuance – to the point that he's not quite sure who or what he is quite yet. As they say in Tai Chi, you learn and learn and learn and absorb everything until you are full up and then you're ready to give it out and perform and play until you are spent – then the cycle begins again. I don't think he wants to be naturally precocious in the singular way a Wayne Rooney or a Micheal Owen would have been at his age. He seems happy to bide his time.
This makes him a bit enigmatic to me. I can't quite see where he's headed. He's looked more purposeful in some of the youth games where he's buzzed around like an intrepid, influential wasp, but he's incredibly consistent at all levels. And talk about 'involved in the play' he's always looking for the possibilities and to strike up partnerships with his teammates. I think that's probably what he needs to advance to the next level – to become part of a settled line up where he can build those understandings. Perhaps the other players don't bring the best out of him because they regard him as the junior partner, but at some point that's going to change. It's a bit tricky to see where he's going to get the chance, but surely all this experience he's built up is going to pay off. And besides, you have to back Klopp to know when the time is right.
Leighton Clarkson
Talking about boys to men, another one who got some proper experience last season, is Leighton Clarkson. I'm so thrilled he got noticed by Klopp and Lijnders. I can't think of a more reliable player and he featured more regularly in my positive comments than anyone else last season.
Here are a couple of comments from 2019:
'What caught my ear (in Simon Hughes' interview) was how fitness (or Milnerness, as it should probably now be called) has become the hallmark of what you need to achieve to get a shot at first team action. He cites an interview he did with Leighton Clarkson about how the penny dropped that skill, talent and brains weren't enough and that having the fitness to make an impact throughout the 90 is the quality that's going to catch Jürgen's eye.'
'Having just watched Clarkson with the U18s just now playing against a much bigger, stronger team it struck me how, despite quite a few mistakes, the thing that makes him such a stand out is the way he is ultra-fit and just kept coming back at them, doing his thing. He didn't stop for a second. Is that attitude built on foundations laid with his first team experiences? I think you'd have to say, even though he's had few actual first team minutes, just being around JK's training regime means yes. Having heard people like Lijnders and TAA talk about what it takes to make the step up, it's the consistency; being able to instantly summon the intensity and cultivate a mentality where you are never phased. I'd absolutely agree that those hours spent coming back from adversity in hundreds of calamitous situations are what make a player. You'd have to say that the real hall mark of our first team over the last couple of years has been that they have managed to eradicate negative reactions to setbacks. It is the mentality transposed into the muscle memory of how to physically react. Disappointment is the thing that makes you soft.'
The above characteristics are the things that might make the difference on whether Clarkson progresses, but it's also important to remember what an amazing skillset he possesses. He's in the TAA class for free kicks and delivery of crosses and corners. He's great as a deep lying playmaker, but can play number 10 as well. He's got a fantastic engine and pops up all over the pitch to support the play – there's a bit of the Bobby about how good he is at playing one twos and lay-offs. He's an orchestrator. But he also has a Gerrard-like commitment to the cause and is 100% scouse warrior. It's little wonder that he's caught Klopp's attention. I wonder if his appearance and size, plus the position he plays, have caused him to be slightly overlooked as a prospect – but he's right up there for me and by the looks of it, JK as well!
Ki Jana Hoever (or Neco Williams!)
Here's the thing. I think Hoever is more talented than Neco and the latter lad knows this and has used his superior, more determined mentality to force a path ahead of his rival. But I have a notion that the relentless progress of the Welshman may at some point hit a pot hole and his essential ordinariness may revert to the mean. In short, Williams has been over-performing, whereas Hoever has been consistently inconsistent.
Of course the question remains, is Hoever's mentality strong enough and if not, is it something that can he can work on? I thought there were signs of both wobbliness and determination in the Austrian practice games. He seemed to have a bit of a despondent and slow reaction to getting beaten or caught out of position, but at other times he showed bravery when on the ball. In some ways that reminds me of TAA's early days at first team level, but unlike TAA, Hoever has some serious skills as a CB and in theory – if he can access these and combine them with his attacking instinct – he could be a very complete player. It's worth remembering – as with the development of TAA, this isn't an entirely natural process and there will be spilt milk.
Neco looks really athletic with the determination to get back and defend – I've been surprised at how strong he seems have grown– but at the same time, I think he has a bit of a head start on Hoever in being comfortable with the RB position. Hoever has similar athleticism, but hasn't figured out (a bit like Gomez in the early days) how to martial the wide areas behind him yet.
There was a very brief article on the main site (I sometimes marvel at the brevity – it's so light it could float away), which was basically a couple of remarks from Hoever on how cool it was receiving advice from VVD (although he said 'them' and I assume that meant the Dutch contingent in the first team and included Gini). The other nugget was that he's now categorically describing himself as a right-back. The article didn't show much, but I thought that what it say was that Hoever is involved and he is finding his way. He's still adjusting to the right-back role.
I thought some of his performances at right-back for both U23s, first team and for the Dutch youth side this last season showed some real flair. I guess they also showed a fair bit of inconsistency too, with him getting caught out positioning wise, but I think he's a lot closer than, for instance, Larouci was, to sorting out those defensive issues.
He needs and should be given more time before being written off. It would be harsh to say his progress had stalled since those promising beginnings when he took the field at Molineux in January 2019 as an early replacement for Lovren. I thought he was literally neck a neck with Neco Williams for the right back slot, until he went off to Brazil for the youth world cup, (Simon Hughes stated the same thing in an interview back in Spring of this year).
I think it's tempting  to think it's all done and dusted with Neco winning the battle for that spot, but I'm not so sure. It's true, Klopp will give a player a run in the side to allow development to take place, but ultimately, I think he wants two really competitive teams at Kirkby – maybe even three – and to be able to cast his eye over all those players and select in a more dynamically responsive way.
Paul Glatzel
Not a lot to say about Glatzel because he's been out all year, but like Brewster he was a great prospect up until that point and I expect him to pick up where he left off. He was notable for his strength, intelligence and leadership – qualities that will help him force his way back into the picture. He's already been training with the first team for a month or so now and scored  a typical poacher's goal for the U23s last week.
Layton Stewart
Stewart scored a lot of goals and some really important ones last season. He's a natural, greedy striker, but I've put him here also because, in the light of Klopp's remarks about Brewster needing to work on being involved in the play, Stewart is one who stands out as also having real appetite to be constantly involved. He's still quite slight and willowy but he should grow a bit this year. Definitely one to watch.
Others to watch
I shall also be keeping an eye on Abdi Sharif who I tipped as a wild card this time last year. He has only just returned after missing the entire season with a nasty injury, but good to see that he was on the scoresheet as well in last week's game. The return of Sharif and Glatzel under the enthusiastic stewardship of the newly promoted Barry Lewtas could make for a strong U23 side this season.
Jake Cain is another talented player who already has significant first team experience. He ought, by rights, to have squeezed ahead of Glatzel and Stewart in my top 5, but I think he's another one who's boyish demeanour makes him seem not quite ready yet. But he could yet turn out to be the ace in the pack.
Billy Koumetio was also out injured for a fair bit and it was great to see him suddenly resurfacing in such a high profile context. He's probably featured more prominently in Klopp's training camps than he has in U18 games, where I witnessed touches of class but not someone I thought would be anywhere near first team action for a long time. It's hard to know what to make of that one although I expect them at least to wait until he's slowed down growing to seriously consider him as an first team understudy. He hadn't even played for the U23s yet as far as I know.
For the U18s there is James Balagizi –this is what I wrote earlier last season.
"First thing to say about him is he's enormous and extremely well built. More like a Virgil than a Harry Kane though. I've seen him play as a striker, a wide forward and various positions in midfield including DM. He doesn't look particularly comfortable at using his body to bully people as a striker, despite having the frame to do it, but then again, he's at that age when he's only just getting used to being very large. He looks more comfortable facing goal than with his back to it. I think the thing I've noticed most about him is his composure and distribution. He's good at positioning himself and shows good awareness of what others are doing, particularly in the wide attacking areas. He's also pretty good on the ball. "
On the horizon there are a few new names. Check out the last goal on the U18s highlights 5 – 0 win against Crewe and see a crazy, mazy, hazy dribble by our other latest new signing 'Matty' Musialowski. He only came in for the last 20 mins or so but already looking a bit special. Also another one I've not seen before, Cannonier, looking good out on the right wing.
That's your lot for now though! (But seriously!  They've got so many bleedin' players now!)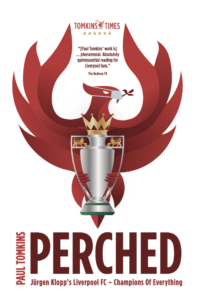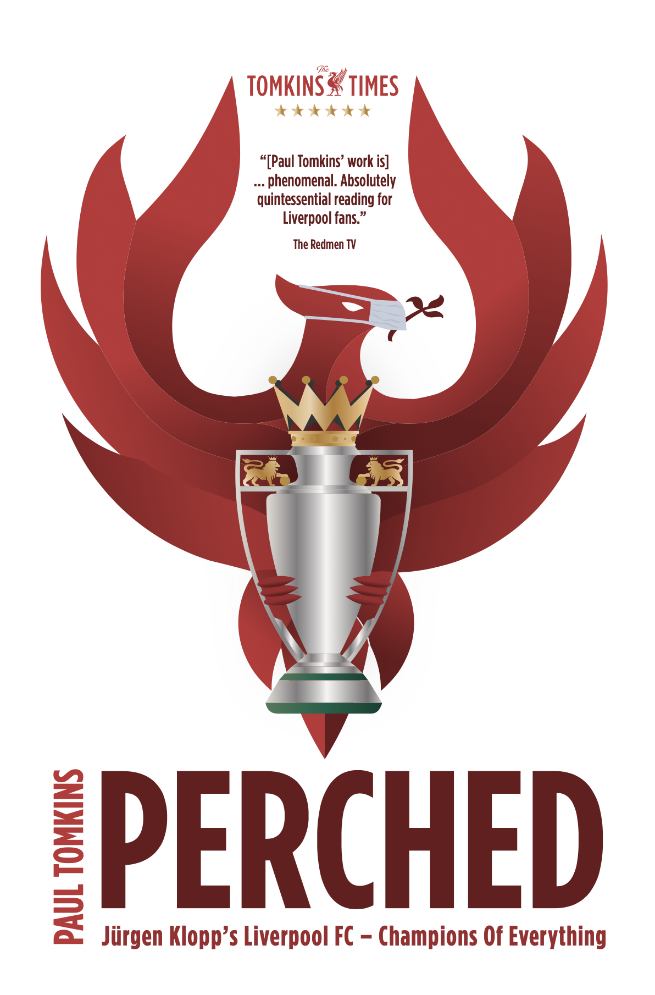 *Paul Tomkins' new book "Perched: Jürgen Klopp's Liverpool FC – Champions Of Everything" is available NOW!:
The paperback should be available in all major Amazon stores (UK, USA and a few others that provide the service), and the Kindle version on any store that sells Kindle ebooks. If you can't get the paperback on your local Amazon store then use the UK or US ones.