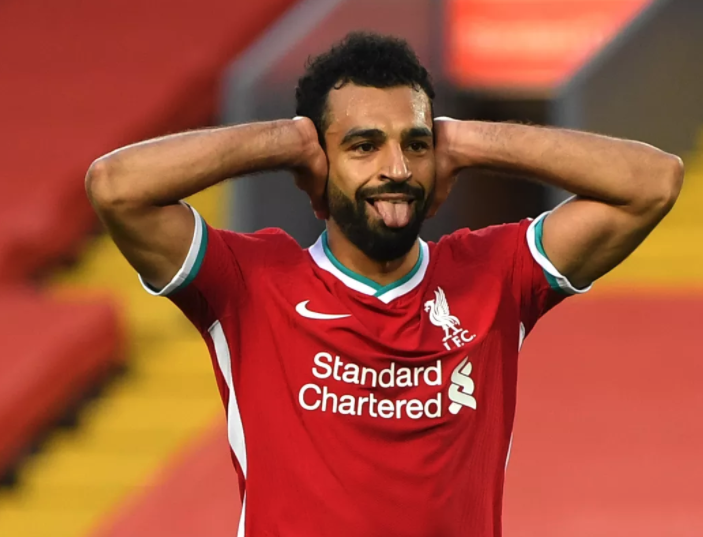 This article is part of The Tomkins Times Free Fortnight, where for two weeks up until the start of the new season, all articles are free to all to read- there is a full explanation here.
Remember the start of last season when a promoted team arrived at Anfield and decided to attack us rather than sit back and soak up pressure in a low-block? This was that, times ten, on heat. Bielsa's Leeds United didn't seem to want to bother with the defending aspect of football (apart from thirteen blocked shots). Instead focused on throwing as many players as possible forward at the same time. Countering with speed and precision. Pressing like mad and putting the Reds' defence and midfield under pressure. And yet, at the end of the game, barely registered any shots, or expected goals.
Team Stats:
Twenty-two shots for the champions, more than three times as many as the champions of the Championship (six). Frustratingly, we only managed six on target. Even more frustratingly, we conceded three goals from three shots on target – so this season Alisson's save percentage is zero! I'm confident that will improve…
As you can see from the expected goal models, this match wasn't even close. We dominated all chance creation, although over 50% of the xG total in the value of the two penalties and according to 11tegen11 we 'only' managed 0.89 from open play.
Individual Stats:
Mo Salah was absolutely incredible, and by far the best player on the pitch: nine shots, three goals, four chances created for his teammates, won and scored the penalty to open the scoring, nearly 2xG on his own. Great way to silence those doubters during pre-season who ridiculously suggested he was slowly melting. Not only that, but each goal was a 'big goal' that put us back in the lead after we'd conceded. And then converts a penalty under huge pressure at the end to secure the points. Bravo Mo.
Van Dijk made a defensive error leading to a goal. What is this madness? He also scored a goal, and had one disallowed. Keep the goals at the right end please Virgil!
xGif: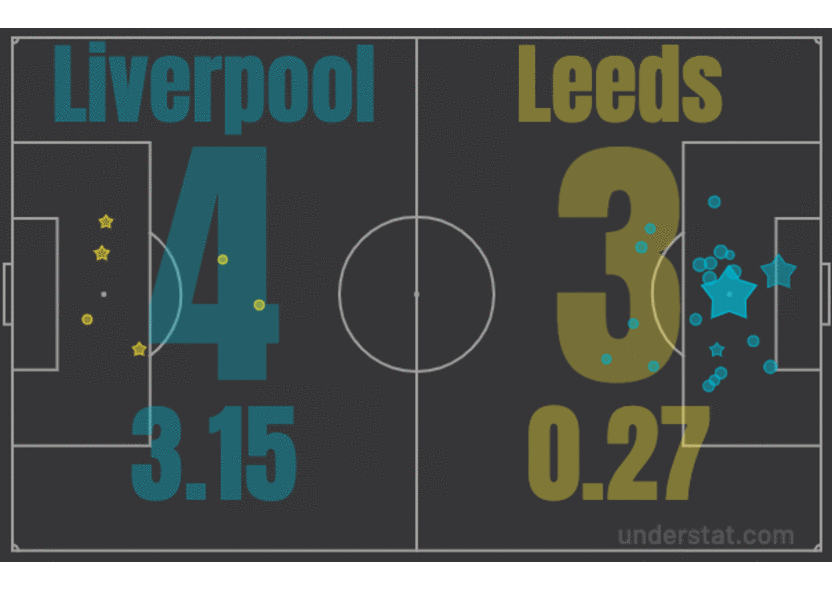 The Sanity Squad:
Explanation of The Sanity Squad from Paul prior to the Leeds game: I fear that this new season may see people react worse than usual to setbacks, as the Reds' hedonic treadmill is set to "perfection", and that's hard to maintain; from which only despair may follow, even if we remain "damned good". As such, I decided to ask various cool-headed subscribers to help contribute to the post-match thread with a couple of hundred words each, should they wish to do so.
The aim isn't to produce groupthink or even to just be positive (mindless positivity is no help to anyone), but to keep things in perspective, given the incredible highs this team has already achieved.
Peter D:
Well that was interesting! Going into the game I was totally unsure of what to think.
Sure we are Liverpool and we are the imperious champions, but with a downturn in form and intensity at the end of last season and a very short break and pre-season and a crazy international break at the most crucial of times. Overall it felt like it was a game coming too early against a difficult opponent – but we don't get to choose and over the last two seasons we have dealt with all adversities – so the feeling going into the game was pretty positive.
The early signs were great, an immediate level of energy and sharpness not seen for sometime (especially for Salah) and there was an early sighting of that incredibly rare home penalty and all felt good. Then out of nothing Leeds are back in it, then us, then them, then us and then them again – with early season mistakes and rustiness lending a hand to the ridiculous score of 3-3 going into the final stages (with Leeds scoring with every attempt on target).
Who thought we would be able to relax this season? This still matters and it clearly does to the players as well. Just like last season, on many occasions, when the FSG-out brigade were poised to launch their social media tirade we somehow and from somewhere found a way to win – winning is what we do (and we are actually pretty good at it) and we should learn to have faith in this team, they have earned it.
Bob Pearce:
Was it a good result? In the coming months we will see how strong Leeds are in the premier League and can then judge today's result. In terms of judging the performance, there are a pile of positives to help us half fill our glass.
One penalty at each end of the ground. It may be a new trend. It may be a a blip. Let's hope, like last season, it didn't matter in the end.
Three goals for Mo Salah. Full stop.
Giving up a lead three times and getting up each time to grab the lead again shows that last season's resilience is very much intact. Klopp entrusted Curtis Jones with a central role at a critical stage of the game, ahead of more experienced players on the bench. We should see a lot more from Jones this season.
The front three spent so much of their time smiling, smiling, smiling.
When Klopp arrived Liverpool were a club struggling to live up to their history. Under Klopp they are a club that are creating their own new era of history. So I'm happy tonight. I'm not fearing any team.
RedM:
The first competitive game of football since the Palace game in June, and it was a bit too competitive for comfort. Reminded me a lot of the Norwich opener last year, with the difference that Leeds were much more clinical. Their first and third goals were very well taken, the less said about the second the better. As with last year, our high line wasn't quite operating smoothly and we looked vulnerable to the through ball.
Apart from a helter-skelter first quarter of an hour, I thought we bossed it in the main, while Leeds always looked a threat. I think this had a lot to do with their tactics, plenty of space for us in the final third but Leeds getting lots of bodies forward. Once it got to 2-1 and 3-2, we should have put the game out of sight but lacked the killer finish.
Not many teams will play like that against us – I suspect we won't create as many chances or concede as many chances very often in future games. Just when you think the defence has been fully sorted, this sort of mad game comes along – Palace at home in 2018/19 and Salzburg at home in 2019/20 were also both 4-3 and came after a period of good defensive performances.
Nari Singh:
Wow, what a start to the campaign. That was very entertaining! For some reason I didn't feel too stressed, but really enjoyed that game. Lots of credit to Leeds.
It really reminded me of the Salzburg game, where we needed another Mo Salah goal late on to seal the win. 2 penalties at Anfield – PGMOL have been reading Paul and Beez's recent articles!
Leeds are a very good side, they play as a team, they have been playing this system for 2 seasons so know it well. Beez shared a good youtube video the other day showing the different styles of Klopp and Bielsa, and I saw a lot of that unfold during the game from Leeds. A lot of balls over the top but to wide forwards and wingers whilst the midfield join to create openings and overloads. They may not have the best players, but their system is well honed and it showed. Plus, they were full of adrenaline and wanted to show everyone they were not here to just make up the numbers.
I think Klopp might have got it wrong today with the midfield selection. Hendo hasn't played any minutes in pre-season, and I wonder if he was selected because he would be vocal on the pitch against an energetic Leeds? Also, Trent hasn't played much either, and it showed, so I think going forward, they'll look a lot better. I thought Keita looked good, but with him driving forward, it does lead to space in the midfield. With low block teams it doesn't cost as much as those teams are not really interested in playing football against us, but Leeds are different and train for those situations. Maybe we also wanted to put on a bit of a show ourselves too.
But we must remember, not many teams play the way Leeds do. They stand out because we are not used to seeing it. Leeds can play this way because of Bielsa's tactics and his knowledge of how to set the right traps, but most other teams don't tend to attack us as much as this.
Good news though, Salah looks very hungry. I was so impressed with him, some of his close control was unreal, and he didn't seem too selfish. I saw a lot of high fives/thumbs up with him and Mane even when things didn't come off, that's a great sign. And a shout out to Curtis. He really is developing in this team, he looks confident, and his awareness both in terms of defence, pressing and joining attacks is excellent for his age.
We get the win, three points on the board, and we can count on Leeds to definitely take points off Ole's United.
Fourcandles:
As messy as this may have been, we still found a way to win. I think we can take comfort from the return of Hendo and TAA, although they looked more subdued after time out. Certainly the cover in front of the Centre-backs needs to be sorted out, but again, we had Hendo returning, Fab not starting, and were tooling with midfield, making two subs out of three there, too. Gomez looked to be positioning himself poorly and exposing his right-side partner TAA; In any case, he seemed to be the last man in the second half, with VvD pushing up quite a bit (scoring twice but only given one), and made one crucial stop and tidying up late in the match. The front three while not back to their best still managed three goals (all from Salah) but many passages of quick interchange, delicious turns. I was particularly delighted with Salah and Mane connecting several times including a double 1-2 that almost set Mane free for goal. VvD is meanwhile chasing Salah on the golden boot list, but needs to buck up on his defending.
Keita started and seemed to feature more upfront rather than defensively, and I was looking for his killer pass or a mazy run into the box. Jones and Fab came in and seemed to stabilise defence, Jones in particular with a couple of superb and successful counterpresses high up our right flank, both times regaining and recycling the ball. We've gone from gegenpressing to a more balanced approach (and counter shadow pressing, as I saw in another Youtube), and as we know, this balance is a delicate thing to attain, even with a stable lineup.Altogether, a bracing match but gives us lots to learn from. Leeds were a new team for us, with a wily coach, but we somehow managed to solve that puzzle and neutralise the element of surprise (although we had to do it four times!). We have three points. Happy new season!
Press Conference:
Player Vote:
Who were your FIVE best players versus Leeds United?
Salah (21%, 232 Votes)
Robertson (14%, 151 Votes)
Mane (13%, 143 Votes)
Wijanldum (9%, 102 Votes)
Keita (9%, 102 Votes)
Jones (8%, 92 Votes)
Firmino (8%, 89 Votes)
Fabinho (7%, 81 Votes)
Henderson (5%, 56 Votes)
Van Dijk (2%, 20 Votes)
Gomez (1%, 12 Votes)
Alexander-Arnold (1%, 9 Votes)
Alisson (0%, 3 Votes)
Matip (0%, 2 Votes)
Total Voters: 232

Loading ...
Paul Tomkins' new book "Perched: Jürgen Klopp's Liverpool FC – Champions Of Everything" is available NOW!
The paperback should be available in all major Amazon stores (UK, USA and a few others that provide the service), and the Kindle version on any store that sells Kindle ebooks. If you can't get the paperback on your local Amazon store then use the UK or US ones: