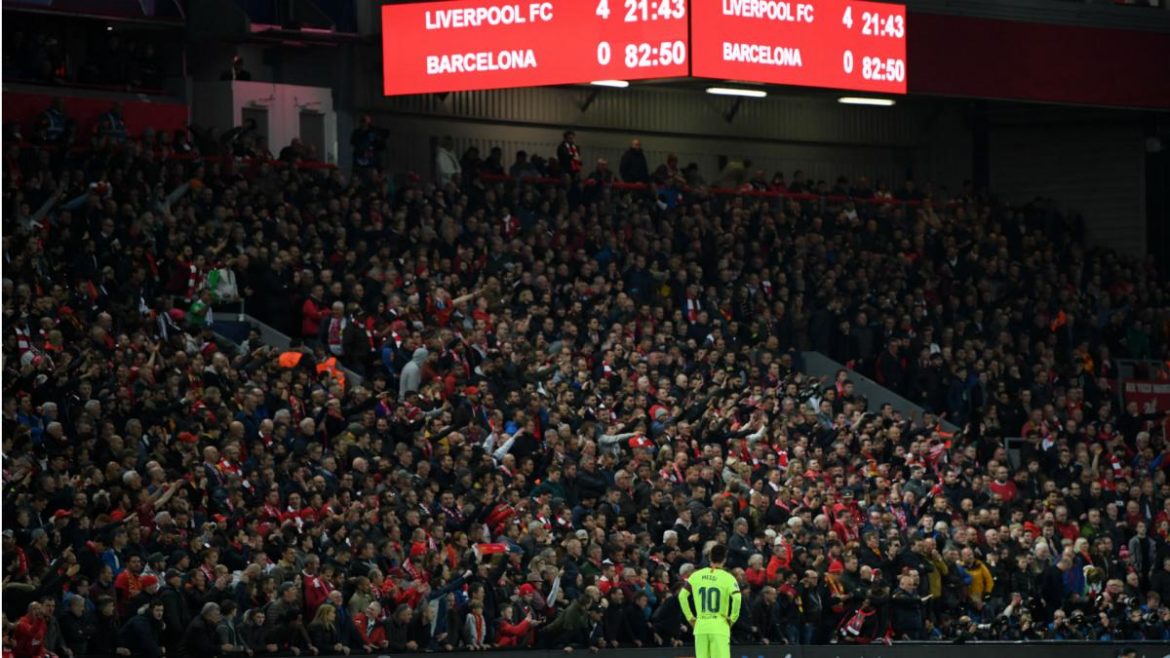 This article is part of The Tomkins Times Free Fortnight, where for two weeks up until the start of the new season, all articles are free to all to read- there is a full explanation here.
In 2013/14, Liverpool and Barcelona had broadly similar seasons. Neither side won a major trophy, with both finishing their league campaigns as runners up (though as the Catalans had finished in the top two in nine of the preceding 10 seasons, they were rather more accustomed to the heady heights than the Reds were at that point).
Liverpool's relative success that season was largely built upon sand, and in the summer of 2014, Barcelona swooped to remove one of the key foundation stones of Brendan Rodgers' whirlwind Reds side: Luis Suárez.
The Uruguyan powered Barca to the treble in his first season, a trophy haul which included the club's fifth European title, drawing them level with Liverpool and Bayern Munich. Suárez scored an incredible 40 league goals the following season, to claim the European Golden Shoe as La Liga was won once again.
But while Barca went from strength-to-strength, the Reds fell apart. If you want it framed succinctly, consider that Liverpool finished 2014/15 with a 6-1 loss at Stoke, while Barcelona signed off with a 3-1 win over Juventus in the Champions League final.
The players the Reds signed in the summer of 2014 were not all flops, but neither did they collectively offer too much of a positive impact that season. Daniel Sturridge's injuries saw him make just 18 appearances, while Raheem Sterling jumped ship at the end of the campaign. It had been a devastatingly bad 12 months for the club, which was reflected in the massive drop for their elo score and ranking.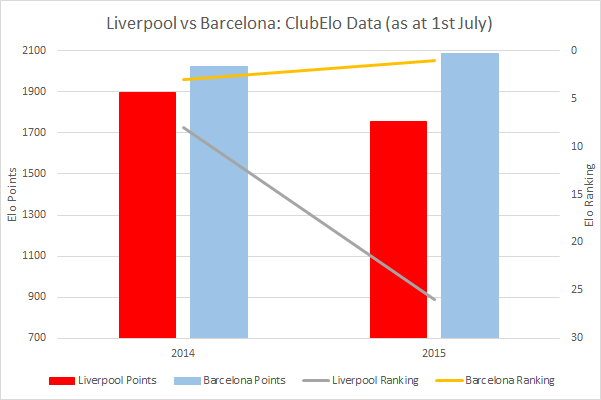 Liverpool needed a massive rebuild, while Barcelona were rated as the best team in Europe by clubelo, and had the trophies to back it up. Who would've ever thought at that point that five years later it would be the Reds riding high, with Barcelona in a financial mess and in need of an enormous overhaul?
And even knowing how things have turned out, how did both clubs reach their current statuses? Paul Tomkins suggested that somebody should look into this for an article, so here's what I found.
It's not as if Barca haven't had a sizeable sum of money to invest in their team. Sid Lowe, writing in The Guardian, noted:
Since 2015, Barcelona have spent almost €1bn on 29 signings. It's not a reach to suggest that, for many reasons from a lack of opportunity and time to a lack of fortune, ability or character, not one has been an unqualified success.
Wow. This bears closer scrutiny, and is of interest as it covers the same period which Jürgen Klopp has been with Liverpool. Getting reliable transfer data is tricky though; check Transfermarkt, Wikipedia and Soccerbase for a player, and you'll be left with three different figures.
As Transfermarkt add inflation to the prices – wherever did they get that idea? – and Soccerbase list in sterling, let's use the Euro figures from Wikipedia. They tend to use the official Barcelona website as their source too.
Sure enough, by accounting for the potential add-ons, Barcelona have spent an eye-watering €1.06billion on 27 players from 2015/16 onward. They have recouped some of this money though, with Neymar's exit to Paris Saint-Germain a sizeable €222 million chunk of the €621.6 million that selling players has brought in. Here are the full figures by season.

But even accounting for money earned from sales, that's a net spend heading towards half a billion Euros across a five season period. And that's before you get to the largest wage bill in sport. Not football. Sport.
With the club in financial difficulty, it's also hard to know how to lower that huge salary outlay. As Lowe notes in the aforementioned article:
Who wants Semedo, Junior, and Umtiti? How do you find a place for Suárez at €15m (£13.6m) a year, Busquets (€9.36m), Alba (€5.2m), Vidal (€8.58m), or Rakitic (€7.8m)? What do you do with Dembélé, on €9m? Or with Griezmann?
Indeed. Barca can point to three league titles won in the last five seasons, but their European exits have grown increasingly embarrassing with every passing year. And while the phrase 'progress isn't linear' gets bandied about whenever a player or team hits a rough patch, Liverpool's development under Klopp pretty much has been. Let's take a closer look.
2015/16
Barcelona net spend: €10m
Liverpool net spend: £19m
Barcelona paid fees for two players – Arda Turan and Aleix Vidal – and both would eventually leave after making no more than 23 league starts for the club. Liverpool's main activity took place up top, with one hit (Roberto Firmino), one miss (Christian Benteke) and one who barely saw the pitch (Danny Ings).
The Catalans won the league and cup double, though a quarter-final exit to Atletico Madrid in the Champions League was disappointing. Meanwhile, Klopp steered his team to two cup finals but achieved little of note – some big game victories aside – in the league. As the elo data shows, the club was at least heading in the right direction.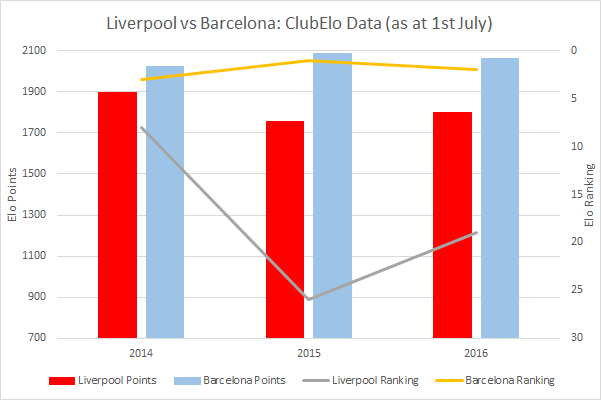 2016/17
Barcelona net spend: €117m
Liverpool net spend: £20m profit
The most expensive player signed by the Spanish champions was Andre Gomes from Valencia. Strangely, as per the men from the season before, he didn't start more than 23 La Liga matches either, and now suffers the ignominy of playing for Everton.
His Valencia teammate Paco Alcacer made the journey to Barcelona with him, and after 14 league starts across two seasons, he set sail for Germany. Still, it wasn't all bad news for Barca that year, as they somehow got €20m out of Manchester City for Claudio Bravo.
That was probably the highlight, to be honest. After somehow recovering from a 4-0 loss in Paris to knock PSG out, they couldn't repeat the trick after losing 3-0 at Juventus. And a second place finish in the league is of little interest when the old Bill Shankly adage still rings true for Barca and Real.
For Liverpool, this was perhaps the first summer when the transfer committee (or whatever you want to call it) made a significant impact. Key signings Sadio Mané and Gini Wijnaldum were effectively financed by the sales of Benteke, Joe Allen and Jordon Ibe, with other smaller deals ensuring the Reds turned a profit.
And most importantly of all, Champions League qualification was sealed with a final day win over Middlesbrough. Based on each team's pre-season goals, it would be fair to say Liverpool had a more successful season than Barcelona.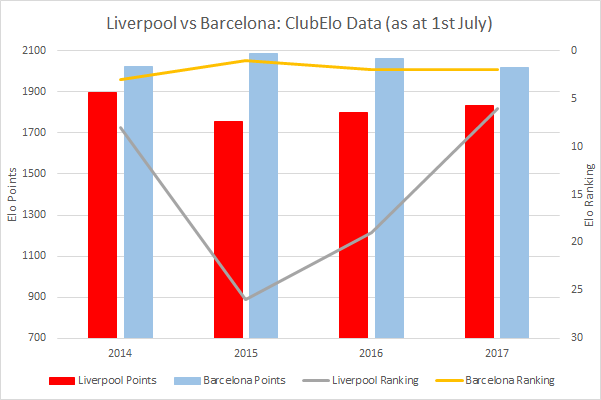 2017/18
Barcelona net spend: €171m
Liverpool net spend: £17m profit
And so to the season, and the transfer between the clubs, that arguably led both teams to be where they are now. Not that you need reminding, but here we go: Barcelona received €222m for Neymar and reinvested it (and about €80m more) on Ousmane Dembélé and Philippe Coutinho. Liverpool in turn also effectively used their windfall to purchase two players, Virgil van Dijk and (the following summer) Alisson Becker.
There is no point in me even looking at any statistics here; it's abundantly clear which club got more bang for their buck from their pair of expensive signings.
Oh, and Mohamed Salah joined the Reds too, scoring 44 goals and assisting 14 more in his first season. Thanks to selling the unwanted Mamadou Sakho and effectively swapping Kevin Stewart for Andy Robertson, Liverpool beefed up their front line, solved their long running left-back issue and made a profit.
On the pitch, Barcelona romped home in La Liga with 93 points, but were undone in Italy once again, with Roma recovering from a 4-1 Camp Nou loss to win 3-0 and set up a semi-final tie with the Reds.
Liverpool prevailed, but fell at the final hurdle. However, as they had finished fourth for the second season running, they could at least have a crack at going one better in 2018/19. And after being 329 elo points behind Barca in the summer of 2015, the gap was now down to 111.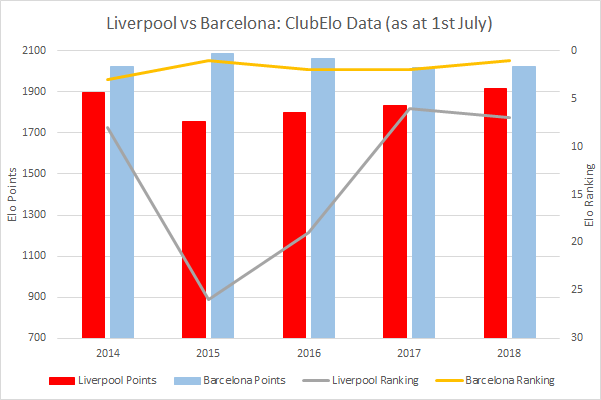 2018/19
Barcelona net spend: €22m profit
Liverpool net spend: £134m
For the only year in our five year study, Liverpool outspent Barcelona, and by a wide margin too. In came Alisson, Fabinho and Naby Keita, and while Dom Solanke and Danny Ward brought in better than expected figures, it was never going to match what was spent. The money was invested well too, particularly on the first two players listed while Keita has shown flashes of what he is capable of.
Barcelona's transfer business was more of a mixed bag. Clement Lenglet has made 79 starts in all competitions in the two seasons since joining, to establish himself as Gerard Pique's partner in central defence.
At the other end of the scale, Malcom – their most expensive transfer that summer – has already been sold on, though they did at least get back what they paid, more or less.
On the pitch, it was business as usual in La Liga for the Catalans, as they retained their crown. Liverpool fell agonisingly short of the summit, with the sort of points total which would win the league in virtually every other season.
But clearly the Champions League clash between the two clubs was the seismic event as far as this study is concerned. What happened in the tie needs no retelling, but it carried weight beyond the Reds overturning a three goal deficit.
On the morning of the second leg, Barcelona were top of the elo ratings, with Manchester City directly behind them and Liverpool 39 points back in third place. One quickly taken corner later, and the sides had swapped places in the table. Klopp had built a team which were now considered the best in Europe, and they just needed to brush Tottenham Hotspur aside to prove it.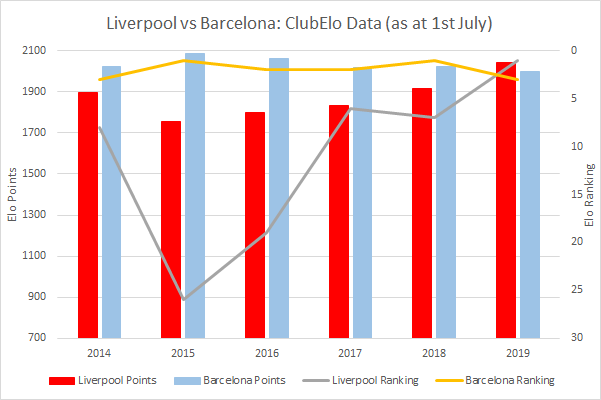 2019/20
Barcelona net spend: €167m
Liverpool net spend: £34m profit
Recapping what happened in the current season seems a little pointless, but for the record on the transfer front, Liverpool did very little business while Barcelona signed a 28-year-old Antoine Griezmann for €120m, and got 11 goals and four assists in league and Europe in return.
And as much as we've looked at their ins and outs over the past half decade, perhaps their main issue – apart from the general lack of success they've had in the transfer market – is that the rest of the team has grown old together. If you look at their top 13 players for league minutes this season, seven of them are in their thirties and just three are under-28.
The vast majority were at the club five years ago too; or as Ryan O'Hanlon put it in his excellent newsletter (when discussing Barca's remarkable 8-2 loss to Bayern Munich):
And so, despite all that, despite hundreds and hundred of millions of dollars tossed at all of those different kinds of players over just about four full offseasons, Barcelona were left sending out seven players who started that final five years ago. And that decaying version of a once-great team got annihilated by a 16-wheeler that's been rebuilt on the fly. The one goal scored by a Barcelona player came from a trio of stars, five years worse than they used to be: Messi, to Alba, to Suarez.
That just about sums it up. So let's finish with a final look at the net spend of the two clubs, and the elo progression over the past five years.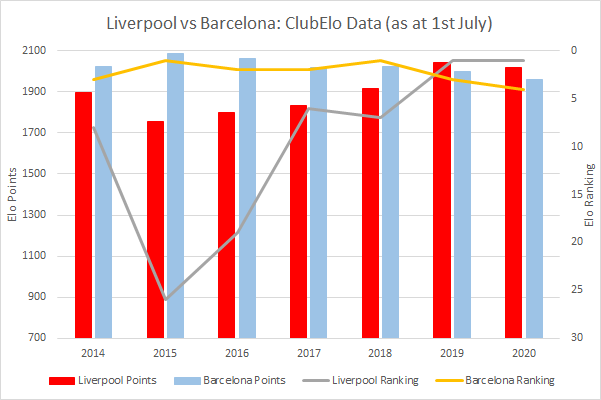 Barcelona might lead Liverpool 3-2 on wins in the two main competitions since 2015, but at what cost? It's the Reds who look far better set for the next five years at this point.
*Paul Tomkins' new book "Perched: Jürgen Klopp's Liverpool FC – Champions Of Everything" is available NOW!
The paperback should be available in all major Amazon stores (UK, USA and a few others that provide the service), and the Kindle version on any store that sells Kindle ebooks. If you can't get the paperback on your local Amazon store then use the UK or US ones: