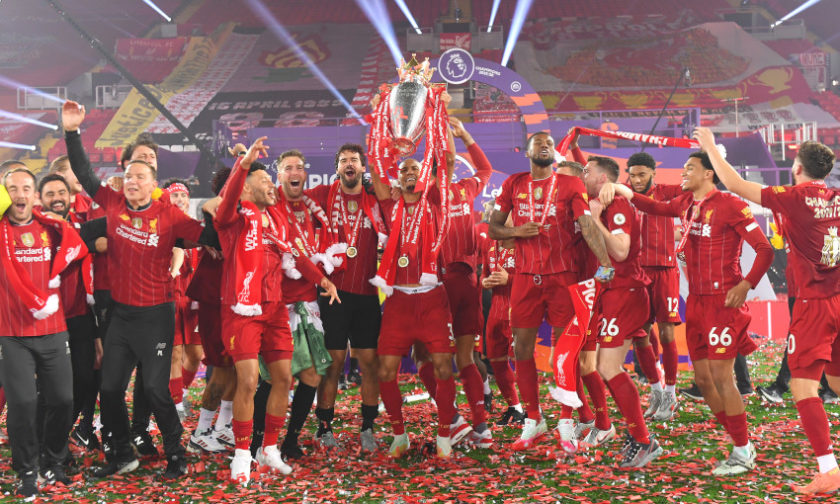 This article is part of The Tomkins Times Free Fortnight, where for two weeks up until the start of the new season, all articles are free to all to read- there is a full explanation here.
In Christopher Nolan's 2008 masterpiece The Dark Knight, it is the manic Joker who explains the environment to The Batman.
He says, under great duress from the caped crusader, "There's no going back. You've changed things … Forever."
On 24 February 2020, Liverpool beat West Ham 3-2 at Anfield. 365 days earlier, Liverpool had drawn 0-0 at Old Trafford. Two fairly innocuous results but sandwiched in between had been a success rate unparalleled in top league, top flight football.
In all, the record on the 24th February 2020 stood at 36 wins and 2 draws from the last 38 games. An astonishing return, and I believe – Liverpool had changed things – forever.
In seasons past, it was accepted that a team could lose a game here and there, have a bad day at the office now and then, and live to tell the tale.
The below graph, from the inception of the Premier League, illustrates nicely: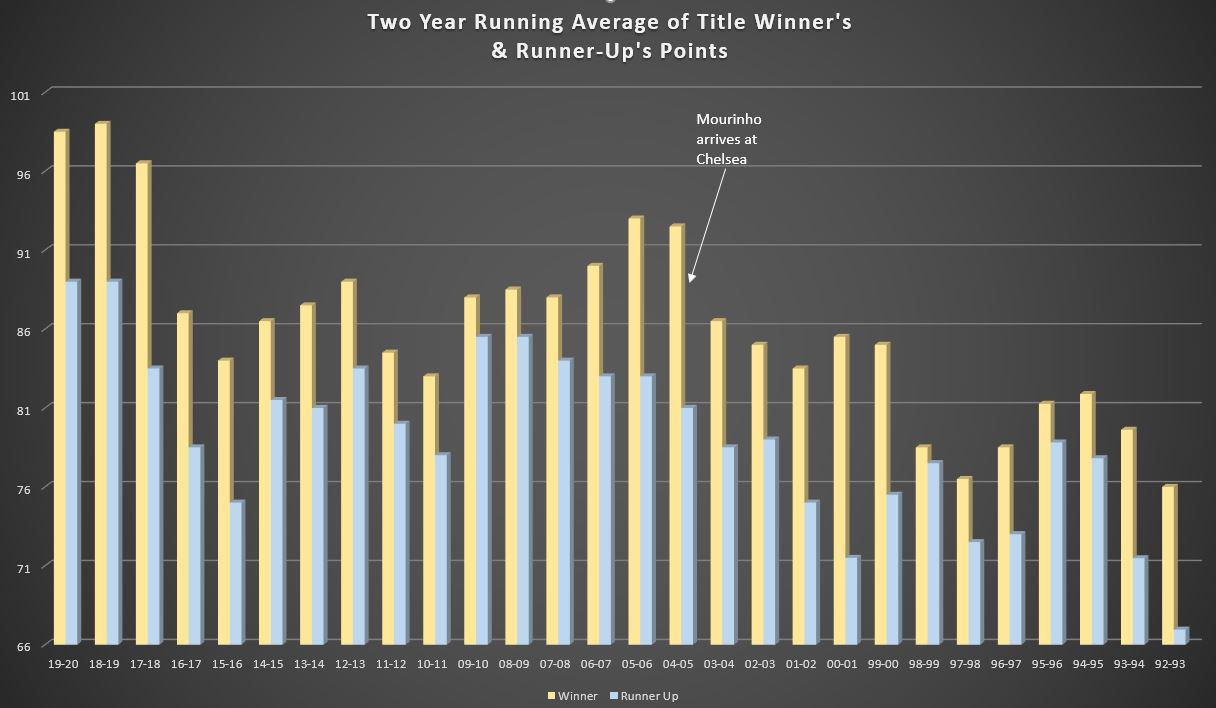 In its early days, the winning team needed around 80 points, with the runner up being close behind. 80 points roughly equates to a 24-win season, with approximately half the other 14 games drawn. This allows for no less than seven defeats at its average. That's a lot of off days that is.
Currently, a quarter of a century on from those numbers, a team needs more than 85 just to challenge. In the last three years 95 wouldn't have been enough! The staggering win rates of the champions in this new period has seen 100 points hit, a 99, a 98 and a 97 in the last three seasons. Indeed, Liverpool have lost just four league games in the last two seasons. Extrapolating further, a paltry nine times in the last three seasons. That's 9 losses in 114 games! Also, two of those losses came after having already been crowned champions. So really, just seven meaningful losses in 107 league games. Unparalleled.
Thing is, before Liverpool started racking these numbers up, it was Pep's Manchester City that were all about the records. A dozen years earlier, Jose Mourinho's Chelsea was the dominant force.
The difference with those two is that they were achieved with a largesse which didn't so much beat as it did bewilder the rest. Mourinho's arrival brought with it the seminal phrase 'They're playing fantasy football – with live ammunition…' such was the crazy fees spent on rapidly building a squad.
City weren't much better, and their net transfer spend over the last five years according to Transfermarkt is over 600m Pounds (669m Euro).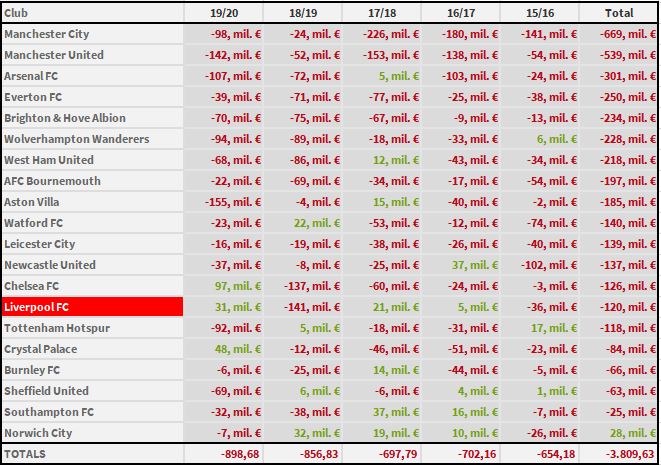 The good news for Everton fans is that they've burned through a quarter of a billion Euros and have a squad that should easily challenge for top eight in 20/21 but let's not digress too far from the article's subject.
The main takeaway for these purposes is that when the big guns rode into town, à la Chelsea in 2004 and City from when the Sheikh arrived (figuratively of course, he has only ever been to one match) in 2008, the rest had to essentially sit back and watch the fireworks for a season or two.
There was little the league could do in 2004/05, when Chelsea were breaking 100 year old records on the way to their first crown in 50 years, and there was a similar resignation in 2017/18 when City barfed up 100 points.
In Mourinho's first iteration, it was a rebuilt Manchester United who finally knocked them down, and indeed it is only they who could have done so. The league had become, at that point, a supreme grouping of two, followed by a collection of also-rans. From 2004 until 2011, the Premier League trophy had just two different ribbons it, dark blue and devil red, and this hegemony was only stopped by City in 2012 following their ingloriously monied march up the table from 2008.
Thus we had arrived at a point in the Premier league evolution (superbly analysed by this website multiple times) in which it was fairly clear that a title-challenging team had to have a certain cost to it, and Liverpool were not likely to be at the spending level required.
By the end of 2017/18 City's exploits would have been seen as being pretty much identical to Chelsea's efforts thirteen years earlier, except it was worse as United didn't seem capable of a challenge the following season under Mourinho, who by that stage had become a pale imitation of his young self.
This really left City starting 18/19 in a group of one.
United had begun to resemble an abandoned amusement park, possibly some type of Disney Jurassic Park, with mice and dinosaurs roaming the field in equal measure, whilst Abramovich had watched on in dismay as men with a wealth superior to his had arrived with a bigger stick. Arsenal were well and truly mired, their stadium costs and failure to adequately replace Wenger laying bare a really crappy team and spirit, whilst 15/16 lottery winners Leicester had regressed back to a decent non-title chasing level. Spurs had made a good fist of pretending to challenge for a title without ever coming close to anyone at the summit and Liverpool were entering the 29th year of a rebuilding programme.
For anyone watching the beginning of 2018/19, and imagining an outcome based on past analysis, there really could have been only one probability – City would again walk the Premier League, as there was nobody who could realistically mount a challenge.
Then Liverpool got 97 points. Liverpool also won the Champions League. City would edge the Reds in the league, yes, but in doing so would only create a burning hunger and desire for almost literal perfection in 2019/20.
No, the reason why the Joker spoke to Batman and not Superman was that it was Bruce Wayne who changed things. No super powers, no sugar daddies, no 5000-1 dreams to reality. Liverpool changed things by being the smartest, not just in the room, but inside the entire house. It was this genius, flowing right through the club, from Henry to Edwards to Klopp to the players to the fans, that created a team capable of winning virtually every league game we partook of, for a year.
It is almost as though, because of our myriad of near misses over the years, Liverpool as a club accepted that nothing less than total and utter evisceration of the rest of the league would do. No dropped points, no settling for a draw, no respite. Win Win Win.
In 2019/20 Liverpool, under Klopp, became the finest club side in the history of English Football judged by being the fastest to the finish line – the most correct possible and sensible measure – and did it all legitimately, with a carefully constructed plan which took years to effect. Every single Reds fan should be proud.
Liverpool clinched the title with seven rounds to spare, and this mark was 40% better than the previous best of five, shared by City and United. Again, the context is vital – seven rounds represents 18% of the season, or nearly analogous to saying a sprinter crossed the 100m mark before any of the other runners had hit 85m… it's absurd.
Now, the reason why 2020/21 will be so different to previous versions is that it has dawned on the likes of United and Chelsea that they will need to be close to perfect to usurp both Manchester City and Liverpool, and this new truism creates a paradox – as everyone aims for perfection, the challenge of everyone winning everything becomes ever harder, and more points are dropped – even though the teams are aiming higher.
Gone are the days of waiting for a richly assembled United under Ferguson to put enough prolonged pressure on his adversary to see them off. Now it is, and will continue to be, the turn of Liverpool's analytics, rocket scientists and unsurpassed charisma which would have to do the trick, not to mention the mighty force of will which the entire red half of the city and fans around the globe pulled with as the title was sucked into the Kop with a record-breaking winning streak.
City were massacred in 19/20, and to truly understand how torn asunder the entire league was by Liverpool, we need to appreciate that when City conquered all in 17/18, they won the title by 19 points with little quality in their way.
Liverpool won the title by 18 points, in a league including a superb Manchester City themselves. To gain perspective on Liverpool's achievement, the 100m dash metaphor works again – it's similar to watching Usain Bolt smash the field by 15 metres in the 100m dash in a world record time, but then watching a chap named Red Bolt beat the Jamaican by 15 metres in the very next race!
Liverpool did this by attaining a level of perfection which is hard to fathom in league football. The three longest winning runs in English top flight history are 18, 18 and 17 games. What is remarkable, to the point of silliness, is that in 19/20, Liverpool produced two of those back to back. 17 wins, a draw, and then another 18 wins.
In 19/20 you could not drop a single point for months on end if you wanted to stay close to the Reds.
United, Chelsea and perhaps Arsenal, not to even mention City, know this only too well, and these three clubs are acutely aware that only long winning runs will do, if it is the title ye seek.
Against this backdrop do we enter 2020/21 – a year where the rise of brilliance will become apparent. It should be a titanic season with a much lower winning points total, as the quality of performance is shared out a bit more equally.
2020/21
In Premier League days of yore, we spoke of a big three – United, Arsenal and Liverpool. Some briefly rose up, Blackburn, Newcastle, Leeds and Leicester among them, but the first genuine addition was Chelsea, who were then joined by Manchester City and finally Spurs to create the fabled (and largely meaningless) 'Big Six'. It was essentially meaningless because, in almost every season, four of those members had bugger all designs on actually winning the title.
Things are different now, perhaps not in those with true designs on the title, that realm surely remains closed to all but City and Liverpool next term, but in the overall dynamics of the table.
Firstly, I see 12 potential teams of quality. Not all with title aspirations sure, but any of these could win five or six games on the bounce during the season and rocket up the table.
In a more egalitarian situation i.e. one where lots of teams can take points of each other, a run of six wins could be the difference in a successful season. It is worth remembering that City, the media 'champions' for their swashbuckling play and incredible talent oozing through their squad, lost nine league games including a 3-2 defeat at relegated Norwich in 19/20. A quarter of their fixtures lost, so, rest assured, anybody can beat anybody.
Liverpool
Manchester City
Manchester United
Chelsea
Leicester City
Wolves
Arsenal
Tottenham
Everton
Newcastle*
Sheffield United
Southampton
These are the twelve teams of strong quality in the division with an asterisk placed by Newcastle pending their takeover. If it completes, which is now in grave doubt given the breakdown of the deal some weeks ago, then Newcastle will become, overnight, a threat. They won't challenge for top spots this year, but an influx of hungry younger and street-smart older quality players will likely mean plenty of wins against bigger teams this term, punctuated with the usual poor results as the team learns each others' traits.
It should also be noted that at the bottom of this list we have Sheffield United, a superbly drilled outfit, as well as the exceptional Ralph Hassenhutl's Southampton – both of whom have exemplary qualities and methods and will too win their share of bigger games. That's 60% of the league who possess demonstrable quality.
Also think of the likes of Watford – a basement dweller who thumped Liverpool 3-0 back in February and were then relegated. Then remember Leeds United, a big club with an enormous history who will want to make their mark.
Anybody can beat anybody in a league of 'perfection'.
So it can be seen that, for the first time since we were all watching Hill Street Blues (we all were though weren't we? [not me, never seen it! – Ed]), the league has a very even two tiered feel to it. We've got a top ten or so, and a second ten. This will feel a lot more like a 1981/82 league table then a 2019/20 one, when all is said and done.
In that great bygone year, Liverpool would win the title with 87 points in a 42 game season (equivalent to just 79 points now), and the top 11 sides in the 22 team league would accrue 762 points. The bottom 11  – 503. This means the top 11 gained around 50% more points than the bottom group.
In 18/19, the top 10 gained 689 against the bottom bunch's 380 – a difference of 80%! My big hunch is that the 20/21 table in finality will closer resemble the old days' 50% than 18/19's 80% and it seems to be headed in that direction already with 19/20 finishing at 656 points to 392, top to bottom or 67% more.
This makes a huge difference in the landscape and means that, for a title race to occur, consistency and an ability to produce results under pressure will be the difference between challenging and falling away.
There are four teams in 2020/21 with a better than 2% chance of winning the title;
Liverpool
Manchester City
Manchester United
Chelsea
Illustrated below (% based on Bet365 odds 22-08-20):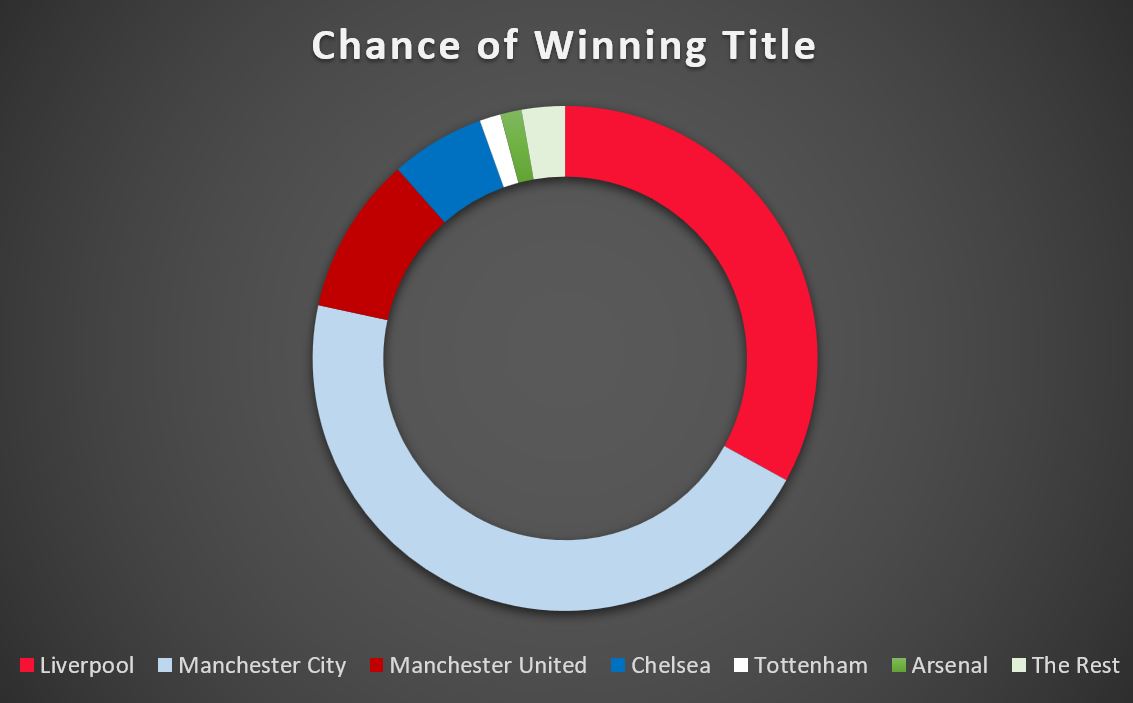 Interesting that whilst bookmakers feel City remain favourites to recapture their crown, they also see United or Chelsea as about a 1 in 7 chance to stop them or Liverpool – a reflection of market forces and expectations more than statistical analysis.
Arsenal are also a little interesting, as under Arteta they should improve markedly and have a decent enough attacking squad, but probably won't come close to featuring in the title race.
By the way, the media loves a story, and Arsenal under Arteta has just such the comeback flavour they love. Their Community Shield win over the Champions on penalties was greeted as a genuine sign of big progress, even though they were mostly battered in what amounted to a preseason friendly.
Indeed, there was little mention of the gruelling nature of a Klopp preseason, designed as it were to create a base for the season to come, and not to peak in September. As Arsenal clung on bravely, Moyes style, to a draw and subsequent shoot-out win, the media seemed to sense the narrative that Arteta was a man who Arsenal could build around. Whilst this may be true, and I think he has more promise than both Solskjaer and Lampard, too much is being read into Arsenal's defensive rearguard results against better teams with little to play for. They also didn't actually win the game, they drew, and some perspective is needed.
Liverpool are calibrating, Arsenal are already firing everything they got, and once the league proper starts, this should  become more obvious.
You can expect a lot of this fawning style coverage this term, every time somebody halts City and Liverpool's 'perfection'.
Speaking of this domination, which the others will have to reign in, the numbers are stark; Manchester City remain a formidable unit, and will likely improve markedly over the summer through acquisitions. City's expected goal (xG) data is superb, and, on the face of it, remains well above Liverpool and the others'. The below chart shows how City produced an expected non-penalty goal difference of close to double us and that even Chelsea's number was very close to ours.

One of the major caveats with the above table, and probably the point at which xG reaches its limitations in this simple format, is that it ignores 'game-state', a vital component of analysis which paints Liverpool as a far more efficient team, with a similar probable GD to City and goes a long way to explaining where Klopp mastered the league in 19/20. (Game-state is defined as:  a teams xG at any given score, with the scores being split between being level, being one up or one down, or being more than one up or one down, so five states.)
Without going into too much detail – the below charts neatly illustrates how good Liverpool are when the game is well and truly on the line i.e. when it's level, or we were one up or one down as well as demonstrating how little time Liverpool spent behind in matches over the course of the season.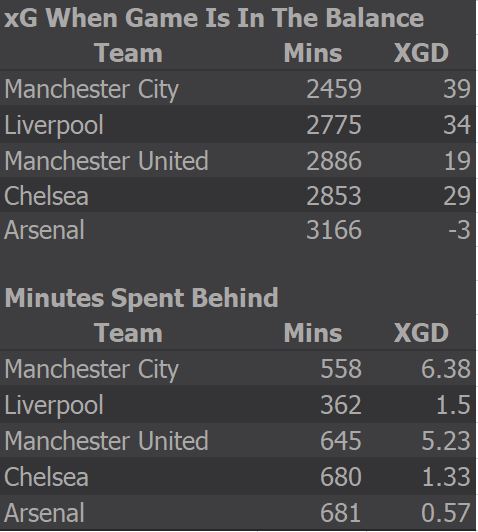 Indeed, the only minutes Liverpool spent at more than a goal down this season were at Watford, when we already held a 22 point lead at the top of the table, and then at City, a match in which the celebrations of the previous week's title win were clearly visible in the lack of defensive focus for the performance.
Otherwise, it is clear that over the course of 38 games, City and Liverpool have the ability to dominate the important game states to be able to produce long winning runs which is why the two clubs have, by bookmakers' reckoning, an 85% likelihood of winning the title. Chelsea are also showing good numbers here, perhaps indicating they are closer to the top two than might be just assumed.
Importantly, it should also be noted by some work I did on a previous piece (https://tomkinstimes.com/2020/02/how-liverpool-can-dominate-in-all-game-states/), that, when it counted, Liverpool's figures in the vital game states were far superior to City's. The analysis in the piece was done two thirds through the season where Liverpool had amassed a virtually insurmountable 22 point lead over City. At that stage, Liverpool's GF vs GA when the game was in the balance was the game-changer. We had 27-4, City 23-10.
In other words – when the title race was nominally on, and both teams were under pressure to perform in order to win the thing, Liverpool absolutely thrashed teams when the game was in the balance, whilst City didn't. We had a +23 GD, City +13. That's nearly double, and shows clearly how much better we were than them when it counted. Also remember they were the second best team, and were being nearly doubled in this vital metric. They kept their overall xGD numbers strong by bollocking the odd team here and there, but what difference does it make if you win 2-0 or 5-0, if the following week you'd get beaten 3-2 at Norwich?
The other problem, and perhaps it will be City's Achilles Heal again in 2020/21, is that they tend to concede too many. Indeed, the Lyon quarter final seemed to encapsulate their seasonal failings in 90 minutes – concede good chances, fail to protect goal keeper adequately, lose a game they should win. I'm not sure enough can change for them before next season begins, and as such, they remain vulnerable to bad luck and off days.
It all seems to suggest that Manchester City have padded their numbers well in the last third of the season where they had very little to play for and absolutely no pressure on them at all. This is borne out by the evidence that over their last 13 games where they've scored 37 times and conceded just 6 (we've got a 25-18 record, showing our foot was well and truly off the pedal by then). With the title no longer a possibility – how much do City's rampaging performances actually matter?
Beyond the consistency both sides are capable of, there are other key areas. First thought – how long will we have to endure matches behind closed doors or with vastly reduced capacities and atmospheres?
This is incredibly important beyond the mere awful aesthetic empty stands ensure. In my assessment of what might happen when football returned for the final nine rounds (https://tomkinstimes.com/2020/06/nine-matchdays-remain-how-it-looks-for-the-premier-league/), I felt that two possibilities stood out:
Better teams would whack lesser ones
There would be fewer draws
Both of those have been accurate, albeit the draw difference is smaller than I expected.
Firstly, the top 8 teams are winning over 60% of the games they play post-Covid vs a usual 50% and this 20% increase is a big difference, especially at the edges in a title race or relegation battle. If this environment remains it would greatly benefit a team like Manchester United who are without title-winning experience but are better than most of the teams they will play.
Secondly, draws are down by 12%, and this also creates a more binary outcome to a result – one or zero, win or loss. If a team is 'better' than its opponents, and the usual pressure of crowds don't apply, then the better team will win more often than not as they can simply get on with the business of being better without the additional stresses a crowd provide on their performance.
The conversion of draws to wins, and losses to draws can keep a team like United active in the title race for longer than they might have been, emboldening them and creating a virtuous cycle where success breeds success.
The exciting thing is that it looks like crowds will return fairly soon into the new campaign, as football is much the poorer without them, and if anybody thought their function was as mere spectators at a match before Covid, they can now see, with strong evidence, that fans are part of the fabric of a match, its outcome and its flow, and not just mutually exclusive viewers. Fans affect the outcome, but in ways that can be counter-intuitive.
Take United again. They've looked outstanding post-Covid, enjoying their football and finally offering a balanced sort of set-up, but how much of this will be impacted by an impatient Old Trafford, or a visit to a bustling Elland Rd, now awaiting its first War of the Roses league encounter in a decade and a half? United have looked fluid and natural in this period, primarily because they can display their talents sans the stresses that a hugely expectant crowd will bring to bear. They have very good players, this is not in doubt, and they've got youngsters who are thriving on the training-like atmosphere that is prevalent.
Indeed, as the games ticked down and the inherent pressure of achieving 4th increased, so their performances became less natural, more stilted, more pressured. They also became fatigued, as Solskjaer fielded similar starting elevens where possible but it's the pressure that is the big factor, even without crowds. Add them in, and you have a proper pressure-cooker mix of ingredients.
Mason Greenwood, a heck of a talent, scored 10 times last term, from an xG of just over 3. So he is scoring at a rate of three times better than expected. Either he is the love-child of Maradona and Messi, with a sprinkling of Ronaldo thrown in, or his numbers will regress markedly next term. I would think that much of his superb goal scoring efficacy is down to the palpable lack of stress that having no crowd offers. He can just get on with it, short back lift, hard follow through – goal.
The sooner crowds return next season, the sharper their effect will come into focus, and a team like United, with its youthful set up and recent upsurge, will feel this reversion acutely. At this stage it appears like an opening day fan return in reduced capacities is the target for the league, and, if safe, will be just wonderful to see come to pass.
But, and of course there's a but, Chelsea or United's title race, or ours or City's, doesn't hinge on the twelfth man alone. A team will need more than a lack of atmosphere, or a crazy one, to win the title.
Part 2 to follow tomorrow…
*Paul Tomkins' new book "Perched: Jürgen Klopp's Liverpool FC – Champions Of Everything" is available NOW!:
The paperback should be available in all major Amazon stores (UK, USA and a few others that provide the service), and the Kindle version on any store that sells Kindle ebooks. If you can't get the paperback on your local Amazon store then use the UK or US ones.