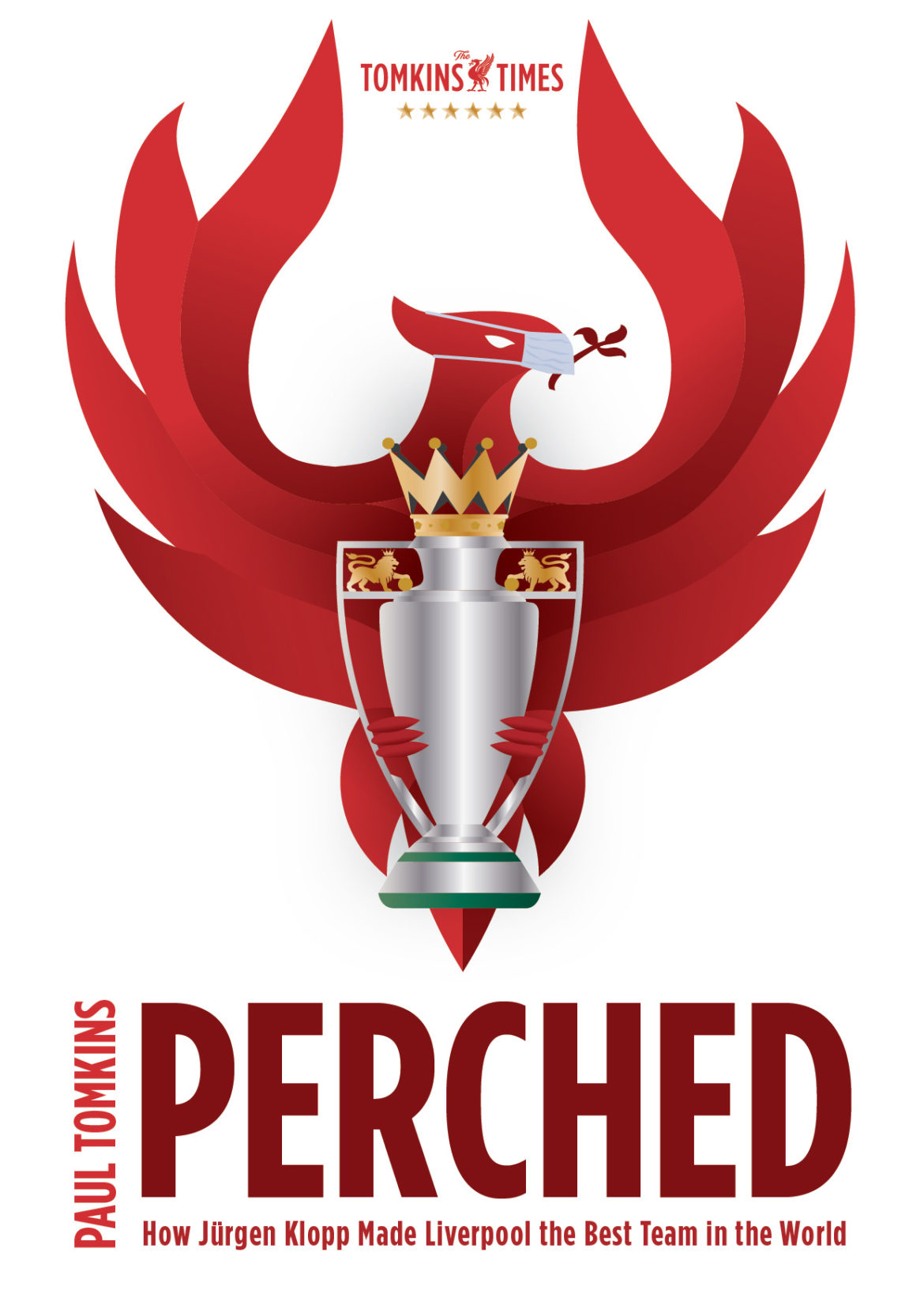 Hallelujah! Halle-fucking-luuuuuujah! We're back on that perch!
In the end, it needed a small favour from Chelsea of all clubs, but after 28 wins, two draws and one defeat in 31 games, it's hardly like Liverpool hadn't earned it. Champions in March – instead somehow it's June.
Three decades ago, Liverpool knocked themselves off their own perch. In 1991, as the team aged after the horrors of Hillsborough, the decline began, and the Reds were starting to regularly finish outside the top five when Alex Ferguson claimed he'd knocked Liverpool off their fucking perch in 1993. But Manchester United did become the dominant force, and Liverpool would only hit 80 points roughly once every five years. Now Liverpool, after 97 points last season, are already on 86 with 21 points left to play for. In a weird shift that wasn't even possible in 1990, Liverpool would become champions of Europe twice before regaining the domestic crown. 
Having looked like they may limp over the line, the Reds' utter crushing of Crystal Palace was a fitting way to become champions, even if it wasn't confirmed at the full-time whistle. 
A thumping 9-0 home win against Palace in 1989/90 was followed 30 years later with an equally dominant display, if not the same scoreline. At least that Palace side got out of their own half. As Opta noted after Klopp's side ran out 4-0 winners, "Crystal Palace failed to record a single touch in the opposition box against Liverpool, the first side to do so in a Premier League match since Opta have full data for this statistic (2008-09)". 
Roy Hodgson, the ultra-conservative manager with friends in high places (who don't seem to understand that doing decent jobs at West Brom and Palace is not the same as succeeding at the highest level), who had provided the Reds' lowest point in the three decades of hurt (albeit 30 years interspersed with major joys, too), reminded us of watching his teams at Anfield could be like. Indeed, there were usually plenty of empty seats towards the end of his reign; so he should have been used to the mass of spaces in the stadium.
When, in late 2010, I was badgering John W Henry to get rid of Hodgson, the Reds new owner – who had first contacted me via Facebook – acknowledged the problem when we met in Liverpool in October, but FSG, as soccer neophytes, had also been told that frequently changing coaches in football is usually a bad idea; to which I agreed, but the fundamental issue was in keeping a manager who was utterly wrong for the club, and who was just going to lock us in to a level some way below mediocrity. You only keep the manager when it's the right manager, and has there ever been a more spot-on manager than Jürgen Klopp? As such, Hodgson as Liverpool boss seems a long time ago. FSG never chose him, and the process of moving forward began when he was fired. 
So, Klopp succeeds where Graeme Souness, Roy Evans, Gérard Houllier, Rafa Benítez, Hodgson and Brendan Rodgers failed. 
That said, I still feel blessed to have been a Liverpool fan during the entire 'fallow' period; there were still cups that were won, including the biggest European beast twice. There were some great teams, some great seasons, some unforgettable games, and players like Steven Gerrard, Robbie Fowler, Luis Suarez, Xabi Alonso, Fernando Torres, Steve McManaman, Jamie Carragher, Pepe Reina, the emerging Michael Owen, Sami Hyypia, and others, who were unlucky to end their time at Liverpool with no championship medal, and who gave great service and no little pleasure; players who could have won the title but for quirks of fate, just as Djimi Traoré won a European Cup and the incomparable John Barnes didn't. 
Every title near-miss was painful, but it all just adds to the joy in 2020. Plus, Liverpool have not dethroned weak champions, nor have they won the title with a low points tally. This has been won in style, by some distance.
Over the decades, the Reds' budget shifted steadily down from the expensive side Souness inherited, which he dismantled and expensively reassembled, with his costly signings often proving flops whose transfer fees were never recouped; and Roy Evans was the last Liverpool manager to get even within 10% of the British transfer record, as he set the high-water mark with Stan Collymore at £8.5m in 1995. But once that record was almost doubled in 1996, when Newcastle bought Alan Shearer, the Reds' costliest buys tended to be half what Manchester United and Chelsea started to spend in the early 2000s. Virgil van Dijk was the closest the Reds had got to the British record since 1995, but adjusted for Premier League inflation he wasn't even in the top 10 costliest defenders since 1992.
Liverpool had one last big round of spending that didn't rely on selling key players, in 1999, which helped edge the club on a path towards a cup treble in 2001, and the regular European progress that culminated in Rafa Benítez's team – bolstered by some astute La Liga recruits – reaching two Champions League finals, as well as another semi-final, and winning the competition in 2005. But once Roman Abramovich bought Chelsea and invested billions, and Manchester United used their financial might to compete with the Blues, it left Liverpool and Arsenal – up to that point an elite team – as league also-rans; still qualifying for the Champions League, but unable to match the über-squads at Stamford Bridge and Old Trafford. 
Once FFP was introduced in 2010 it curbed Chelsea's excessive spending, and levelled the playing field somewhat; also curtailing many of Manchester City's planned excesses, albeit they seemed to find ways to make payments that were not permitted, for which they have now been punished. Manchester United's dominance ended with the increasingly amusing decision to replace Alex Ferguson with David "I win games" (just not very many) Moyes – as if they hadn't paid attention to Roy Hodgson following Rafa Benítez; Ferguson destroying his own legacy, and obliterating his perch. (Obviously nothing lasts forever, and their chance may come again; but they have a long way to go to catch Liverpool.)
All of which opened the door a little for Liverpool, but the Reds, often having to sell players to rebuild the team, have smashed right through: back-to-back Champions League finals, winning the second; and now, seemingly back-to-back record league points tallies, with the title arriving again arriving at the second time of asking.
Klopp has now achieved a mix of the greatest feats of Bill Shankly and Bob Paisley, albeit their greatness was also in repeating those feats for the length of time that Klopp hasn't yet had the chance to experience. He has built the club up from outsiders to champions, in the way that Shankly did, if not from such a low starting point (but in an era where it's harder to claw back deficits); and he took the team to the European pinnacle, just like Paisley. He even added the new honour of World Champions. In addition, Klopp has broken all kinds of club records, and several English football records.
As such, he now moves ahead of my beloved pair of Kenny Dalglish and Rafa Benítez in the pantheon, as well as overtaking Joe Fagan, who unlike Dalglish (because of the post-Heysel ban) and Benítez (because the club were too far behind Manchester United and Chelsea when he took over), added both the European and English crowns in his brief stint. But Fagan, who could have been a great manager, was mostly using Bob Paisley's team in 1984, and retired prematurely in 1985 in the aftermath of the tragedy at Heysel. Fagan could have done more, but he was already in his sixties; while Dalglish's sensational 1987/88 team never got to pit itself against the European elite. Dalglish too was diminished by another stadium tragedy, this time Hillsborough. 
Klopp almost had his own crowning glory denied by another disaster, as Covid-19 wreaked havoc on the country, and on the league. And yet no one will forget this Liverpool team – the one that broke records heading into lockdown; the mnemonic of a global pandemic linked to that year, way back when as you talk to your grandchildren, when Liverpool had to wait an extra three months to be crowned champions.
For a while it looked like the self-interest of clubs like West Ham would get the league null and voided. And back in March, as people started to die in hospitals and care homes in ever increasing numbers, football felt shallow and hollow. But as expected, once life gets back to something resembling normal, football returns to being the most important of the unimportant things. 
In contrast to previous Liverpool managers, Klopp also has the benefit of a brilliant sporting director and a cast of PhDs plotting their data, and the best owners the club has had in modern times. They don't dope it with their own money, but they do inject their intelligence and planning; which, initially went awry, until they gathered together the right collection of people, who were not only ideal for their roles, but – unlike in previous situations, and on an issue where the importance cannot be underestimated – were eager to work together, rather than rifting and resisting. 
The bigger teams (or rather, squads) get, and the bigger the teams behind the teams grow, the more teamwork becomes vital. It's not just a pithy slogan. Unlike his predecessor, Klopp set out to work with Michael Edwards, and to pool their knowledge. A clear ethos was in place. Transfer targets were overlooked if the man in question was not a good team player. Individualists need not apply; egos must be left at the door.
FSG ended the 86-year wait for a title with the Red Sox, and, a decade into their ownership, have ended a 30-year wait for Liverpool; having inherited a team and a squad about as far from title contenders as at any point since 1990. They also ended a 14-year wait for another Champions League trophy, and have overseen the creation of what is, statistically (using the Club Elo rankings), the best Liverpool team ever, and the 4th-best in the history of world football (albeit the weighting does favour modern clubs, is that modern clubs rack up more points than clubs from the past – but even so, it ranks them above Manchester City, Manchester United and Chelsea, and behind only the Barcelona and Bayern Munich sides managed by Pep Guardiola, and Carlo Ancelotti's Real Madrid side of 2014, all of which were built on far greater wealth).
I could pick out some star players from this season, but in truth, everyone has played their part. We may remember Mo Salah, Virgil van Dijk, Sadio Mané, Alisson Becker, Roberto Firmino, Fabinho, Andy Robertson, Trent Alexander-Arnold and others as world-class players, but none had that epithet before they started working with Klopp and his coaches. Indeed, captain Jordan Henderson was a whipping boy, and Gini Wijnaldum went unappreciated for far too long; while James Milner only ever looked a short-term stopgap, destined to move on soon after arriving at the age of 29. 
Joe Gomez, meanwhile, would be considered world-class if he'd had a longer run of games to cement that reputation, but injuries robbed him whenever he established himself; but then Joël Matip has also been superb in the past 18 months, when it's been his turn to be in the side. Even Dejan Lovren put in some standout displays, albeit few players look worse when the are rusty than the Croat. 
Everyone has contributed, including the squad players who would get into almost any other side, like Alex Oxlade-Chamberlain, Xherdan Shaqiri, Divock Origi and Naby Keita; indeed, Keita and Oxlade-Chamberlain are often unlucky to be left out of the Reds' XI, but it's an XI, not a XV, alas. Once he's had a proper preseason, Takumi Minamino could also become a sensation. Several exceptional youngsters are emerging at just the right time, too, with the pandemic causing a massive drop in income for Premier League clubs. And while his performances declined as the season wore on, Adrián has won all 11 Premier League games in which he has featured, which is a remarkable record (and in many of those early wins he made incredible saves, lest we forget).
All of which adds up to an era-defining achievement, with further new records still to be set. They – whoever they are – were going to big-up talk of adding an asterisk, but a 19th league title was won fair and square, and by a country mile. Now that asterisk, puckered like a starfish, can be shoved up the assholes it resembles.  
Right, where are my (metaphorical) cigars?!
My new book (ably assisted by the team here), "Perched" (subtitle pending), is initially available only to TTT subscribers in a special higher quality edition, that comes with an exclusive second book on the season by our contributors.