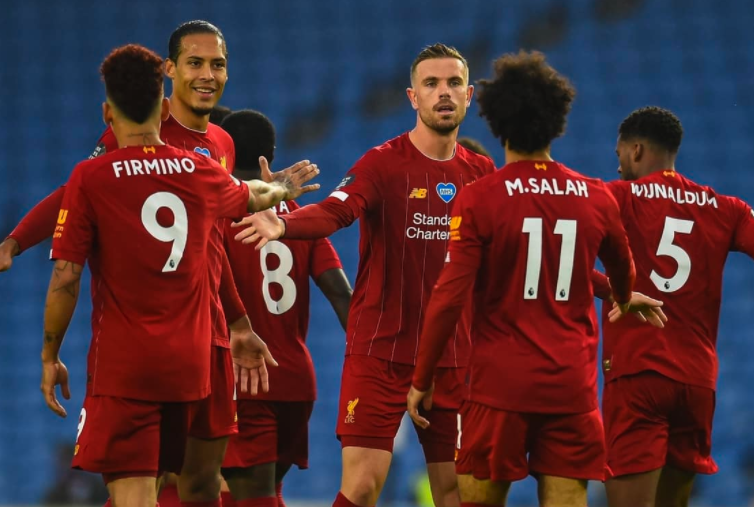 Best posts of the week, as chosen by Chris Rowland and Daniel Rhodes:
Here are some comments we've picked out this week:
1 – cvt123 with some stats that challenge the pervading City-centric narrative of commentators and media:
Narratives.
Man City showing dominant form since returning from lockdown.
Reality. 9 points in 5 games – 1.8ppg.
Liverpool failing to hit their stride. Looking a little leggy.
Reality. 7 points in 4 games – 1.8 ppg
And from Chris Rowland:
I love that City have lost as many in their last 5 league games as Liverpool have in their last 71!
2 – NickM on double standards in match officiating:
Do the refs, who obviously enjoy football, otherwise they wouldn't be a ref, unless they get off on it in some kind of S&M fashion, go home and watch MOTD? Maybe if they are having a day off, they sit and watch the games on Sky or BT.
Tyler does the commentary of a lot of games. Imagine sitting there at home watching these highlights and games on Sky or BT and hearing the commentary. Every game you see Salah or Mane accompanied by 'he's gone over a little easy there', or if it is Sterling, Rashford, Kane or Vardy you hear 'ooh might be a penalty there'. What does that do to your decision making process?
What happens when the incidents don't get reviewed, no replays shown and things get glossed over? It makes you think, they won't focus in on that too much, whereas when the commentator is there saying 'ooh I'd like to see that one again' and then come several replays, you just know that you need to think a little bit harder about those because you will be scrutinised by those in the media.
There were big shouts for a handball by the Liverpool players yesterday but not a single replay. Against Man City the foul on Mane was shown once, very briefly, with a really poor angle. I remember Gini being fouled yesterday and it not given, even though it was obvious,
I missed it. Get over it
but I don't remember if it was in the box or not. Again though I don't remember a replay, just glossing over it while Gini was busy waving his arms about and he is not one that really does that kind of thing.
Here's an idea, a YouTube channel that scrutinises the referees and even the accompanied commentary performance. Stats like those that Paul has would be brilliant for something like that. The biggest problem would be where do you get the clips from for things like the handball yesterday but if it could be done it could help highlight some of the probably unconscious bias that blights the referees and commentators performances.
3 – TerryD plotting Liverpool's consistency under Klopp:
Liverpool bounce back (again)
Do you remember when Liverpool used to lose league games regularly? In Brendan Rodgers' last full season we lost 12 games. These days Liverpool don't lose league games very often, with only three in the last two seasons. And when Klopp's Liverpool lose they bounce back, with the win against Villa the most recent example.
Klopp has never lost consecutive league games in his time at Liverpool. That is remarkable not just because Klopp has played 177 league games but because no other Liverpool manager in Liverpool's history has avoided back to back losses in their top flight league games.
This team clearly has quality and character. But there is something else that has taken Klopp's team to Liverpool's nineteenth league title: consistency. I've been playing with the best way to visualise this consistency. But first, here is what Kopp has to say.
Klopp on consistency after winning the league
"The consistency we showed makes all the difference. We were good four years ago. We were really good three years ago. We were unbelievably good last year, the consistency we showed there was already incredible. And then smashing this record pretty much… is absolutely exceptional and second to none. It is really unbelievably difficult to get there, it's all about the boys' commitment, desire and understanding of the club's heart and soul."
"The consistency comes from the mix of determination, buying in to the to the idea, attitude, character, personality. That's what makes this group so special. They are all very confident because we have won some stuff, but they are all humble and if we stay humble we have a good chance of being successful in the future."
Klopp vs Guardiola
So let's have a look how Klopp's turned the tables on Guardiola's Man City by visualising their consistency* side by side.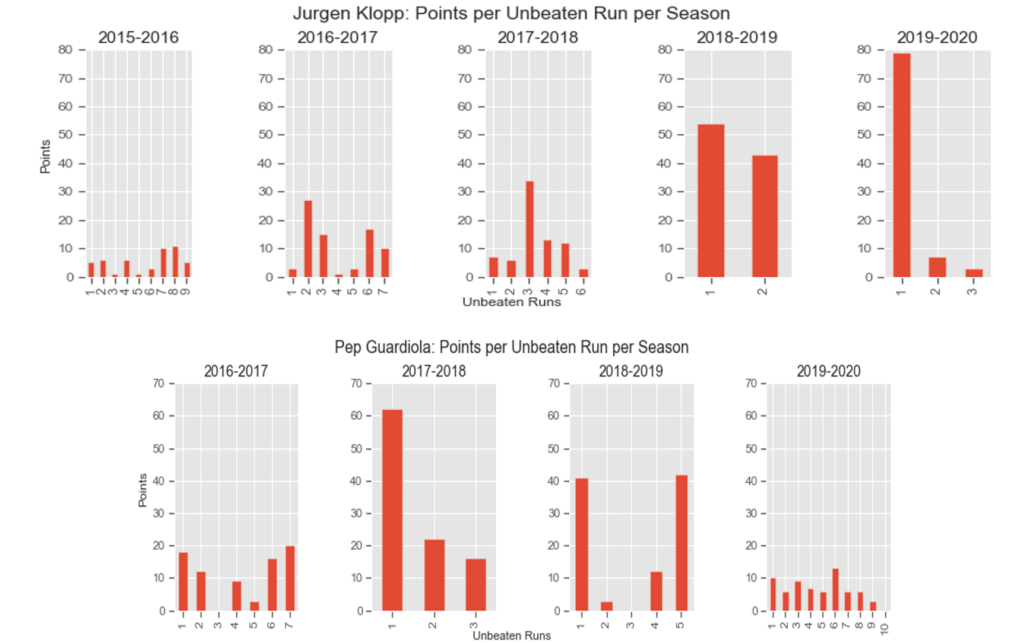 The graphs show two of the most consistent teams in Premier League history. Guardiola's 2017-18 City team achieved an unbeaten run of 62 points on the way to their 100 point league title. Klopp has 'smashed' that unbeaten run with this season's record breaking start of 79 points from 27 games.
Guardiola's defensive frailties this season stand out, with a maximum unbeaten run of 13 points punctured by nine defeats. Guardiola is struggling to rebuild his defence after Kompany's exit. He might have got away with it if it wasn't for Klopp.
Klopp's improvement in consistency is clear from the graphs, with each season's team breaking the previous season's best unbeaten run points total. For his five seasons from 2015-16 the best unbeaten run points total has increased steadily follows: 11, 27, 34, 54, 79 points. Now that's what I call continuous improvement!
Klopp has built a great team both and off the pitch. However, a special mention should go to the recruitment of Virgil Van Dijk and Alisson Becker who are clearly major contributors to Liverpool's recent consistency. Indeed, in the last two seasons, of the 68 unbeaten league games (so far) Van Dijk has played in 100% and Alisson has played in 87%.
I don't expect Klopp's team next season to beat this season's best unbeaten run of 79 points. However, I don't doubt Klopp's words that this team will remain humble and successful.
*These graphs visualise a team's consistency by plotting the points total of all unbeaten runs in the given season. The total points gained on the unbeaten run are shown on the y-axis – the higher the better. The runs are on the x-axis, with fewer better. Back to back losses are shown as a zero point run.
4 – Cvt123 continues the excellent statistical analysis:
Further to the work that Krish did on penalties (and building on Paul's work), I pulled some stats fbref.com on the touches per free kick to see if 'style' could explain Man Utd's number of penalties. Here is the table for this season only (and before today's games)
| | | | | | | | |
| --- | --- | --- | --- | --- | --- | --- | --- |
| Squad | Touches | Free Kicks | Pen Touch | Penalties | Pen % of FK | Touch per FK | Pen Touch per Pen |
| Manchester Utd | 22,139 | 416 | 853 | 12 | 2.9% | 51.2 | 71.1 |
| Manchester City | 28,014 | 307 | 1,439 | 10 | 3.3% | 86.6 | 143.9 |
| Leicester City | 23,117 | 434 | 903 | 7 | 1.6% | 51.2 | 129.0 |
| Chelsea | 25,800 | 358 | 1,093 | 7 | 2.0% | 69.0 | 156.1 |
| Watford | 17,940 | 356 | 755 | 5 | 1.4% | 48.3 | 151.0 |
| Liverpool | 26,132 | 386 | 1,175 | 5 | 1.3% | 64.7 | 235.0 |
| Tottenham | 21,529 | 414 | 738 | 4 | 1.0% | 50.2 | 184.5 |
| Aston Villa | 17,603 | 477 | 701 | 3 | 0.6% | 35.4 | 233.7 |
| West Ham | 18,590 | 393 | 758 | 3 | 0.8% | 45.4 | 252.7 |
| Wolves | 20,006 | 356 | 778 | 3 | 0.8% | 54.0 | 259.3 |
| Crystal Palace | 18,546 | 449 | 813 | 3 | 0.7% | 39.5 | 271.0 |
| Burnley | 16,668 | 381 | 565 | 2 | 0.5% | 42.3 | 282.5 |
| Bournemouth | 18,336 | 398 | 691 | 2 | 0.5% | 44.3 | 345.5 |
| Norwich City | 21,035 | 422 | 705 | 2 | 0.5% | 48.2 | 352.5 |
| Southampton | 18,559 | 380 | 729 | 2 | 0.5% | 46.9 | 364.5 |
| Brighton | 21,997 | 360 | 817 | 2 | 0.6% | 58.8 | 408.5 |
| Arsenal | 21,703 | 432 | 859 | 2 | 0.5% | 48.3 | 429.5 |
| Newcastle Utd | 16,738 | 416 | 545 | 1 | 0.2% | 38.9 | 545.0 |
| Sheffield Utd | 18,857 | 321 | 758 | 1 | 0.3% | 56.4 | 758.0 |
| Everton | 18,766 | 406 | 795 | 1 | 0.2% | 44.3 | 795.0 |
The stats I added are touches per free kick and penalties as a proportion of free kicks.
What I was trying to test is the 'Man Utd it more direct so gets more pens' and this data would suggest that it doesn't hold. If that was the case, then frequency which they get free kicks would be equally high and they are not…
The other 'oddity' is that the two Manchester clubs have the highest number of penalties when measured as a proportion of free kicks awarded.
More nerdy stats..
There is no correlation between penalty touches per penalty vs. touches per free kick, which is unusual. Basically it says that what happens in the box and outside the box are not correlated.
Also, the spread of the results is much higher for penalties. The coefficient of variation for the penalties is 61% and 23% for the free kicks (for those who are not familiar with coefficient of variation, it is a way of measuring how spread out the results are. The higher the more spread out). Statistically, that would suggest there are more factors driving variability in the penalty data beyond the number of touches…
Given the number of data analytic teams that are now being employed by the big clubs, I am amazed that someone has not gone to the PL with statistical proof that the refereeing is just totally broken and biased.
5. L7Kenny discuss the victory of Brighton:
Okay, I mentioned in a previous post that I didn't wish to do BHA a disservice. I have now rewatched the full 90 mins and apart from Pawson not showing consistency, which was mainly in the first 31 mins, then reviewing everything, Brighton did their best work themselves. The only exception was a foul on Gomez near the touch line (a shove) whereby he put the ball out for a throw in and it led to a half chance that Connelly created for himself (sort leaving 4 of our players ball watching).
Other than that, Lamptey committed 8 fouls (although 2 were niggly ones on Salah in the second half were Salah got through on the keeper). Personally both impeded Salah, who could of made something of either of them, plus there was the double foul on Mane that saw him booked. – Given how Pawson booked our players then Lamptey could and should of seen 3 yellows. – It is worth noting that Lamptey was their most influential player.
Gomez and TAA in my re-watch weren't their best. Both made lots of mistakes, as did Neco Williams. And Ox just didn't really do anything wrong, he just didn't do enough.
Other than that, Keita was a great watch 2nd time round. Gini DID have a very good game, as did Hendo. And Firmino was equally good.
As for the fouls in the box in the 2nd half. There was very little on the arm on Salah around 50mins, where he got his shot away. However Minamino should gone down for the shove on him in the 95th minute. As for Gomez on Trossard in first half off the ball. Nowt in this other than Trossard tried his hardest to make something of it. And then there's TAA losing the ball and accidentally standing on their guy's leg.
So in truth, Pawson can argue he let the game go in the first half and started to pick up things as the 2nd half wore on. However if Neco's was a yellow, which it was, then Lamptey should seem yellow twice in the first half. Therefore Neco couldn't have then got his yellow as Lamptey who Neco fouled would of been off. Likewise BHA would not have got their goal as Lamptey supplied the cross.
So in truth BHA gave us a game and we played well.
Articles published since last Friday, with excerpts:
Monday July 6th:
Post-Match Analysis: Liverpool 2 – 0 Aston Villa, by Daniel Rhodes.
I refer to the introduction, because it was basically a tale of two shots for the Reds. The opening goal (and only big chance we had all match) from Mane, and the second goal from Curtis Jones (which was wonderful to see). The away side might have had more shots, but they only had one big chance, and that was really late in the game from Grealish that was saved by Alisson. In fairness, while we only had six shots in total, we did manage to get five of them on target!
Tuesday July 7th:
19/20 Premier League Preview | Matchweek 34 | Brighton | AMEX Community Stadium, by Gary Fulcher.
Records already achieved:
Best ever start to a league season in any of the top five European leagues, picking up 79 points from the first 27 matches, a record of 26 wins and one draw
The 3-2 win over West Ham on Feb 24th saw the Reds record 110 points from the previous 38 games (36 wins, two draws), beating the previous rolling 38 game record of 102 set by Man City (2018) and Chelsea (2005)
Liverpool had a 25 point lead over Manchester City earlier in the season, which is a top flight record
The 2-0 win over Aston Villa at Anfield was the 24th consecutive league win at Anfield, surpassing the previous record held by Man City who record 20 successive home wins set between March 2011 and March 2012
Following Man City's 1-2 defeat at Chelsea, Liverpool secured the league title with seven matches remaining – a new English record – beating the previous best of five games held by Man Utd (2000/01) and Man City (2017/18)
Thursday 8th July:
Post-Match Analysis: Brighton 1 – 3 Liverpool by Andrew Beasley
Premier League champions Liverpool moved onto 92 points – the sixth highest total by any team since 1992 – with an entertaining 3-1 win at Brighton. It was only the second top flight match this season in which both teams had at least four clear-cut chances, following Burnley's 3-0 win over Bournemouth in February.
According to Stats Zone, the Reds' victory means they have become the fastest team in the history of English league football to reach 30 wins in a season, beating (surprise, surprise) Manchester City in 2017/18.
This was Liverpool's 13th away league win of the season, which equals the club record. The previous two campaigns in which they clocked up a baker's dozen on the road were 2008/09 and 2018/19. Jürgen Klopp's side are clearly nine years ahead of schedule.
Liverpool have always played with a slightly unconventional defence at the Amex. Nothing will top the back three of Emre Can, Dejan Lovren and Gini Wijnaldum which Jürgen Klopp deployed in 2017/18, but they started the fixture last season with Fabinho in the back four alongside Virgil van Dijk.
On this occasion, Neco Williams made his first Premier League start for the club. He didn't play at left-back in any his 81 previous games in Transfermarkt's database, so it really was a new experience for the 19-year-old Welshman.
The other significant change saw Alex Oxlade-Chamberlain occupy Sadio Mané's usual berth on the left of the front three. But it was Naby Keita, starting two games in a row for only the third time this season, who shaped the outcome of the match within it's opening eight minutes.
The Unsung Heroes of Liverpool's Build-Up Play: The Pass Before The Pass by Andrew Beasley
When Liverpool are at their free-flowing best, there isn't a team on Earth that can live with them. Their fourth goal in the recent demolition of Crystal Palace demonstrated this beautifully. It was their 24th league goal which they have scored from a counter attack over the last three seasons, the most of any team in the Premier League.
Twelve seconds after Andros Townsend attempted a simple pass in the Reds' defensive third, the ball was in the back of the Eagles' net. Sadio Mané recovered the loose ball, played it to Roberto Firmino then set off towards the Kop end.
Firmino shielded the ball from an incoming opponent and then laid it off to Mohamed Salah in the centre circle. Without needing a touch, he played a perfectly weighted first time pass back to Mané, who had cleverly bent his run to ensure he remained onside but without losing speed.