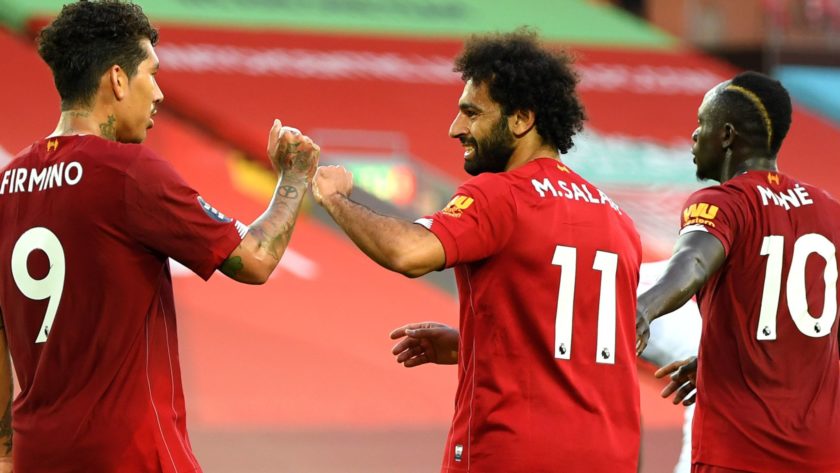 Statistics correct as at June 29. The embedded videos will start at the relevant section, but will continue to play to the end if you don't stop them.
When Liverpool are at their free-flowing best, there isn't a team on Earth that can live with them. Their fourth goal in the recent demolition of Crystal Palace demonstrated this beautifully. It was their 24th league goal which they have scored from a counter attack over the last three seasons, the most of any team in the Premier League.
Twelve seconds after Andros Townsend attempted a simple pass in the Reds' defensive third, the ball was in the back of the Eagles' net. Sadio Mané recovered the loose ball, played it to Roberto Firmino then set off towards the Kop end.
Firmino shielded the ball from an incoming opponent and then laid it off to Mohamed Salah in the centre circle. Without needing a touch, he played a perfectly weighted first time pass back to Mané, who had cleverly bent his run to ensure he remained onside but without losing speed.
From there the conclusion was as expected as it was gorgeous. Liverpool had torn a hole in the defence of yet another side, and 24 hours later they were champions.
Jürgen Klopp's established front three aren't the only players to score counter-attacking goals for his team – Alex Oxlade-Chamberlain netted one this year, Xherdan Shaqiri last season – but clearly they represent the main threat.
However, dearly beloved, we are not gathered here today to discuss counter-attacking goals, no matter how proficient Liverpool are at dispatching them. The aforementioned Mané effort against Palace was notable as the move featured all three prongs of the Reds' favoured attacking trident as it came to fruition.
Without watching every goal back and taking notes, there has been no way to see how many goals this is true of. Opta have a statistic called 'second goal assist' (a.k.a. 'hockey assist') which is awarded to the pass prior to the actual assist, but only if they deem it has been of significant importance to the goal.
This seems a little odd, as regular assists can often have no real bearing on a goal; refer to Andy Robertson's assist for Fabinho's rocket-of-a-strike in the above highlights for a perfectly good example.
Anyway, thanks to Statsbomb's data on FBRef.com, we now can look at who was involved in the last two actions prior to every Liverpool shot in the league this season. In other words, who makes the pass before the pass, as Firmino did for Mané's goal against Palace?
The rest of this article which features analysis and video clips is for Subscribers only. You can sign up using the tab at the foot of the page.
[ttt-subscribe-article]