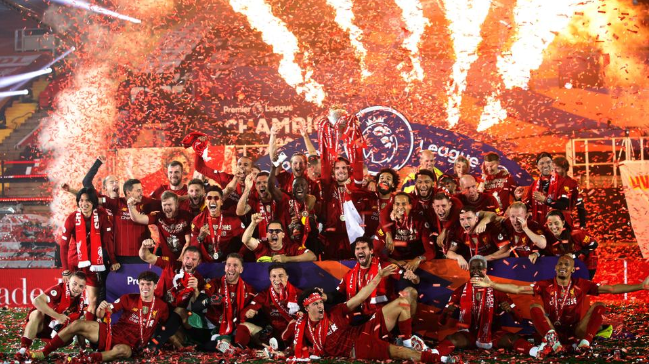 Best posts of the week, as chosen by Chris Rowland and Daniel Rhodes:
Here are some comments we've picked out this week:
1 – PeterD's reaction to an all-London FA Cup Final:
It will make it much easier for the fans to not travel to Wembley from London clubs Arsenal and Chelsea. It would have been chaos with two sets of fans not travelling from Manchester!
2 –  Tony Mckenna(Macattack) comparing Klopp and Guardiola:
Klopp definitely trounces Guardiola as a Manager, when it comes to charisma and emotional intelligence. And these are important aspects when it comes to relating to others: your players, your owners, the fans and the media. Inevitably, any Manager is the face of the Club, and salient representative, considering the attendant media exposure relevant to the role.  It is important to carry this off, well.
Guardiola, unfortunately, seems vexed with insular thinking and a siege mentality.  City have just got a result in Court, that any fool knows is not a little suspect.  And, he knows as much as anyone that his owners are controversial on more than one count.  The optimum response was to be quietly happy in private, breath a sigh of relief, then try and allow the story to rescind.  His employers do not really need their practices highlighting.
But to then start demanding apologies from other clubs, and cite the conspiratorial ganging up on City, just created more and different headlines, on the same transgression. He is helping to keep the issue in an unwanted limelight by building upon it. His recent snipe at Arsenal in an 'off the pitch' context, as he put it, was classless and stupid.
Contrast this with how Klopp dealt with questions about the season 'restart' during lockdown. Of course, journalists would hang on his words, knowing that a PL title was potentially under threat. Klopp, no doubt, was also aware of the 'voiders'. His words and responses could have given journalists what they probably wanted: a war of words, as Liverpool were seen to be jealously, and selfishly, guarding their own interests.
Instead, Klopp referenced the issue of the virus, and people's health, as the primary issue. He did not give one iota indication of embitterment, desperation, or self-centred nerve wrangling.  Publicly, he prioritised what should be prioritised. It was deftly done. Of course, he got his jibes in, by other means. But not in a way that put Liverpool Football Club at risk of a collective backlash. Stating, for example, that 'he has an opinion on everything', put a focus back onto Gary Neville.
But what Guardiola has done is drawn his sword offering all comers to a duel. Daft. Many will accept. In fact, he could be overwhelmed. And he will now be engaged in a personal and emotive side show, that will zap his energy; and detract from the job he has in hand. What can we say, but thanks?
3 – Jeff after the victory over Chelsea and a statue for Klopp:
Jurgen Klopp was brought to Liverpool to win the Premier League title and to win the European Club Championship. Anyone who doubts he is a truly talented manager, look at what he has done in Liverpool. He turned what was at best a mediocre or mid table team and turned it into something that the only word that can describe it is exceptional. In my opinion, it is only a matter of time before a statute of him is erected at Anfield and I seriously doubt anyone will have a problem with him having a statute. I am also looking forward to the when there are banners of him being waved in the stands of Anfield. He has earned both of these in my opinion.
I have no idea what went on between Jurgen Klopp and FSG that led him to being hired to manage Liverpool but whoever negotiated the deal on behalf of FSG deserves a massive shout out from every Liverpool supporter. I have no idea in fact what he was promised but what ever he was promised was just a plain smart move on the part of FSG. Once he was in Liverpool, the evidence supports the notion that FSG have kept their promises and he was given everything he asked for in the question to win and win as we all know he has. I know he has a number of years to go on his contract – to the end of the 2024 season – and I know he reportedly on a massive contract – 15 million a year – and he is worth every pound he is paid. Indeed, I would say that given what he has done in Liverpool he is massively under paid and I am saying this about a man who makes 15 million a year.
I think in the match today we say some signs of what we will be seeing with Liverpool next season. A fit Naby Keita is a game changer and we all saw today what a fit Keita can do because he is just too pacey, too quick, and too technically gifted for defenders to contain. I am also of the opinion that young Curtis Jones has earned the trust of Jurgen Klopp from his performances this season and I expect to see far more of him next season. If you saw AOC's goal and I am confident that everyone here did, you will see that he is getting back to the pacey, quick, and powerful lad he was before he suffered his massive injury. I think we saw signs that Liverpool will not only be a better side next season but a side that will play far differently on the pitch and a team that will present even more problems for the opposition.
I think it fair to say that after winning the European Club Championship last season and winning the Premier League title this season, we are in a new era for Liverpool FC and I think with the development of the lads I mentioned in the previous paragraph and some others I can think of such as Minamino and Brewster, Liverpool will be a better side next season which should frighten every club in England and Europe.
4 – ArdentLFCfan on the progress under Klopp:
The remarkable rise of Jürgen Klopp's Liverpool:
2015/2016: Miss out 4th place.
2016/2017: Finish 4th and qualify for the Champions League.
2017/2018: Lose the Champions League final.
2018/2019: Win the Champions League final.
2018/2019: Lose the Premier League title by one point.
2019/2020: Win the Premier League title.
What an absolutely incredible football team! Relentless. Magical. Ruthless. Resilient. Up the Never Give Up Reds!
5 – David reflects on watching the Chelsea match with his family:
My post match analysis focused on the fact that the entire family had gathered round the box, which is extremely rare and they ALL actually really enjoyed the ENTIRE game.  Certain members reached their traditional ennui levels round the 69 minute mark, saying things like 'I've enjoyed this match but why does it have to go on so long?'; but then there was Gomez and Virgil's pantomime moment, finished off by the dastardly pugilistic Pulisic (who personally, strikes me as a bit of a Hollywood superstar in the making.)  This was all accompanied by screams and whoops and I have to say, it was possibly even more enjoyable than the Christmas day trompsing of Leicester.
The biggest scream of all came after the beautifully described, 'red arrows' streaked up the pitch for Ox to erase his seasonal frustrations at a stroke.  It was, as Beez points out, all about the timing of the goals from both sides.  A very satisfying game, made much better by the genuine dedication and passion brought by Chelsea – it really mattered to them.  And I have to say I'm glad to see Lampard losing his shit on the sidelines in the best traditions of spoilt brat Chelsea managers – it's the least I expect from the King's Road wide boys.
It really was a fairytale of a match, with such great goals and beautiful rapier like moves across the pitch.  It had everything; Firmino breaking his duck, TAA's elegant precision, Keita scoring the type of glamour goal that we'd seen on the Red Bull highlights reels.  Chelsea's goals were good too.  I have to say I put Gomez in my 5 top players because I thought he made an incredible contribution to how the match was played out.  Not without risk it has to be said, but his interceptions and carrying the ball up the pitch was properly swashbuckling and did a lot to set the positive tone that countered Chelsea's intense desire.
All in all, it was the match we needed to cap off this incredible, not only season, but epic conquest of world football!  It reminded me that what I love about Klopp's team is their total commitment to playing the best football.  They love football.  They may be greedy bastards, but unlike Mourinho's mofo vintage, they are not covetous swindlers, they are generous and big hearted in what they give of themselves in the way they play.  Looking at Klopp trying to sign his warmth into the camera after the ceremony reminded me of Jim Carrey's desperate craving for ingenuous communication in the Truman show.  Seriously, can you imagine virtually any other manager or footballer or just about anyone doing that with such faith and generosity?  I thought it was a genuinely astonishing moment and the way 'the boys' totally reflected  that attitude at a time when they really didn't need to put in that much of themselves.
To be honest, I had girded my loins for a potentially naff evening. I had already forgiven the players for being half on the beach and also the club and PL organisers for what would probably be an exercise in cheesiness.  But that football display made up for everything.  It was even better for the fact that, amongst all this lockdown bollocks, they managed to produce some football that mattered.  I feel insanely proud!  YNWA!!
6 – Tony on the accusations of arrogance:
"Don't be arrogant".
Well, when you read a collection of facts and stats like this, it is hard not to be.  But in a good way.  Mentality monsters need to affect a winning psychology. Knowing you are good enough to win, talent wise, still requires a positive mind set.  Often an aggressive one at that.  Even if it emanates from the bench, at times.  No apologies.
We can rephrase it and call it supreme confidence.  The will to win manifests when you contest every match official decision, or call out the oppositions foul play, and celebrate a goal that just hurt your opposition.
Like moaning about a `ghost goal` or beating your chest on the touchline when your team has scored, potentially undoing your opponent's title quest.  Yes, Frank has seen and learnt from the worst.  And, as a player, he has rabidly celebrated scoring at Anfield, feeding off a Chelsea fans euphoric frenzy.
To be fair to Frank there are clips, on social media, of him congratulating Mane in the dressing room.  Man hugs all round.  But this nonsense charge of arrogance actually smacks of hypocritical ignorance.  He has been a winning player at the top. He knows that he has achieved it in the context of a Club that splashed the dirty money, stolen by an Oligarch owner from his own people.  That's arrogance.  Talent and hard work were not the only ingredients of success.
Our complainant has now reminded us of a time when he accused an opposing Manager of `spying`. Different time, different team; a lower league.  His paranoia abounds. Maybe a siege mentality weakness.  If so, he needs to be careful, having stepped up to the managerial big time.  There will be more arrogance coming his way at this level.  It happens in all shapes and forms.  Once upon a time, a Premier League club even tapped up Ashley Cole, an Arsenal employee, at the time.  Get real, Frank.
On this day, Thursday, 23rd July, 2020, let us celebrate being both unbearable and arrogant.  We are Champions.  And not everyone likes it.
7 – Paul Tomkins (and many others at the same time…):
HENDOOOOOOOOO!
Articles published since last Friday, with excerpts:
Tuesday July 21st:
19/20 Premier League Preview | Matchweek 37 | Chelsea | Anfield, by Gary Fulcher.
Liverpool's final home game of the season is a match against FA Cup finalists Chelsea on Wednesday evening – 8.15pm kick off UK time – and more importantly, the Reds will lift the Premier League trophy after the match for the first time as their coronation as Champions of England is finally completed.
Wednesday July 22nd:
… and The Dance Goes On, by Anthony Stanley.
Tears after Stevie's heartbreaking fall? None, I was just numb, a state of being that probably lasted – in a sporting sense – for a year or two.
And finally, as I type these words in the summer of the surreal of 2020, as I look out the window at ten year olds playing in their Liverpool strips, now sleek and unforgivingly tight (at least for a middle aged man's body) I still can't fully process it. The journey we've all made. When Chelsea defeated City a few weeks ago, when Jordan and Jürgen cried live on air, I wept myself but it didn't really sink in. Because of that dance, that dance of tragedy, of life, of death. Of triumph.
Only now, after lying awake for much of the night and knowing that this evening we will lift the Premier League title, can I start to really celebrate. It's ours, number nineteen. The world will bounce back, the delicate equilibrium will be re-established. Humanity – in all of its glorious and brilliant fragility – will win out.
The dance will go on.
Thursday July 23rd:
Post-Match Analysis: Liverpool 5 – 3 Chelsea by Andrew Beasley
Prior to Pulisic's dazzling cameo, Roberto Firmino laid to rest his Anfield league goal drought, in the nick of time where 2019/20 is concerned. Infogol ran his home league numbers for a recent article, and found "the probability of an average player scoring zero goals from 7.73 xG is a miniscule 0.04%." The Brazilian had taken 53 shots at Anfield since he last scored there in the Premier League, so clearly 54 is a charm for some reason.
His goal was set up with a trademark Alexander-Arnold cross, and the assist meant the young Scouser extended his own record for most goals created by a defender in a Premier League season. His tally of 13 isn't just impressive at club level for a full-back either; in the modern era, only Steven Gerrard has matched it (in 2013/14) and only Steve McManaman (with 15 in 1995/96) has surpassed it for Liverpool.
Trent's career tally of 26 Premier League assists draws him level with an interesting collection of players, including one Paul Pogba. Feel free to share that particular nugget on social media if you wish; I can't be bothered with the hassle it will inevitably draw.