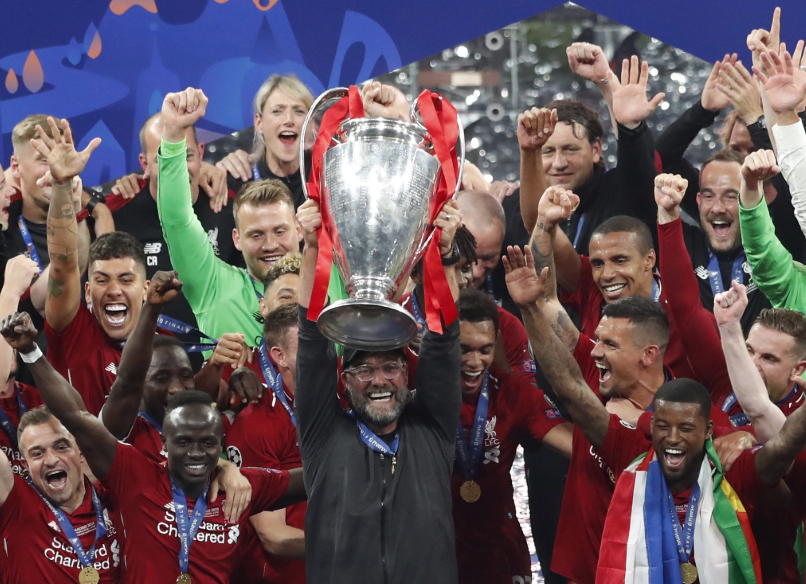 Best posts of the week, as chosen by Chris Rowland and Daniel Rhodes:
Here are some comments we've picked out this week, about football as well as coronavirus!:
1 – Tony – no explanation needed!:
Government has become the Ministry of Silly Talks. As Bob Pearce suggested: On a t-shirt please!
2 –  Jeff responding to Red Mick:
Mick we are of an age where we remember the Shankly teams and the Paisley teams and the Fagan teams and the King Kenny teams and to me the hallmark of those teams was character. They played hard every minute of every match and never gave up and to me these traits won match after match.
Going all the way back to lads in the 60s who sadly are no longer with us such as George Best of Man U or Peter Osgood and Alan Hudson and keep on going down the ages too many English footballers did not have the professionalism or character in my opinion to truly emerge as major talents.
On this point, I have no doubt that if Paul Gascoigne had the professionalism that Jürgen Klopp requires of his players he would have been not only the best English player ever but one of the best players of all time. I saw him play for Newcastle somewhere in London and saw pure talent and said to the Geordie next to me he would be something special and the Geordie said he was an idiot who would squander his talent and lo and behold he did to a large degree.
Character matters and thankfully Liverpool have a manager who realises this reality.
3 – Paul Tomkins at news of Watford's Troy Deeney saying he will not return to training because he fears for his family's health amid the coronavirus pandemic:
If any player really doesn't want to play, they can take a pay cut and step back, or maybe fully quit football and find a "safer" job. I don't think we should look down on them for that.
Obviously it's a tough situation, and BAME people are more at risk; but a lot of that may be to do with the increased poverty they are more likely to suffer due to decreased social opportunities (albeit that doesn't apply in football). It could also be partly genetic, but the risk to super-healthy 20 and 30 year old men is very low indeed, while the doctors that died were generally older and exposed to massive viral doses.
With a baby with breathing problems it would be wise to not be near his family for the 1-2 months it would require; which, for £50,000 a week or whatever he is on, wouldn't be too much of a hardship, even if it wouldn't be ideal either. Or, as I said, he could opt out.
While money doesn't buy happiness, it's not like he is working some dangerous low-paid job which brings him into contact with high-risk people. He will be frequently tested, and have access to top-class medical people, unlike a bus driver or a grocery store worker.
The sporting integrity of the league could suffer if a large number of players step back. But are some just trying to void the season because their team is in trouble? Would he have a different view if Watford were going for the title, or in the top four? Football is, after all, a game that is fairly dangerous. More footballers will probably die from heart attacks or serious head collisions than Covid-19, unless the virus gets out of control and the health service caves in, and then everyone's chance of dying increases due to the lack of staff and ventilators.
Again, we should respect anyone who wants to step back. But the clubs can't keep paying them fortunes while they do so, especially as the match-day revenue has been wiped out, and the TV companies want refunds from the clubs regardless of what happens.
4 – Tony analyses the financial figures announced by Man United:
Far worse news than first appearances could impart. Surely? There a few considerations here. These numbers reflect the period up until the end of March. And games were not suspended during January, or February. It was always going to be the next results that would potentially generate even more fear.
When their penultimate results were disclosed Woodward was waxing lyrical about projected revenues, in a manner that has become a complacent boast at Old Trafford. Banking on a bright future always offered assurances. Well, life is what happens when you are busy making other plans, as Lennon once sang. For fucks sake, Ed, you have leveraged buy out owners. A scenario far more susceptible to black swan events, than any other.
It is also an eye opener for Solsjkaer and Neville who had been so publicly confident that the post Covid-19 Transfer market would mean advantage United. What a pair of arrogant cocks! As far as I am aware, these latest figures do not include full payment for Fernandes. You know, the golden boy… after just 5 PL appearances. And no one can foretell what the new transfer market will look like, yet. Sellers, even in distress, may hold the upper hand. God knows, they will fight to prevent prized assets at fire sale prices.
More so, United will have to work damn quick on a better buying strategy. £750 million since Ferguson retired; fifth in the league, and ninth when isolating the `Away` games. Soljskaer is merely Moyes in reverse. The Scot actually had a good `Away` record, but a poor return at home. To think that Fergie tried to say he told Moyes to keep Mike Phelan on board. That was the problem. Not his appointment of the Chosen One. And now, dear Fergie, what say you?
Three quarters of a billion, despatched like a pissed up, Mr Bean, throwing darts in a balloon shop! And the Glazers had already milked the Club for a billion, in total. Now is the time to stop the rot of ill thought complacency. Punitive interest payments are not okay, just because revenues mean you can afford it. That is a fools self delusion. It is the money lost for optimum investment purpose that commits the sin. Imagine how better positioned United would be, with less vulturous owners. Their loss. Our gain.
Their season is now much more dependent upon their noisy neighbours being banished from the CL. Should this outcome be realised, then maybe there should be an asterisk against their qualification.
5 – Eddierob looks at the criticism of FSG recently:
Ah well, different subject – well away from a bannable rant . Sorry you got insulted publicly Paul, however that in and of itself simply confirms you exercised good judgement – pleased you apply LFC's transfer policy of no dickheads to the site as well.
Anyway, and if anyone doubted that FSG behave ethically:
https://www.thisisanfield.com/2020/05/liverpool-pay-nike-significant-compensation-to-lift-the-title-wearing-new-balance/
FSG have been criticised publicly for two decisions, and on both occasions reversed course quickly, with apologies. However if you dig below the surface on both:
– in the case of season tickets I believe they did a major consultation with fans on what they wanted. Some of the expressed wants resulted in reduced ticket prices (particularly for younger fans), and that revenue loss was balanced by putting other prices up – I am not sure on what the weighted average of those changes were. I know from one comment the club issued after it was all over that they thought what they were doing reflected the desires of the fans.
– and secondly with the recent furlough debate – they did not just put people at the club onto the scheme (as others did), rather they used government money intended for people who were out of work and topped it up so the staff would not be out of pocket. Not sure what happens next given many of those staff will effectively have no work to do until we are back with crowds watching home games, and LFC have a critical need to cut wages / salaries to offset the significant reduction in their revenue.
My basic point is that I believe that FSG try to act ethically within the constraints the environment imposes on them. We are fortunate to have lucked out (excuse my Americanism) on them as owners.
6 – A real treat from Mark Cohen as he has allowed us exclusive coverage of this wonderful video he's created. Bravo, sir, bravo!
From 5 to 6 – Liverpool 2019 Champions League Semi & Final Cinematic – Hans Zimmer from Mark Cohen on Vimeo.
Articles published since last Friday, with excerpts:
Tuesday May 19th:
Rating How Every Klopp Purchase Has Performed, by Mizgan Masani.
When Virgil van Dijk signed for Liverpool, many were concerned that the club had overpaid. The fact that Klopp was desperate to sign the Dutchman was apparent for all to see.
However, the way the player has performed from day one, we can say he has justified every penny of his price tag. A late winning goal on your debut against Everton is a pretty good way to win over the local supporters!
Van Dijk has been a colossus for the Reds, and a real leader at the back. He is not only the best centre-back in the world right now, but also a great influence on and guide for others playing around him in the defensive line. No wonder Liverpool switched from being one of the leakiest defences to one of the meanest after his arrival.
Wednesday May 20th:
The World of Football Transfers In Absolute Tatters, Clubs In Dire Straits, by Paul Tomkins.
For many years my view has been that good owners must never take money from clubs, but they don't have to pump in money either; and FFP has made that the desired model, more or less. 
FSG don't take money from Liverpool, and their approach has made the Reds the best team in the world, and moved the club up the financial rankings. My view was that if they improved the club and sold it for what it was then worth – the analogy I often use is like buying a run-down classic car, restoring it and selling it in mint condition for market value – that was perfectly fine; although at Manchester United, the Glazers have seen the value of the club rise whilst siphoning off money to pay the leveraged debts, and any profit from selling would feel wrong. However, do owners have some kind of moral duty to pump money into a club in times of need?