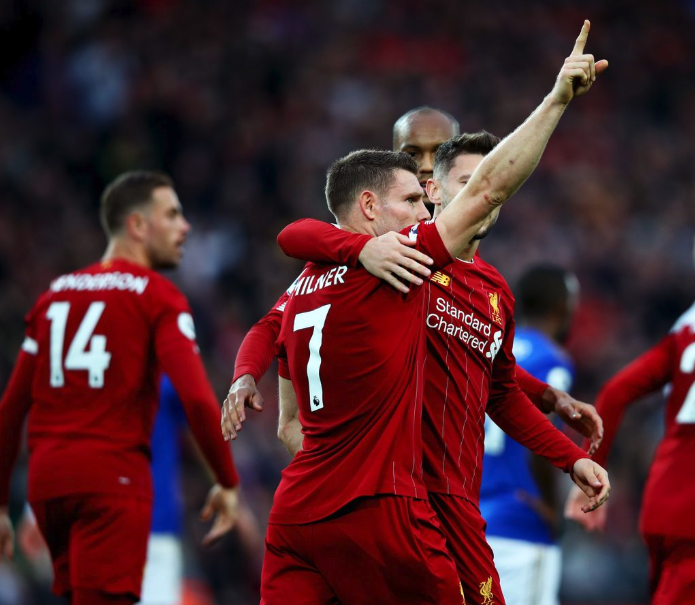 Best posts of the week, as chosen by Chris Rowland and Daniel Rhodes:
1 – Paul Tomkins on reasons for Liverpool's performance this season:
Prior to this season, we were still a young team. Champions of the PL have never averaged below 25, and usually they are 26.5, or thereabouts, with the occasional team up around 28.
This season, we are now in the prime age range. Would this partly explain our increasing maturity in terms of controlling games, especially as two seasons ago we were the youngest team in the PL, or thereabouts, if memory serves.
Players like TAA and Gomez, critically, are two years older than 2 years ago (obviously everyone is two years older!). Van Dijk, Hendo, Mané, Salah, Bobby, Gini, Matip – all now in their peak years, which can vary for players, of course, but if you stay fit, then you should be at your peak at 26-31, when you can marry experience with retaining your physical gifts.
Also, I made a lot last summer about how we would be better if we didn't sign anyone, due to the increased performances of teams who know how to function together. You might need one player to freshen it up, but everyone in this squad (bar Minamino) knows exactly how to play the exact Klopp way, from passing moves to pressing. Last season we had to wait 5 months for Fabinho to get up to speed physically and then to understand how the team functioned, just as Robbo and Ox had the same slow starts before that.
We never had that to slow us down this season. We had no one melting, bar Milner – and of course, MILNER DOES NOT MELT!
This is the single most enjoyable piece of football writing that I have ever encountered.
Thank you.
3 – Stevenson1988, on the same thread:
I find it incredible how often during the course of a game the team is able to change it's style to achieve their objectives – with the Southampton match being but the latest example. There was no way during the first half that game was going to finish 4-0, yet in the end it could, and should have been 6+. This team has an astonishing ability to do exactly what is needed at any given time, yet they don't see the need to thrash teams like City seem to enjoy or Leicester managed at Southampton. Mark talks about the ends domination of our defence and goalkeeper and somebody else mentioned recently how we actually allow some shots from the edge of the box. It is really noticeable how often VvD in particular will do the job of a defensive wall and effectively block off part of the goal, thereby allowing a shot – but secure in the knowledge there is a rather large Brazilian just waiting to catch the ball. It shows enormous faith and trust in one's teammates and their ability – and rightly so. These guys really are the best of the best, and all within a meticulously crafted framework.
4 – MobyKidz on the information war happening on a football pitch:
First of all this was a superb piece as it quantifies the way I felt about this team since that night in Madrid for No6 or even before. I hope it transforms the narrative around our season. But quite frankly who cares what certain sections think. Just to add some random thoughts below.
The game on the pitch feels like an information war at times.  Klopp helps makes events more predictable.  Essentially he is gaming the system much like Ferguson did over a long period. He's transforming the game by breaking record after record becoming the ultimate manager.
At times his team is like an artificial intelligence. It shapes its odds in very complex and dynamic situations somehow visualising the movement of players and ball in a stadium much like a physicist might see atoms colliding and transforming in a nuclear reactor.
There's as much football data today as there is from a nuclear reaction at CERN now floating around in the footballing ether waiting to be transformed.  Just look at this job ad from Man Citeh – very revealing the levels they'll go to:
We are looking for a curious and imaginative physicist with a passion for deriving actionable insights from football data to join our Data Insights & Decision Technology team #CityFootballGroup #ManCity Full Job ad…

This Performance Physicist role will see the successful candidate enhance upon and accelerate the application of physics-based concepts that have been developed at City Football Group over the last four years in order to solve football-focused performance challenges.

This position is based at our state-of-the-art City Football Academy in Manchester (UK) – a great environment to work in, full of creative and innovative talent. The role comes with a competitive salary in line with the physics industry.  Closing Date: Monday 17th February 2020
Well…I am sure there'll be a couple of out of work North Koreans or Iranians that might fancy a change of scenery from one dictatorship to another (just kidding…..). But more seriously transforming data into digestible information and then into knowledge based football is what Klopp has perfected this season (so far) and last. As he'd say, "Wow, just wow".
Quite timely then is Adrian's interview on the BBC with Spanish Journalist Carlos Urbana. Adrian is very insightful on how Klopp, Peter K and Pip Lijnders go about their work.
(Urbana by the way is a massive Real Betis fan – Adrian's former team – hence the interview as opposed to BBC Salford focussing on writing bespoke LFC content like Simon Stone slavishly does for Manchester. Mark – might be time to write for the BBC!). Anyway our reserve GK says:
"Klopp usually tells us that we'll face many problems during the games, so we must be able to fix them. Any team can surprise you with a new system, for example. He's there to guide us. He visualises football very well from the sidelines and transmits this knowledge to the players in a masterful way.

"Training sessions are intense. He does his job passionately and that's exactly how we perform on the pitch. Jurgen is not only a top strategist, but also a great person. The best group management I've seen. Next to the team through thick and thin."
Fascinating. Not just because we were aware of this already but now paired up with Mark's Game State Theory it transforms my perception of what is happening at the club is not by chance or coincidence. Because Klopp gives his players a choice. Or better still the confidence to make a choice. He's betting on "my boys" to "fix" the problem but you know he is there on the sidelines to "guide" them. Transforming from a coach to a mentor back to coach depending on the player or situation.
As are the leaders on the pitch.  The movement of the gears as needed. And one player who has been doing that is Mr Transformer himself – Jordan "Optimus Prime" Henderson (if Gareth Southgate does not appoint him Captain for the Euros….FFS) who is getting better and better with age and gait.
As Adrian says knowledge transmission is key.  The team, with Klopp's support, chooses the right "differential" for the terrain it encounters.  It transforms from an All-Terrain Vehicle – mechanically versatile and customisable off road – to a Ferrari – exciting, thrill seeking and taking those sharp Burnley bends at high speed – to a battle hardened tank that launches missiles into enemy lines from great distances.  Or it is all of these concurrently confusing the opposition by lightening transitions or transformations.
In effect last season's Mentality Monsters have also become this season's Mechanical Monsters. But I think they're more than just robots in disguise – they are The Transformers.
Thank you again Mark for giving me the chance to add some random transformational thoughts to your excellent piece.
5 – Halonkarrison responding to Beez's article about the chances we are conceding:
Quite a few of the chances against us are quite difficult to score. The Ings chance, as an example is a cross from the right side and he's a right footed player. Salah has missed a couple of those this season too and if the cross is from a deeper position, your leg swing matches or almost matches the angle of the ball. A difficult skill.
Even the Tottenham chance which at the time I couldn't believe hadn't been scored, bounced just before he made contact, another very hard ball to judge and requires immense skill.
I don't think it can be overstated the mental pressure we put on the opposition, too. So when teams eventually do get their big chance, even after the 81st minute, they're knackered and probably overthink it or don't have the stamina to be completely concentrated.
What an article! Thanks Beez.
Articles published since last Friday, with excerpts:
Monday February 10th:
How Liverpool Can Dominate in All Game States, by Mark Cohen.
I've never seen a team so capable of so many different types of football, from swashbuckling, to calm and serene control, to emphatic dominance, to tight defence, all in 90 minutes.
Perhaps my statement of being the best ever could prove to be hyperbole as the season winds down – we might win the league with a few defeats, get knocked out of the CL, and life will go on.
Or perhaps we are not a team on a 1 in 10 000 000 run, maybe the lucky narrative is wrong, and maybe we will just win the lot.
I believe that in a hundred years' time they will still be writing books about this team, its unimaginable numbers this year, and the unstoppable force Jürgen Klopp created.
Wednesday February 12th:
Why Don't Liverpool Concede Goals From Great Chances?, by Andrew Beasley.
Liverpool have a phenomenal defensive record in 2019/20. The Reds have only conceded 15 goals in their opening 25 league games, which makes it the club's fifth best ever season on a goals-per-game basis. One of the four better was last season, illustrating the consistency of performance Liverpool's back line has enjoyed since Alisson Becker joined the club.
If the Reds were only to concede four goals over the rest of the campaign – which sounds unlikely, but they have to face 10 of the 12 lowest scoring teams in their final 13 matches – then it would be the best two season run for not conceding goals since the club began.
Whether they can manage it or not, Liverpool have rarely been harder to score against. Virgil van Dijk takes the majority of the plaudits, but the first choice goalkeeper isn't far behind.
Thursday February 13th:
'Limited' Midfielders' Playing a Crucial Role in Liverpool's Incredible 22 Point Lead by Paul Croker.
…then, despite reaching a Champions League final, achieving a club record points tally of 97 in the Premier League then winning the European Cup at the second attempt last season, there were still those who doubted Liverpool's midfield as an attacking force. It was suggested that the players were all too similar and in order to push on, Liverpool would need a different type: a player capable of regularly creating and scoring goals. Liverpool's midfield was there to facilitate and cover for the mercurial attacking trio and the perpetual play-making threat of the full-backs. Those claims were about to be emphatically suppressed.
It began in September, with Liverpool just five points ahead of Manchester City at the top of the Premier League. The Champions were coming off the back of a resounding 8-0 battering of Watford and looking as though they could be returning to the form of last season, as the underlying performance reflected a perfectly fair result – xG – 6.63-0.34 (all figures taken from the Understat website). Liverpool were up first the next game week and had to respond if they wanted to maintain their early advantage in the title race.