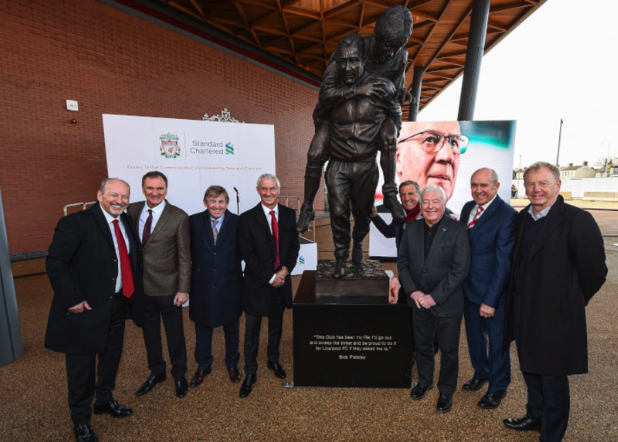 Best posts of the week, as chosen by Chris Rowland and Daniel Rhodes:
1 – Egremontcosmo in the wake of the 2-2 draw at Shrewsbury in the FA cup:
Well, there we are. It's best we know the truth. We're shit. The team that has broken all sorts of records, which has somehow jammily failed to lose a single league game at Anfield since the days when Jim Bowen, Leslie Grantham and Peter Sallis were still alive, which has flukily flarched 67 points from a possible 69, which sits 16 points clear of its nearest rivals, a Sovereign Oil State, and nearly twice as many points in total from The World's Biggest Club (Copyright all Man Utd fans); is a sham, a house of cards built on a sandy tissue of lies. Klopp's fraudulence has been exposed. That it took a couple of dodgy goals from plucky family club Shrewsbury to show us that the King is in the Altogether merely enriches the irony.
Curse those 16, 17 and 18 year-olds, and the older players coming back from injury, for getting soundly thrashed to within an inch of their lives, beaten 2- 2 by a bunch of hardened professionals who play in and out every week together and who had nothing to lose, sure in the knowledge that the BBC,  forever lost in a fading-Kodak fog of nostalgia for when they and the FA Cup meant something, would be rooting for them and their bad haircuts from kick-off to final whistle.
And how fitting it was to watch a thrown-tarpaulin's worth of Salopians gathering under the MOTD portacabin while Lineker waved  a replica cup about, and Joe Hart, looking like a cross between Rin-Tin-Tin and Max Headroom, chuckled and endlessly fiddled with his buttons.
Ah, the glory of the Cup! The Great Leveller!
Et fucking cetera.
2 – NickM responding to Klopp's public declaration to respect the winter break at the expense of the FA Cup replay:
If there is one thing I loved about Klopp it is that he has his principles and he sticks with them. He has asked for the players to be respected and to be given time to rest, recover and recuperate. The PL have obliged somewhat giving a short 'winter break' and asked the clubs to respect it. The FA, so often out of touch, have managed to balls it up by creating a schedule that obliges any teams facing replays to have to play during the 'winter break'.
Klopp is probably the only manager that will respect that 'winter break' regardless of the fact there is a replay to be played. He will do it because the PL have asked us to respect it but also because he himself knows that the players need a break, mentally and physically.
The comments on some other sites are ridiculous with one even saying that this is the whole reason we wanted Brexit. Xenophobic idiot.
I am so glad we have Klopp. He is a winner, but he is not a winner at all costs. He cares about the clubs he works for, he cares about the players he works with, the staff at the club, the fans and the welfare of the game as a whole. Klopp is a very special person and we should be so grateful that we have him as our manager. We should also be equally as grateful that we have FSG as our owners who will back Klopp's decisions knowing that he is doing what he believes is the best for everyone, including the game of football in this country, even when the people in charge won't and will probably vilify him for his stance.
3 – JoeBloggs on the ongoing FA Cup row:
I am quite frankly incredulous at the number of FA Cup hardcore fans who have seemingly come from the woodwork to slate our manager when usually each year our fans have been quite sensible about the scope of the FA Cup and its lack of importance to this club. My only thought is that with our seemingly unstoppable run in the league, it has filled people's heads with the thought that we will be winning every competition we're in and causing expectations to spiral for a sizeable chunk of the fanbase. Talk of 100pts+, longest unbeaten streak, invincible, highest points total ever has resurrected the age old issue with football fans, and why so many of them are given more misery from this sport than joy. People will never be satisfied and never happy with the status quo, even though our form right now is probably the highest status quo just about any Liverpool fan can claim to remember, at least if we just take this snapshot of the last year.
And this should be the final straw for any sane fan to not get wound up by our fanbase. This should be the moment if you never had it before to realise that following the sentiment of the average football fan is a recipe for misery and disappointment. I realise how superior and condescending this may sound, but to see the gall of some of our fanbase to turn on our manager for resting our players to focus on the only two competitions that bring us prestige, money, and therefore resources, sponsorships and longevity is maddening. Ask any Arsenal fan if they'd swap their last three FA cups for the "top 4 trophy" so many ridiculed and I promise 95%+ will go for stability.
Winning three or four cups in a season should only come as a result of us completely dominating all other teams, especially with regards to squad depth. What people seem to forget, with the blinkered vision of about a couple games either direction of today is that we are still a project. Are we a project reaching its zenith? Yes! Are we there yet? No. The goal for Klopp will always be to win everything, but with the caveat that the importance goes something like:
PL/CL: 97%
FA Cup: 2%
Cabbage pot cup: 1%
The zenith would mean we have the squad depth in addition to the best team, and that simply isn't this team yet. Have second string players stepped in impeccably this season? Absolutely. But if you believe we have the squad depth needed to risk an injury to one of our star forwards in an FA Cup replay against Shrewsbury, risking anything at all of our CL run, then I'm afraid you'll need to see your nearest engineer, as you have some screws loose.
People in the UK don't always appreciate central European bluntness, but honestly after spending half a decade here, I wouldn't have it any other way. It's pragmatic and removes unnecessary squabbling and grumbling. Klopp has said his objective opinion and I am 100% with it. If he hasn't gotten your unbridled confidence yet, even when he makes a decision you may not personally agree with, then I'm afraid there's no saving you now.
4 – Taskin/Tash with an appreciation of Bob Paisley:
Paisley was a football genius. People talk about the pressure that Hendo has following on from Gerrard. Paisley followed Shankly!!! Imagine…
He followed him, recovered from a difficult start (literally in the shadow of his predecessor who was still turning up for training and being called "Boss" by the players) and then brought unprecedented success to the club, rebuilding the entire side with the exact same result as when he took on Shankly's team. That being total and utter domination.
I think Paisley lacks the appreciation because, unlike Shankly and Klopp, he wasn't the most charismatic. He wasn't a talker. Famous as he was for mumbling stuff about 'doings' and 'thingy' etc. But he understood football implicitly, could spot a player, spot an injury and spot individual and group weaknesses in the opposition in the blink of an eye.
I could see Klopp and Shankly leading men in any walk of life. You could never say that about Bob. His eloquence may not have come out in speech, but it was there in spades when it came to his deeds. His record as Manager (currently) stands above anyone else's at the club. It speaks for itself. And in case it doesn't speak to you loudly enough, the next time you're at Anfield have a look up at the Paisley Gates behind the Kop and look at those three matching European Cups at the top. We've won six as a club. He won us half of them.
5 – Mark on the boring victory over West Ham:
Last night's game was almost boring. That's how much we were in control. I'm old enough to remember standing on the Kop in the late 1970s, and my dim (and probably false) memory is that we used to win most of our home games 2-0. Usually, one in the first half and one in the second, and once the second one went in, then basically both teams knew it was over. In fact, it was almost a moral victory for the away team to hold us to only two goals. Yesterday felt just the same way (even though I am 40 something years older!).
6 – Russel on the lack of transfer activity:
and this has probably been the quietest transfer window in terms of chat activity on our transfer thread!
People have finally cottoned on that when Liverpool say they're not going to sign someone then they're really not going to sign someone just for the sake of a headline. What talking we don't do on the pitch is talking about what we do on the pitch. We leave the rest to chase narrative and speculation. We just do what we plan to do: win and keep winning as a team. We've had at least one pivotal member of the team out injured or suspended for the vast majority of the unbeaten streak this season (Allison, Matip, Fabinho, Salah, Mane) and several of the nearly-men have not been fit to fill their roles as the support cast (Lovren, Milner, Lallana, Shaqiri) leading to some awkward substitutions. That Allison is now joint top on clean sheets despite missing the opening 8 fixtures of the league season is madness if you're a Premier League club, but perfectly normal if you're Liverpool.
C'mon you Reds! Let's get that guard of honour at City.
Articles published since last Friday, with excerpts:
Tuesday January 28th:
19/20 Premier League Preview | West Ham Utd | London Stadium, by Gary Fulcher.
Liverpool haven't lost to West Ham since a 0-2 defeat at Upton Park on 2nd January 2016, winning four of the last six home and away, with the corresponding fixture last season ending in a 1-1 draw. Prior to last season's draw, we'd won the previous four Premier League fixtures 4-0 (away), 4-1 (away), 4-1 (home) and 4-0 (home).
How Strong is the Premier League That Liverpool Are Running Away With?, by Andrew Beasley.
Like any model, it won't be perfect. Liverpool are currently rated as the fourth best team ever which will certainly rile followers of other clubs. It's easy to see how they've earned it though; since the start of last season Jürgen Klopp's team have amassed 164 league points from the 183 available, and recorded Champions League victories over five teams currently in the elo top 20, with another two sides in the top 30 vanquished too. A 4-0 win over Barcelona is worth 25 two goal wins over Watford, as it should be.
Anyway, we're here to determine how strong the Premier League is this season. To attempt this, we'll look at how the average elo ratings of the 20 teams in the league on 25th January 2020 compares to the same average on 1st June of each previous year (with the date chosen to ensure the season was over).
Wednesday January 29th:
Alisson, Virgil and Joe – Europe's Top Trio?, by Mizgan Masani.
Since Liverpool have been playing a higher defensive line this season, centre-backs will have to be like the last line of counter-press and help the team keep up the possession as much as they can. Gomez and van Dijk have been doing that with aplomb as well. They have jointly made 90 ball recoveries, at an average of 11.25 per game. This means that there are almost 11 times in a game where the Reds are able to rely on their CBs to recover their lost possession and keep the opposition pinned in their own half. That is a powerful tool to have, especially knowing that the two defenders are standing almost in the opposition half more often than not in possession. The pace of this pair is such that they can play slightly higher compared to other centre-backs and make those recovery runs to catch the forwards running in behind, if required.