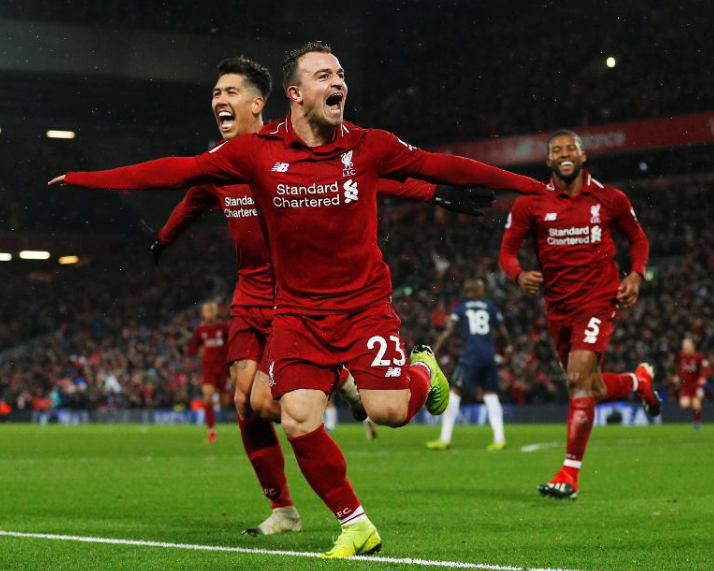 Best posts of the week, as chosen by Chris Rowland and Daniel Rhodes:
1 – Keith on the 'Lucky Liverpool' narrative, Jan 12th:
We're so lucky, it's unfair to all the other title contenders just how lucky we've been. The obvious bias of the referee's towards us; the penalties we always get; the lack of injuries; the grotesque levels of money we throw at the transfer market; never going deep in cup competitions; just…so….lucky.
Man, I've never read/listened so much anti-anyteam reporting as I see recently in the mainstream press/media before. What is the fear everyone has about Liverpool FC winning the league after 30 years? I grew up winning the league for fun end 70s, all through the 80s. And then the barren run and the few nearly never was seasons. I remember not hating Man Utd (i actually met Matt Busby and Bobby Charlton, told them both i was a different red, and they were happy for me – and that was when we were winning!); my brother is a Chelsea fan ever since his missus introduced him to Kerry Dixon at a pub (I hate Kerry Dixon for this), I don't hate Chelsea nor did I begrudge them their fluky Champions League win….I don't like them though!…but the narrative right now about how we're somehow undeserving, or at best, lucky….
I've never seen, perhaps bar the All Blacks in rugby, a team so dominant. Yep, some games we maybe shouldn't have won – but we did. That's sport.  Yesterday, if we didn't hit the post in the first few minutes, it'd probably have been 4-0 at half time…but no, Spurs missed a sitter to equalise, lucky scousers!!
Who cares. We're absolutely brilliant. Our manager is without peer. His support team. The Club. The owners.
It's a season I don't want to ever end. But it's a season I cannot wait to end! #YNWA
2 – Allen Baynes on broadly the same subject, Jan 12th:
It seems from my observations this weekend that we are really getting to other fans, pundits. I was in my usual place of worship to watch the game and the emotional anger on display by some of the non-believers present was a joy to behold.
They couldn't contain themselves and I came as close to a fight as I have done in many a year. The contorted anger on one lads face at the end of the game was wonderful. Why? Well, we are so lucky favoured by VAR and referees like Atkinson – yes really.
Of course it might have been me and my loud and passionate response to the game and the fact that I was loudly clapping and remarking on the quality of our football. So yes, it was pretty incessant!
I don't know about you, I try to be humble but it's so fucking hard in a pub full of mancs 🙂
3 – Jeff returns to the theme of poor officiating, Jan. 15th:
To me I do not want to remember what a referee did or did not do in a match or in other words I want a referee to be invisible. The sad truth about the Premier League is in match after match the story is not about the match or the teams but about the quality of officials whether we are talking about the referee or the referee's assistants or VAR and the VAR referee. This at least to me is a sign that there is something seriously amiss and the sad truth is the powers that be in England whether we are talking about the FA or the Premier League refuse for reasons that are unknown to me to do anything about the reality that officiating in the Premier League is at best poor and at times down right diabolical.
I do not believe referees need to be perfect but this being said I expect them to make a minimal number of errors. I do not expect VAR to solve every problem with officiating but in England it may well be that it creates more problems than it solves.
I could put forward ideas of how to improve officiating in the Premier League and have done so in the past but sadly I see no hope of them being implemented. Furthermore, I have noted in the past that other countries – Germany for one – seemingly have found ways to improve officiating in matches and implement a VAR system that solves problems but does not create them. This fact leads to the conclude that poor officiating or diabolical officiating is just fine with the powers that be in England. As a consequence, I know before a match happens that the referees and their assistants will make howlers and VAR will not really sort out the problems and have learned to live with this state of affairs.
I suggest that everyone on TTT learn to live with this reality as I have learned to live with a bad left knee and complaining about the quality of officiating is not a useful exercise because nothing is going to improve it and it just makes sense to live with it.
4 – Paul's thoughts before the huge game against Man Utd:
I'm fairly relaxed about this one, too. I feared maybe a draw last week and a draw this weekend, but with the win last week a draw this week wouldn't be too problematic – and that gets all our Big Six games out of the way until City in April, and Chelsea and Arsenal when we've hopefully already wrapped up the title in May. Plus, no more games against Leicester, although we could do with playing them every week!
The main issue here is that United could "win" by taking any points from us in our near-perfect season. But whatever happens we'll still be miles ahead. By next week we'll have played Wolves twice, too, and they're the other team near the Big Six in terms of points.
Also, it helps that Rashford may be out, along with Pogba and McTominay – just as we're getting everyone fit again. With United playing so many games I'm not sure the usual midfielders (now including Mata) will be able to last the pace, as they can't really rotate. Two games against Wolves has been like two extra PL games for them. Matic looks like he can barely cope with one game a week.
I really don't rate Wan-Bissaka as a modern full-back, either. Perfect for the 1990s, in that he can defend extremely well, but offers nothing going forward – a bit of a Clyne for me, who seemed great for us when we got him but then we evolved beyond needing him pretty quickly.
That said, that could suit United at Anfield as they probably won't try and attack anyway, bar with three fast attackers, if Rashford is fit, and Lingard will offer some pace on the break (and despite being shite he scored against us last season). They need Wan-Bissaka to cover for the slowness of Maguire, so it makes it hard for them to attack from the back.
So, I think we should be buzzing for this, and a 4.30ko under the lights allows enough time for a proper atmosphere, unlike when these games are midday.
…
To be fair, like United under Mourinho, United under OGS are probably the best suited team around to stifle us, as that's all they can do, and they'll be motivated to do that. But as others have noted, we can break through low-block teams better now.
I mentioned Pogba and McTomimay, but they take away a lot of United's set-piece threats, as two 6'3″+ players, and Pogba is also key at deliveries. They still have Matic and Maguire, but with us not likely to have Matip and Fabinho (though both are fit again) you'd think set-pieces might have been their best bet, aside from counter-attacks.
We also have to be wary of how they broke against Man City at City, but our defence is better and quicker than City's.
5 – Tash thinks we are a decent team!
How good are we??? The answer is very, very good. Great. The best in the world in fact. And that's official 😀
I generally steer clear of comparing teams or players from different eras because whilst it's great fun to do (especially over a few pints), the truth is that its impossible to really judge. So much has changed over the years in terms of the competitiveness of the domestic and European leagues, the skillset of the players, the fitness, the tactics, the rules of the competitions and indeed the very rules of the game itself. Even the cheating is light years away from what it was.
And then, do you judge on points won, cups won, leagues won, European triumphs, consistency over various seasons …? All of it can be argued for and against.
So how do you properly compare?
Im just happy that this team is worthy of being in the conversation. They may or may not be the greatest Liverpool of all time. They may or may not be the greatest football team of all time.
Whatever the case Im happy to be able to enjoy the ride and to – hopefully – finally – end the long wait for the league. I was 18 when we last won the league. I'll be 48 in March. Thats a long wait in anyone's book. And myself aside, Im happy for the younger generation to finally have some of their own memories of glory. Their own stories to tell. Hopefully they can soon add a league triumph to their memory bank too.
6 – Benjamin looking ahead to some records we break:
If Liverpool can win the next two league fixtures at home to Man United and away to Wolves, which on paper are two of the toughest assignments left this season, then there's a very good chance that:
a) Liverpool would break the wins record of 18, by winning their 19th league game in a row away to Watford on the 29th Feb. Having finished at 17 wins away to United earlier in the season, who would have thought they'd be straight back on the trail of that record? 29 wins and 1 draw in 30 consecutive league games is absurd.
b) Liverpool get to 48 games unbeaten by the time they play away to City in early April. You'd have thought that's the most acidic of acid tests. Who knows by then, City could have closed the gap somewhat to still be in the race, knowing a win would be a massive dent to us, but I suspect that either way they'll be fighting hard to stop us from breaking a series of records.
If Liverpool got to 49 unbeaten in the league, I'd fancy us to finish the job off and go the season unbeaten. Arsenal away would have some serious motivation to stop that from happening, but would they even be good enough? A lot of this depends on European commitments at that stage of the season, but it is possible we could be talking about this in three months time.
In addition to the win streak and unbeaten streak record still being on the line, Liverpool are surely after the points record and the total wins in a season record. If we draw 4 more games this season and win the rest, almost every record under the sun will belong to Liverpool and will not be broken for decades.
All of this is still unlikely of course, even though 38 games into an unbeaten run the record is ever closer. However, as fans we can dream about it, it's even a distraction from the 30 years stuff. Even if Liverpool don't get the records, I can't see anyone else winning the title, and that's all that really matters isn't it.
Articles published since last Friday, with excerpts:
Saturday Jan 11th:
Liverpool Break All-Time Record – Klopp's History Boys March On!, by Paul Tomkins.
Spurs tried to rely on individual brilliance, but Liverpool's attacking interplay was from a different dimension. It's just a shame the link-ups didn't result in more goals, to make the remainder of the match a little less stressful, but the Reds racked up yet another clean sheet following Joe Gomez's return, even if this wasn't one of his better games. The tally of minutes since last conceding in the league is nearing 600, and of course, Gomez was superb in the clean sheet victory over Everton in the FA Cup last week.
And even with Martin Atkinson as their 12th man, Spurs could not stem the red tide.
Sunday Jan 12th:
Post-Match Analysis: Tottenham 0 – 1 Liverpool, by Daniel Rhodes.
We were in complete control for the vast majority of the game, and a couple of other data points highlight this perfectly: non-shot expected goals gave Liverpool a whopping 3.9, which is one of the highest totals we've ever had under Klopp. This figure measures all the play around the box that did not end up with a shot. Another illustrative figure was the number of touches inside the penalty box: Liverpool had 53, to Spurs' 15; this is the highest figure since we played Hodgson's Palace at home two seasons ago. It was footballing domination until we strangely allowed them back into the game near the end. Whether that was fatigue or a lack of concentration, or even Tottenham's ability – it is fair to say they should definitely score with the value of the chance – and like Ings' late miss against us away at Southampton, it was the profligacy of the opposition that saved us from dropping two points in this match.
Tuesday January 14th:
The Stunning Stats Behind Liverpool's Record Unbeaten Run, by Andrew Beasley.
And while predictions and underlying statistics have their merit, ultimately it's goals for and against, games won and not lost which determine whether an unbeaten run can occur. Jürgen Klopp's team have made this run possible by very rarely going behind in games. In their last 38 league matches, the Reds have trailed for 239 minutes, or roughly seven percent of the total time played. Factor in the amount of time they've spent leading and it's clear they've been one of the most dominant teams of the past quarter century.
Wednesday January 15th:
How Liverpool Have Found Many Different Ways to Win a Game, by Mizgan Masani.
We all are well aware of the fact that Liverpool are the best in the business when it comes to counter-attacking opponents and being more dangerous when they don't have the ball. This is one of the main reasons why they have been successful in the Champions League since Klopp arrived, and now the consistency is being found in the league as well. As an example case study, the Reds had 45% possession in their home game against Manchester City and still won the game 3-1. They had five shots on target compared to City's three, meaning ruthlessness on the counter is something to behold.