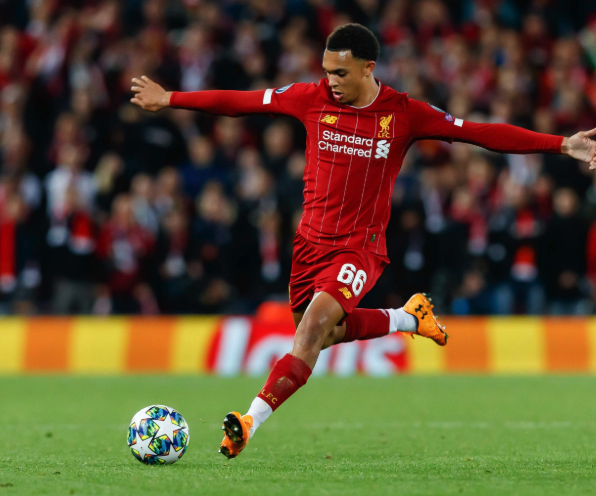 Best posts of the week, as chosen by Chris Rowland and Daniel Rhodes:
1 – Nari Singh on City's obsession with Liverpool and refusal to give any credit, Dec.8th:
I had the radio on yesterday evening as I do when cooking in the kitchen, it was 5 Live's phone in – I know I know, it's not great, but it keeps me amused, and occasionally on Monday Night Club or Friday Football Social, they'll have players on who've faced Liverpool with good insights, like telling everyone how we don't let them breath on a football pitch!
Any way, I only switched it on towards the end, and one caller who was a Citeh fan was having a heart-attack at how unlucky Citeh have been with VAR and injuries and how lucky we've been with them.  I mean, he said he'd gone back and watched all our games more than a couple of times to write down a list of VAR decisions we've had in each game, and the ones they've not had.  It was insane.  He must have been in his 50's too, he sounded angry, riled, and out of breath.  I dislike Savage but he was taking the piss a little, which I found funny, further winding this guy up.  He actually said he's been showing everyone the evidence he's collected!
Think about the effort he's gone to do this, is he for real?!  But add this to Pep's comments about not being able to compete and you see the clever narrative they're pushing out.  Any time things don't go their way, they make a massive song and dance about it.  Why can't people just say we're unbelievable at the moment, and have been for pretty much 2 years, and that Citeh aren't good enough?  How can you be lucky every game for 2 years???  Obviously this ties into last week's article Paul wrote about "Lucky Liverpool", but when I hear it, I have to laugh.
Pep seems to be to be a glass half empty kind of guy, rather than Klopp, who seems to be a glass half full type.  Pep is always moaning about decisions and things that don't go his way, rather than taking it in his stride and working with what he has.  He just seems absolutely miserable.  Klopp on the other hand hasn't once complained about the situation he inherited.  Instead, he's taken the time to build a fantastic team ethic, a culture around a club and great bond between players, supporters and the City.  We've had some crap set backs since he took over, but I've never heard him complain about any situation.   Guardiola may be lauded as the greatest manager in the world by the mass media, but not for me.  In my biased (and even unbiased) eyes, Klopp is top of the tree.  To work with the budget he has at Mainz, Dortmund and at Liverpool, to coach "average" footballers into elite athletes and to win big trophies taking on financial giants is just outstanding.  I don't think the wider footballing world (outside lfc fans) really understand and appreciate what he's done and what he's achieving. I've never been a fan of Guardiola, and I'm currently enjoying his and Citeh's misery.
2 – Mark Cohen on the Salzburg match and the importance of the CL to Liverpool, Dec 9th:
There's a lot to chomp on here;
Number 1 – If you've got a team which is historically brilliant, even in terms of the historically brilliant teams, then no good can come out of exiting the CL at the group stages. I know number 19 is on all of our minds and has been for the last 30 years, but winning a CL is a supremely big deal, and if we are good enough to go again in this tournament, push for a simply superlative number 7, and win the league, then we must do that.
Many of us middle ages folks on TTT, as well as our senior members know full well how quickly things can change in football, and whilst the going is good, we should be at the business end of all the major tournaments, all the time.
I don't think any of us will ever again see a Liverpool team this dominant, this incredible and it would be a real shame if we couldn't defend our trophy into the latter stages.
Beyond that, I think it would be a massive come down for the club, the players and everyone associated if we were to lose tomorrow night, and the knock on effect would likely be felt in our immediate league performances, possibly allowing Leicester to get into it, as well as giving City a lifeline they would likely grab hold of.
In short – this is not the time for focusing on the league, we've already done that, and find ourselves in a majestic position. Tomorrow night we need all of our attentions to make sure we advance, and not them.
Number 2 – as expected, Liverpool are starting to go through the gears now following the conclusion of the international breaks.
One of the biggest shocks of the season for me, is that we find ourselves with a full house of points bar a draw at Old Trafford from 16 matches. I never, ever felt we'd have a start like that in us this term, especially given the patchy pre-season, our insane fixture list, our top stars having little break, and the general come down that follows an amazing season like 18/19.
We have, and the punishment for the rest is really only just beginning.
It has been forgotten by many fans that there was a general nervousness about the efficacy of our attack for the first third or so of our season last year. We were superb defensively, conceding just 5 in our first 14 games, but we'd scored only 27, and in Europe it hadn't been much better with 8 goals scored and 7 conceded in 5 games. This was in stark contrast with earlier iterations of Klopp's team, who were irresistible going forward, but open at the back.
We'd then score 62 in our last 24 games, ten more than City, and would, of course, be crowned Champions of Europe with a swashbuckling style that saw us win at Bayern, thrash Porto and, ahem, beat Barcelona by the odd goal in seven.
The point is that Klopp's teams tend to be very results driven in the first third, before a gear is changed and the team start to up the tempo. This is probably done to conserve energy as the season wears on to ensure peak performance come the last few weeks, and we've seen this switch occur this last week with Everton and Bournemouth ruthlessly despatched, with power and precision.
We had no actual right to have 13 wins from 14 in this first third of games, and this record is a testament to the sheer force of will the team possess, oftentimes playing within ourselves whilst still pulling three points almost every time.
The portents for Salzburg then, are grim.
Tomorrow evening they will be playing Europe's in form team in form. I wish them all the very best with the whirlwind which they shall face from our end.
Number 3 – Salzburg.
Up to now, Salzburg have been having loads of fun. As the third ranked team in the group, and as a team of a young overall age (transfermrkt claims under 24, at 23.9), they were not expected to do anything but enjoy themselves. Play fast, play loose, and play magic – the beautiful game writ as large as any dream Sep Blatter may have had whilst in charge of his own personal fiefdom years back…
Problem is, tomorrow night things change. There is no doubt in my mind that their US coach will have words and phrases like 'immortality' and '90 minutes to knock out the Champions of Europe' at the ready for a team talk that will resemble 300 a lot more than CL football.
Salzburg finally have something to lose tomorrow night, and this is the first time they will play with anything approaching pressure and it will tell. Up against a unit of formidable experience, and unsurpassed talent, not forgetting the supreme will to win we possess, is going to be very difficult for the young Austrian outfit.
The game will be completely different to the first leg at Anfield, as players like VVD and Alisson know that a scoreless game, means we advance. Liverpool will be tight, controlled and, as we all know, deadly upfront.
A Liverpool goal will silence them also, as they come to appreciate the enormity of the task, and chasing the game will kill them entirely, their defence no match for Klopp's boys.
The game looks like a banana skin, and Salzburg are such an exciting outfit, but in reality, we will have much too much for them. Just enjoy it.
3) Paul on Alexander-Arnold and his distribution:
One more thing – the ball from TAA to Robbo on the first goal was, yet again, astonishing. But we are now hitting longer balls in behind from the likes of Hendo, VvD and even Lovren, but that cross-field ball is a killer.
The only way teams can defend it is by keeping players wider on the opposite flank to deny Robbo the space to receive. But, do that and it just opens up the entire middle of the pitch. It's almost genius, in that it totally beats the press without it just being a hit-and-hope ball.
I'm not sure if anyone else has applied the phrase to TAA but is he football's first right-back quarterback?
4) Joe A on the use of data to influence our tactics:
The mathematical modelling approach the analysts at Liverpool are taking are probably finding these opportunities. By analysing thousands of individual movements of players in any given game involving Liverpool must give Klopp massive insight into where spaces will appear.
Taking that into account, the players have been skilled up to take advantage of such situations.
It's no coincidence that VVD, TAA, Matip, Lovren and Robertson are playing these awesome quarterback missiles across the pitch with deadly accuracy at the right moments.
5) Stevenson looking ahead to the next few games:
I think we have 9 PL games now before we are back in CL action. Apart from the WCC final – I think Klopp will rotate again in the semi final – that will now be the main thrust for the team. The League and FA Cup will be delegated to reserve players, so we effectively have 10 big games before we are back in CL action. Apart from central defence, we seem to have pretty much a full contingent from which to choose with them all showing over the last week or so that they are ready, willing and able to perform at the highest level when called upon to do so. Last night was just a massive result and boost at exactly the right time.
Watford could be interesting at the weekend with Pearson in charge and having had them for a week. I was always surprised that he didn't seem to receive the credit I thought he deserved when he first turned Leicester's fortunes around and saved them from relegation. Of course we all know that Ranieri then used that as a springboard for the title success. I expect a very disciplined display from them and, given how unlucky they've been with decisions this season; this will be another tough game. Thing is, if I know this, so does Klopp and his team, so I expect another stirring display to send us on our way to the Middle East and Global domination!
6) Mark Cohen on Klopp signing a new contract:
I say this as a grown man of 40, but Santa has just arrived, donned in a full Santa outfit, except it has faint yellow lines on the front and the number and name '1' and 'Klopp' on the back…
What an early Christmas present this is!
2024?? Rest of football world must be in collective mourning…
Articles published since last Friday, with excerpts:
Saturday December 7th:
LFC's Squad Lacks Depth? Hold My Beer Say Shaqiri, Origi, Keita, Milly, Ox & Gomez, by Paul Tomkins.
Many of City's problems are of their own making, although part of it feels like the natural end to a cycle – not necessarily of the team as a whole, but just an end to a period of relentless football that cannot be maintained without some rebuilding and refreshing, especially as key men age.
The same will happen at some point for Klopp at Liverpool – these things are inevitable – but the difference right now is the hunger and upward trajectory of the Reds, which gives everyone a spring in their step; and fewer ageing/decrepit players, who are nearing the melt zone or have already left (or who are leaving next summer). Yet they could still be energised by the Reds having their own dip.
So even now we can't bank on the title. But what we've seen, time and again this season (and indeed, last season too), is that Liverpool's squad – despite costing far less – has a ton of depth and character, and above all else, hunger and versatility. You can never ask for perfection, but 15 wins out of 16, and 24 out of the last 25 (with a Champions League trophy thrown in) is about as good as it gets.
Sunday December 8th:
Post-Match Analysis: Bournemouth 0 – 3 Liverpool, by Daniel Rhodes.
With 21 shots, 17 inside the box and four big chances attempted many might focus on the Reds' attacking domination, but for me the most pleasing aspect is 'the perfect clean sheet'. It is the first time this season we've not conceded any goals, any big chances or made zero Opta-defined defensive errors. This is after we changed goalkeeper, right-back and then had to replace Lovren at centre-back during the first half. Incredibly impressive.
The shot differential of 18 is the second highest this season behind the 21 we managed against Aston Villa. It is the first time we've not conceded a shot on target since Brighton away last season. That was 44 matches ago!
Monday December 9th:
19/20 Champions League Preview | Matchday 6 | FC Salzburg | Stadion Salzburg, by Gary Fulcher.
With a home game against Watford on Saturday, Klopp is likely to go full strength for this one and this is the type of game where Fabinho's absence will be felt for the first time since his injury.
Tuesday December 10th:
The Seven Dwarfs and Pollen in the Air, by Saul Burman.
And so on to Anfield. First, to watch Liverpool in the Champions League versus Salzburg and then in the Premier League versus Leicester. I'm sure some of you have wondered why it has taken me so long to visit Anfield. I went overseas for the first time when I was about 22, I've visited every continent (except Antarctica), walked on glaciers, hiked up volcanoes, frozen in the Patagonian mountains and sweated in the Amazon forests. I've even braved the staid civility of the UK a number of times and yet had never been to Anfield. I'm not sure I know the answer to that. It's possible that I feared it would not live up to expectations – how could it, after all the years, all the dreams, memories and images built up in my mind? People say you should never meet your heroes, and to me, there was an element of that, even if my hero in this story was a football match. So I was undeniably nervous before my first visit. As it turned out, there was no need for nerves.
Wednesday December 11th:
Post-Match Analysis: FC Salzburg 0 Liverpool 2, by Andrew Beasley.
However, it was the away side who fashioned the first clear-cut opportunity of the game. Seventeen different players created a chance for Mohamed Salah last season, but Dejan Lovren was not one of them. He's not known for incisive passes either; a week ago, the big Croatian had just four assists in his 179 appearances for the Reds.
He then played a delicious long pass for Origi in the derby to earn his fifth assist, and his sixth should've followed here, but Salah's shot was saved.
Considering Liverpool only needed a point and Salzburg would be through with a low scoring win, it was an incredibly open match. The Reds were far the more content to keep the ball in spells, but their impatience seemed to get the better of them soon enough.