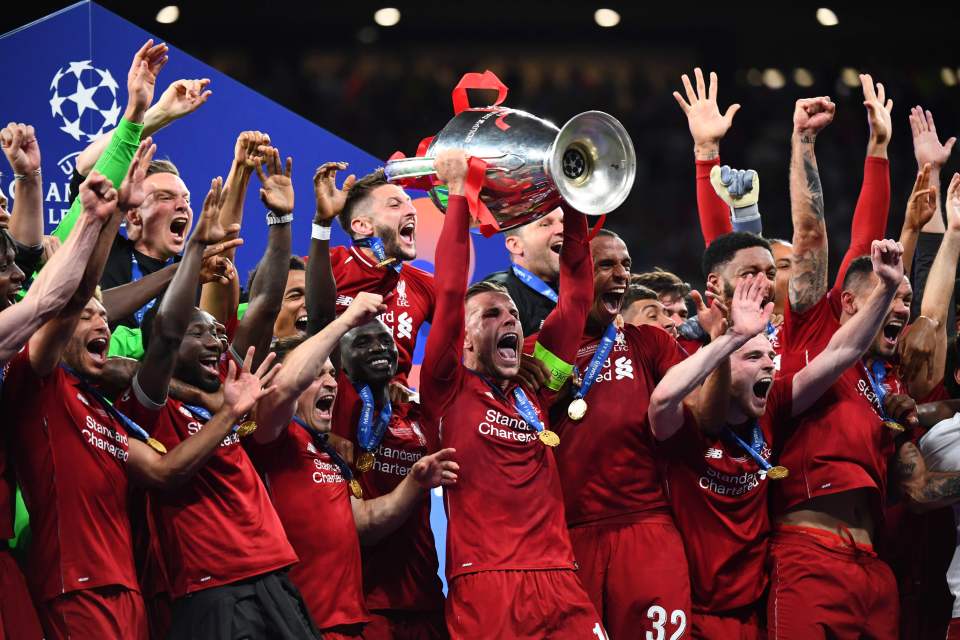 The latest in a long line of supposed mic-drops from rival fans is that, should any Liverpool fan mention "six times" – the number of European Cups/Champions Leagues the Reds have now won, lest anyone be unsure of the significance – then Man United fans were to show them a picture of Marcus Rashford knocking Virgil van Dijk off balance near the touchline to win a throw-in.
Yup, that just about redresses it, doesn't it?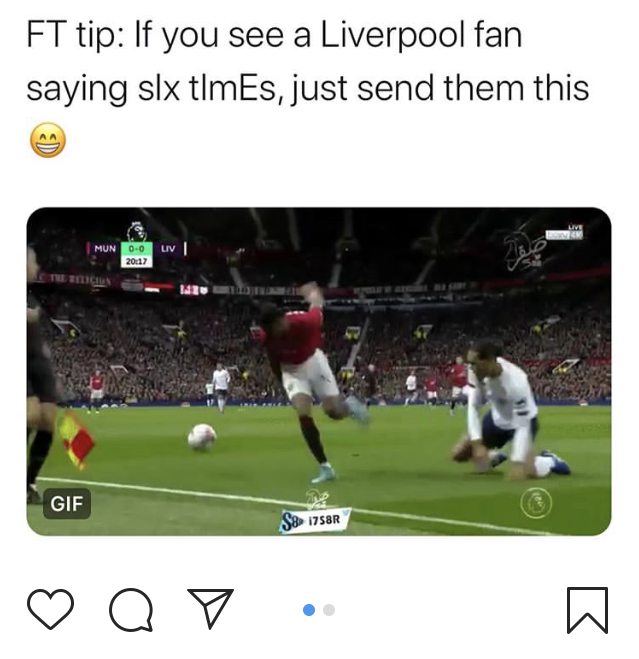 We all feel so terribly burnt, so humiliated. You got us – we're a bunch of frauds for celebrating in Madrid; little did we know our centre-back would concede a throw-in, to put us back in our place. Man United, near the relegation zone and apparently aiming for a top-half finish, won on the bantz.
A few weeks ago I saw a fan of a rival club laughing at the idea of van Dijk being European Footballer of the Year because he made a small mistake in one single game; and then, that he was dribbled past, after almost 70 games where no one dribbled past him. This was a man who helped his team become champions of Europe whilst also racking up more league points in a 38-game season (97) than any other European champion in the history of the sport.
It doesn't matter anymore that you have the most incredible body of work, you will be a zero if you so much as prove to be merely human. It's the same logic that cancels the whole of William Shakespeare's output because, in one of his later plays, there was a typo. Fuck you Shakespeare, you fraud, you can't even spell! (And what the fuck is forsooth?!)
Last week I saw a headline where Ole Gunnar Solskjær had said that Man United could make history against Liverpool. What, by stopping Liverpool from making history? That's not how history and record books work.
As I noted on this site, that would be like me running onto the athletics track when Usain Bolt was going for one of his world 100m records, rugby tackling him, and then claiming that I was now, by default, the world record holder at the 100m. (Assuming that I could indeed rugby tackle him with my pathetic body, but that's by the by.)
And yet of course, you can never win an argument with fans of other clubs because they will just set their own metrics; such as, throw-ins won against your imperious centre-half.
For Everton fans it will be "we're the most local" (because none of their fans are from Scandinavia), or the "proper" football club; the "people's" club, as if fans of other clubs are not themselves people.
In my brief foray onto Twitter at the weekend there was a United fan banging on at me about 1990 – while United are battling relegation, and while Liverpool, miles clear at the top of the table, are the reigning Champions of Europe. Meanwhile, United are having their worst start to a season since before 1990.
You can't really argue back, because the goalposts will just get moved; just as they seemed to be with United being deliriously happy with a home draw against Liverpool in which Solskjær's team had just two shots on target (and just a handful off target) and a measly 32% possession, due to packing the defence with five players. This was hardly Liverpool raining down almost 40 shots in the win at Anfield last season. So what if we've had to wait 30 years for the title? – we won the Champions League in the summer.
It's hardly like we're lacking recent incredible achievements to celebrate. We had to suck it up when we were genuinely shit for various periods between 1991 and 2015, but – guess what? – that's not the case right now.
I've now seen headlines about Man United being on the march again under Solskjær – having just got a home draw to win their 18th point in their last 18 league games, whilst scoring about 18 goals. It may get better, of course – and it damned-well should given the money they spend every season – but it's still a shocking run of results, with them showing some fight in a home derby against Liverpool hardly indicative of anything other than the kind of cornered-animal reaction, as massive underdogs (despite the more expensive squad) in a home game. Wow, they had a couple of shots! Whoopee! Even the goal they scored that accounted for most of their xG came from what Gary Neville and various less-biased people said was a foul on Divock Origi.
Jose Mourinho also seemed to think that Jürgen Klopp doesn't like facing low-block sides, and that it's a failing – implying that the Reds can only blow away teams who leave big gaps – but Mourinho's low block hardly frustrated Liverpool last season when pummelling United to the point where he got the sack. And if Liverpool are so weak against low-block sides, why have the Reds won almost every league game in 2019 – more than almost any other side in history – when pretty much everyone else – bar Norwich City – have set up in a low-block? Has Mourinho watched any football in the past 10 months?
Of course low-blocks are harder to break down, which is why Man United used one in a home game when battling relegation, and bizarrely, in a game where United arguably needed the points a lot more than Liverpool, given their precarious state; Liverpool were, after all, eight points clear at the top going into the weekend's games, after a tougher set of games than Man City. United weren't eight points clear of the relegation zone, and United are now seven points adrift of the top four, and 15 adrift of Liverpool.
But Man United at the weekend made Norwich look like Barcelona under Pep Guardiola. That's their right – to play a back five at home. Man United had some remarkable achievements up to 2013, but how must Alex Ferguson have felt seeing United barely muster a shot at home to Liverpool as the team sat a point above the relegation zone? At some point in the future United will surely be back on the perch – football is cyclical (although that doesn't mean everyone will get a chance to be top) – but it's not their perch right now, is it? It's Liverpool's, in terms of the league table and as reigning European Champions, and it's Man City's in terms of last year's title race. (Never mind that Man United have never posted a points tally as high as Liverpool's in their entire history.)
Let's be clear: Man United fans have every right to take as much satisfaction from any game as they see fit; it's no one else's job to tell them they can't enjoy a 1-1 draw where they at least showed some fight (aided by the ref, admittedly), but they can't use the metric of "Rashford knocking over van Dijk" as a more meaningful statistic than Liverpool being crowned European Champions six times. Or we can just turn around and say that Robbie Fowler shoulder-charging Gary Neville off the ball – albeit in an incident where he did more than win a mere throw-in – means we get to have all of the league titles they won in the 1990s.
I won't allow anyone on this site to refer to Man United and their fans as the "scum", because dehumanising groups of people is dangerous and wrong (and also, that epithet is best reserved for a certain tabloid). I have no desire to enter into banter with fans of any other clubs, and will only encounter them if they get insert themselves into my life; I don't go looking. I'll mention rival clubs on here, in the context of rivalry or recent clashes, but they don't have to visit sites dedicated to Liverpool FC.
But at least I now know that if Man United win the league again in five years' time, I can just wait for the moment when Trent Alexander-Arnold bodychecks Rashford by the touchline and rest assured that it means Liverpool are duly crowned champions by some bizarre force of illogical osmosis.
50 Signed Copies of the 2 New TTT Champions of Europe Books For Subscribers
When the signed special editions of "Mentality Monsters" and "My Day At The Match 2018/19" (unavailable anywhere outside of this site) were released in the summer I kept back some spare copies for emergencies and postal incompetence. Now I will sell, for the last time, 50 spare pairs of copies, leaving me with just a few file copies. This offer is for subscribers only, although subscribers can obviously buy copies for non-subscribers.
The price is the same as in the summer, so as to not punish those who paid in full to preorder, and who got their books in July.
"Mentality Monsters: How Jürgen Klopp Took Liverpool FC From Also-Rans To Champions of Europe" is also available in paperback from the major Amazon online stores (USA, UK, etc.) and in Kindle on all Amazon stores. (For more details see here.)
This offer is for subscribers only.
[ttt-subscribe-article]