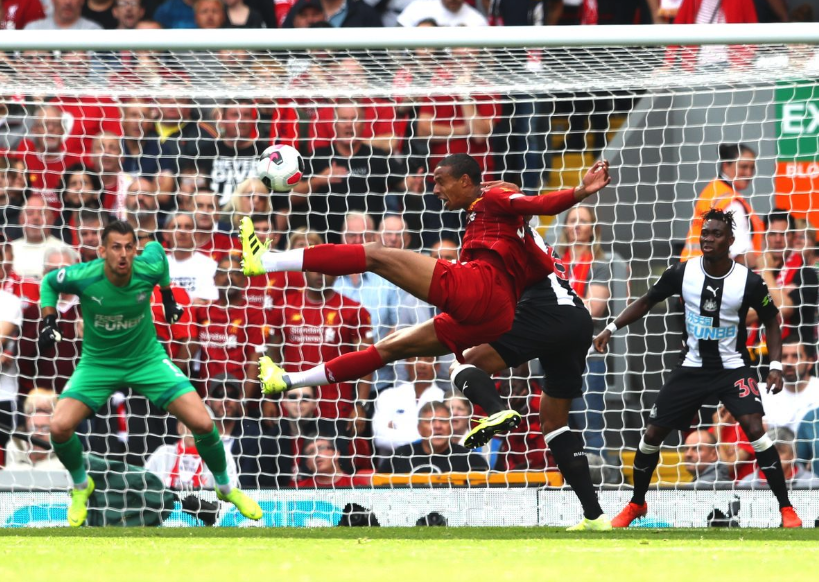 Best posts of the week, selected by Chris Rowland and Daniel Rhodes:
1 – Nari Singh on Jamie Carragher's public apology over the wearing of T-shirts in support of Luis Suarez after the Evra incident, Oct. 22nd:
When Carra uses the word "we" – is he speaking for himself or Liverpool Football Club?  If the latter, then what right has he got to be a spokesman for LFC on this matter?  If he's apologising for himself then he needs to choose his words carefully, because it comes across as an "admission" from LFC that they got it wrong, when they haven't said that themselves.
Also, if you feel strongly about it, just apologise personally.  Why bring it back into the public domain?  Accounts like this are very difficult because of different cultural up bringing's from different parts of the world, but also because the public, by default always assume someone is guilty before being proved so.    Whatever happened innocent before being proved guilty?  There were so many holes in that investigation, and possibly some agenda's internally, (wasn't it an ex United senior on the panel to make the decision?  Who know's what bias he had).
Without commenting on the report and incident itself, I think Carra does Liverpool FC no favours digging this out again.
2 – Thundyr's lengthy rant on VAR, Oct.22nd:
I wanted to put my thoughts on VAR as implemented in England into something more coherent. Apologies for the lengthy rant.  🙂

VAR – How the PGMOL and FA made the rules of football irrelevant in England

"The trouble with referees is that they know the rules but they don't know the game" – Bill Shankly
"The trouble with pundits is that they don't know the rules and even in cases where they do know the game their personal preferences cloud their judgement" – thundyr
During the course of this season my understanding of how VAR works in England has undergone a dramatic transformation. At first I hoped it would eliminate, or at least largely eliminate, mistakes that alter the game state – in other words, goals scored or disallowed, or cards given or not given and of what colour. When officials err when making these calls the result of the game can often be influenced due to football's low-scoring nature.
Now, my opinion has changed. I believe the current implementation of VAR will ENCOURAGE such mistakes. Let me explain why, starting with a look at the rules for awarding a direct free kick as a focal point for what the officials have to work with when making a decision.
The laws for awarding a direct free kick begin as follows: "A direct free kick is awarded if a player commits any of the following offences against an opponent in a manner considered by the referee to be careless, reckless or using excessive force." The list of offences includes, among others, "kicks or attempts to kick", "holds an opponent" and "tackles or challenges".
"Careless is when a player shows a lack of attention or consideration when making a challenge or acts without precaution."
Notable omissions from these definitions include the ball being within reach of the "victim" and a minimum standard as to the force used in committing the offence. In fact, in the rules for a penalty it merely says that the ball must be in play when a direct free kick offence occurs in the penalty area.
The only time proximity of the players to the ball is discussed in the rules is when referring to impeding the progress of an opponent aka getting between the ball and the opponent. Doing this research clarifies for me the idea that an attacking player in the area hoofing it just before he's brought down by the keeper is in fact a penalty every time, no matter that he could never reach the ball again.
Unfortunately, pundits rely on these two omitted criterion to judge whether a foul is "soft", language which attempts to create a grey area in which decisions can go one way or another. "He went down easily" is often balanced by "he's been clever there" depending on the speaker's tribal allegiance and/or their respect for the victim of the offence or lack of respect for the perpetrator.
The rules however are silent on both matters indicating that "soft" fouls do not exist. If a player is kicked by another player in a manner that is careless (no card), reckless (yellow card) or uses excessive force (red card) then it is a foul no matter the effect the challenge has on the victim – even attempting to kick someone (aka no contact at all!) is a foul!
So let's stop talking about "soft" fouls or penalties – they do not exist in the rules of the game.
Anyone drawing conclusions from them is mistaken.
Based on this information one has only two questions to ask regarding the challenge on Origi, which lead to the opening goal for Manchester United against Liverpool this weekend.
Q: Is the offence a "tackle or challenge"? A: Yes.
The defender also kicks Origi in the left knee (contact is clear in the footage available to the VAR) – this is a second of the applicable offences for a direct free kick.
Q: Is the nature of the kick, tackle or challenge one of careless, reckless or a use of excessive force? Yes, the challenge is careless because the defender cannot logically reach the ball with his kick from his position behind Origi, showing a lack of attention.
Correct decision: Direct free kick to Liverpool.
Neither covered by the rules nor reliant on them: Origi's slightly heavy touch, Origi falling to the ground after the contact.
Most discussed post-mortem: Origi's slightly heavy touch, Origi falling to the ground after the contact.
Like Sadio Mane getting kicked on the ankle against Leicester, being kicked is a foul and should be punished as such. Whether the player stays on his feet or hits the deck thereafter has absolutely no bearing on the decision itself nor on the character of the player kicked. Of course, the pundits would rather damage your mind with their poisonous opinions (that never face redress) rather than discussing the naked facts objectively.
But what happened in the United game was that the VAR did not overrule the referee's decision to play on. Why? In the opinion of the VAR, the referee had not made a "clear and obvious error" and therefore the decision to play on was deemed to be correct. This conclusion was confirmed by the Sky Sports "resident referee" on live TV.
"Clear and obvious error" is a rule applied by the PGMOL/FA for the VAR as used in football competitions in England, and by its nature overrides all other rules of the game. That such a rule is not used in other leagues that suffer far less controversy each match week is something worth bearing in mind.
The VAR in England must first decide whether the referee made a decision that he clearly should not have. What is implicit but overlooked is that all other angles of view are immediately irrelevant – to decide whether the referee made a mistake one can only consider the view the referee had of the incident. All the slow motion replay in the world will never account for an official who says "I couldn't be sure he got kicked, and it looked he made a meal of it, so I let play continue".
Origi may have made a meal of it and the contact on his knee is not noticeable from all angles, therefore the referee cannot be said to have made a "clear and obvious error". In fact, it may well have been impossible for the referee to see the truth of the foul. While it very clearly is a foul, the VAR is utterly hamstrung in this situation. Like the tree falling in the forest that isn't heard, a foul isn't a foul unless the referee saw it, as long as he claimed to have seen something.
In effect, VAR works exactly the same as yellow/red cards being applied after the fact by the FA. If the referee saw the incident the referee's decision is final, otherwise technology can be used to determine the correct ruling. Furthermore, officials are encouraged to let play continue so that VAR can view incidents with better clarity, but most of the time the VAR can only state that the referee was not clearly and obviously wrong in letting play continue.
The rules of the game have been abandoned in England.
We should be asking Mike Riley not only "Why?" but should also be questioning the right of members of his organisation to make game-affecting decisions based on things outside the rules of the game.
I am absolutely certain that in the Origi incident, where Martin Atkinson is only a few yards away, that he gave his opinion and the VAR had no way to overrule him, but for the Mane incident later in the game, where Atkinson is left downtown due to being more than 20 years older than a super-fit athlete running at full speed, he said something like "I have no idea if that's a goal, you decide". The handball was correctly spotted, of course, but the VAR was not empowered to rule on the last defender holding Mane back, an incident that precedes (and possibly causes) the handball (or perhaps the VAR was simply negligent in this case given that red card offences have been checked in other games).
Denial of a goal scoring opportunity by the last defender is a red card offence. In two moves involving the ball being put in the back of the net, the VAR did not or could not avoid making two mistakes that altered the game state – allowing a goal that should have been disallowed, and failing to send a player off. Anywhere else and one would expect recriminations, especially since the same pair of officials had incorrectly ruled out a goal scored by Aston Villa the previous day.
If you think this is an absolute waste of both the technology available and the opportunity to bring greater clarity and fewer game-defining mistakes to football, well, join the club.
Judging the referee rather than judging the play is simply not the right way to officiate the game. 
In my opinion, as currently implemented in England, VAR cannot possibly succeed in reducing the number of mistakes that alter the game state. If anything, the status quo will allow high profile mistakes to proliferate. After all, after only nine match weeks one is already spoilt for choice for a "10 times VAR really messed up" video. I'm sure that if one went back to last season one would not find more such mistakes made by the officials without "clear and obvious error VAR" in the first nine weeks.
To me, the only "clear and obvious error" is that the PGMOL/FA have specifically chosen NOT to implement a system that works well in other leagues. Given that human nature among those comfortable with "how things used to be done" is to want to get rid of something that isn't working rather than to put effort towards fixing it, VAR's burgeoning poor reputation in England will likely see the technology scrapped before it is improved.
The problem is that it is not VAR that is failing the EPL, it is the powers that be who are failing VAR.
The people in charge of the game are not fit for purpose, but the chances of positive change being made at that level seem slim to none. The rest of Europe is laughing at us, but don't take my word for that. Have a look at foreign coverage of EPL games and see the truth for yourself.
3 – Red Mick on the Suarez-Evra case, Oct. 23rd:
I spent far too long reading about the Evra/Suarez affair. I think it's pretty obvious that LFC handled the entire affair pretty poorly and allowed Ferguson and United to outmanoeuvre them almost every step of the way.So I'm not interest in going back over it.
What does stick in throat in this latest eruption of the controversy is the contribution of Rio Ferdinand, saying LFC should now apologise. By the same token, why doesn't Ferdinand apologise to the game he besmirched by being a drug cheat? And there are no grey areas around his case in the way some remain over the Evra affair.
And why don't Manchester United say sorry for allowing Roy Keane to enter the field intent on doing physical damage to another player, ie Alf Inge Haaland?  Don't forget they rewarded this act of thuggery by making Keane club captain. An apology to the wider game might also  be in order for the damage done to its image by one of their players assaulting a spectator. There is no moral high ground in professional sport.
4 – SteveM005 on how the captaincy may be affecting Klopp's tactical options, Oct.24th:
My point is that from my simplistic tactical perspective Klopp has two options now – creative midfield including Keita and Ox but with the full backs sitting further back and not making as many forward runs, or a tight midfield of the type Hendo has traditionally thrived in but with our full backs bombing on. If Klopp feels he wants to see more of the former in games for which it is appropriate, then I would prefer the third midfield place to go to Fab, and my point is that Klopp thinks the same then Hendo will get less game time in those sort of games.
I could be wrong – in a creative midfield Klopp may prefer to see Hendo as the third man sitting in the middle and linking the play, in which case Fab doesn't get a game. Hendo's captaincy clouds the issue somewhat, just because it makes it harder for Klopp to rest Hendo for tactical reasons. VVD is virtually undroppable (unless we're playing MK Dons!), hence my musings about the captaincy.
5 – Jeff on the value of Joel Matip:
There are some here including Chris who had a chance to see Rob Jones a fit Rob Jones play for Liverpool and I have no doubt in my mind that a fit Rob Jones was one of the top 10 players in modern Liverpool history. Sadly, Rob Jones career was beset by injuries and he never had a chance to have the career he should have had and one I would have enjoyed watching.
I had a chance to see Joel Matip play for Schalke and he was easily one of the best center backs in the Bundesliga and I wrote at the time he agreed to his deal with Liverpool that Liverpool had acquired a talent. Now as Chris noted above fitness issues bedeviled Matip and last season was the first time he got a good run of matches to get fully match fit and was fully fit. What did we see? He is an outstanding player.
I hope and trust that everyone realises that injuries are a reality in football and when a player is getting over a major injury or a series of injuries that they need time not only to get fit but to get match fit. Now, I am readily aware that in the case of Daniel Sturridge in spite of the lads best efforts he could not get back to the player he was before his injuries as was the case with Rob Jones but Joel Matip shows that sometimes patience can be rewarded. Please keep in mind what I have just written when you think about AOC and Keita, and Lallana.
Sometimes in this world you can be facing a situation where you have untold riches. Liverpool are such a club when it comes to centre-backs. We all know that VVD is something special and Joel Matip is a quality player but behind these two we have Gomez who is already a quality player and getting better and Lovren who is by any standard a fine centre-back – not perfect but a fine centre-back.
At various times and in various ways we talk about how Liverpool has changed in recent years and to me the way the club has gone about allowing a player such as Joel Matip to over come his injury and fitness woes shows that the club is not run by professionals who are really good at what they do.
I do want to thank Mizgan for this fine article on Joel Matip.
Articles published since last Friday:
Sunday October 20th:
Liverpool Cheated By Atkinson and His Goons But Proudly Still Unbeaten, by Paul Tomkins.
I turned the sound on after a minute, having told myself I would mute it for the whole match. In some ways it's a good job I did, as I needed someone to explain what the fuck was going on with Atkinson and his goon squad. I ended up screaming at the television (so much for Zen…), as the one thing I cannot mentally hack right now is the officiating. It feels like it is standing between us and greatness.
Even when Liverpool get a clear penalty, like two weeks ago, it gets turned into a dive …
Post-Match Analysis: Manchester United 1 – 1 Liverpool, by Daniel Rhodes.
Liverpool had more shots (10-7); twice the amount of shots on target (4-2); also double the shots inside the box (6-3). However, both sides had one big chance, albeit the Red Devils' goal came with a little help from their friends. This is reflected in the expected goal models as well, who – for once – were in agreement about the team xG: most suggest a draw was a fair result, with the average across eight different models 1.1 – 0.8 in the Reds' favour. Taking into account that the vast majority of Man Utd's total came from a dubious situation, then Klopp's side deserved to win.
In terms of tactics though, the home team frustrated Liverpool to an extent not seen under Klopp. We only had 13 touches in their penalty box, that's the fewest touches since Chelsea away in 2016/17. If their intent was to nullify and frustrate us, then their plan worked.
Tuesday October 22nd:
Liverpool Have Had Their Champions League Success Cancelled. (Plus, Book News), by Paul Tomkins.
Man United at the weekend made Norwich look like Barcelona under Pep Guardiola. That's their right – to play a back five at home. Man United had some remarkable achievements up to 2013, but how must Alex Ferguson have felt seeing United barely muster a shot at home to Liverpool as the team sat a point above the relegation zone? At some point in the future United will surely be back on the perch – football is cyclical (although that doesn't mean everyone will get a chance to be top) – but it's not their perch right now, is it? It's Liverpool's, in terms of the league table and as reigning European Champions, and it's Man City's in terms of last year's title race. (Never mind that Man United have never posted a points tally as high as Liverpool's in their entire history.)
Let's be clear: Man United fans have every right to take as much satisfaction from any game as they see fit; it's no one else's job to tell them they can't enjoy a 1-1 draw where they at least showed some fight (aided by the ref, admittedly), but they can't use the metric of "Rashford knocking over van Dijk" as a more meaningful statistic than Liverpool being crowned European Champions six times.
19/20 Champions League Preview | Matchday 3 | Genk | Luminus Arena, by Gary Fulcher.
This is Genk's third participation in the group stage proper and they have yet to win a group stage game, having drawn four and lost two in 2002/03 and drawn three and lost three in 2011/12.
Liverpool's last away win in the group stage came against Maribor on Matchday three in 2017/18 with a 7-0 thrashing, which makes it five consecutive matches without a win away from Anfield in the group stages as we drew 3-3 with Sevilla on Matchday five in 2017/18 before losing all three away games last season and the Matchday one loss at Napoli this season.
Wednesday Oct.23rd:
Joel Matip – The Free Transfer Who is Out-performing Many Around Europe, by Mizgan Masani.
We all are well-attuned to his mazy runs from the back till the final third to open a tight game up. At times, it enables the forwards to make varied runs to confuse a well-drilled back-line. This innocuous ability is not anything that will be recorded in history books, but it is something that helps the team in adding something different to their attacks once in a while, especially against deep-defending sides.
Thursday Oct. 24th:
Post-Match Analysis: Genk 1 Liverpool 4, by Andrew Beasley and Daniel Rhodes.
Both of Oxlade-Chamberlain's goals came from outside the box, with his ability from distance an asset he could possibly provide for the club. His previous two goals (back in 2017/18) were from further than 18 yards, and just so happened to be against Manchester City.
While Coutinho was an expert at goals from a long way out, it is something Liverpool now lack; they didn't score any from outside the box in the Champions League last season, and only five in the league (one of which was a direct free-kick).