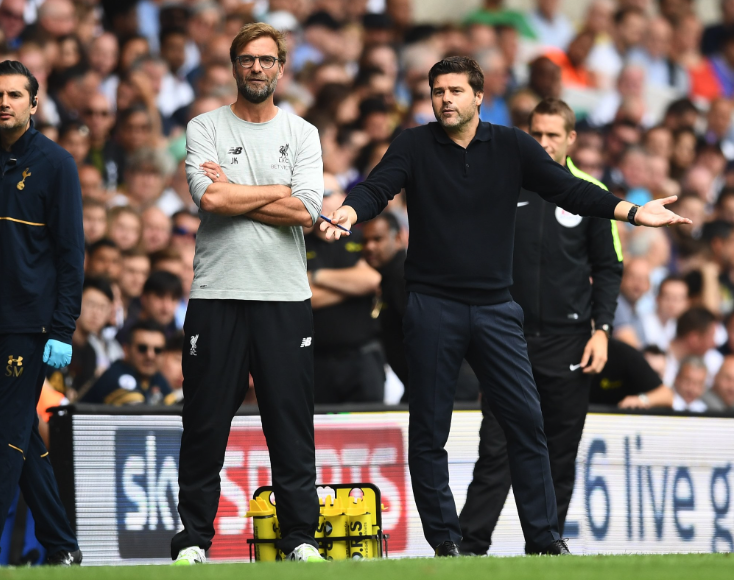 Posts selected by Chris Rowland and Daniel Rhodes.
This week's round-up brings you some of the best comments on the site, together with some samples of the articles we've published.
If you'd like to join our troll-free community and enjoy some intelligent debate about Liverpool FC and the wider world of football, and indeed the wider world generally, see the 'Subscribe' tab at the bottom of the page for details of how to sign up.
1 – Thundyr, Monday May 20th:
In what way did we spur them (Man City) on this season? This is just another fallacy from the media narrative lead by Pep. They got 100 points last season, finishing further ahead of United in second than United finished ahead of Arsenal in 6th, or Arsenal finished ahead of Bournemouth in 12th, or even 1 more point than separated Everton in 8th from West Brom in 20th. They didn't need to be 'spurred' on by anyone to finish with 2 points less than last season while winning the same record number of league games (32) and facing no one of any importance in any club competition barring the Spurs side who knocked them out of the Champions League.
What I find distasteful this season, more than how blatantly obvious their abuse of funding has been, is that Klopp was overlooked for manager of the year (as we all knew he would be). Pep guided a behemoth to a completely expected domestic treble. Klopp tore up every single rule book for how a club should perform within its budget, leading a side that won or shared every single individual player award in England in the process. Pep maintained what he'd built with his club owner's illicitly garnered funding – Klopp's team overperformed the hell out of every single metric and it's seems inconceivable that this Liverpool season could ever be repeated.  But he's a footnote and we're victims once more.
Should we sing "Bravo" for the objective journalism routinely trotted out this season?  Should we applaud the fools who say Liverpool will do worse with VAR, considering that VAR would have handed us the league title in 18/19 and that we were one of the few clubs who voted in favour of implementing it for 18/19? This 6-0 humiliation of a mid-table EPL club did not come as a surprise to me, so this surprise or faux surprise from the media once the horse has bolted is just another bitter pill. They are as foolish as those who thought it was okay for a Manchester referee to handle games between Manchester clubs and Liverpool both this season and last (but Mike Dean still can't go near us).
The playing field isn't level. It hasn't been since 13/14. "Well done," to those who finally noticed.  Everyone seems to have finally realised that Man City pissed all over the romance of the FA Cup, and maybe only now the members of the FA board will finally question what they have been drinking all these years from City's gift bottles of bubbly. Ditto the Liverpool haters – you never had it so bad while we won stuff as it will be in a 1-club league like France or Germany. So good luck falling over yourselves in your eagerness to praise your new masters. You shouldn't wish too hard for what you want.
2 – Paul Tomkins, May 20th:
I've listened to all of the main footy podcasts this afternoon and this evening. (Guardian, Times, Totally Football, Telegraph, Second Captains.)
All of them, without exception, talk about City in at least some negative terms. Some of them go in harder than others, and some of the journalists are more critical than others within the same podcasts.
City's FFP issues are discussed, as is the unfairness of their clear wealth advantages. One podcast mentioned Liverpool having to sell Alonso, Torres, Suarez, Sterling and Coutinho, and Arsenal having to sell loads of players, but City never having faced this.
So there is clearly now a major conversation about City being bad for the game, and how even Guardiola seemed to recognise it was coming when he looked downbeat when they went 6-0 up.
All of the podcasts mentioned the City fan moaning about LFC/Salah, and what a prick that fan was, and how he seems to represent a lot of City fans. All of them also defended Rob Harris for asking Guardiola the tough question about if he's paid hidden bonuses like Mancini was – and that, with City fans saying it was a terrible time to ask, that Harris has been asking City for months and months without answer. There was a split on why Guardiola didn't actually answer the question – was he hiding something or just understandably upset at the very notion of it all.
There was a lot of talk about how Guardiola wants his football to be loved, and how Man City as a club want to be loved, and how City fans want their team to be loved, yet it's all backfiring. Someone noted that whatever happens now, City are seen as the bad guys.
The best on the topic was the Second Captains, which was a chat between one guy and Ken Early, I believe, with Jonathan Wilson and Rory Smith on the phone later on.
3 – Jeff, May 21st:
Why did football authorities come up with FFP? Simple, they recognised that debt was a ticking time bomb that could cause any number of clubs including some of the most famous clubs in Europe to go bankrupt. Therefore, they came up with FFP to hopefully ensure that clubs lived within their means to avoid any number of clubs including some of the most famous clubs in Europe from going bankrupt. AC Milan was in and bought by a supposed rich Chinese individual who turned out not to be rich and AC Milan was taken over by a vulture hedge fund – Elliott Management. What happened in Milan with AC Milan could happen to any number of clubs in Italy or Spain or on and on including AC's neighbour Inter. The goal of FFP was to stop clubs from going into positions where they would go bankrupt or be taken over by owners that really should not own a football club. To date FFP has not really been enforced and the problem with debt has gotten worse not better.
What Der Spiegel did was show without breaching FFP rules, Man City could not operate as it has been operated. What Der Spiegel showed was that Man City agreed to operate by FFP and failed to do so. Now what? For years and years football authorities have looked the other way but now they cannot ignore reality. Man City is going to hire top flight lawyers and do its best to avoid the truth but the truth is out there and as the matter moves forward I suspect that the extent of Man City gaming the rules will be known and it will be harder and harder to look the other way.
At some point either the football authorities are going to have to enforce FFP or not. To me at the end of the day the interesting question in regard to Man City has the time come to enforce FFP or will ignoring it with Man City spell the end of FFP?
4 – Bobbypits, May 22nd, in continued debate about investigations into Man City:
Whilst I acknowledge how frustrating it is I am adamant that the debate should continue. I want this topic to stay at the forefront of football's consciousness!!
In fact I want the debate to spread. I want more people to get hold of reasoned and factual opinions on the way nation states are abusing the game and creating a joke out of the game with flagrant disregard for rules and competition. $ity and P$G represent everything I hate about modern life: a belief that products, results and destinations out way process, overcoming challenges and journeys!
Only when there is constant, definable and audible public disapproval will any of the so called institutions responsible for the game ever have the impetus to deal with this.
We need to turn the volume up!
I am delighted that this story is undermining the experience of $ity's fans hollow treble – first time in history but what a dirty tale that sits behind it. When it is finally achieved by a team who does it on sheer graft and not on disproportionate riches they will be lauded – but I'm afraid this team (who's fault it isn't) will never deserve my respect.
In fact given their recent inability to show any sign of humility means that even as players I have lost significant amounts of respect for them all.
This tainting should be felt by everyone and especially Pep whom I began to dislike whilst he was at Bayern. He's done nothing since to prove he's anything over and above other managers expect his bank balance and spending power.
I always said with Mourinho I would accept his genius if he chose to work in more modest settings and not with the sure thing safe bet. His time at Man Utd was meant he came up short when the job was challenging. Putting his spats and shows of arrogance with Rafa and Wenger into clear context. When he too has struggled with boardroom turmoil he didn't achieve anything like those two!!
I digress.
Back to $ity.
Never stop talking, never stop shining the light. If this was our club I wouldn't want us to be in this position. I imagine that many on this site would be voicing concern (well before now) about how we were being run and how distasteful we were becoming in the public's opinion. After all if the people behind the purchase of $ity and P$G were about building a brand – those two are pretty toxic and should remain that way!
5 – Jennifer looking forward to her trip to Madrid:
Right, here goes. Two margaritas because my daughter had two limes going spare. I am off to Madrid and simply adore this team. I am there for a week, because it's cheaper that way and I desperately want a win, after going out in Bloody Basel and Ramos- infested Kiev. I have read the quite superb TTT pieces by Paul and others and am convinced we are a club to be proud of.
Now for the confession. I shall be pissed off if we lose, especially if Kane and Alli get away with diving. But one game does not define us. We are superb.
Articles published this week, with excerpts:
Monday May 20th:
City's Greed Draws Attention To Their Gluttony In Spectacular Own Goal, by Paul Tomkins.
Others, like James Montague, focused on the human rights abuses and warmongering of City's owners; small details like that. City fans' usual response to this is to point out that Standard Chartered are no angels, but Standard Chartered are mere sponsors, not owners. Few sponsors of football clubs are benign, non-profit organisations. But such comparisons are to obscure and divert attention; whataboutism, where a lesser offence is pointed out to justify a more serious offence. ("Yeah, so I killed someone, but so what? – that guy over there stole a packet of Polos from the newsagent.")
Normally it would be fine to score as many goals in a cup final as you can; but here City needed to ease off. But they weren't emotionally intelligent enough. It had the look of repeatedly kicking a tramp.
For all their money, City can never have an Istanbul. They can never be Leicester City. Everything they do will be appended with an asterisk. Just like PSG, they are vacuous and shiny, tainted by the gaudy tastelessness of the nouveau riche.  
Wednesday May 22nd:
Fair Finance – the Case for Financial Fair Play, by David Fitzgerald.
The size of the company and its staff if well run make it incredibly difficult for smaller teams to compete. They don't have an army of analysts and tacticians or legions of individually appointed medics. As with Team Sky in the cycling, it's entirely legal but results in this hideously ugly lack of competition.
This is not addressed by FFP but it needs to be. On one level we are as culpable as City in taking advantage of what is essentially an unfair resource mismatch. Our budget may not be half as much as City's but it is way big enough to buy virtually all the backroom staff you could ever want. The problem in terms of FFP is it's a shining example of sound business practice and it goes against the grain of pure capitalist logic to interfere with such a success story, but for the man on the street it's a killer of sporting romanticism and competition. My view is that is a blind spot for capitalists in the same way that, for example, a coffee shop chain like Café Rouge helps to obliterate the wonderful idiosyncratic, individualistic real cafés of Paris. It's a fundamental failure of imagination in business people's ideology.
Man City and Liverpool's Spending – A Factual 'Transfer Price Index' Analysis, by Paul Tomkins.
For ten years Graeme Riley and I have been working on TPI – which tracks football inflation. Our work has been used in books, academic studies and even a European commission. It's not a full-time undertaking but instead something we do in addition to other work, and as such, we update it as and when we can, and use it on this site as our benchmark for spending analysis. While we are avid Liverpool fans on this site, the system we employ is 100% neutral. 
And we now have the data from 2018/19, so – with the furore surrounding City – it was time to have a look at just how great their financial advantage was, and how that helped them retain their title; but also, how City compare with Chelsea of 10-15 years ago, the Premier League's other infamous Sugar Daddy club. And on that score, the good news for City, if they care about the comparison, is that they did not spend as much, relatively speaking, as Roman Abramovich and his pet project; the difference is that Chelsea's spending came before FFP (indeed, it helped force the creation of FFP), and that actually, Chelsea's spending has slowed massively since FFP, meaning that they appear to be trying to comply.
None of the figures used are subjective; they are objectively created by the formulas relating to English football inflation. This concept was not designed to criticise City, as it was created before they'd even finished in the top four in the modern era (many blue moons ago). It was not designed to make Liverpool look good – indeed, it was initially designed to help us compare how much a Liverpool player in 1992 or 1995 would be in what was then 2009 money. Once we'd done it for Liverpool, it seemed obvious to apply it to all clubs and all players. 
This has also been a season of deflation. For the first time since 2013 the average price of a Premier League footballer fell; with the average price having previously trebled between 2014 and 2018. (And remember, football inflation runs at 10-15x the speed of economic inflation.)
Seventh Time Lucky? How Good Fortune Deserted Klopp in His Previous Finals by Andrew Beasley
As good as Klopp's career has been, his record in cup finals is something of an elephant in the room. Dortmund won the 2012 German Cup final with a stunning 5-2 win over Bayern Munich, having won the league both that year and the year before, but Klopp's sides have lost all six finals they have contested since.
So as Liverpool go in search of Number Six in Madrid shortly, their manager will hope his own poor run ended at number six. But does Klopp deserve his reputation as someone whose team do not perform well in finals? Let's take a look at his win-less run and see how his Dortmund and Liverpool teams got on. Using historic bookmaker odds, it's also possible to see what chance Klopp's team had of taking the trophy home ahead of kick off.
2013 Champions League – Borussia Dortmund 1-2 Bayern Munich. Pre-match chance of winning: 31%.
Prior to the 2019 showpiece, there have been six Champions League finals between two clubs from the same country. This was one of only two which was settled inside normal time, and even then it took an 89th minute goal to separate the sides. Something to bear in mind ahead of Madrid; country derbies in finals tend to be close.
However, the stats from the match were not close. Dortmund had seven shots on target (with four in the box), but Bayern had 10 (with eight in the penalty area). More importantly, the eventual victors led the clear-cut chance count by seven to two.