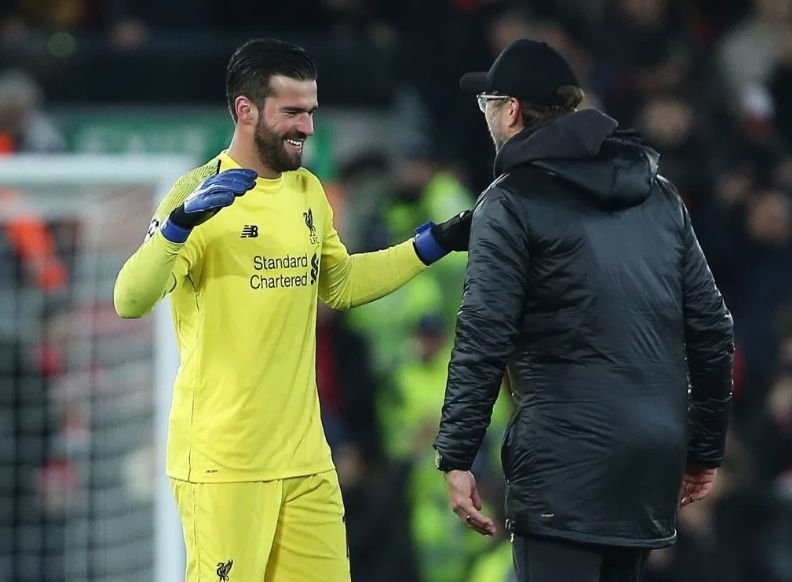 Posts selected by Chris Rowland and Daniel Rhodes.
The idea of this weekly round-up is to give you all some idea of the range of debate on the site and the articles we publish. If you'd like to be part of our troll-free community, there's a 'Subscribe' tab at the very bottom of the page.
1 – Krishaldo unearthing some astounding stats on Man City's squad value:
Another observation:
City's squad is valued at more (£1.02bn) than all eight teams they've faced to reach two cup finals combined (£802.58m).
Also more than the four teams they've faced to reach Champions League QF combined (£995.1m).
Stats from transfermarkt.
https://twitter.com/jimmyricewriter/status/1115561502969409536?s=21
2 – Tony Mckenna (macattack) on the continued negative media on Liverpool FC:
All this anti Liverpool agenda, including the 'lucky' tag is wonderful. So irrational in thought, without true foundation, it can mean only one thing: Liverpool FC are a big club again! Yes, I believe it is so.
Otherwise, why the fuck is anyone paying us undue attention? Throughout the season, the feedback loop has shifted from 'unconvincing' Liverpool; to 'lucky' Liverpool; and even to the context that the football chiefs in power, are fixing it for the Reds to win the title. Granted. I mean, it's obvious, isn't it? But then, with backing from above, one wonders why we haven't won the title for nigh on 30 years.
When people run out of ideas, robust ones, reverting to the irrational, their search for an evidence base is over. Failure to find a credible context for espoused theories, engenders copious shit from the wrong orifice. May as well take the role exchange to full conclusion and teach their arses to speak. Their lack of intelligence is woefully on show, and yet, they can't see it. Ah, the bliss of ignorance.
I really can't believe some of the things I have read. But let's cut through all the shite and posit a situation that existed prior to the season kicking off.  As we now know, Manchester City are linked with a quadruple outcome. That includes trophies in three separate cup competitions. So, if they take the lot, it means that they have manifest an edge over every single football club in England; and Europe.
Except, in August, that edge has also entailed a financial one; boosted by the breach of financial rules supposedly in place. Football authorities obviously have a responsibility for allowing this to happen. Somehow, I fail to see the collusion with, not only Liverpool, but for all the other teams in England and Europe.  Even City's slender victory against Brighton yesterday has to be seen as one premised on an unfair playing field. Of course, did City really need financial leeway, since they are blessed with superior power, anyhow? But, they have been. It's like giving Goliath a pair of stilts in a basket ball game. Taking the fucking piss.
And, more worryingly, City may even still get away with this shit. Bottom line: who are the football authorities really colluding with? How can Liverpool be lucky in the face of such disadvantage?
Not that I expect my reasoned thought to illuminate any light bulbs. Most people are fixed on 'dim'.  Just look at the shite surrounding Liverpool's propensity to win games late. Ha ha. When United were winning titles, everyone marvelled that they won matches: convincingly; grinding results out; when not playing well; and by scoring late on. In short, a diverse palette to win titles.  Yet, with Liverpool, it's not a virtue. Resentment translates as one thing: everyone fears us.
As I said: Liverpool are a big club, again.
3 – Jeff in praise of Alisson and goalkeepers:
Over the years I have written that the most important player on the pitch is the goalkeeper. Why? When a goalkeeper makes a mistake it almost if not always leads to a goal which almost if not always leads to a draw or a loss. On the other hand, when a goalkeeper makes an exceptional play, he almost if not always leads to Liverpool gaining a draw or a win. My point is how a keeper plays has a far greater influence on the outcome of a match then any other player on the pitch.
We all have hobby horses in regard to what drives us nuts in a match. From the first time I saw Tommy Lawrence play or saw Gordon Banks play, one of the features I look for in a keeper is whether or not he is in fact reading what happens in front of him and getting into position to make a save if needed. If you had a chance to watch Tommy Lawrence he was always moving to get into position to cut down the angle of any potential shot or header and as a result he made saves that no one noticed by helped Liverpool win matches. From that time forward I have always watched a keeper to discern whether or not they read play or read corners and free kicks or whether or not they were oblivious to what on earth was happening. To me if you have a quality keeper he gets into position to block shots or catch shots and he makes what appears to be a routine save time after time. This trait may not get the notice of a keeper making a spectacular save but to me this is what wins matches.
This season what stands out to me about Alisson is the lad gets himself into position to make the saves that in the past were not made. To me all the money spent on Alisson was money well spent. It is stating the obvious that if you do not give up a goal the worst that can happen is that you draw and it is stating the obvious with the quality Liverpool have in attack if you do not give up a goal, Liverpool will more often than not win a match.
I suspect that the Liverpool player of the year will be VVD and he has been something special for Liverpool but to me Alisson should be a close second because he makes Liverpool just about the hardest team to beat in Europe. As Chris noted Liverpool may well play 4 more matches in Europe this season and today Alisson in my opinion makes Liverpool the best to beat in Europe.
If you doubt the line of reasoning that I have put forward, take a look at the video of the Porto match and see how Alisson made key saves that were not really noticed because he made them look routine and they were routine because he got into position to make them routine.
4 – MadchenKliop on Fabinho, Henderson and the Reds' midfield:
I think Fab settling in so well as the DM has definitely freed up Hendo to relax his patriarchal vigilance instinct and focus on the possibilities looking ahead of him. His touch and composure for the throughballs and balls over the top has been sublime and 100% created by vision, awareness and positioning. It's great to see.
But I don't agree that he would have been able to play like this for the last few years if Klopp hadn't tied him to the No. 6 position. Maybe we would have seen more freedom in his play, but I think his fitness issues and also his mental preoccupation with coming of age and being a responsible captain figure have shaped his development. Klopp, as ever, shields his player by taking full responsibility for what's happened, but it's been just as much Hendo himself who has followed that path, because I reckon he's felt it's his destiny.
Looks to me like he's now entering a new phase where he's just enjoying the fruits of his experience and the crucial thing is Klopp and circumstance have nurtured a situation where there is some slack in the system and he no longer needs to stretch himself too thin. Particularly he no longer needs to bear the mental burden of concentrating on behalf of the team over 90 minutes. Having an abundance of tactically flexible midfielders is the key to this LFC side's stamina through the season. Hendo, Wij and now Keita are all classic box to box options and finally they all now know how to play with each other.
Lallana and Milner are also capable of doing the job, but they can also be freed up to perform different roles and it's worth remembering that Lallana in particular has some amazing skill in the creative passing department as well. I think we might be entering the promised land when the fabled midfield options, spurred on through competition with each other and the variations on offer, start to exceed the sum of the parts. The beauty of the Hendo situation is that we could leave him out against Chelsea and bring Wij back in and then once again use him as an impact sub.
5 – Daniel Rhodes listened to a football phone-in after the Barcelona vs Man Utd game:
Subscribers, in the interests of decency and civility I will warn you I am now about to talk about the contents of a Talksport phone-in. You cannot hold me responsible for any views I may or may not quote in the following lines…
I feel like Krish visiting RedCafe or other fan forums. I dared to (to steal a Spurs marketing phrase) dip my toes into the wilderness. It was worth every second:
First caller, United fan:
"Pleased with that, we had to be pragmatic, Messi did nothing and we had lots of corners…"
Presenter:
"How many corners did you have?"
United fan:
"Doesn't matter, we played well."
Presenter:
"You had two corners."
Second caller, United fan:
"We restricted them well. Impressive tactical performance to prevent them creating much, and the tie is still on…"
Presenter:
"It was more like Jose Gunner Solskjær. You played five at the back and had no shots on target."
Second United fan:
"But we made lots of tackles in midfield."
Presenter:
"Oh how the mighty have fallen… I never thought I'd hear a United fan talking about tackles and corners (which they didn't even have) as proof of a successful night in Europe."
Articles published since last Friday, with samples:
Monday April 8th:
18/19 Champions League | Quarter-Final 1st Leg Preview | FC Porto (H), by Gary Fulcher.
Liverpool are making their 7th appearance at the quarter-final stage of the Champions League, with the Reds progressing on four occasions including most recently last season at the expense of Manchester City but a note of caution should be applied as two of the four times the Reds played the first leg at Anfield saw them fail to progress.
The first came against Bayer Leverkusen in 2002 which saw Liverpool take a 1-0 first leg lead to Germany only to lose the 2nd leg 2-4. A decade ago Liverpool suffered a 1-3 defeat to Chelsea in the 1st leg at Anfield, which was followed up with a 4-4 draw at Stamford Bridge in the 2nd leg.
Tuesday April 9th:
Analysing the Stats of FC Porto, by Andrew Beasley.
Porto's Champions League campaign in 2018/19 has been bizarre. For starters, they are top of the charts for both penalties for and penalties against, having seen five at each end across their eight matches. Indeed, they knocked Roma out in the last round thanks to a 117th minute penalty, which was only awarded after the referee consulted VAR. Had last season's semi-finalists converted either of the clear-cut chances they had in injury-time prior to the spot kick, Porto would surely have exited the competition.
They've also been riding the conversion percentages at both ends of the pitch to remarkable effect in Europe this season. Porto have scored 19 goals from chances worth 14.2, while only conceding nine from shots collectively valued at 13.9.
Wednesday April 10th:
Post-Match Analysis: Liverpool 2 – 0 Porto, by Daniel Rhodes.
Liverpool had almost double the total shots, with 15 to 8. The big chances were a closer run affair though, with Liverpool edging three to two. Firmino scored one and missed the other, Salah missed his when one on one with the GK. Porto, obviously, missed both of their attempts – or should I say, they were saved by our keeper, who was excellent once again after a couple of shaky games recently.