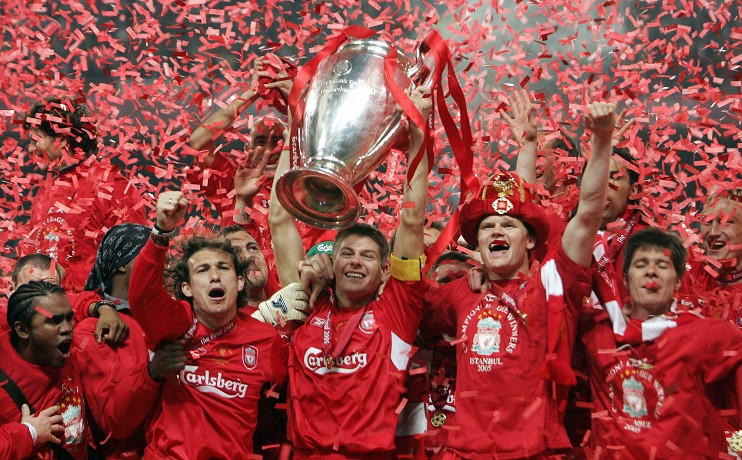 Between 2003 and 2018 there were 52 instances of a Premier League team reaching the knockout round of the Champions League. These were: Arsenal, 14 times; Chelsea, 13 times; Man United, 10 times; Liverpool and Man City, six times apiece; and finally Spurs and Leicester, with two and one respectively. Obviously one of these was Liverpool in 2005, although we don't like to talk about that. (Okay, we always talk about that. But if your club had done that, you would too.)
(All four clubs have reached the knockout phase this season but, as yet, their results after these games remain unknown.)
Obviously some clubs then went further than others; 28 times an English club reached the quarter-finals, and 18 times they made the semi-finals. For this study I'm not really interested in who reached the final, as there is never a league game afterwards. This is a look into the two, four or six league games that immediately followed Champions League knockout football.
I only went back as far as 2003, as that's when Roman Abramovich arrived and changed English football with his gargantuan wealth, and English teams began doing better in Europe again. 
It's also going back only as far as necessary; what it did to league form in 1977 or 1965, while interesting, isn't going to say as much about how easy, or hard, it is nowadays to win league matches after playing in Europe's main competition. Also, I can use our Transfer Price Index model to convert all teams from 2003-2018 into 2018 money, to show who had the costliest squads, and how factors like squad cost, age and winning the title that particular season affected post-European performances; in addition to how result patterns differed after the round of 16, the quarter-finals and the semi-finals.  
So, for example, Liverpool last season ranked 35th out of the 52 for overall squad cost, and in 2004/05 ranked 43rd; Leicester, obviously, ranking 52nd. (The Reds' highest rank out of the 52 is 32nd, from 2007/08, when beaten semi-finalists to the team ranked 2nd in the study, Chelsea in Year Four of the Abramovic project.)
As I've previously established, playing more than 20 cup games in a season tends to have a negative effect on league performance (across the whole campaign), when judged against the barometers of: previous season's league position and points tally; subsequent season's league position and points tally; and the expectations of the season in question based on the financial rankings. Once it gets to 25 cup games in a season, almost every club has suffered some league damage; and Man City are aiming to play an unprecedented 28.
My particular interest in this right now is how, in a post-World Cup season, both Man City and Spurs (who had far more players going deep in Russia than the Reds) playing more cup games than Liverpool could end up having a detrimental affect on their league form; as well as thinking about what getting past Bayern Munich (no easy task!) would do to the Reds' odds of landing no.19. 
You can never want your team to exit the Champions League, but it's a question of, if it does happen, will it make no.19 more likely? 
And, as this is based on historical precedent, it merely suggests probability, but doesn't guarantee it. The odds of Liverpool winning the Champions League at half-time in Istanbul was something like 100-1, but they overcame those odds. Equally, if you replayed that game hundred times, it might be the only one where the Reds prevailed.
So, will Spurs and Man City see their league form suffer if they go deeper in Europe? 
(A clue: Man City will really have to break some new records if they go deep in the Champions League. And Spurs will also have to do something never done before.)
This article is for subscribers only. To join our unique and troll-free community and read all our articles, see details below. 
[ttt-subscribe-article]