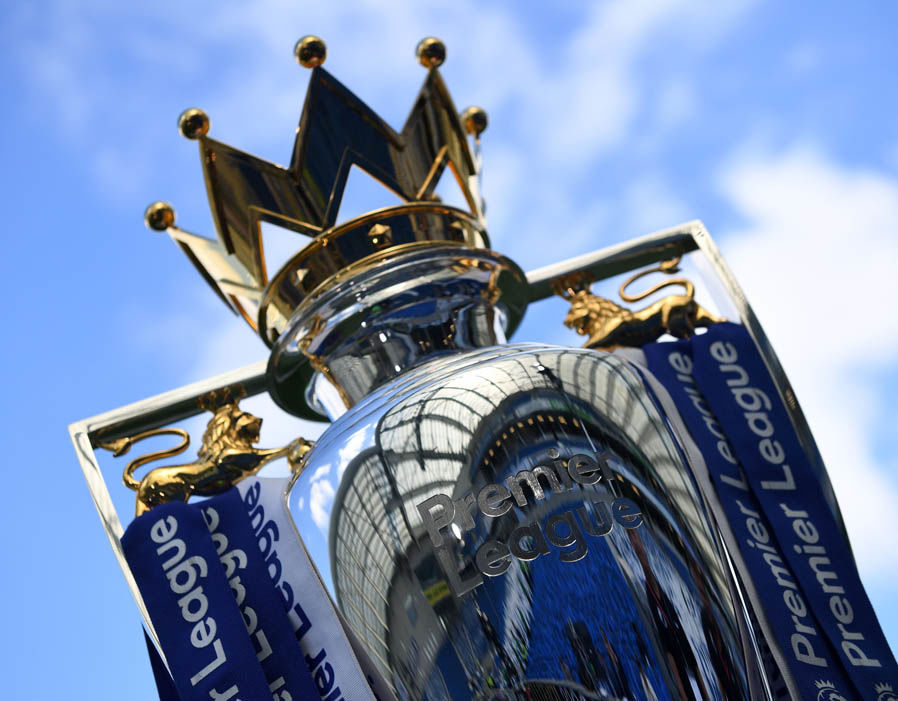 Title Races Ebb & Flow. Here's the Very Graphic Proof of How It's Far From Over
Most mainstream football debate – in terms of the over-analysis of the latest action – has descended into merely a few hundred or thousand words of recency bias. If you won your last game you're great; if you didn't, you're terrible. 
Also, it's shown to be a natural human tendency to underplay the level of potential change that lies ahead: whatever the current status quo, it feels like it will remain the case. We are not good at seeing change coming towards us. Three months ago Bayern Munich were rubbish, ergo Liverpool got a lucky draw; now Bayern are in better form, and closing the gap on Borussia Dortmund, who had looked unstoppable. Man United are in a totally different shape to how they were when their draw against PSG was made; since when, two of PSG's three famous attackers have got injured. 
As brilliant – and record-breaking – as City have been in the past 13 months, there have been no fewer than seventeen games in all competitions that they've failed to win; so to suggest, almost as a fait accompli, that they will win their final 11 league games – as some pundits are – is ignoring all the glitches that can get into any football team. To fail to win 17 games in 13 months is still damned good, but it's not perfect. Maybe they will win their remaining 11. But it's far from guaranteed – especially when an excess of cup competitions get thrown into the mix, as I will show in the second half of this article. That's when weird shit happens.
In the autumn, City won seven league games on the spin, scoring an incredible 24 goals and barely conceding; then they lost three of the next four league games. Then this January they scored 28 goals without reply in a succession of wins … before they went to Newcastle, and duly lost. If City are thrashing teams then people assume that they will always thrash teams. History shows otherwise.
Whoever winning right now has "momentum", and momentum obviously means you never stop winning, right? If you are top of the table and you don't win then you are bottling it, even if, statistically speaking, every team will drop points here and there. (And against Leicester and West Ham, Liverpool had six players out injured and at least half a dozen more playing through flu and gastric illness.) 
Maybe part of this phenomenon can be traced back to some dumb bookmakers paying out on title wins halfway through a season; although the 24-hour rolling news hysteria and social media explosion stokes it too.  
Anyway, before I look into the current title race in some detail, and the disadvantages City might have (and after all, we keep hearing about how much better they are than Liverpool), I want to make the first part of this article free, as it's an example worth sharing.
What follows is a fairly recent Premier League season – and is just one of many examples I could have chosen, where a similar theme occurs. 
It is the visual unveiling of a season, in stages, with the green in the graphics representing a win and red representing dropped points. (Seeing as Liverpool were recently labelled bottlers for merely drawing games, I thought I'd dispense with differentiating draws and just have a vivid red for any dropped points.)
This particular example is also from a high-points-scoring season for a title race; indeed, in a six-year spell, no other champion topped this points tally, and five of those champions amassed 1-9 fewer points. It wasn't a record points-setting season, but it was significantly above average for the Premier League era (which is 86 points).
The challenger had gone years without a league title; the other team had recently won a fair few league titles. Which which one is Team A and which one is Team B?
Okay, so let's see the title race in question unfold, in a series of 6 graphics…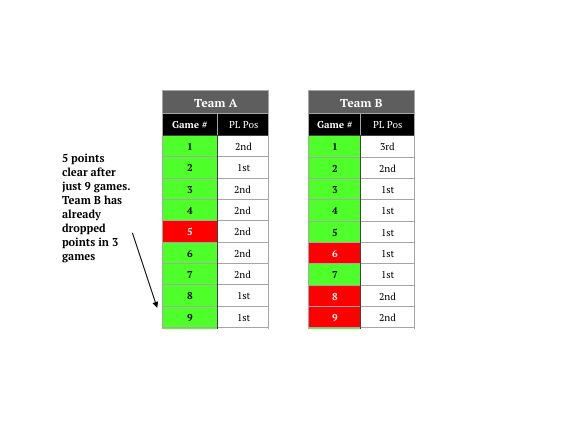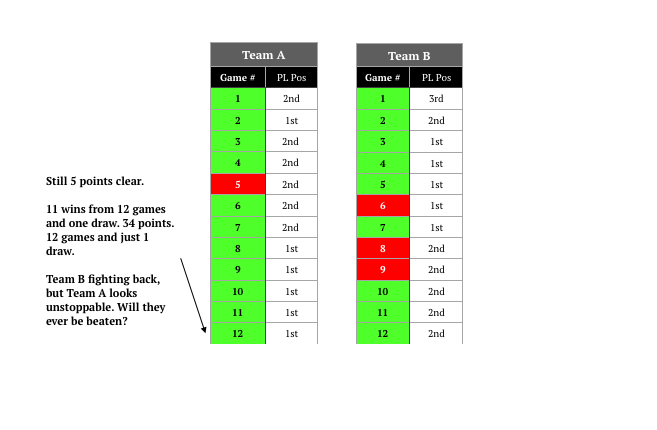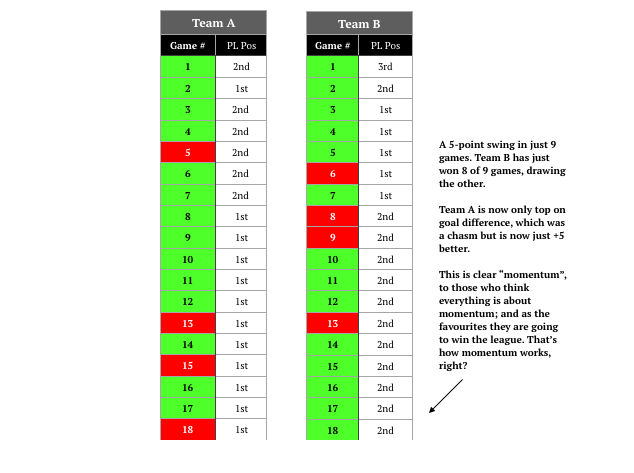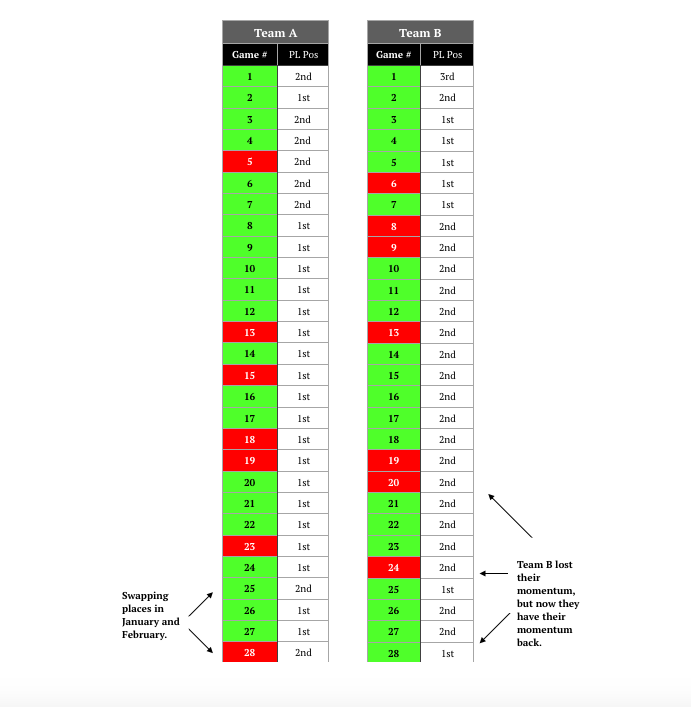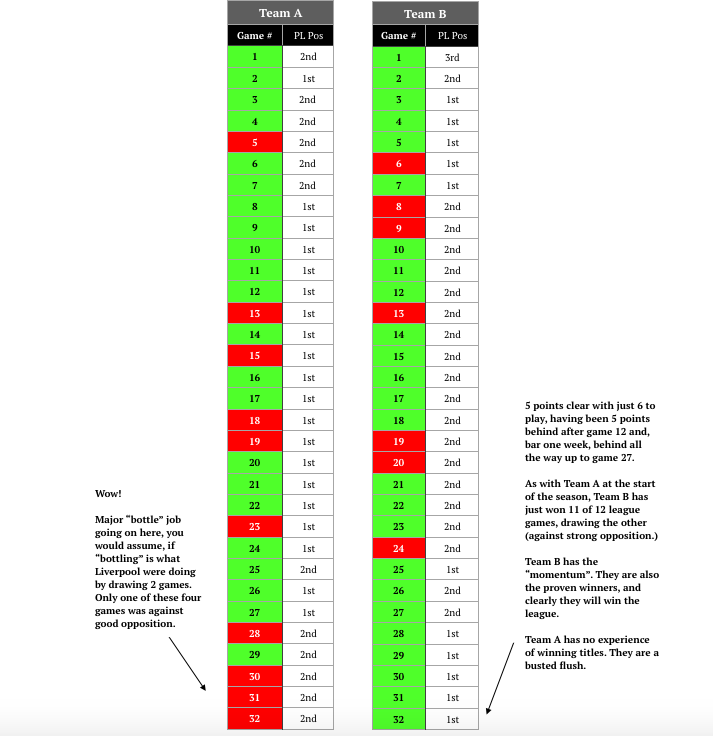 And finally, from game 21 onwards…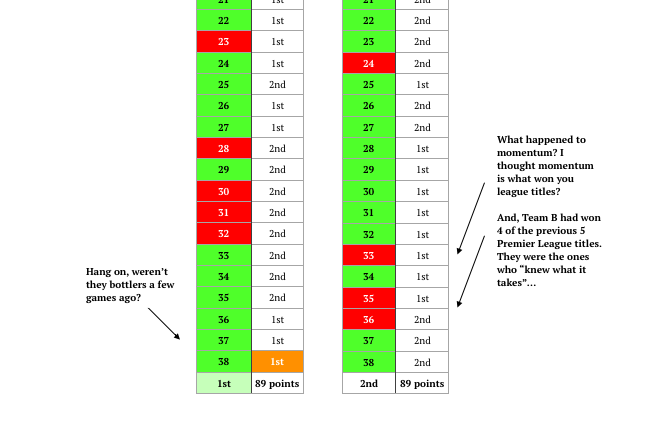 "And, Team B had won four of the previous five Premier League titles. They were the ones who knew what it takes! Team A had never won the title."
Of course, this is 2011/12, and Manchester City trying to overcome Manchester United. At the time, City were probably seen as bottlers, especially when they dropped points in four of seven league games up to the halfway point, and, at this very stage of the season now, won only one of five matches, which saw them drop to 2nd and, at match-week 33, found themselves five points behind an all-conquering Man United.
And of course, the narrative was set to be that they also bottled the final game of the season, until two injury-time goals won them the title. It's fair to say that this Man City side is technically superior to that 2012 United side, but that United side had won the title in 2007, 2008, 2009 and 2011. Alex Ferguson was seen as the best manager around, and Roberto Mancini – who'd never won a league title in England – was hardly believed to be in his class.
I could also have chosen 1994/95, when, like City in 2012, Blackburn were also trying to win their first title in decades. Blackburn failed to win four of their final six matches, while Man United – with back-to-back titles – won four out of five, to close the gap from being eight points adrift of Rovers (but with Rovers having a game in hand) to be just two points behind on the final game of the season; and where, if United won and Kenny Dalglish's Blackburn drew or lost at Anfield, Ferguson would win his third league title in a row. Blackburn lost at Anfield to a stunning last-minute winner, but United, with all that "momentum" – which included a 9-0 league win only two months earlier (and with their superior goal difference) – could only draw with West Ham. There are other seasons like this, too.
Man City had wealth to rival United back in 2012, whereas Liverpool do not have the wealth to rival City right now; the financial disparity is a chasm. But Liverpool have posted title-winning metrics this season in just about every possible area; with the only issue being that, unlike some recent champions, City are still doing the same 12 months later. For all City's big wins, they still have a worse points-per-game than Liverpool this season, although it appears that City have been crowned champions anyway.
And just because title races have ebbed and flowed in the past doesn't mean the same has to automatically follow. The point I am making is about the clear moments in those two seasons when one team looked invincible, and had that damned momentum, and yet still the unproven winner landed their first crown after a wait that was, on average, 60 years. 
You can see several examples of clear "momentum" with each team in those graphics, but even with that hallowed momentum they somehow managed to slump. When in a slump they looked like they were tanking, and could be slumping for some while, until they de-slumped, and humped back up to the top. City may indeed win the title this season – who knows? – but there's no reason to think that the way they ran away with it last season will obviously be repeated, as this time they don't have a double-digits lead, are up against stronger rivals, and, in seems, are trying to win all four trophies, according to some from their camp.
Ways Man City Could Still Slip Up
Anyway, now onto how City – on fire in the last two league home games – may find it hard to reproduce their best form for the rest of the season – with some strong historical evidence of what might get in their way – and where Liverpool – joint-top with a game in hand – may find advantages as the winter turns to spring. 
And there's a cautionary tale, too.
The second half of this article is for subscribers only. See details below for how to sign up.
[wcm_nonmember][ttt-subscribe-article][/wcm_nonmember][wcm_restrict]
This season Manchester City could play a record-breaking 28 cup games if they reach all the finals, as they seem to be so confident of doing. The most cup games I can find in the Premier League era is 27, and only 39 times prior to this season has a Premier League club played more than 20 cup games.
There is no precedent on this latest City side playing a lot of cup games – they did not top the 20-cup-games tally last season, falling just short at 19, and so you have to go back further three years, to the 21 played when reaching the Champions League semis (which ended in such a poor league points tally for the club). Only twice in the Premier League era have Man City played 20 or more cup games in a season. While this City team has a fair few new players, the core was in place back in Pellegrini's penultimate season. 
And if they go further in the Champions League than last season they can expect to face at least two additional tough games (compared to last season) before the last league game of the season, after which the final would follow, if they made it; while their FA Cup run petered out to lowly Wigan in round five this time last year, despite being able to coast more in the league, if required.
What follows is something I've been working on for the new book, where I re-examine all the evidence on how cup games affect your league health, with Graeme (Riley) kindly providing a wealth of data, to go with my own research from a few years ago. While the book will look at the issue in more detail, across various clubs, for this article I'm just using a small part of the text, and thus it shares only some of the conclusions. 
In order to get a feel for how a dominant and expensive side would be affected by an excess of cup games – given that Man City in 2015/16 (who played 21 cup games, upon their best season in Europe) weren't as good as this current City side – I looked at the six times Manchester United played 20 or more under Alex Ferguson, at an average of 23 games per season. 
The results are identical: three times they did slightly better than expected in the league and three times they did slightly worse than expected. If listed in descending order based on the number of games played – from a high of 25 to a low of 21 – they did better, worse, better, worse, better and worse in those Premier League seasons.
So, as clear as mud! 
That said, there was no clear evidence of momentum within those seasons, if additional cup games – which people say winning breeds confidence – actually led to a worse overall outcome half the time. 
Based on that alone, you could say that there's a 50-50 chance an excess of cup games would hinder City in the league; or that, at the least, there's no strong evidence that playing all those extra games will definitely help them. However, the challenge of playing so many games gets clearer.
In the three seasons where United reached the Champions League final, two seasons saw a drop in league performance based on the full metrics I used (which are: league position compared to the season before and the season after; points tally compared to the season before and the season after; and performance against the financial ranking – £XI – in the season in question – which I put into a formula that gave an output of progression or regression). When the extra games are in the Champions League it can make all the difference.
Looking at Chelsea – who had seven seasons with 20 or more cup games between 1992 and 2014 (all seven of which were after Roman Abramovich bought the club in 2003) there's a similarly mixed pattern – but in this case it tilts more towards league damage. Four of the seasons saw a decline in league points against expectations.
As with Man United the improvements and disappointments were all fairly small, except for 2011/12, when the Blues won the Champions League (and lest we forget, the FA Cup, the jammy bastards); their slip to 6th meant they took some serious league damage. And the slip took place in the final third of the season.
After 24 games, Chelsea were 4th. Yet they won only six of their final 15 league games, dropping from a 52% league win-rate all season to just 40%. And that was with "just" 23 cup matches. Because, obviously, Champions League quarter-finals and semi-finals are not just any old cup games.
What's weird is that, according to Graeme's data, they had their best-ever Premier League season in 2011/12 in terms of how well they did in a league game directly after a cup game; winning 33% of their league games after another league game, and 66% after a cup game. But this is where I feel supposed cup momentum can kill you in a silent way, as I will come onto later in the piece. (And b best-ever I mean the difference between how they did after league games to how they did after cup games, and not their overall league record.)
That was Chelsea after playing 23 cup games. But when all teams play at least 25 cup games it gets messy.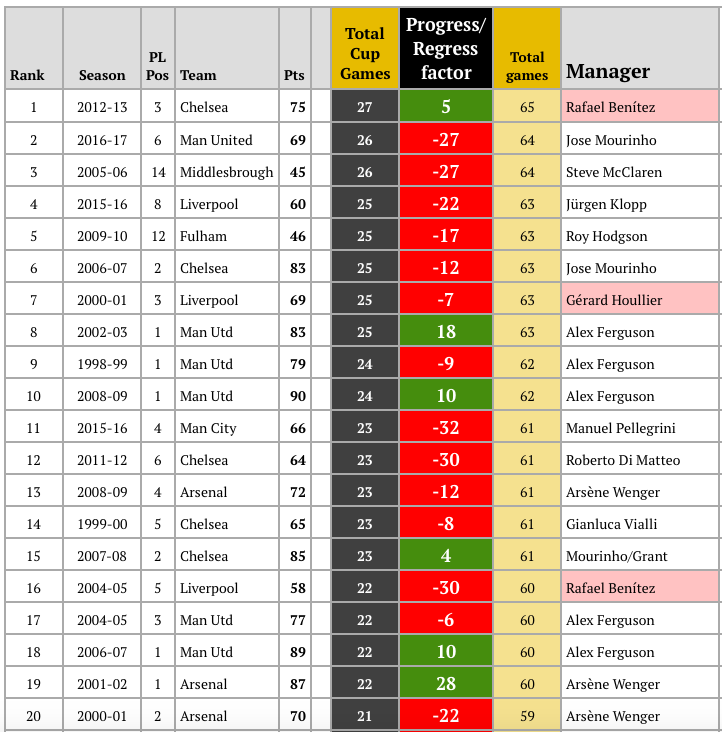 To date in the Premier League era there's a 75% chance of incurring league damage when going to 25 cup games and beyond; as such, the odds perhaps shift a bit more towards City falling short in some way. And of course, they can't now even match last year's 100 points tally, the pussies*.
(* Being purely ironic, here, and paraphrasing the offensive language of Vincent Kompany.)
Indeed, as you can see – of the teams most damaged in the league by their cup games, the most damaged was Man City of 2015/16, when reaching the Champions League semifinals. (And a quick look shows that it was between games 24-30 where the damage took place: six games, with only one win, one draw and four defeats. Part of the reason seems to be a lot of Big Six head-to-heads seem to be scheduled for that period of the season, amongst the Champions League games.)
You have to go back to Rafa Benítez at Chelsea, in 2012/13, for the last manager to steer a club playing 20+ cup games to a better league situation than the average of the preceding and subsequent seasons. 
Indeed – and this is where it gets even more interesting:
Of the nine clubs to have played 20 or more cup games since 2009, Rafa's Chelsea side are the only ones to come out without any league damage; and the overall average for league damage in the past decade is significantly greater than the overall 1992-2018 averages. 
This suggests to me that fighting on all fronts has got significantly harder in the Premier League in the past decade. And even the Chelsea success of 2012/13, when Rafa steered them through the longest season to date (27 games), had the caveats of being a Europa League cup run undertaken with a Champions League squad (and manager); and it scores so positively because, a year later, Chelsea's aforementioned league form was massively hit by reaching the Champions League final. 
So while City appear a potentially era-defining side, they are aiming really high. Is this ambition or hubris? Time will tell.
But the evidence still suggests – to me, at least – that Liverpool will probably be better off going out of the Champions League to Bayern Munich. You can argue about momentum, and confidence damage, but can this squad win big league games after (and sandwiched between) big Champions League games? It's a massive ask, especially if not everyone is fit. (I'm not sure why but I wonder if Daniel Sturridge will start against Bayern at home, as he did against PSG?)
2007-08 – A Cautionary Tale
Liverpool currently rank 3rd for the best-ever starts to a Premier League season after 26 games, with 65 points. (Man City's tally after 26 games currently ranks 12th, with Spurs 17th, making this a record-breaking campaign for the top three.)
Aside from Liverpool and City this season – only because this season isn't over (although at least one will have to "fail") – only one side in the top 14 ranked teams at this stage of a season did not finish on top.
They are the cautionary tale. They are Arsenal from 2007/08.
They rank 11th in the best Premier League-era starts, with 63 points from 26 games – just two points less than Liverpool, and with a very similar record of only one defeat, 19 wins and six draws. (Liverpool currently have five draws and 20 wins.) Even the goal difference is very similar, although Liverpool have scored three more and conceded three fewer. (And should Liverpool lose at Old Trafford, Liverpool would fall to 11th or 12th, with City's 27th game already played; and after beating Chelsea 6-0 their 27-game rank takes them from 12th to 10th.)
To be honest, I don't remember too much about the Gunners that season, other than one of the key moments mentioned in the Wikipedia entry for Arsenal's campaign: "The club ended their Premier League campaign in third position, having led the table for two-thirds of the season. Arsenal made it into the quarter-finals of the UEFA Champions League, but were eliminated on aggregate score against Liverpool. The team exited the FA Cup in the fifth round to Manchester United and lost in the semi-finals of the League Cup to Tottenham Hotspur."
The Gunners played 20 cup games that season, one down on the season before and two down on the season that followed. Like Liverpool from 2006-2009, they were playing a ton of cup games – 20 or more each season – and falling just short in the league. Like Liverpool at the time they could not balance everything, with a squad that cost far less than the richer rivals (at the time, Chelsea and Man United); Liverpool never had the big money to start with – at least, not since the mid-'90s – and Arsenal had been selling off players to fund the new stadium.
Like Liverpool in their four best Champions League seasons, Arsenal's league results dipped after their cup games that season; indeed, absolutely identical to Liverpool last season, with a 17% decline.
But my hunch – ever since Arsenal's 'invincibles' were knocked out by Chelsea in 2004 and then Liverpool knocked out the apparently unbeatable Chelsea in 2005 – is that things collide around the quarter-finals and semi-final stages of the Champions League. Mid-March always seems a dangerous time.
Go back 11 years and, after game 26, Arsenal were five points clear of Man United, who were 2nd.
But then came an FA Cup match at Old Trafford (Arsenal lost 4-0), and four Champions League games: two against AC Milan, and two against Liverpool. After a 1-1 draw in the first leg, the second leg ended in a 4-2 defeat for Arsene Wenger's men, having been leading 1-0, and then, having drawn level at 2-2 with just five minutes to go, were going through on goal difference. But then Ryan Babel won a penalty, which Steven Gerrard scored, and Babel himself added a fine solo goal.
In between that FA Cup match on February 19th, which was just before the Champions League resumed, and the devastating defeat in that competition to Liverpool at Anfield on April 8th, Arsenal played eight league matches – and their season imploded. They drew the first four, all against unfancied opposition, and in that run of eight games, also drew at home to a weakened Liverpool team; only managing one win – against Bolton. By game 34 they were a staggering nine points behind Man United.
Of course, Man United won the Champions League that season; and they stormed past Arsenal whilst also facing those extra games. But even then, Ferguson's men still played only 18 cup matches in 2007/08, having gone out of the FA Cup immediately after knocking out Arsenal, and playing just one League Cup game. Arsenal played two League Cup semi-final games, against Spurs; and again, you have to wonder about the cumulative toll, come the spring.
Even then, Man United – with their bigger squad – lost their league game in between two Champions League semi-finals against Barcelona, and dropped points to Boro and Blackburn after the quarter-finals. But when Arsenal had that nightmare run, United were too far ahead; and Chelsea crept up into 2nd.
Incidentally, Man United, 15th on the list, did not win the league in 2011/12; as previously discussed. Newcastle in 1995/96, rank 18th. So that means, aside from the three current clubs in the top 20 (Liverpool, City and Spurs), only three other clubs in the top 20 best starters after 26 games failed to win the league. But it also shows that it can happen.
Liverpool and Post-Cup League Damage
It's fair to say that Liverpool tend to fare really badly in terms of league damage in seasons where they play a lot of cup games. They are the only Big Six club who (post-1992) regularly loses more league games after cup matches than they lose league games after league matches. (That said, I think the Reds are also the English club to reach five European finals in that time?)
However, to go back to silent damage, even in seasons where those rival clubs actually appear to get momentum from winning cup games – for all of them their next league game is, on average, a better result than after playing another league game – the overall result is still, more often than not, one of league underperformance; particularly if a lot of cup games were played that season.
Which would suggest – even if I cannot prove it – that short-term "momentum" (post-cup-win euphoria) can still lead to longer-team flatlining. That's the paradox. 
Perhaps it's because those teams then collapse in the final months of the season, having had great post-cup momentum that, as well as improving some league results, took them into all those extra cup games. So perhaps you feel in better mental shape for a league game having just won a cup game, but those bursts of wins are only storing up potential danger for later in the campaign. Perhaps it's like the joy of being paid six months in advance for three or four freelancing jobs, only to realise in six months' time that you now have too much work to do and you just can't cope.
As I detail in the upcoming book, 39 Premier League teams have played 20 or more cup games in single season, and only 13 of them (33%) actually had an improved league performance that campaign; the other two-thirds suffered league damage.
Perhaps the killer stat, from Liverpool's perspective, is that in the four seasons to date when the club has reached at least the Champions League semi-final (three finals, one semi-final), the Reds – incredibly – had title-winning (or at least "top two") form in the league after other league games. But in each of those four seasons, their league results after cup games were either mid-table or relegation form. The contrast is staggering.
Indeed, according the Graeme's stats, in 2004/05, which is the most extreme example, Liverpool won 72% of their league matches that followed other league games – and 72% of wins virtually gets you the league title. But the Reds won only 20% of their league games that followed a cup fixture, which equates to what Swansea achieved last season (eight wins) when being relegated. In the other three seasons the contrast isn't quite as marked, but Reds never once managed a 50% league win percentage after cup games.
This season – going into the Bournemouth game – it was 75% wins in the league after league games and … 75% wins in the league after cup games. (Now the post-league game league form is a fraction better, after the 3-0 win.) 
But this is after just eight cup matches so far this season. Eight!
The most cup matches the Reds can rack up now is 15. Which could still be costly to the league health, but maybe not catastrophic. That said, in addition to the cumulative effect, it's often the league game that's between two Champions League knockout games that are either six or eight days apart, where the greatest danger can lurk, and Liverpool could have a couple more of those if they get past Bayern. 
But if City do indeed go on to play 28 cup games – or get close – especially following the World Cup and given the age of some of their key players (and their proneness to injury) – they may well collapse later on; or at the least, drop enough points to leave it open for Liverpool to take advantage.
Here's hoping…
[/wcm_restrict]