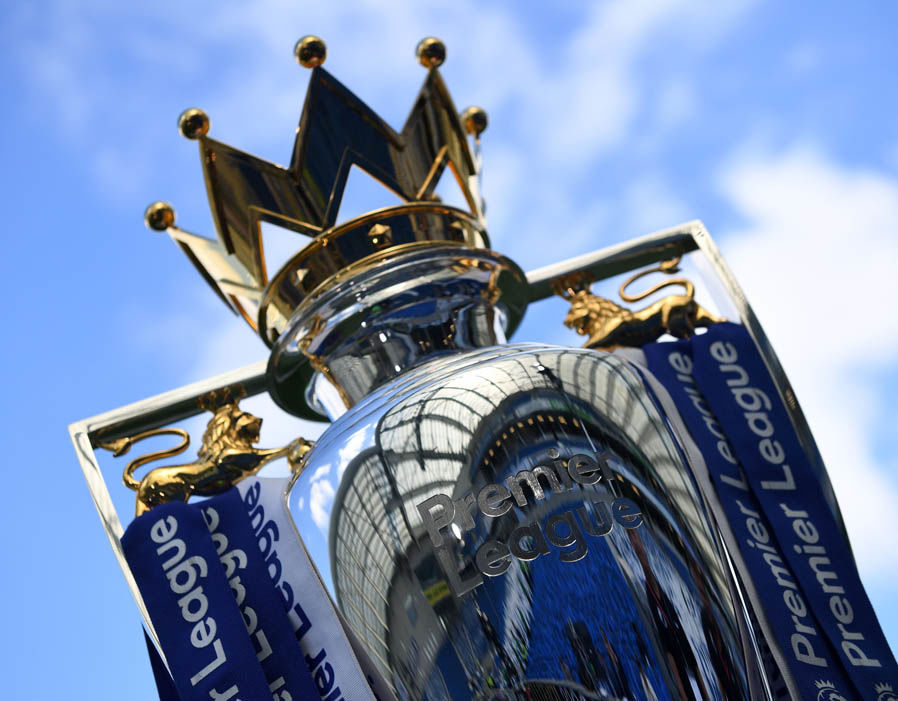 Title Races Ebb & Flow. Here's the Very Graphic Proof of How It's Far From Over
Most mainstream football debate – in terms of the over-analysis of the latest action – has descended into merely a few hundred or thousand words of recency bias. If you won your last game you're great; if you didn't, you're terrible. 
Also, it's shown to be a natural human tendency to underplay the level of potential change that lies ahead: whatever the current status quo, it feels like it will remain the case. We are not good at seeing change coming towards us. Three months ago Bayern Munich were rubbish, ergo Liverpool got a lucky draw; now Bayern are in better form, and closing the gap on Borussia Dortmund, who had looked unstoppable. Man United are in a totally different shape to how they were when their draw against PSG was made; since when, two of PSG's three famous attackers have got injured. 
As brilliant – and record-breaking – as City have been in the past 13 months, there have been no fewer than seventeen games in all competitions that they've failed to win; so to suggest, almost as a fait accompli, that they will win their final 11 league games – as some pundits are – is ignoring all the glitches that can get into any football team. To fail to win 17 games in 13 months is still damned good, but it's not perfect. Maybe they will win their remaining 11. But it's far from guaranteed – especially when an excess of cup competitions get thrown into the mix, as I will show in the second half of this article. That's when weird shit happens.
In the autumn, City won seven league games on the spin, scoring an incredible 24 goals and barely conceding; then they lost three of the next four league games. Then this January they scored 28 goals without reply in a succession of wins … before they went to Newcastle, and duly lost. If City are thrashing teams then people assume that they will always thrash teams. History shows otherwise.
Whoever winning right now has "momentum", and momentum obviously means you never stop winning, right? If you are top of the table and you don't win then you are bottling it, even if, statistically speaking, every team will drop points here and there. (And against Leicester and West Ham, Liverpool had six players out injured and at least half a dozen more playing through flu and gastric illness.) 
Maybe part of this phenomenon can be traced back to some dumb bookmakers paying out on title wins halfway through a season; although the 24-hour rolling news hysteria and social media explosion stokes it too.  
Anyway, before I look into the current title race in some detail, and the disadvantages City might have (and after all, we keep hearing about how much better they are than Liverpool), I want to make the first part of this article free, as it's an example worth sharing.
What follows is a fairly recent Premier League season – and is just one of many examples I could have chosen, where a similar theme occurs. 
It is the visual unveiling of a season, in stages, with the green in the graphics representing a win and red representing dropped points. (Seeing as Liverpool were recently labelled bottlers for merely drawing games, I thought I'd dispense with differentiating draws and just have a vivid red for any dropped points.)
This particular example is also from a high-points-scoring season for a title race; indeed, in a six-year spell, no other champion topped this points tally, and five of those champions amassed 1-9 fewer points. It wasn't a record points-setting season, but it was significantly above average for the Premier League era (which is 86 points).
The challenger had gone years without a league title; the other team had recently won a fair few league titles. Which which one is Team A and which one is Team B?
Okay, so let's see the title race in question unfold, in a series of 6 graphics…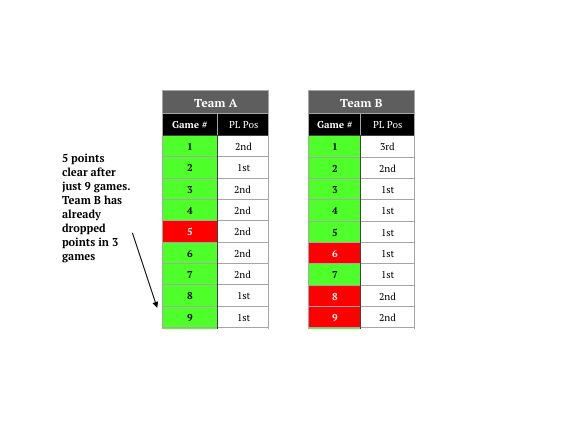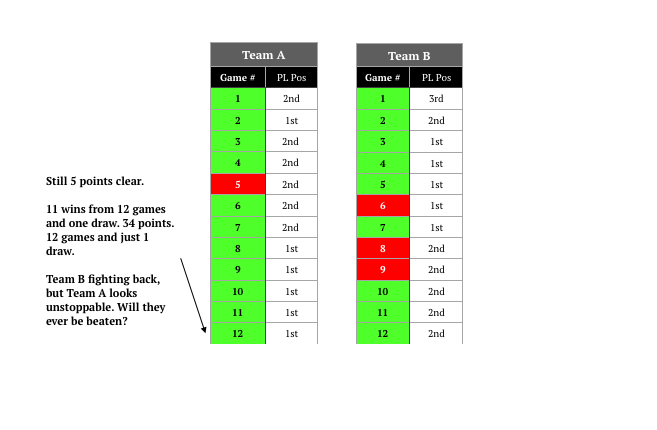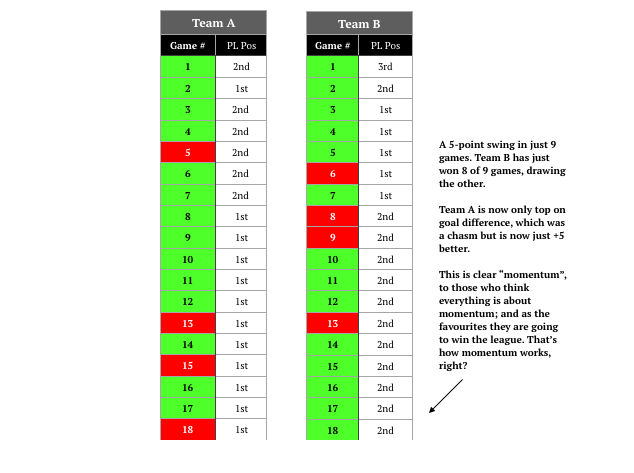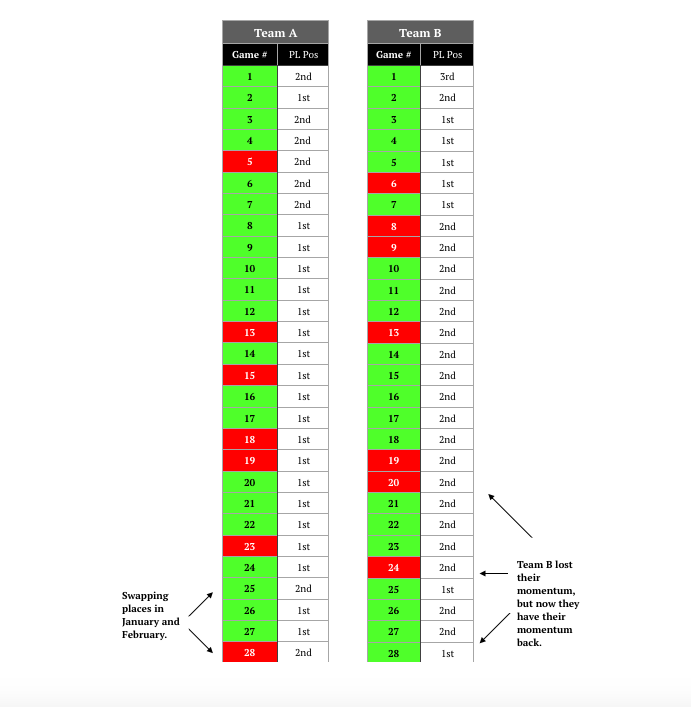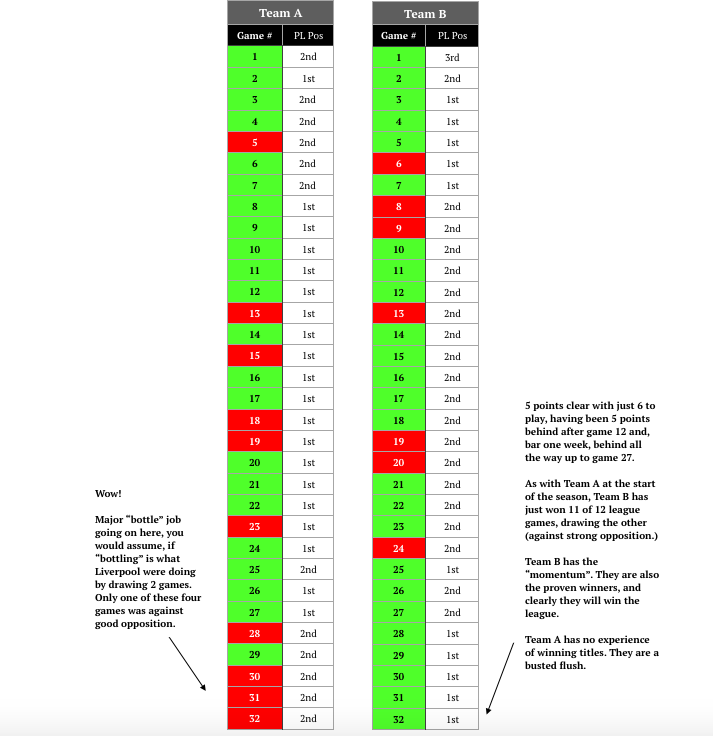 And finally, from game 21 onwards…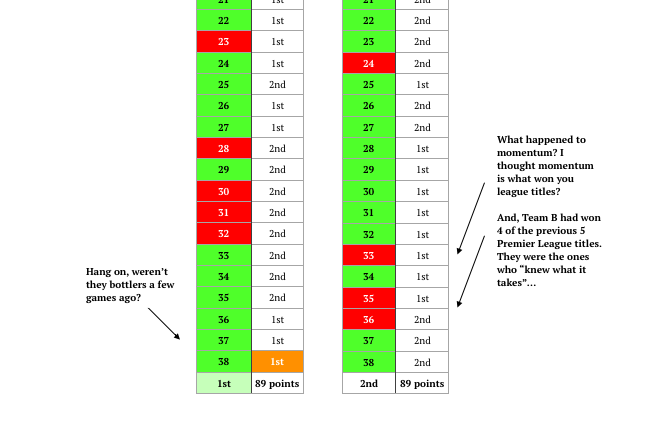 "And, Team B had won four of the previous five Premier League titles. They were the ones who knew what it takes! Team A had never won the title."
Of course, this is 2011/12, and Manchester City trying to overcome Manchester United. At the time, City were probably seen as bottlers, especially when they dropped points in four of seven league games up to the halfway point, and, at this very stage of the season now, won only one of five matches, which saw them drop to 2nd and, at match-week 33, found themselves five points behind an all-conquering Man United.
And of course, the narrative was set to be that they also bottled the final game of the season, until two injury-time goals won them the title. It's fair to say that this Man City side is technically superior to that 2012 United side, but that United side had won the title in 2007, 2008, 2009 and 2011. Alex Ferguson was seen as the best manager around, and Roberto Mancini – who'd never won a league title in England – was hardly believed to be in his class.
I could also have chosen 1994/95, when, like City in 2012, Blackburn were also trying to win their first title in decades. Blackburn failed to win four of their final six matches, while Man United – with back-to-back titles – won four out of five, to close the gap from being eight points adrift of Rovers (but with Rovers having a game in hand) to be just two points behind on the final game of the season; and where, if United won and Kenny Dalglish's Blackburn drew or lost at Anfield, Ferguson would win his third league title in a row. Blackburn lost at Anfield to a stunning last-minute winner, but United, with all that "momentum" – which included a 9-0 league win only two months earlier (and with their superior goal difference) – could only draw with West Ham. There are other seasons like this, too.
Man City had wealth to rival United back in 2012, whereas Liverpool do not have the wealth to rival City right now; the financial disparity is a chasm. But Liverpool have posted title-winning metrics this season in just about every possible area; with the only issue being that, unlike some recent champions, City are still doing the same 12 months later. For all City's big wins, they still have a worse points-per-game than Liverpool this season, although it appears that City have been crowned champions anyway.
And just because title races have ebbed and flowed in the past doesn't mean the same has to automatically follow. The point I am making is about the clear moments in those two seasons when one team looked invincible, and had that damned momentum, and yet still the unproven winner landed their first crown after a wait that was, on average, 60 years. 
You can see several examples of clear "momentum" with each team in those graphics, but even with that hallowed momentum they somehow managed to slump. When in a slump they looked like they were tanking, and could be slumping for some while, until they de-slumped, and humped back up to the top. City may indeed win the title this season – who knows? – but there's no reason to think that the way they ran away with it last season will obviously be repeated, as this time they don't have a double-digits lead, are up against stronger rivals, and, in seems, are trying to win all four trophies, according to some from their camp.
Ways Man City Could Still Slip Up
Anyway, now onto how City – on fire in the last two league home games – may find it hard to reproduce their best form for the rest of the season – with some strong historical evidence of what might get in their way – and where Liverpool – joint-top with a game in hand – may find advantages as the winter turns to spring. 
And there's a cautionary tale, too.
The second half of this article is for subscribers only. See details below for how to sign up.
[ttt-subscribe-article]