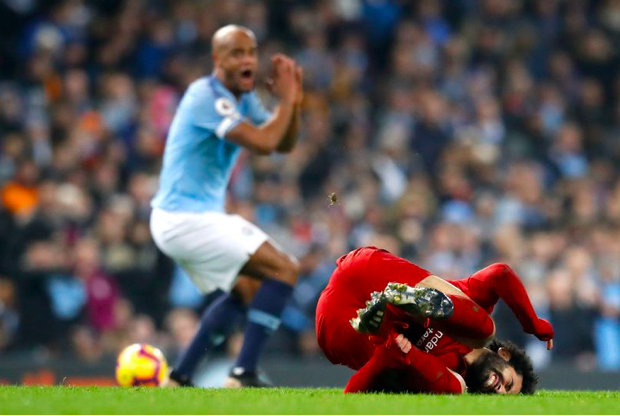 Well, Man City win, but their best player (Fernandinho aside) was their only one from Manchester – Anthony Taylor bottling the clear red card for the two-footed off-the-ground lunge by Vincent Kompany at 0-0. But hey, no league worth its salt would select a Mancunian to officiate a Manchester team in one of the most important games in years, right? (Does that mean Scousers can now referee Liverpool games?)  
City were obviously very good at home, and crazily fired up for this, but Liverpool lost by fine margins, not least the 11mm the ball failed to cross the line, and three other goal-line clearances City made, and all manner of other tiny differences. Liverpool matched City stride for stride, and in these games the odds have to favour the home team.
Winning at the Etihad was never going to be easy. A wounded Man City could beat any team, and being almost underdogs can only help them. Last year Liverpool beat an 'unbeatable' City at home in January, but it didn't derail City. Liverpool then beat them twice in the Champions League, but it didn't derail City's league form. This is the same as last season, in reverse: Liverpool are the team in control. If anything, Liverpool played better against City at their place this season than City did at Anfield last season.
This season the Reds have narrowly lost a few games like this – think PSG and Napoli away in the Champions League – but it hasn't dented morale. Liverpool failed to beat Chelsea away, too, but these kinds of tough away games are thinning out. Liverpool have now gone to City, Chelsea, Spurs and Arsenal.
The fourth game of the festive period is usually when fatigue sets in, and while Spurs had the least time between games, Liverpool had by far the toughest fixtures: away against teams in 7th (at the start of play) and 2nd (and at the end of play), and at home to the team in 5th. (Plus Newcastle, who are rarely easy to play against.) To play City straight after Arsenal is asking a lot, even if Liverpool made Arsenal look poor.
Despite a much tougher festive fixture list, Liverpool are through it with a four-point advantage. 
Liverpool now need to get back to what they were doing, and try to maintain a 100% win rate against everyone below 5th in the table (only the teams in 2nd, 4th and 5th have taken anything from the Reds).
I believe Duncan Alexander of Opta said that no team with over 50 points on New Year's Day (when converted to three-points for a win) has ever failed to secure the title. Liverpool had 54. 
Newcastle remain the poster-boys for throwing it away; well ahead at Christmas and the New Year in 1995/96, and having a 12-point lead at one point in January. Equally, after 21 games in '95/96, Newcastle had already drawn three and lost three; conceding far more goals than this Liverpool side (obviously) but also, surprisingly, scoring quite a few less too. Liverpool cannot be exempted from "doing a Newcastle", as nothing is guaranteed, but the Reds are better balanced than that team ever was.
A season after Newcastle famously did a Newcastle, Liverpool led the table by five points after 21 games, but Man United had a game in hand. Similar to Newcastle, the Reds had already failed to win quite a lot of games, drawing six and losing three (scoring far fewer than this Liverpool side and conceding 19), so the form for a potential wobble, rather than just losing a game, was already in the fine details. 
Man United were ahead by game 26, and were still narrowly ahead after they'd played 33, but Liverpool had played 34. But then United won at Anfield in April and it was all over bar the shouting; Liverpool rallied again in a later game, but ran out of leeway with another defeat. By contrast, City won't have another chance in a "six-pointer" against Liverpool this season. That's a vital distinction.
Liverpool were also top of the table after 21 games in 2008/09, but only two points above Man United, who had a game in hand.
Indeed, going back through the seasons, it's not since 2002/03 – with Man United – that I could find an eventual champion who was off the pace after 21 games. They were five points behind leaders Arsenal (sitting third, behind Chelsea on goal difference), in a season where all the top teams were dropping a ton of points. 
Every champion since then has either had a lead (from one point to well into the teens), or been, at worst, two points off the leaders. City are four points off the pace. 
Excluding games in hand, only three times in the past 16 seasons has the eventual champion had a deficit at this stage; one point off the then-leaders on two occasions, and in one instance, two points adrift. 
Man City are not just any normal team, of course; they got 100 points last season. So maybe they can bend the precedents. But it's not easy clawing back even four points at this stage. Liverpool could lose another game and still have a little wiggle room. 
When United did it in 2002/03, the top three were only winning roughly half their games, and United had lost five (Arsenal, on top at the time, had lost four). By contrast, Liverpool have won 81% of their league games this season, and now lost just once.  
As such, the seven points from my article "Seven Areas Where Liverpool Are Stronger Than Manchester City" written before the game still stand; as do the preexisting advantages that City had, which presumably includes more money to spend this month if they are so inclined. 
While my list was never meant to be exhaustive, I've also taken on board some further suggestions from TTT subscribers in the comments, regarding Liverpool's advantages. My previous piece is far more analytical, whereas this is a quick précis of what can keep our hopes alive.
And so, with some brief additional context, and to paraphrase a couple of points from that extended list in this shorter, free-to-read article, Liverpool have plenty to suggest that, while no longer clear favourites, they can still get the job done. 
– Liverpool have now played seven of their ten Big Six clashes. This is more than anyone else, with City having played six and Spurs just five.
– Of the three Big Six clashes that remain for Liverpool, two are at home.
– Anfield is a fortress again. In 2018, only Arsenal took the lead against the Reds in a league game. Liverpool are now 30 unbeaten at home, and only three teams have even scored at Anfield this season, one apiece. Maybe Liverpool's defence will start to tire but, aside from a further injury crisis in the position where four players were out over Christmas, it shouldn't fall off a cliff. (Obviously with far less resources than City, Liverpool have less scope to replace key players.)
– Liverpool fans are highly engaged and making Anfield almost as imposing as on European nights. This is, on balance, a very good thing, although it remains to be seen how the crowd reacts to adversity; so far it's been promising, with a great reaction to going a goal behind against Arsenal. But it needs to be as good from the start against lesser teams, just to make sure. When Anfield gets edgy it gets really edgy. But when it's bouncing, it bounces big.
– Liverpool have been avoiding muscle injuries; is this by design (i.e. world-class conditioning) or luck? Or a bit of both? (As I'm not sure you can fully mitigate against muscle injuries, but you can generally work to prevent them.) Either way, it feels like the fitness has been better managed in each subsequent season under Jürgen Klopp. Maybe it's all just random, but maybe the conditioning at Liverpool is now world-class. Indeed, it just happens to be under the ex-Bayern Munich guru Andreas Kornmayer, who worked with Guardiola (but whom Klopp had been particularly impressed with when the German giants won the treble under Jupp Heynckes in 2013).
– Klopp won two league titles, back-to-back, at Borussia Dortmund on a shoestring budget. Not only that, they set a German points record in 2011/12. (Admittedly Guardiola later beat this, with his mega-squad at Bayern.) So it wasn't a case of Klopp just scraping titles, as Jose Mourinho snarkily suggested last summer, but a case of blitzing the Bundesliga. While Man City have even more title-winning experience in their ranks, the fact that Klopp (unlike some of his predecessors) knows how to see out a title race cannot be a bad thing. 
– Equally, reaching the Champions League final last season gives the Reds some experience of what it takes to grind out results in high-pressure games. Prior to Leicester's triumph, I'd noted that all new Premier League-era champions had either finished as runners-up the year before, or joint-2nd on points (but 3rd on goal difference); as a kind of basecamp for the summit attempt the next year. It happened to Man United, Blackburn, Arsenal, Chelsea and Man City. Leicester blew that out of the water, along with every other precedent; but while Liverpool didn't gain experience of a title run-in last season, they did go all the way to the final in the Champions League, losing in galling circumstances that, actually, could help propel them on. (Losing sucks; use that feeling to power yourselves on. And hope Mo Salah isn't subjected to mixed martial arts again.)
– Liverpool have no players burdened by the heaviness of history and the momentousness of such a potential achievement; in 2013/14, Steven Gerrard led a title charge, and while his slip is seen as costing the title, his eight second-half shots from distance to atone for the slip was more of a problem. I don't think anyone in this current team is as encumbered by such unbearable pressure. Gerrard's desire was further confused by his age – it was all or nothing, aged 34. This team has time on its side. Indeed, it's far younger than City's. This isn't Liverpool's last hurrah. 
– City have most of their players back from injury already, but Liverpool are still expecting the return in January, after broken bones, of Joe Gomez and Joel Matip, with Gomez's pace and height not just vital for centre-back, but perhaps more usefully, full-back cover too. (Although Lovren had a reversion to his shaky mean this evening – frequently dropping two yards behind the others in the back line to play City players onside.)
If Andy Robertson is tiring and a lead is there to be defended, Gomez at left-back wouldn't be a bad thing, having started his Liverpool career in the position; and also, handy for aerial bombardments, providing a 6'2" full-back when the rest are 5'10" or under. And of course, while he's out injured Gomez can hopefully still work on his insane long throw. (Anything from Nathaniel Clyne remains a bonus, just as Adam Lallana can provide hard-pressing and Cruyff turns, for those rare games that require both simultaneously.)
– Alex Oxlade-Chamberlain is due back around March/April; maybe sooner if all goes well. He's hugely popular, and his return would further boost the mood of the camp, at just the right time. He also adds searing pace from midfield, presuming he can get up to speed quickly enough. (The proverbial "new signing".)
– Naby Keita has shown flashes of his brilliance, but he, along with Daniel Sturridge, could play a vital role in the second half of the season, where their fresher legs could make all the difference. Keita is a shy lad, and seems a bit inhibited, but if he breaks free and starts attacking in the way we know he can, then opposition defences need to beware. (Right now, think of all that potential stored energy, waiting to be unleashed.) Then again, even Xherdan Shaqiri hasn't played a lot of football and should be in nice shape for the run-in. (Obviously Kevin de Bruyne should be, too, although he has had three injuries already this season, which may be symptomatic of some deeper problems.)  
– Liverpool tend to bounce back from defeats under Klopp; and the better the Reds get, the quicker they bounce back. "Momentum" is largely a myth; being a top team that is very good in all areas is more important. Defeats happen; setbacks come along now and then. But you have to bounce back quickly. 
– Man City look far more prone to post-World Cup fatigue. I covered this in depth in my previous piece, but to recap, City had well over twice as many players (into double figures!) at the latter stages of the World Cup, after their all-effort 2017/18; and vitally, several of these are well into their 30s. Indeed, the spine of their team, if Vincent Kompany plays to lead them (and his leadership could be useful in its way), is very old indeed. 
– Defending a title is harder than winning it the first time, it seems; although winning it the first time is hardly easy, and lots of teams don't even get to win it the first time. With Guardiola's Barcelona sides – arguably the best of all time – there was a drop off of a few points, season after season. And his Bayern team dropped off quite dramatically after their first title win under him, but still retained their crown – with eleven fewer points. It's hard to be as intense season after season.
– City look likely to go further in the Champions League. That could be their priority, too. They certainly have the far easier draw, and they are likely to face three additional League Cup games, too (with the final to be against someone good, and costing them a postponed league game). In addition to all those players at the latter stages of the World Cup, it remains to be seen how energetic they will be in March and April.
And so, four points is not enough to feel comfortable, but it's still a position we'd all have taken at virtually any point of this season, especially when City started the season to calls of being even better than last season. And four points has been too much of a gap for the chasing team to bridge 80% of the time.
Liverpool rode their luck in the Champions League at the Etihad last season, having been down on their luck in the league game. (Funny how easy it was to send Sadio Mané off at a similar juncture in that match, but a 15-stone man can launch himself with both feet off the ground and stay on the pitch.)
And so, this time the luck was out again – from the ball 99% over the line, to off-the-post-and-in versus off-the-post-and-out, to "outscoring" City on xG but losing due to randomness; although Taylor's bottling of the Kompany decision cannot be put down to luck.
Liverpool need to get angry about that, and bounce back.