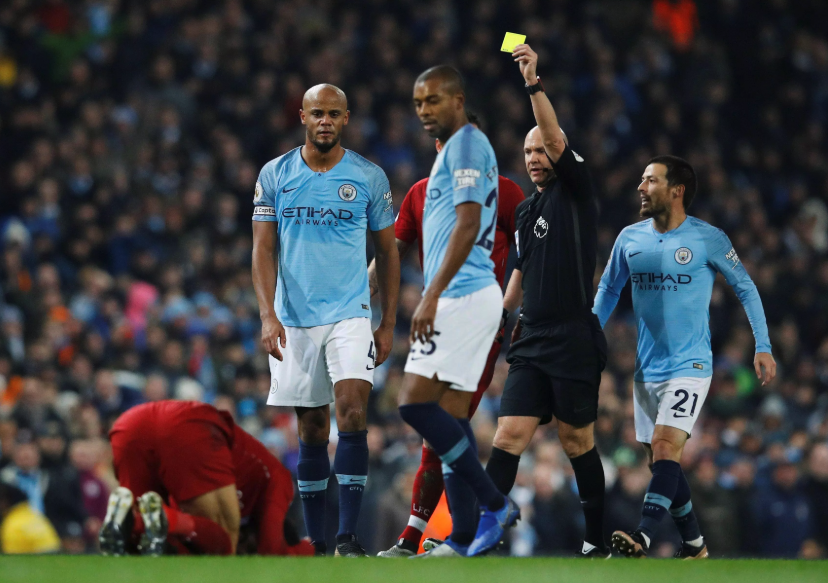 Posts selected by Chris Rowland and Daniel Rhodes.
The idea of this weekly round-up is to give you all some idea of the range of debate on the site and the articles we publish. If you'd like to be part of our troll-free community, there's a 'Subscribe' tab at the very bottom of the page.
1 – Tony Mckenna (macattack) after Man Utd's win at Spurs:
As it transpires, United have done us a great favour.  I'll take that. But if that had been Liverpool winning one nil, I would be worried. 39% possession does not signify a great change in style, even if there is an improvement since Mourinho. Was that so hard to do, anyway? And 11 saves by their goalkeeper? An unprecedented stat? I hope to god that Alisson is never called upon to make that many saves.
I must recall the statistics from the Reading game too, which United also won:
United   v  Reading
40% Possession 60%
4       Shots on Target  5
7       Total Attempts  13
This was at Old Trafford?  That is fucking terrible.
The thing about Solskjaer is really the notion of some people, pundits, fans and club alike, becoming irrationally carried away. Such a small sample size of wins is no basis for a comprehensive assessment.  Not when the stats are indicating how much luck has been in play. And, not a little point: neither did Ferguson, or the United Board, place Solskjaer high up on their wish list. In fact, he is 4th choice, at best; only in emergency circumstances, and on a temporary basis at that.
Personally, I don't really know what to give him credit for. Steadying the ship? But what does that actually mean? Or maybe, I could go as far as saying he has rightly put Rashford as the frontal focus, and utilised other players more appropriately. But, even that, I could say that any other Manager could have done. Mourinho's shortcomings were blatant enough for anyone to address. I must also give credit to LVG for introducing Rashford on the stage in the first place.
In any case, I still think that the main problem holds. Several ex-United legends can not really be too wrong. United just do not have players who are good enough. By that, I mean winning the title, and progressing to the late stages of the CL. They are a way off that mark. And this underlines the real problem for United: their transfer policy and strategy has gone abjectly wrong.
Here, Ferguson must shoulder a huge part of the blame. Nor is it a point too often made by Pundits. I repeat: no way did he bequeath Moyes a team/squad that was good enough. He won that last title with a great season from RVP, but who was now ageing. Moyes only got to buy Fellaini and Mata. No marquee striker purchase at all. The PL has changed in those years since, too. We now talk about a 'top 6' not a 'top 4'.
I am honestly not being facetious or biased. There are just too many in the football community, (not on TTT), over eulogising and becoming 'convinced' by Solskjaer already. Some have said that he should get the job on a permanent basis.
On the other hand, we are top of the league, beaten only once, and still 'unconvincing'.
2 – Dawershonu not caring about media preoccupation with overpraising Utd or criticising Liverpool:
Though, on the other other hand, mainly or predominantly Liverpool items = 0
Exactly the amount of fucks I give about Liverpool articles on the BBC site – or any other mainstream site.
As far as I am concerned, if we are underestimated all the way to May, while everyone talks about OGS and his amazing restoration job, or why Tottenham are still in (or  were never out of) the title race, or how City have got their 'momentum' back, and all the while we pick up 'undeserved' points, while being 'lucky', not demonstrating the 'Liverpool style we have become used to',  and with 'Salah goes down easily again', 1-0 every game for the next 14 games, it's all good with me.
The mainstream media, other team's fans and all those banal pundits can say or write what they like.
The only thing I care about from now until the 12th May is this outstanding team continuing to pick up wins.
3 – El Indio on that Kompany tackle on Salah and the rivalry with City:
Blimey, if Kompany did mouth 'pussy' to Salah for his overzealous tackle – that is shameful.
A while ago, Pep launched a tirade for Premier League players trying to take down opposition players. The Manchester and national media lapped it up as gospel. Where's the outrage for trying to scythe an attacking player, and then cussing him because you almost tackled him apart?
All attacking players do look for marginal advantage to win penalties or fouls – unless you're Dominic Calvert-Lewin or Érik Lamela.
I've seen Salah being very gracious in every match even if he has scored past 3 or 4 against an opposition defence.
Yes, he has gone down easily and was rightly booked. Yes, he has been manhandled so many times in the Premier League, last season and this season.
But the lack of respect for a fellow human being is another level of fuckery. This title race will be one of the nastiest ones if we win it. But to beat all the shit we have taken down the years, from the media, the opposition, oil funded teams, or even the officials – it would be a liberating moment.
I don't want to do a Keegan, but fucking hell – I would love it if we beat these assholes. Absolutely love it.
4 – David on comparisons between Wilson and Coutinho:
The Coutinho comparisons are apt imo- both good and bad. I think of him as more of a forward than PC, but actually the latter did often play on the left of a front 3 and this kind of role, (albeit probably on the right), is where I could see Wilson fitting in for LFC. Of course, free kicks and long shots aside, my best memories of PC are his fantastic passing and assists to the SAS from the middle of the park which is not something I associate with Wilson although his vision and passing ability is right up there and probably underrated.
There are also problems though which mirror those Klopp found with PC. So just to add to your fabulous article Daniel, I'm going to add the pros and cons in terms of similarities with PC are:
Pace. As with PC, if it came to a straight race, Wilson will not take it on. Only if he can get a few yard head start. He's by no means slow and will use his speed opportunistically if he sees a space, but he's not remotely in the league of a Mané, Salah or Origi.
Physicality. He's not only small, but quite slight too like PC. This has some advantages in that he can win free kicks and he's probably going to improve at this. I think he's probably a tiny bit braver than PC but this comes with the drawback that he's also more likely to get injured. I've seen him take some really beatings to the point of having to be withdrawn. He's willing to get stuck in, but he's not as much use as a Mané for instance. I suppose that's not a big difference from Shaq and Salah though.
Engine. This is the area that I think JK and his medical team have doubts about Hazza in the same way as they did about PC. He will track back and run himself ragged, but he is also likely to tire over 90 minutes. You'll notice he was withdrawn in extra time which is partly because he'd only just returned from injury, but my suspicion is, that in the same way we often saw PC subbed on the hour mark, as he started to fade a bit, the people at LFC know stuff about HW's cardio vascular profile or whatever it's called! that make him a little bit less attractive as a longterm prospect.
Goals and shots. He really is amazing isn't he? You can see he's got it in him, just like PC, to take wasteful long range efforts, but the stats show that with a return rate of nearly one in five it's worth the risk. I also think he's got even more of an eye for goal than PC and a hunger that people seem to have weirdly dismissed over the last 5 years or so, probably because of his weedy physique and appearance.
Assists. Last nights game, if you watched it, was a really good illustration of many of HW's qualities but the cross for the second goal was an absolute peach of an example of an HW assist. He picks people out and he sees the opportunity. In short, he's got fantastic vision, which is what makes him so special. Also, similar to Mr Coutinho.
In conclusion, I've always thought he could play a kind of PC, Fekir type role and could be a great replacement for one of the front 3, but looking at the current team you can also see how his profile has a few minuses against what is already very stiff competition. There's a temptation to consider him as a super sub, but he's also the type who seems to demand to start. But, when you consider his talent, there must surely be a way to get him into the squad? To be honest, I think Klopp et al, just haven't been able to get their heads round how to do this. He doesn't quite fit the Micheal Edwards profile and they like to do thinks by that book. I still feel it would only take a slight flex of the braincells to do it though. Harry Wilson's most unique quality in my book is his incredible determination to succeed and if you give him an opportunity to get his foot in the door I think he's likely to take it. Just leave it up to him!
5 – Paul also with a brief summary on Wilson's career trajectory and development:
I was sceptical about Wilson a couple of years ago after the early hype (from when he was 16 and played for Wales) died down, but then really started to notice him in the U23s – mainly his finishing. He reminds me of Robbie Fowler in how he strikes the ball into the corners, sometimes cutting across it. He's nothing like Fowler as a player, but the finishing is similar. It got to the point where he was getting almost 30 goals for our U23s, and looked far too good to be at that level, but not ready for the 1st team.
I've worried that he's not quite quick enough, but he's no slower than Adam Lallana and probably a fair bit faster, and more direct. And if you can beat a man with the delivery into the box you don't need to do so with pace. He's no Mané or Salah, and that's part of his issue at Liverpool – they have searing pace and can score goals at an even more prolific rate than Wilson. But in this form Wilson would be a handy option on our bench – especially as he'll be 22 by next season and that's usually the age where most prodigies really start to "get it".
I think if Wilson was at this level when Klopp arrived then he'd be part of the team, but Klopp has far less leeway now in terms of blooding those on the cusp of the team, as everyone is demanding success, whereas in his first season he threw a few more kids in, as most managers do. And because he wasn't ready in 2015 he's had to bide his time, but then Salah and Mané and Shaqiri have arrived. Still, the loan can only do him good, and he has to be in contention for next season.
His crossing and free-kicks remind me of David Beckham, but now he's added that Cristiano Ronaldo technique of kicking the ball into the ground to make it swerve. Even one of his open-play goals for Hull last season seemed to have an insane swerve.
The only caveats will be that it's all 2nd-tier football, and that even his goals against PL teams in the cups won't have been in games anything like PL games – although United did field a pretty strong team, bar the keeper. That said, even De Gea wasn't gonna get near that free-kick!
Wilson is improving massively, from a slow start at Derby. Lampard said he's getting better all the time. His all-round game looks good to me, but he's still a bit lightweight and easily knocked off the ball – but then David Silva is super-lightweight! It's just about learning to use his body to protect the ball and being ever-sharper in his control to keep the ball safe. Then there's the question of whether Wilson is a winger, a wide-midfielder or just a midfielder, but I think he has the skillset to do most of those jobs. Obviously the clips don't really capture his stamina or pressing intensity, and that's important for LFC.
Derby are in the final playoff place, 7 points off the automatic positions, but more tellingly, only 4 points above mid-table. If their league form falls away dramatically and they're out of the cups by mid-March, would be take Wilson back to use him, even if we don't have an injury crisis? Or would he still not make the 18? Otherwise, unless we have injuries, we'll obviously let him stay the season if Derby are in contention for things. (And a whole season wouldn't do him any harm, having only had half a season on loan at Hull.)
Articles published on the site this week, with samples:
Saturday January 12th:
There Goes The Fear (Again) – Liverpool Show Title-Winning Qualities, by Paul Tomkins.
My theme last season was that if Liverpool, and in particular Mo Salah, were given penalties for even half the fouls committed on them in the box the Reds would have been up to a dozen points better off. This was backed up by a Bath University study that showed Liverpool were the unluckiest team in the Premier League last season with regard to the cost of bad refereeing decisions.
So, at the start of this season, I noted that if the Reds were to get the calls they deserve the gap to City could already be significantly narrowed; although that it isn't a larger gap right now is itself an injustice, after a Mancunian referee refused to send of a Mancunian captain in the heart of Manchester. (Which, even as a biased Liverpool fan, just doesn't seem right.)
Now that Liverpool are top of the league they are finally being given the obvious penalties – and pretty much all for fouls on Salah (who to my eyes has only dived once in his time at Liverpool, away at Chelsea last season, just outside the box, for which he was rightly booked).
Post-Match Analysis: Brighton & Hove Albion 0 – 1 Liverpool, by Daniel Rhodes.
Wijnaldum and Robertson topped the tackle count with four each followed by Henderson (3) and Fabinho (2). As ever, Virgil didn't lower himself to this tackle nonsense, again registering zero on tackles attempted.
And yet, when it came to possession, Van Dijk attempted an incredible 131 passes with 118 of them finding a teammate. Henderson made 121 passes and Fabinho 110. For me, this is too much recycling at the back, but on the flipside it is difficult when the opposition only really engaged to press when the ball was closer towards their goal.
Monday January 14th:
Every Pitch is a Stage, Every Match a Performance, by Dave Fitzgerald.
Of course we all know what we're talking about in terms of individual footballers making mistakes – but what people may understand less is that extremely talented players may not be given enough time or focus by the rest of the group to find how their signature tune fits into the collective rhythm. It's a horrible feeling when you feel like you're not performing to your ability and the rest of the band just steamrollers on without you. Of course you are still playing your part, but you might as well be anyone. That might be ok for some players, but for others, it's not what they are in it for. To express yourself is the ultimate goal and as spectators, this is what we want them to do also.
Tuesday January 15th:
James Milner and the Art of No-Ego Leadership, by John Cheung.
Moving to last year, he gave the metaphorical middle finger to his critics by setting a new Champions League record of nine assists. This is frankly ridiculous considering both the fact that he was a 31/32 year old – who started his Premier League career at 16 and so has more miles on the clock than many 35 years old – and that his tally was more than double the closest non-Liverpool players: Dele Alli, Kevin Bruyne and Marcelo.
Wednesday January 16th:
Defending at an Elite Level – A Ramble About Opposition Shots on Target, by Andrew Beasley.
We are now seeing the benefits of a half decade of continual improvement, as Liverpool are on track in 2018/19 to concede roughly two thirds of the shots on target which they did when last challenging for the title.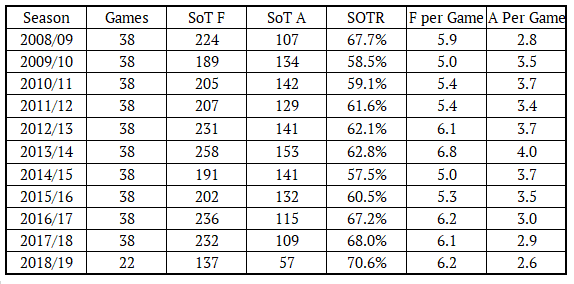 That's only truly worthwhile if there's no loss at the front of the team, and we can see that there hasn't been since Klopp's first full season in charge. But back to the defence; while conceding fewer shots on target is obviously good, it's how many you allow in each individual game which matters more in terms of picking up results.