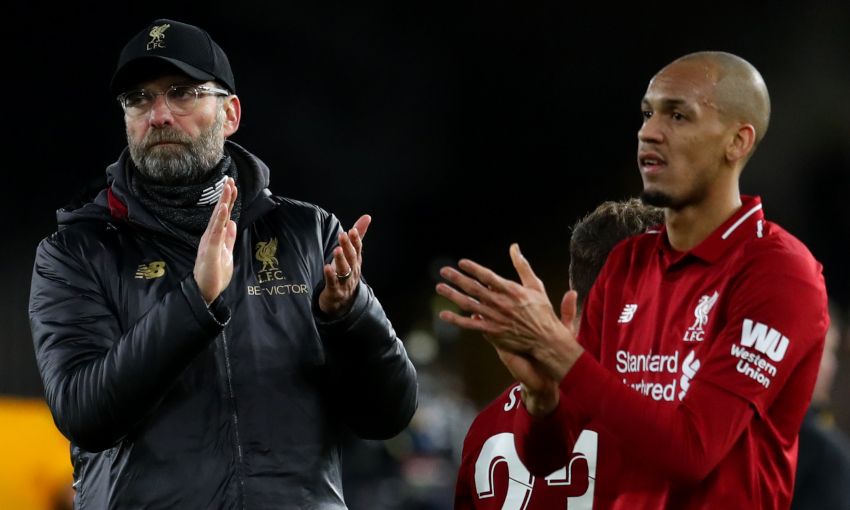 Liverpool did not win the league today, and they will not win the league next week. But if the Reds can do what they were doing in December and keep the pressure on City – a team that could easily win 10 in a row if under no pressure – then that's how titles can be won. City cannot be written off, with their quality, but Liverpool just have to find ways to win games, week after week, so that nothing City can do will make any difference. (Easier said than done, and for a while today, as a helpless fan, I looked like the man in this Doves' video.)
My theme last season was that if Liverpool, and in particular Mo Salah, were given penalties for even half the fouls committed on them in the box the Reds would have been up to a dozen points better off. This was backed up by a Bath University study that showed Liverpool were the unluckiest team in the Premier League last season with regard to the cost of bad refereeing decisions.
So, at the start of this season, I noted that if the Reds were to get the calls they deserve the gap to City could already be significantly narrowed; although that it isn't a larger gap right now is itself an injustice, after a Mancunian referee refused to send of a Mancunian captain in the heart of Manchester. (Which, even as a biased Liverpool fan, just doesn't seem right.)
Now that Liverpool are top of the league they are finally being given the obvious penalties – and pretty much all for fouls on Salah (who to my eyes has only dived once in his time at Liverpool, away at Chelsea last season, just outside the box, for which he was rightly booked).
The Newcastle one was soft – but still a needless arm placed on his shoulder to slow him down; "soft" can still be a penalty, if your hand is on someone's shoulder (where no hand should be), just as, if you're tripped, you don't have to fight to stay on your feet (because even if you do, you'll have lost a yard of advantage anyway).
This one today looked more like a rugby tackle in the box, yet still there's this weird narrative now where rival fans will look at the video and insist he dived; almost as if any penalty anyone else's team gets is a fraud. "Look, he flopped to the ground when that bloke had him in a headlock, the diver!".
First of all, why has it taken until Liverpool were top of the league for penalties to be awarded? Do refs now know that these decisions won't be so easily buried if they bottle them?
Going into the game the Reds still ranked only joint-6th in being awarded spot-kicks in the top division this season (with four), the third season under Jürgen Klopp where the ranking was ridiculously low. With this latest penalty, the Reds now pull level with Brighton themselves, plus Everton and Leicester, just one behind Bournemouth, Crystal Palace and Man United, who lead the way with six each.
Why are Brighton, Everton, Bournemouth, Leicester and Palace so high up the penalty-winning charts yet again? I keep hearing, from fans of smaller clubs, how refs favour the big clubs, but to me they seem to bend over backwards so as to not show bias (which is usually at its worst at Anfield, in front of the Kop).
Weirdly it's now Man City's time to be near the bottom of the penalty rankings, having been near the top last season, as you would have expected. So maybe their luck isn't quite what it was last season.
But let's get onto the Reds: 57 points is an insane tally for this stage of a season; matched or bettered, I believe, only twice before in the entire history of English football after 22 games, with all eras converted to three points for a win. As the pressure ramped up, the Reds dug in. And how!
The majority of this article is for subscribers only. See details below on how to sign up.
[ttt-subscribe-article]