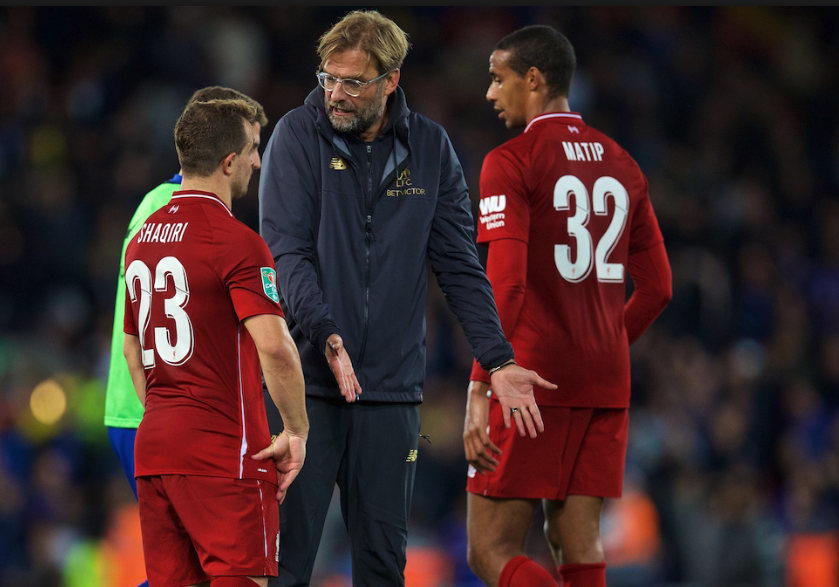 Posts selected by Chris Rowland and Daniel Rhodes.
The idea of this weekly round-up is to give you all some idea of the range of debate on the site and the articles we publish. If you'd like to be part of our troll-free community, there's a 'Subscribe' tab at the very bottom of the page.
1 – Ding pondering the media love-in with Spurs:
Justin, I agree with you that Spurs are right about where they should be, and perhaps they're overperforming a bit when you consider their financial resources (they should probably be 6th and shouldn't really be having a whiff of the knockout stages of the UCL).
But, for me, the hilarious part is the absolutely schizophrenic coverage by pundits and the press of Spurs' season. Every time they have a good result, it's like: "SPURS THUMP SIX GOALS PAST EVERTON!!! BONA FIDE TITLE CONTENDERS!!!!!! LFC AND CITY ARE WETTING THEIR BEDS NOW!!!!!" (I'm not even exaggerating the all-caps and exclamation points.) There is little objective examination of their performances, like xG and the luck over finishing.
When they are brought down to earth, it's like: "Spurs lose to oil money Chelsea in the midst of an injury crisis without Saint Harry, Sir Dele, and oh did you see how bad the weather was in London that night?" That's when the media bend over backwards to make excuses for them and their darling Poch.
Even when the latter more or less said last season that diving was acceptable and that he tacitly encouraged it, media folks were on hand to laud his honesty and excuse diving away as just a facet of the modern game. Where is that attitude now in the midst of the furore over Salah? If Klopp had said something similar the press would be calling on MPs to pass legislation exiling him to St Helena.
I'm exaggerating but that's my sense of the media love-in with Spurs and Poch. 🙂
2 –  Seamus getting annoyed by this comment from a Leicester fan ahead of Wednesday's game:
"Salah has got outrageously divey this season. Not that the pundits will notice/care.
Do they not see the hours of "debate" about Salah's diving in the media? It's all they can talk about. Not the fact that Chelsea are under investigation for improper approach to over 100 minor, internationals. Not the fact that City were mentioned heavily in the most recent leaks and could potentially be involved in one of the most corrupt operations that Fifa has ever seen (which is hard to do given their history). Not VAR and the FA's ability to use it effectively. They debate on whether Salah is a cheater or not because he goes down 'softly' when there's contact. Soft as some of them may have been, and frankly as questionable as the Newcastle one was, there was significant contact in each instance. We have been on the other end so many times and told by everyone else to just suck it up because we gave the referee a decision to make, but when it's finally our turn we get labeled as cheaters? Bring it on!
I know that I'm preaching to the choir here, but Salah was one of the more upright (pun fully intended) players in the league last season. He would get mauled match after match and earned 1 pen (away from home) all season.  The guy who broke a scoring record in the PL, and you're telling me he won 1 pen all season? He had close to, if not the record, for most touches inside the opposition 18 and he didn't win multiple pens? Outrageous. To make matters even worse, the entire squad hadn't won a league pen at Anfield in 18 months (?!). The squad that scored 80+ goals last season in the league, broke a CL scoring record, and doesn't just throw big, microphone look-a-like brutes up front and hope they can connect on crosses. We have pacy, tricky forward players and we didn't win a single pen at home? Even more outrageous!
And this season, it gets even worse from a man handling perspective on Salah. I can't even count the number of times he has a CB with BOTH hands all over his shoulders. This problem has been further exacerbated by the fact that he's playing more frequently in the #9 position and gets the likes of Maguire, Evans, Kompany, Tarkowski, Ben Mee, Cook, Francis, etc actively trying to 'leave a mark.' And if the FA won't protect our players by awarding red cards and penos to deter that kind of treatment for our (and the league's other) best players, I have no problem with Salah and the rest of our team putting a punctuation mark on some of these fouls they're receiving. I am by no means advocating diving, but I am advocating Mo's behaviour until it is commonplace for him to get what he deserves, as with the rest of the squad.
And if someone, ANYONE, on TTT with video editing skills took the time to gather a video highlighting all of Alan Shearer's dives and sent it to him, you'd be my new favourite person. He's probably the worst possible pundit on the planet on issues like this, particularly as they pertain to us. Him calling Salah "disgraceful" is so fucking laughable. Where was Shearer to praise Salah when he stayed up for the second against Bournemouth? Where was he, and all the others, when Salah scored the Puskas winning goal where he could have gone down thrice? Where were all the pundits when he scored that sensational goal against Watford, hacked in the box and all.
Anyways, soapbox is officially overworked…sorry!
3 – Tattva wipes away a tear, and left us doing the same:
I've been crying. Nothing out of the ordinary for me, it's been a tough 12 months. Not huge tears as if mourning a loved one. A little weep, a small release of emotion.
I've been in hospital for three weeks, isolation for a nasty infection which transplant patients are susceptible to.
I haven't seen my kids in a week. My youngest, 5, wore her Liverpool top she got for Christmas when we FaceTimed last night. She knows the celebrations, Mo Salah, Firmino, the Cube and a Jurgen fist pump. She does them in the yard in her flamingo coloured boots.
Yesterday was very tough, but my wonderful sister (a big Liverpool fan too) was sending messages to cheer me up, along with pictures of Jurgen, and Vic and Bob!
I was up for dialysis this morning, coinciding with matches in progress. Seeing City one up didn't register as I wasn't expecting much resistance from Toon. Afterwards, I went back to sleep.
The breakfast lady woke me up. So I thought I'd check my phone. "The Man City result will cheer you up" message from my sister leapt from the screen. I sat upright in an instant and checked the scores.
I read the reports BBC Salford journos wrote through tears of dropped points throughout Mancunia, as TTT posters had tears of joy when declaring the love we still have for Rafa.
My sister and I continued to exchange messages as I read, and she informed me Jurgen would be on the news. No doubt filmed before tonight's games, but he would be calm and measured. Unlike at home, where I expected him to be fist pumping down his hallway at Newcastle's winner. This is when I cried. This is when I thought, "We can do this."
He won't let us down. The players won't let us down. They all want it. Would you want to be in the end of a prolific swearing Jordan Henderson bollocking due to your costly error? He might look like a soft touch, but I think he's a fuckin' lunatic.
Would you want to see Roberto Firmino's megawatt smile go out as your cross balloons out for a throw in as he waits to back heel another no look goal? Didn't think so.
I'm not booking an open top bus yet, there's too long to go. But with each passing round of games we are one game closer.
If Liverpool are 7 points clear with six to play, let's not invite the bottlers tag. There's less room to put things right.
As my health compromises my life, this Liverpool side brings light. It's an outlet for emotion, from this morning's tears to howls in celebration as Arsenal were told to behave.
Come May it'll be eleven months since my heart transplant. This Liverpool side's progress is so intertwined with my own. We've all been waiting for the moment to be crowned champions of England, and for me it'll something extra special.
In 44 years with the same bird (wink to Brian Reade) I've never believed in a side so wholly, an organisational ethic which chimes with mine, an exceptional managerial totem and a squad I trust in so deeply each match day. Many of us will feel the same, and this groundswell is vital to the team.
If this day, when this day comes, I'll have no words. But I will have tears.
4 – Peter Neall on how proud he is of this current side:
What a wonderful writer you are Paul, thank you. You hit the nail firmly on the head and have captured the current zeitgeist here. As we have had no match for a while I have been cogitating on 'where we are', are we yet Champions Elect, wishful thinkers, honest triers or what.
However I frame it I am immensely proud of the club we are and the team we have become. Liverpool FC has always had special qualities. The stories of the personal connection of all our great managers with the people of the town as well as the club. The connection of the players to their people, each serving the other, the one by playing their heart out, the other by singing and believing, just believing. We are special, our history great and painful is a part of who we are, not to look back on but to draw on and remind us we are something very special.
As I walked this weekend by the sea I watched the waves driven by the wind and watched the power of them and realised that like us as a team, the power is never not there! Sometimes it is more visible, sometimes less so, but it is always there and it is this that will carry us to the prize or close to it.
Your mention of the runner in spiked shoes reminded me of Zatopek, a consummate runner, always polite, always encouraging and only ever wanting to beat an opponent at the top of his game. Not for him the easy pace-maker wins set up as a showcase of his talent, he wanted the race to the line with the best man winning and he did all he could for it to be him, if it wasn't then so be it but he knew he had done what he could.
We have a team and a manager in the same mould, they will do what they can and in that I am already so, so proud of them. I want them to have the prize THEY deserve for them and of course also for me and all of us as well because it will bring smiles to our faces that will last a season or more. For me but it will restore my faith in the game as a game, more important than life or death but not important enough to cheat over or for us to sell the soul that is who we are.
We are in a race, we are worthy of that race and we will play to the best of our ability. That I hope is enough, but I won't think less of them if it is not. The Olympic ideal of it being the taking part that is important has largely been superceded but to be really in a contest such as this is very, very special, think Kuts and Zatopek, Borg and Gerulaitis, Ali and Frazier, this is where we are.
We are special.
5 – Javelin on the progress being made:
There are a few assertions that are made on TTT and elsewhere (smart) that have been backed up by research/study. In a nutshell they state that deep runs in cup competitions result in points dropped in concurrent league campaigns.
So it follows that a club should prioritise which competition(s) it puts emphasis on. With a chance of winning the title, other competitions should have reduced priority. Whereas when we *should* be on track for top 4 but have no chance of winning the title (like last season), then prioritise a cup competition instead.
So far, so good. Usually the debate is in the details. Should we ditch domestic cups altogether? Should we de-prioritise the CL this year to give us the best chance of winning the title? Many arguments can be made along these lines, often with no clear victors.
But what's important to me now is that these debates and this overall assumption always seem to have a caveat. That a club can't seriously challenge on multiple fronts unless it has a mega-squad like that of Man City. The implication being that they have such a depth of quality in their squad that fielding a "B" team almost becomes a challenge itself.
Which brings me to the point of this post. Klopp/Edwards/FSG aren't going the Man City route of spending limitless cash to buy up all the best talent to build that mega-squad. But I would argue that they are trying to get to a similar position that Man City enjoy. That of quality in depth in all positions across the squad. They're just doing it by different means.
We have seen this evolution of LFC over the past few years. Initially half a season to take stock. Then every season since then has seen the sale/release of players who aren't cutting it and the bringing in of fresh talent. But not too much churn as that would have negative consequences. Sometimes bringing in/on youth players. Sometimes under rated players who are swiftly deemed to be bargains at the price. And more recently spending significant chunks of change for fully developed world class players.
The point is that every season under Klopp we have gotten stronger. Initially this was more apparent in the first team. A good example is the end of last season when we were experiencing a familiar sensation. That of being able to field a team good enough to beat anybody on their day. But once a couple of injuries inevitably strike the drop off in quality of squad players was simply too great.
But this season I think we've finally turned a corner in that we no longer just have a quality team, but finally have enough depth of quality players in our squad to mount a title tilt. True, current injuries in defence are asking serious questions of this assumption, and we may still fall short. We'll have to see.
But we can also assume that this process of strengthening will only continue in the summer and beyond. And in fact, this summer window might be a very significant one. It seems like all of our core players are young enough and now on long contracts. While some of the older players who have been deemed "good enough" by Klopp to last this long and contribute as squad members will be out of contract. Correct me where I'm wrong, but I think that Sturridge, Lallana, Moreno, Origi and Milner are all out of contract in the summer, so we can expect replacements to be incoming. Though if Milner were given a year's extension I don't think anyone would mind!
My point is that every year the depth of quality players in our squad has increased. And we can expect that to continue.
So here's my question: at what point will LFC be strong enough to make deep cup runs without losing points in the league?
Next season? Or is it even this season, given that we only have the CL to consider?
I don't know, but it's something to think about. Clearly the aim of those running LFC is to develop the club to a point where we can sustainably challenge for every trophy every year.
So I guess my point is that even if we fail to win the league this season, we will be challenging for it (and the CL) again next year. And the year after that. And the year after that…
Articles published on the site this week, with samples:
Sunday January 27th:
Build a Rocket Boys – Taking Liverpool FC to the Stars, by Mark Cohen.
It is here where my mind has been occupied since the City defeat. The focus and resolve City showed and the cup final atmosphere at the Etihad was instructive to me, as it showed how desperate  Pep was to successfully pit his rocket, procured with a simply massive and unmatched total impulse, but poor specific impulse, against our red Saturn procured with less than half the money but for all intents and purposes, the same demonstrable quality ie a much higher specific impulse than his team.
His elation in beating us, extraordinarily narrow though it was, a telling sign.
Pep is attempting to show that total impulse i.e. final achievement, winning things is what matters. It doesn't matter a jot to Pep that he had to spend triple everybody else, for him, that is not relevant. The only thing that counts is titles. If Pep produces a team which pips Liverpool to the title, in his mind, this will be vindication that he is the best around.
Of course it isn't.
Monday January 28th:
18/19 Premier League Preview | Matchweek 24 | Leicester City (H), by Gary Fulcher.
Leicester finished 9th last season with 47 points so they are on course to better their points tally if not final league position and have recorded recent wins over Man City at home (2-1) and Chelsea away (1-0). The Foxes are also ranked 6th in the away league table winning five and drawing two of their 12 away games prior to their visit to Anfield.
The last three league meetings between Liverpool and Leicester have been settled by a single goal (all in Liverpool's favour) including a 2-1 win in the reverse fixture back in September, which is a game Allison Becker learned a lot from following his over confidence on ball that directly led to Leicester pulling a goal back in the 63rd minute.
Can LFC Win the League? Yes. But Either Way I'm Proud of My Team; Screw the Haters , by Paul Tomkins.
It struck me recently – amidst the bizarre growing antipathy towards Liverpool FC that has swollen way beyond the expected rivalries – that little would make a ton of neutrals and nemeses happier than Liverpool "doing a Napoli": finishing 2nd with 91 points. 
It would make them happier, I'd argue, than if Liverpool were to finish a distant 3rd or 4th without ever being in a title race, when clocking up, say, a merely respectable 75 points. Liverpool being absolutelyoutstanding – but not quite as outstanding as Manchester City – would be hilarious, I'm sure. Imagine the bants. 
This is the same logic that sees Liverpool mocked for losing a Champions League final when City, Everton and Spurs have never even reached one in their history, Arsenal have done so only once (and for which I respect that achievement and remember the final), and the last appearances for Chelsea and Man United were now more than a handful of years ago. It's the same logic where Chelsea fans can sing of Steven Gerrard falling over and conveniently forget John Terry slipping on the turf to miss his penalty to lose their Champions League final shootout. 
This is schadenfreude at its most absurd; weirder, almost, than fans from places of severe poverty telling Liverpudlians to "sign on".