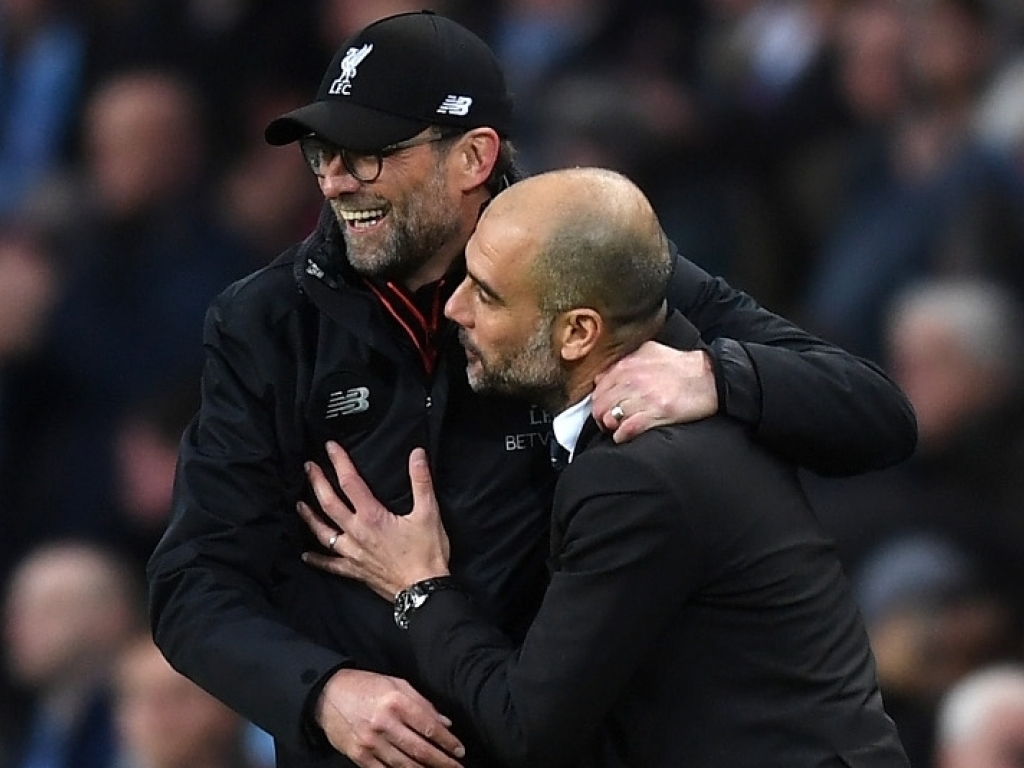 I'd been looking forward to going to this game since a friend promised me a ticket some while ago, and while a goalless draw was not exactly what I was expecting, there was actually a huge mark of respect for Liverpool from Man City in how the reigning champions approached the game; time-wasting from early on, and though still a huge threat on the break, refusing to attack in the manner they usually do. It was abundantly clear that they were not going to commit too many men forward.
Of course, Liverpool were still slightly reeling from the toughest start in decades, surpassing even last season, which oddly, was also the toughest start in decades up to that point – when using objective measures of opposition quality; according to TTT and LFC History scribe Terry Dolan, we've already played six games against the top-15 ranked teams in Europe. 
Indeed, Terry had written something on this very subject just before the Man City game that I thought was worth using as a free prelude to my piece (which follows further below, for subscribers only).
The Toughest Ten Games In the Last 25 Years
This is part of the hellish early-autumn schedule that Klopp has once again been left to face – with a run … as difficult as any in the club's history, after an absurdly tough start to last season.
Paul Tomkins, TTT Article: Jürgen Klopp Is So Demoralising , 30th September – after Chelsea league game, before Napoli game.
This is probably Liverpool's most intense and difficult run in the first half of a season this decade."
Neil Atkinson, TAW Podcast, 5th October – after Napoli game, before City game.
Last season I analysed Liverpool's very difficult start, with an unusual group of 6 away games in 7 consecutive fixtures, and showed that it was the 3rd toughest in premier league history after 15 games. Paul wrote about that here: Liverpool's Season a Real Kick in the Face. (And Bollocks.).
Given Paul and Neil Atkinson's recent comments, I decided it was time to look again and see how this season's challenging start compares to others. Is it really the most difficult this decade, as Neil suggests? Spoiler alert – yes it is!
By my calculation (see below, and this is not definitive as there are many ways of measuring the quality of opposition) 2018-19 is Liverpool's most difficult 10 games in all competitions in the Premier League era.  That is, this is the most difficult start in over 25 years.
For the seasons in the Premier League era, I selected all of Liverpool's games in all competitions up to game 10, summed the elo rating (as of 1st August in that season) for each opposition team and then divided the total by the number of games selected to give a measure of the quality of the opposition for that season – the average opposition elo.
Here are the top 5 seasons, sorted by the average opposition elo rating after 10 games: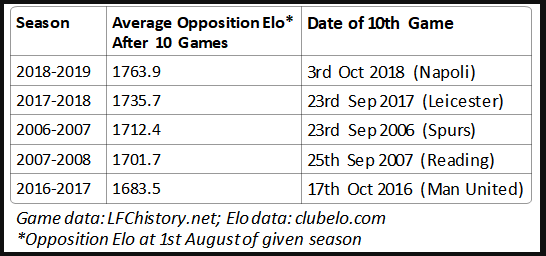 Note that the date of the 10th game varies by several weeks as it is dependent on  variables like cup runs, qualifying campaigns and international breaks. All of those seasons listed above have champions league football, except 2016-17. In season 2016-17 the first 10 games had 8 league games including Arsenal, Chelsea, Spurs and Man United.
Here are the first 10 games for the most difficult season (this season) with the opposition elo rating:

Here are the top 15 ranked clubs (according to clubelo.com) at start of 2018-19 season: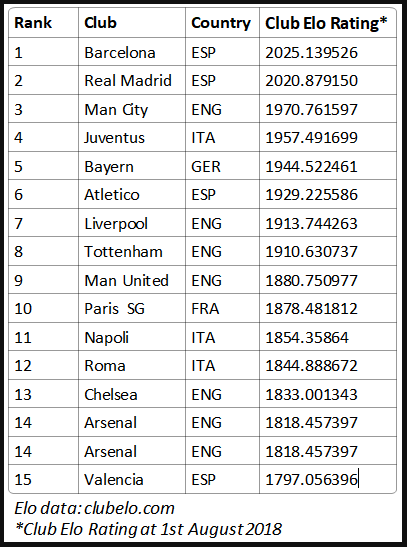 [Arsenal are so good, apparently, Terry included them twice…]
As you can see, five of Liverpool's first 10 games have been against opposition from the top 15 ranked clubs in Europe – Spurs, Chelsea (twice), PSG and Napoli. And today we play Man City, the 3rd ranked team. And I haven't included Man City in my calculation of opposition quality!
So we shouldn't be surprised if we've seen a drop in intensity and a few cracks start to appear. However, today's game against City is a great opportunity – it would be remarkable if Liverpool could complete their most difficult start in the Premier League era at the top of the Premier League. Come on you reds!
The 2nd part of this article, by Paul Tomkins, is for subscribers only.
Part II – Time-Wasting Man City Show Huge Respect To Liverpool
[ttt-subscribe-article]