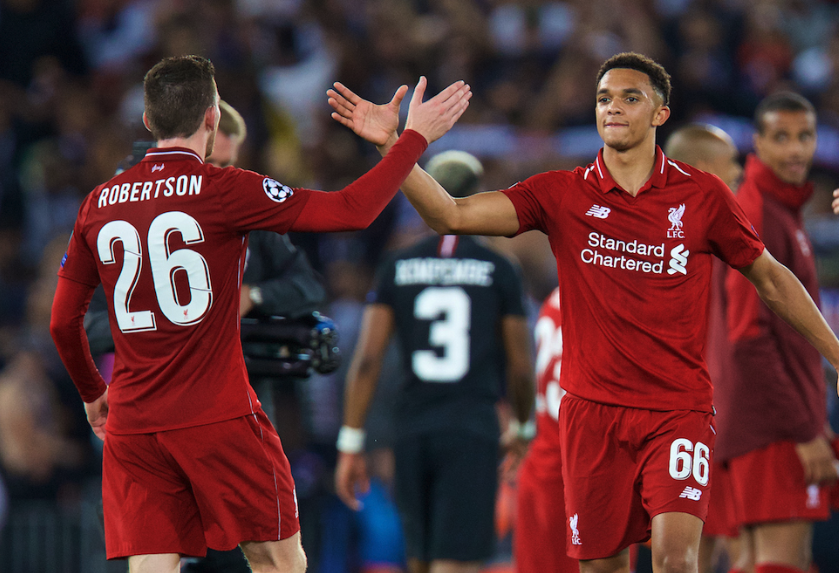 Posts selected by Chris Rowland and Daniel Rhodes.
The idea of this round-up is to give you all some idea of the range of debate on the site. If you'd like to be part of our troll-free community, there's a 'Subscribe' tab at the very bottom of the page.
1 – Paul Tomkins' reflections on the game at Huddersfield:
The weird thing about the game was that we passed well from the back, on the whole, and that it was the passing in the final third that was absolutely infuriating. It enraged me at the time because it was so right up to a point, then it was dreadful. I can't remember many games like it – normally you're just useless all over the pitch, if you don't play well. Here it was almost all in about 10 final passes and about 30 passes before the final pass, when you could see a break was on, and then it just hit a defender. Then they'd break on us.
Lallana is obviously someone who annoys the hell out of me when he overcooks things, so that didn't help my stress levels! I like his turns only when done on the edge of the oppo box, and he has his uses in keeping the ball (which would be handy if we were 2-0 up) – but the way he slows us down, and no one knows if he's gonna pass or Cruyff makes it hard for our forwards to react off him. I really liked him in midfield the season before last.
I don't think we can guarantee that everything will click in the final third, like it did last season, but it looks like it did just before it did click last season – and we know our frontline can do that. At times we miss Coutinho, obviously, but Ox was the man who took over from him last season and we maybe miss him more. Others are still working their way into the team – I think Shaqiri could do that, in time. I also still would like to see Sturridge in that role at some point, if possible.
Plus, a lot of players in the PL are not quite right after the World Cup. It's been a strange few months for LFC – extended season with the CL final, the pain of losing, the pain of injury for Salah and lost World Cup hopes, the struggles of the WC, then the players returning in dribs and drabs, and now the more intense international breaks. Add injuries and it's just been a bit stop-start, like our play. Once the international breaks are over we should be in better shape, especially with the new boys more settled by then (and hopefully no more injuries).
With Ox back doing ball work a fortnight ago, could he also be back well before the end of the season? You can't rush it, but is he seen to be ahead of schedule?
2 – Stephen as part of a rolling debate, initiated by him, about the relative merits of TAA and Gomez at right-back, and the later's drawbacks:
No-one would enjoy 20 minutes with Klopp to understand his thinking more than me. I know I'd be a better manager for it.
It's not about favouring one player over another. It's about skill-set. One of the challenges of managing is putting your 'best' team out with the players you have. At my level, that can be a starting 11 from 11. At the elite level that's much more complex because of squad size, injuries and this week who travelled furthest. All factors I'm tying to take into account.
Starting line-ups and formations are always about compromise. The pitch is too big to cover with 11 players and, as someone smarter than me, plans become more complicated when you bring in the opposition. It's about how you make the pitch 'big' when you have the ball and 'small' when you don't
My problem with Gomez as a RB, as I said originally, is that he's 10-12 yards further infield than he should be. Defensively, he's exposed wide to pace. Offensively, he can't open play quickly enough. It took me a while to work out last year why I didn't think Gomez was a fit there. Then I spotted that he was playing in someone else's space and 'his' space was vacant. We then allow the opposition to defend more compactly, reducing our space and making it easier for them. If we don't have the players to press immediately high up the pitch (which we didn't) then our back-line has to operate effectively.
This is not just based on yesterday but pretty much every game I've seen him at RB: it strikes me that Gomez is still playing as a centre-back. He looks great as a CB and has made excellent progress through the season there. I would actually put him ahead of Lovren in that position (pace & decision-making over experience). But putting him out at RB might damage him as a player (two different sets of habits and the spatial awareness is also different) and I think the team is skewed left when he plays wide. We take and excellent player and make him a good one. That's what doesn't make sense to me. Especially when we have alternatives.
3 at the back can work offensively but the wing-backs have to stay high to avoid it being a 5. Away to the bottom team, I wouldn't sacrifice a striker either but we did sacrifice the wide out ball on the right which meant that, at times, we did take out a striker. Then those in the box were playing in the same space but that's a whole other set of issues.
By moving a player out of his preferred position you say to him, the guy I'm playing there instead is better. To the guy on the bench, you're effectively saying, I'd rather play a player out of position than you. Hopefully, Klopp has explained his thinking to all of the players so there's less risk of that. But you can't remove the risk completely.
If anyone has the heat maps then we could have some fun.
3 – Bobbypits on the new Liverpool style and the challenges it sets opponents:
We shouldn't forget that the game is played by two teams and that the alterations we make to our own game has an impact on the tactics employed by our rivals.
For me what this means is that for many years we have been chasing the title soooo hard that our approach was always  a bit gung ho with a couple of exceptions: when we have had better defensive players (vey VERY rarely) or when tactically we have tried to make stability a key factor in our game (during Rafa's tenure). We have then found ourselves having to contend with the low block, the parked bus and counter attacks which have been the scourge of our ambitions for years.
Klopp and the team have proven (relentlessly) that they are capable of playing expansive and expressive football which on its day will destroy anyone! Right now we are demonstrating what many have criticised even during our most beautiful performances over the past 2 years – that we remain fragile and at worst naive at the back. I want the teams in the premier league to have to think differently about our 'strengths' to realise that resilience is a new found beauty in our team's play, as this encourages them to rethink their own strategy when lining up against us. Simply marking Salah, Mane and Firmino isn't good enough. To see a team like Huddersfield launch attacks and for them to crash against our rock of a defence, whilst anxiety inducing, is also quite (paradoxically) reassuring to watch.
It has been mentioned before but getting used to the fact that us conceding is not a forgone conclusion anymore is a difficult thing to get used to.
The balance teams now have to consider when playing against us is as much a psychological challenge as a technical one – because instead of 90 minutes of relentless wave after wave attack, we seem to be looking for the right opening – picking our punch like the best prize fighters! This will take a little time to get right but once we build confidence in this approach and increase our belief in decision making we will evolve again into a very difficult beast to contain.
Rafa used to talk of game intelligence – the capacity of players to manage their game not just in their legs but also their minds and I believe Klopp is pushing the squad to improve their game and at the same time throw the league something else to consider when lining up against us.
I believe there are significant longer term benefits to the short term awkwardness we are experiencing- the fact we are keeping clean sheets and racking up 3 points so regularly is testament to Klopp's tactical approach, the teams capacity to adapt (which is never to be overlooked) and our willingness to always look for areas of improvement.
I would liken this period to Klopp's first iteration which began before Salah arrived, where he would talk about players needing to develop confidence in themselves and the approach he was advocating. When we add this new style of game management to our not inconsiderable arsenal we will be a formidable force!!
4 – Jeff on the number of games being decided by poor officiating:
To me at the end of a match I do not want to remember who the referee was or who the assistants referees were or what decisions they have made or not made. I accept the reality that the opposition contains highly paid players whose job it is to beat the opposition including Liverpool and I accept the reality that Liverpool pay players a huge weekly wage packet to win matches. Anyone who knows anything about football knows that sometimes the team you support wins and sometimes you lose. I want players whether they are Liverpool players or players who are Liverpool's opponents to win matches or lose matches.
In today's football officials whether we are talking about referees or referees assistants are determining the results of far too many matches through what can only be called referee or referee assistants making a bad call or missing a call or giving a yellow card or a red card when they should not be given and missing giving a yellow card or a red cad when they should be given.
Anyone who watches English football knows that the number of matches being influenced by referees and referees assistants is increasing and they also know nothing is being down to sort this problem out. To me the reason this problem has not been sorted out is simple: The football authorities do not want it sorted out.
Maybe just maybe the time has come for the clubs including Liverpool to tell the Premier League and the English FA that they will no longer tolerate this state of affairs. Until they put pressure on the Premier League and the FA to do something nothing is going to change. Sad.
5. Cvt123 on the strategy used by FSG long-term and its success:
The impact that the strategy the club is following and the team of Klopp, recruitment, etc are executing against has so many more second order benefits over and above the reasons Paul outlines. Effectively, by creating a deep and flexible squad that provides competition for spots and allows newbies to 'bed down', we also get the following
Redundancy to cope with long term injuries (e.g Ox)
Not collapse when another club comes in with a stupid money bid, which puts more money in the coffers (e.g. Coutinho)
No need for panic buys and focus on discovering gems (i.e. price lower than value) that may need nurturing – in the same way soccernomics described Clough (e.g Shaqiri, Salah)
Can walk away from deals that are either too expensive / are not right without feeling the pressure to 'make the signing' to appease fans (e.g. Fekir)
Provide a great 'dickhead' test ('you know you don't get an automatic spot in the first team but will need to work to prove you deserve it')
I have been extremely impressed by how Henry and Co have been systematically getting the workings in the club to start synching together. For years they seem to have the pieces but there was always a cog out of place that was gunging the system. Now it seems to be a well oiled machine.
Articles published on the site this week:
Saturday October 20th:
Liverpool Won't Win the League Playing Like This, But …, by Paul Tomkins.
Post-Match Analysis: Huddersfield (A), by Daniel Rhodes.
Tuesday October 23rd:
18/19 Champions League Preview | Matchday 3 | Red Star Belgrade (H), by Gary Fulcher.
Wednesday October 24th:
Press v Press – Huddersfield Town 0 Liverpool 1 Tactical Analysis, by Benjamin Magnusson.