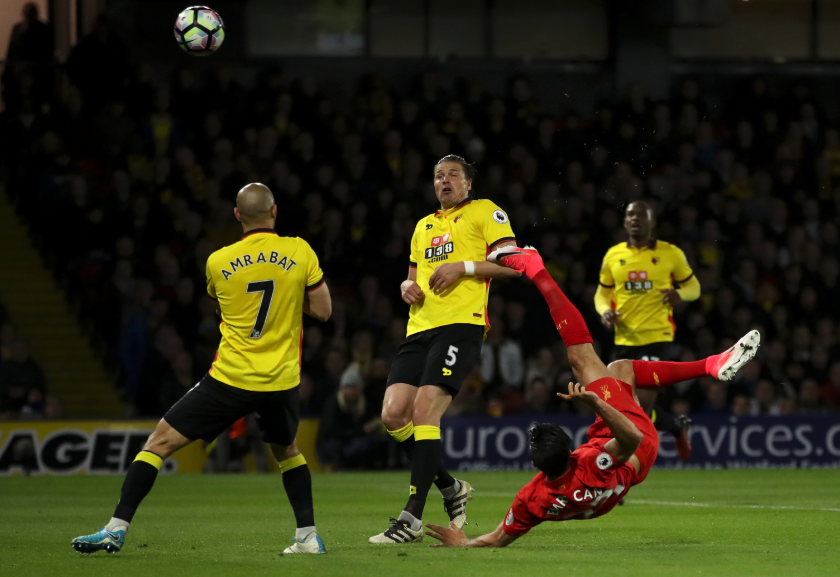 This week's posts selected by Chris Rowland and Daniel Rhodes.
The idea of this round-up is to give you all some idea of the range of debate on the site. If you'd like to be part of our troll-free community, there's a 'Subscribe' tab at the very bottom of the page. 
1 – Ahead of England's first World cup game, Mobykidz thinks Harry Kane is becoming his own biggest fan:
There's something off kilter about Belgium. Apart from Mignolet's happy tweets from the camp I watched De Bruyne launch into a near career-ending two footed tackle on ex-Man Utd player Adnan Januzaj. Normally I'd say it's only training but if you watch KdB's reaction after the tackle he couldn't care less. Maybe Martinez needs Kompany's know-how in the dressing room to keep factions apart. It wouldn't be the first or last time of hearing about divisions in a dressing room – it just reminds me of the Dutch.
Onwards for England tonight. Reading all the back pages today you'd think that there's only one player that matters – Harry Kane. He can only answer the questions he gets but his answers are as if he's in default mode about "matching" Ronaldo and all his own goal scoring exploits. I'm surprised he doesn't talk about himself in the third person. But Harry Kane is certainly a media darling and putting himself in the shop window. To be fair he says its about "the team" but I can't help feeling with Kane it really isn't.
2 – Michelle analysing what De Gea's massive new contract could really signify:
When giving high wages signals a lack of ambition
David De Gea on a new contract for a rumoured 350k/week
If the rumour is true, De Gea would be earning almost three times the salary of either Manuel Neuer or Buffon (135k/week–this is Buffon's newwage, btw; doubled  from 70k/week by PSG to attract him from Juve). Even as it stands De Gea is outearning any other gk by a fair distance on 200k/week.
If you are a Man Utd fan, you probably feel a wave of relief initially at De Gea's re-signing, and you don't care what the cost is. The club held onto its POTY (4 of the past 5 years, excepting Ander Herrara in 2017). Yaaaaay! Because that's what you go to matches to watch: your goalkeeper. (Signal descending trombone slide).
Now imagine you're David De Gea. OMG, the money!!! The Himalayan-sized pile of money. But this is it. This is as high as you go, playing for this team, in Manchester, not in Madrid, where you always dreamed of playing again, and where your partner famously expressed the desire to live. No one can buy you; no one can come close to paying your wages. Real Madrid have made it abundantly clear that you were not even close to the priority for them that you were for Man Utd. They are never coming for you. No one is. You get to loll around between the sticks at Old Trafford listening to your own fans become increasingly annoyed, restless, and angry at the soul-sapping negativity on and off the pitch of Jose Mourinho who–don't worry–will be replaced soon because he'll lose touch with the top of the table and with reality and reason. He will be replaced by some other manager with God-knows-what style–perhaps a good manager, even. That manager will get rid of players and bring in his own, but one player he won't get rid of is you. You're never moving. Not even when your form falls off a cliff because you have nothing left to aspire to. It's got to be difficult to improve when you have arrived at the summit of any known career path for a goalkeeper, and you are locked in there.
In fact, by wildly overpaying De Gea, Man Utd have condemned themselves to build their team around their goalkeeper. There will be no experiments with high lines and super-attacking football. The style of the side will be tailored to his style of goalkeeping. Period. This still leaves room for success, but it cuts off many possibilities in the type of manager you get and the style of play you will see.
It sounds like hell to me for all concerned. There is a certain pace of moving on that is desirable in a squad, to keep it fresh and evolving. Losing good players is not always bad news. It forces change, which can make the squad stronger.
The loss of Coutinho in January was a blow, of course, but we really did play better after he left. In the final, it would have been nice to have Phil around for squad strength, but I have doubts that we would have reached the final with Coutinho. Would we have beaten Man City or Roma with him? I'm not sure. He changed the way we played, and not always for the better.
I am just saying that while we feel the emotional need to hang onto everyone and not to 'lose' anyone, our actual football needs might be quite different. I think the high drama of transfer season is more often about fear of abandonment than about tactics or squad depth or balance.
3 – Jeff with some simple advice on injuries and squad strength:
When one talks about fitness, the one area that in my opinion as almost a matter of course never gets properly considered is the need for rest. The more players run in matches and the distances run today and at the speed they are run and on and on is light years more than it was decades ago. To me the reason so many players deal with injuries is that we are asking too much of them and their bodies one way or another simply say no more. Is there going to be any lessening of the demands that are being places of players? No What Liverpool need to do is to increase the number of quality players on the books so not only can Liverpool rotate players but the rotation policy will see no diminution of the quality of the side on the pitch.
4 – Grover on Emre Can leaving Liverpool:
I am just relieved Emre has left England. I could not have watched him at a PL rival. Still not too sure why he left but I enjoyed watching him play for us. That wonderful second goal he scored at home to Hoffenheim last season and the bicycle kick at Watford the season before will always be remembered fondly by me.
5 – Mobykidz on "Emre's Can Can":
"Emre's Can Can"….
Wikipedia describes the popular French dance of The Can Can as a "high energy, physically demanding dance" that features the "vigorous manipulation of skirts and petticoats along with high kicks, splits and cartwheels". The Turkish translation of the surname Can is "spirit, life or heart". We know the English ("can") or German ("kann") meanings. So taken with the English, Turkish, German or double barrel definitions the name provokes a positivity, momentum and energy.
So watching the young German's transfer to Juventus it was anything but Can, Kann or Can Can. There were no kicks or splits. The pace of this transfer made The Watergate Investigation look like Usain Bolt. But (semi-) joking aside what did I make of Emre Can? I posted a couple of weeks back that Can was a fine young player. He has potential and showed the versatility to go with it. In TTT's player review of 2017 Paul wrote:
Some players never misplace a pass. Emre Can never misplaces a hair. Oh, and he's a pretty damn good footballer too.
Not much has changed since 2017 including that hairstyle. The above is my overriding impression of Can. He is a very good young player. The beautifully sculptured goal versus Watford last season was my super highlight of a Can Can. Its a shame Klopp has lost his services to Juventus. He showed heart and commitment whilst with us.
But what confused me about Emre Can is what type of player he wants to be. That is where the sloth-like departure to Juventus added doubt he really knows. Will Juventus provide him with an answer? Its unclear to me beyond the remuneration aspect his actual goal apart from winning domestic titles, which is the sporting equivalent of doing a "Celtic" currently, in Serie A.
Ultimately if a player does not want to be at Anfield then so be it. When you leave like Raheem Sterling or Luis Suarez to better yourselves at (financially) bigger clubs then fine. But that's not the case with Juve. So maybe their more regimented and less-pacier style will help Can develop. But I fear he will end up being known for his versatility more than just a midfielder. That is not a reflection of a less talented player but of managers who have played him in a variety of positions in both club and international football except, ironicallly, Jurgen Klopp. Maybe Can measures his utility to a club through his versatility. Who knows?!?!
If he stayed at Liverpool and fought for that midfield slot I suspect Klopp would have invested in him to become a Can-Can of a midfielder. But I'm not sure if Can actually believes he Can…Can. With Fabino and Kieta we signed two fabulous players. I think Kieta's signing a full year ahead will have opened a can of food for thought: "what is my future utility in a successful Klopp team and how much is that worth?". Liverpool weren't going to pay him that value – Juventus did. But does that answer his question? I suspect it does not.
Maybe Can is happy being Mr Versatility, and earning mega-bucks, at Juventus. I hope he succeeds in whatever he wants to do. He still has age on his side to live up to his name.
Anyway some Friday musings from me in the baking sub-continent.
Articles published on The Tomkins Times this week:
Sunday June 17th:
Excerpt From "Boom! How Jürgen Klopp's Explosive Liverpool Thrilled Europe", by Paul Tomkins.
Wednesday June 20th:
6 Years of Hurt – Analysing Liverpool's Injury Record Since 2012, by Luke Glassford.
Thursday June 21st:
Who's Going to Make It? Reviewing Liverpool's Youth, Summer 2018 by David Fitzgerald