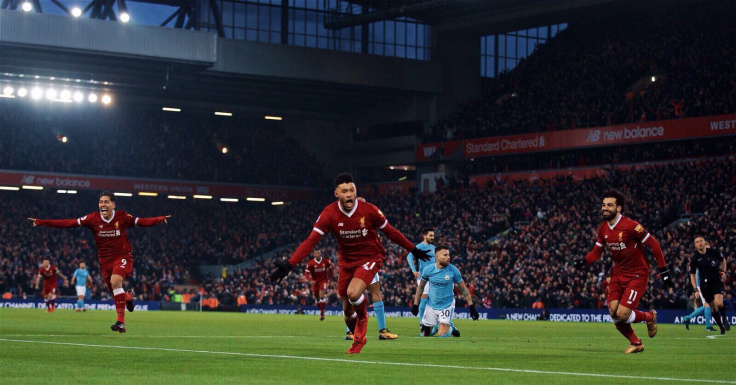 The other day Daniel Rhodes published a superb piece on this site about how, in many key metrics, Liverpool are virtually on a par with the most dominant domestic teams of the last decade: Man City 2017/18 and Chelsea 2009/10.
And Andrew Beasley has also written a piece, which we'll now hold over until next week (as there's so much else going on), showing an area of the side where the Reds have improved massively since January. And all this despite Liverpool selling their "best player" and having to wait six months to land their primary transfer target (Virgil van Dijk) and twelve months for the second on the list (Naby Keita, aka Baby Keith). If you think Liverpool are good now, wait until Keita is in the team.
But there are other reasons for optimism. Now, City can score three goals at home against most teams, and will be stoked for revenge, so the tie is not over. But when the games have been 11 vs 11 this season, Liverpool are ahead 7-4. The Reds even looked like scoring at the Etihad before Sadio Mané was sent off.
At Anfield last night Liverpool lost Mo Salah early in the second half, and barely had anyone on the bench, with half a dozen injuries and half a dozen out on loan (sent out at a time when there were no injury concerns). This wasn't just Liverpool blitzing City but it wasn't anywhere near the Reds' best 18 in the squad. Yes, City were missing Sergio Aguero, but they clearly had a far stronger bench.
But here's the kicker. With inflation, Man City's £XI this season (the average cost of the XI in all league games adjusted for Transfer Price Index inflation) is £551m; Liverpool's is less than half, at £242m – the 5th costliest side in the Premier League. (Man United's £XI is also over £500m, and Spurs are now over £200m; Chelsea are at £354m.) Klopp is overachieving based on budget (to be 3rd in the league whilst having a chance of making the Champions League semis is incredible), but this summer there will definitely be more spending; the money already earmarked for Keita, and the Coutinho cash, if the right players can be found (i.e. the club won't blow it on wasters). That can help close the gap. (As an aside, City's squad, after inflation, costs £888m, nearly twice what Liverpool's does, and Man United are getting close to £1billion, at £920m.)
However, there's one more really incredible fact that bodes well for the coming seasons.
The rest of this article is for subscribers only. See below for details of how to sign up to read our paywalled articles and join in our excellent and respectful debate.
[ttt-subscribe-article]