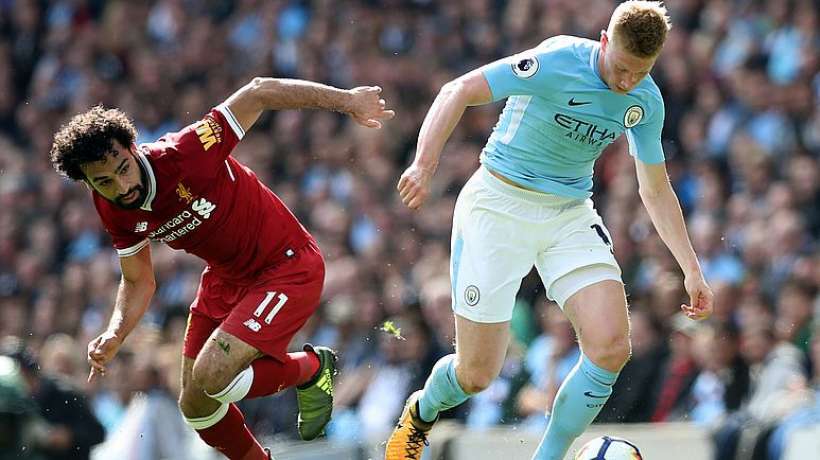 There's a vogue for "hybrid" teams when two sides go head to head, and they are always flawed, ignoring the chemistry and balance – as well as the tactics – that enable certain players to thrive whilst others struggle.
These are indeed the analysts' version of the half-and-half scarf. Even so – flawed as it will be – I've gone ahead and created one ahead of the all-English Champions League quarter-final.
And I reckon that at least four Liverpool outfield players would get into the Man City side; or, at the very least, not weaken it. Obviously I'm biased, but I reckon Pep Guardiola would love these four players (luckily he can't have them), and possibly even a fifth. Yes, I said it – I think a case can be made for half Liverpool's outfield players making it into City's XI, although there are two areas of the pitch where City are stronger, which is why they are setting all kinds of records. But Liverpool's underlying figures are very strong indeed.
If you think I'm exaggerating, you only need to look at Daniel Rhodes' excellent piece on this site yesterday, looking at the underlying numbers of all clubs since 2009; and remember, the underlying numbers for City last season were better than their results, which suggested results would improve if they simply kept doing the same things (irrespective of adding even better players).
On many metrics, Liverpool are actually right up there with this season's Man City's side, as well as with the 100-goals Chelsea title-winners from 2009/10, although City's underlying numbers are still a bit better than the Reds'; just not by as much as the league table suggests.
As noted, the underlying numbers last season said that City were better than the table suggested, and also, when Zlatan Ibrahimovic had a barren spell for United, the numbers said he would start scoring a lot of goals, and he did. After a few games of this season, before Mo Salah was doing well but wasn't really on fire, Daniel noted on here that the Egyptian's underlying numbers were in keeping with Lionel Messi's (something like one full expected goal per game), and lo and behold, the goals are now indeed flowing at a rate on a par with the Argentine master. Salah is indeed now worth a goal a game.
It's also worth noting that City were well ahead of Liverpool when Jürgen Klopp arrived, and have spent more money than the Reds since, and not had to sell any of their biggest names. But Pep Guardiola has taken the Citizens to a new level, light years beyond what Jose Mourinho has been able to do at Man United on a similar budget. Whilst the cool Catalan baldy has been working wonders, Liverpool have cruised to the Champions League quarter-finals under their hirsute German, including an additional two-leg qualifier against German opposition. This has been achieved without a single defeat – albeit without yet facing a European superpower – and in terms of progress the Reds have the top four almost nailed by the start of April; the gap over 5th-place now ten points.
Overall it is a massive improvement – to balance the dual demands of both competitions, especially when it involved two standoffs from the want-away star player who left in January, and when the two main transfer targets of the summer had to wait (Naby Keita until the summer, Virgil van Dijk until January).
City already had a ton of expensive players when Guardiola arrived (although so did Mourinho at United, which made his talk of heritage a bit bizarre). While City have no one as costly as van Dijk without inflation, with inflation Eliaquim Bloody Hell Mangala cost c.£87m (via our Transfer Price Index that tracks all Premier League transfers). Sergio Aguero's fee is now equivalent to over £130m in today's money, to put their spending into context, although that still represents good value. (Liverpool's most expensive player from the Premier League era after inflation is Andy Carroll at c.£95m. Eek. Which is a couple of million more than Kevin de Bruyne cost after inflation.)
Both managers have brought an incredibly exciting style to England. Klopp has yet to create an era-defining team in the way that Guardiola did at Barcelona (and perhaps is doing again at City), but Guardiola has never taken a bankrupt club on a shoestring budget to back-to-back titles in a major league and to a Champions League final. Unlike some managers, both are a credit to this country.
Anyway, onto my selections…
This article is for subscribers only. See below for details on how to sign up.
[wcm_nonmember][ttt-subscribe-article][/wcm_nonmember][wcm_restrict]
To start with, you can't argue about Ederson in goal; which is why I focused on outfield players in the title of the piece. Ederson's form this season has been a big contrast to Liverpool's struggles in the position, with Simon Mignolet unconvincing earlier in the campaign (after a great end to last season), and Loris Karius taking time to find his feet (I want to say 'find his gloves' but that would make him look mightily absent-minded, and 'find his hands' just sounds weird).
Karius has definitely improved – since around the time Liverpool beat City 4-3; but while good on the ball, doesn't have Ederson's sensational finesse. The way Ederson strokes the ball 50 yards over the opposition press is a joy to behold. The Brazilian seems physically stronger too. (Karius was unfairly hammered over Leroy Sané's goal that night, as if getting beat at your near post is a crime if the ball is travelling at 200mph.)
Of course, if Liverpool went out and got Alisson in the summer that would mean another position where Liverpool can match, and indeed, outstrip City; after all, the Roma man is Brazil's number one, ahead of Ederson. But you also have to suspect other big clubs will be in for a player being touted as worth £70m. (And, of course, it's not the summer yet, so I can't include Alisson in here.)
In Vincent Kompany I think City have arguably been the best all-round centre-back of the entire Premier League era; even as he melts, I'd take him in one of Liverpool's two centre-back slots – although I wouldn't exactly covet him, given his age and injury record. In a year or two he'll be nothing but meltwater.
I like the look of Aymeric Laporte, at the age of 23, and John Stones, also 23, is still not at the magic age of 25/26 that seems to make such a difference as centre-backs iron out their deficiencies. Having said that, Stones turns 24 next month, so he's getting close to maturation (unless he is not one of those players who never rids themselves of gaffes). I have to say, I think Stones is an excellent player who takes chances at the back (rather than hoof it), but he doesn't even seem to be in City's side much these days.
Also, it's fair to say that Nicolas Otamendi's game has come together in England this season, for the first time since his arrival with a big reputation. But is he really any better than Dejan Lovren? I don't think so. And Lovren isn't even nailed-on in the Liverpool team.
Kompany remains the only centre-back who really stands out from City, in a team that isn't put under much defensive pressure – especially with teams not even trying to attack City. Indeed, when Liverpool pressed them doggedly in January we saw City's defenders (and keeper) make all kinds of mistakes. They generally defend by keeping the ball at the other end, and Liverpool are able to disrupt that. It was utterly scandalous to see Chelsea just sit off City last month, and not even press in midfield, in the most lame performance I think I've ever seen from a top team, and especially a defending champion (who were not Leicester).
I also think Kyle Walker is a reasonable way ahead of both Joe Gomez and Trent Alexander-Arnold at this stage, and ahead of Nathaniel Clyne when he is fit. But the City full-back is obviously 27, and Liverpool's two right-backs this season are mere pups. Gomez should ultimately end up at centre-back, and I think TAA is two years away from having the physicality and the nous to really make a mark, and as such I would put money on him being the player to usurp Walker in the England team.
For all Liverpool's supposed defensive woes, I'd put two of Klopp's men into City's back four (or two of City's men into Liverpool's back four) – as I will now get onto.
Benjamin Mendy only played four league games before injury struck, so it's hard to know how good he'll be as a Premier League player; but Andy Robertson has been sensational this season. Guardiola would surely love him, as he can attack, defend, pass, cross and has boundless energy. He looks the complete full-back, and literally the only thing I can mark him down on is an inch or two in height. At 5'10" he's definitely not too small, but an extra inch or two helps with far-post balls to strikers who pull into that space. Walker looks taller to me, but Wikipedia says both are 5'10", while Mendy is an ideal 6'1″.
And Virgil van Dijk would walk into that side, as seen by City's interest in him last summer and this January. It's one of Jürgen Klopp's great coups, to convince the player to the point where Liverpool was his only desired destination, and City, apparently interested at £60m, balked at the price – not least because they'd already spent over £100m on full-backs this season, and have spent an absolute fortune on centre-backs in the last half-decade. In today's money their centre-backs alone cost in excess of £250m – Mangala, Stones, Otamendi and Laporte all costing a fortune – although ironically, Kompany was by far the cheapest, at roughly the cost of a bag of peanuts.
One slack pass against Palace aside, van Dijk has been a hugely calming presence at the back for the Reds of late, after a promising but slightly blighted first few games. Crystal Palace was the first shaky game the team has had defensively in ages, and my fear for this game was always that the Reds wouldn't be at 100% energy and focus because of the three season-defining matches coming up.
So, goalkeeper to City, but a full-back and a centre-back from each club. Now onto midfield.
My first instinct was that the entire City midfield trio of Fernandinho, Kevin de Bruyne and David Silva would take all three slots; it's the one area where you can say that they have the greater talent.
The pair of de Bruyne and Silva are shoe-ins; Liverpool simply don't have that kind of creative player, although did have Philippe Coutinho, who was perhaps the closest thing to them. It remains slightly weird that the Reds have improved so much since he left, but there will be games where his quality is missed.
But I imagine Emre Can is on a par with Fernandinho. Indeed, a big fear of mine is that Can ends up at City. If he goes abroad I'll be disappointed, but I'll also understand and accept it. If he goes to a rival, that'll be hard to stomach. Can is apparently wanted by Juventus and Bayern Munich as well as City, and unless that's just his agent hyping things, you can assume that he's valued at least on a par with Fernandinho; and of course, is eight years younger.
I'm a big Jordan Henderson fan, but alas I can't make a strong enough case for him here. I think the England captaincy has hindered him, as it makes him even more of a lightning rod for criticism. It's almost as if Klopp has to rebuild him every time he returns from international duty.
Adam Lallana would probably make the Man City bench, at a push, but he's had a season ruined by injuries.
I also can't think of another player like Oxlade-Chamberlain, which makes him hard to categorise and therefore compare with others; but there was talk of City being interested, and Guardiola had talked him up in the past. He's a winger/striker/wingback/midfielder, who can go on mazy runs but without ever looking smooth or totally in control, as if he's a bit too top-heavy. He has great pace, and real explosiveness off the mark, but his goal against City in the league did not open the floodgates in a weaker area of his game. I think he'll play in these two games but wouldn't make my hybrid team – at least, not yet. But the potential is there (and of course, Naby Keita will arrive in the summer, too).
Up front I was tempted to go for Liverpool's trio, who I think outstrip even City's front three. But I think Leroy Sané edges Sadio Mané out on this season's form. There's not a lot in it, but Sané is phenomenal for his age.
But I will have the pleasure of omitting Raheem Sterling, who – as I predicted could happen to him later in his career (when I assumed he'd still be with Liverpool) – scores a ton of tap-ins due to the great positions he gets into. He also does a lot of hard work, is deceptively strong and can dribble extremely effectively, but who just cannot match Mo Salah's all-round brilliance. Salah wins this hands-down, even though Sterling has 22 goals this season. Salah not only has 37, but more assists too.
And controversially, perhaps, I'd take Bobby Firmino over Sergio Aguero. Aguero scores more goals, but a fair chunk are penalties, too. He has six assists in the league, but Bobby has seven. And what Firmino does in all-round play exceeds the little Argentine, with greater skill and far more work. Firmino wins three times as many headers per game, but more vitally, avreages 1.9 tackles per match, compared with Aguero's measly 0.4. And despite City having the best possession stats in Europe, Firmino makes six more passes per game, which shows his greater involvement. Aguero is an elite predator, but I felt last season, even before Firmino was scoring as frequently as he now is, Guardiola would covet Firmino.
Of course, City also have Gabriel Jesus. Aged just 20, he's already ahead of Bobby in the Brazil squad, but is a fair way behind him in England for goals and assists. I don't think he's had a great season, but is obviously a fine finisher and has a good range of skills.
While I don't put too much stock in Whoscored's player ratings, the top ten includes de Bruyne, Aguero, Silva, Sané, Sterling, Firmino and Salah, while Sadio Mané ranks 17th. Currently, even though it's based on a per-game average and therefore doesn't count against Jesus for missing a few months of the season, the Brazilian ranks 73rd. (Emre Can, by the way, is 19th.)
So there you have it.
Ederson, Walker, Kompany, van Dijk, Robertson, de Bruyne, Fernandinho, Silva, Sané, Firmino, Salah; but just as easily: Ederson, Walker, van Dijk, Robertson, de Bruyne, Can, Silva, Sané, Firmino, Salah.
For the seven subs I could only narrow it down to eight, so I'd probably go with Karius, Gomez, Stones, Can or Fernandinho (depending on the XI), Sterling, Aguero, Jesus and Mané (and I've probably overlooked someone too good to be left out!).
After I wrote this article yesterday I saw that Beez tweeted his team, and it was the exact same selection. Perhaps Man City fans wouldn't see it the same way, but statistically at least, Liverpool have the better front three this season.
[/wcm_restrict]