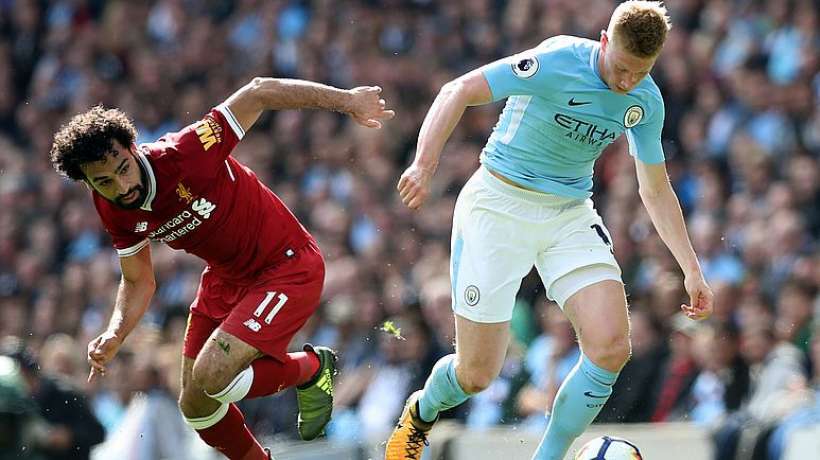 There's a vogue for "hybrid" teams when two sides go head to head, and they are always flawed, ignoring the chemistry and balance – as well as the tactics – that enable certain players to thrive whilst others struggle.
These are indeed the analysts' version of the half-and-half scarf. Even so – flawed as it will be – I've gone ahead and created one ahead of the all-English Champions League quarter-final.
And I reckon that at least four Liverpool outfield players would get into the Man City side; or, at the very least, not weaken it. Obviously I'm biased, but I reckon Pep Guardiola would love these four players (luckily he can't have them), and possibly even a fifth. Yes, I said it – I think a case can be made for half Liverpool's outfield players making it into City's XI, although there are two areas of the pitch where City are stronger, which is why they are setting all kinds of records. But Liverpool's underlying figures are very strong indeed.
If you think I'm exaggerating, you only need to look at Daniel Rhodes' excellent piece on this site yesterday, looking at the underlying numbers of all clubs since 2009; and remember, the underlying numbers for City last season were better than their results, which suggested results would improve if they simply kept doing the same things (irrespective of adding even better players).
On many metrics, Liverpool are actually right up there with this season's Man City's side, as well as with the 100-goals Chelsea title-winners from 2009/10, although City's underlying numbers are still a bit better than the Reds'; just not by as much as the league table suggests.
As noted, the underlying numbers last season said that City were better than the table suggested, and also, when Zlatan Ibrahimovic had a barren spell for United, the numbers said he would start scoring a lot of goals, and he did. After a few games of this season, before Mo Salah was doing well but wasn't really on fire, Daniel noted on here that the Egyptian's underlying numbers were in keeping with Lionel Messi's (something like one full expected goal per game), and lo and behold, the goals are now indeed flowing at a rate on a par with the Argentine master. Salah is indeed now worth a goal a game.
It's also worth noting that City were well ahead of Liverpool when Jürgen Klopp arrived, and have spent more money than the Reds since, and not had to sell any of their biggest names. But Pep Guardiola has taken the Citizens to a new level, light years beyond what Jose Mourinho has been able to do at Man United on a similar budget. Whilst the cool Catalan baldy has been working wonders, Liverpool have cruised to the Champions League quarter-finals under their hirsute German, including an additional two-leg qualifier against German opposition. This has been achieved without a single defeat – albeit without yet facing a European superpower – and in terms of progress the Reds have the top four almost nailed by the start of April; the gap over 5th-place now ten points.
Overall it is a massive improvement – to balance the dual demands of both competitions, especially when it involved two standoffs from the want-away star player who left in January, and when the two main transfer targets of the summer had to wait (Naby Keita until the summer, Virgil van Dijk until January).
City already had a ton of expensive players when Guardiola arrived (although so did Mourinho at United, which made his talk of heritage a bit bizarre). While City have no one as costly as van Dijk without inflation, with inflation Eliaquim Bloody Hell Mangala cost c.£87m (via our Transfer Price Index that tracks all Premier League transfers). Sergio Aguero's fee is now equivalent to over £130m in today's money, to put their spending into context, although that still represents good value. (Liverpool's most expensive player from the Premier League era after inflation is Andy Carroll at c.£95m. Eek. Which is a couple of million more than Kevin de Bruyne cost after inflation.)
Both managers have brought an incredibly exciting style to England. Klopp has yet to create an era-defining team in the way that Guardiola did at Barcelona (and perhaps is doing again at City), but Guardiola has never taken a bankrupt club on a shoestring budget to back-to-back titles in a major league and to a Champions League final. Unlike some managers, both are a credit to this country.
Anyway, onto my selections…
This article is for subscribers only. See below for details on how to sign up.
[ttt-subscribe-article]