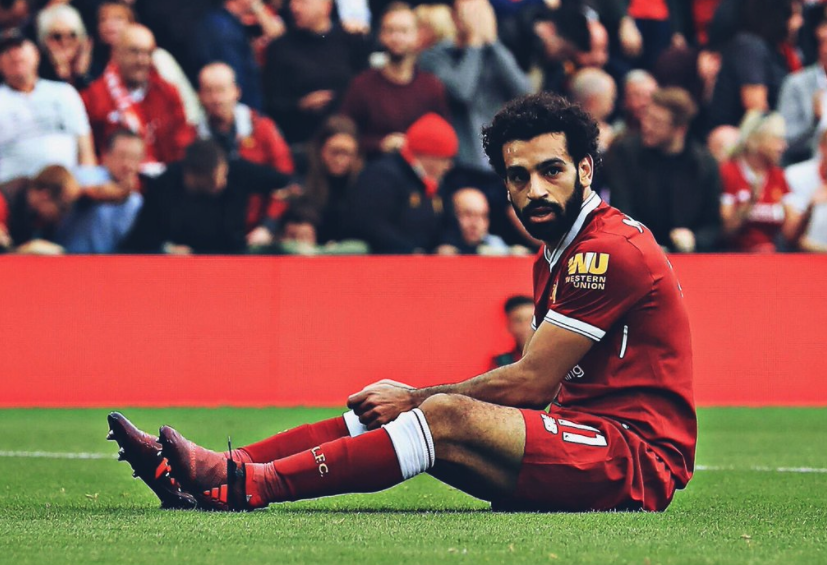 Is it possible to be a world class finisher and woefully wasteful at the same time? It seems – on the face of it – like two completely opposite 'attributes'. Why then, depending on who you speak to, is the Reds' new signing Mo Salah seemingly on both ends of the spectrum?
On one side:
"It doesn't matter how many goals he scores, imagine how many he would score if he could finish."

On the other:
"Compared to his peers, and based on his career conversion rate over a huge sample, he's an elite finisher."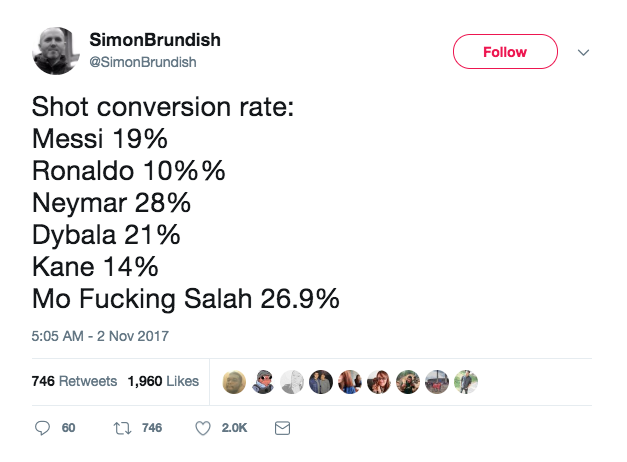 Is it possible to miss an open goal every other week and still convert chances at a better rate than Harry Kane and Lionel Messi, whilst not being able to shoot? One of them must be wrong.
In this article we will take a look at a breakdown of each individual shot Salah has taken in all of the competitive football he has played this season. All 75 of them. To do this I compiled a video clip of each shot and assigned a expected goal value using the Understat.com data for Premier League games, and Michael Caley's first version that is publicly available here.
Warning: All data is included, so the tables are HUGE! Data galore, so if stats irritate you, and make you come out in a Proper Football Rash, then maybe go and read the Echo's comments section.
Debating With the Professionals
Twitter trolls, and the atypical phone-in fool are two groups one would expect to be fuming at a player for missing a 'sitter', especially if that chance costs the team points. Irrational, idiotic and often lacking in any creativity whatsoever.
Missing a big chance at 3-0 up in the 80th minute is a lot different to doing it at 0-0, when the team itself has already had 25 'wasted' attempts. This type of chance, and game state, tends to imprint itself onto the frontal cortex of a fan's brain for a long time to come.
And yet, what happens when sat watching Liverpool with two or three highly qualified professionals? They've all worked in youth development over the last 15 to 20 years, in various countries, and for various teams. One is currently working for Barcelona (in the US) and the others are directors of an academy. One is a Leicester City fan, one FC Halifax fan and a fellow red to finish it off.
What is Mo Salah to them?
Wasteful.
They understand the figures, they understand the technique, they understand the importance of sample size and the fickleness of fans. And yet, still, wasteful.
They praise his raw pace, acceleration, and crucially his intelligence when making attacking runs …
"Constantly giving himself chances not many others would even dream of reaching."
When I did my best to outline not only his conversion rate this season, but across his career, they were still adamant …
"That's different with Salah because he misses so many easy chances. Compared to Kane, who manages to make goals out of nothing."
I'm not convinced by this argument on the whole. But without knowing just how many Kane has had compared to Salah, there was no point me speculating at the time. I picked my beer up, mumbled something under my breath about there being an article in this conversation, and got on with watching us against Maribor. Next player to score? Of course he did, to guffaws all around. But no change in the hardline stance.
Here are the actual figures in the Premier League this season, except with a twist … they are anonymous. Can you guess which is Salah and which is Kane?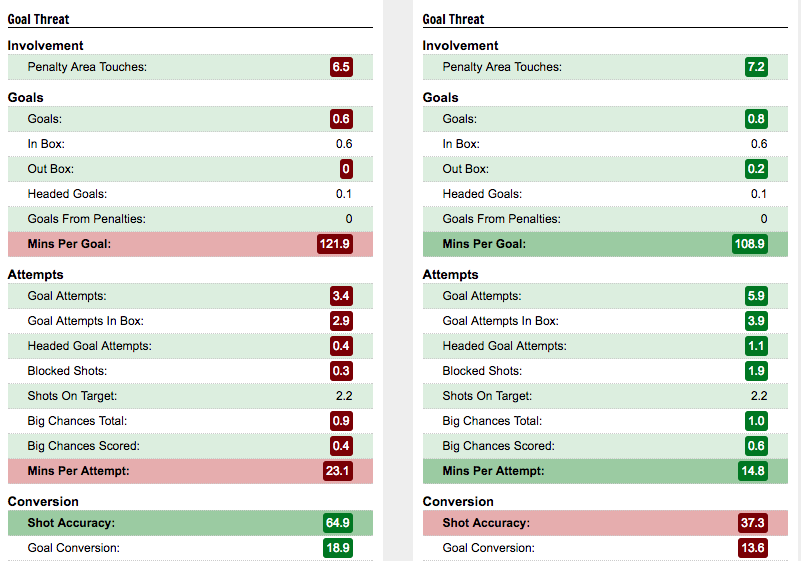 Either way, they both have around one big chance per game (which is huge); have a high volume of touches inside the box (and goals), as well as the exact same amount of shots on target per game. And yet, the player with the better shot accuracy, and conversion rate is … Mo Salah. It appears Harry Kane is 'woefully wasteful' according to the same standards applied to Salah. Truth is, Kane shoots too often outside the area, and was – despite shooting around seven times a game – completely 'dry' in August (and at Wembley until Lovren and Mignolet gave him a free gift).
Of course, crucially, this is only the start to one season, how about when we compare conversion figures for strikers between 2011-2015? Where does 18.9% compare with the 'greats' of the Premier League?
*IMPORTANT CONTEXT*
https://datawrapper.dwcdn.net/4bepo/1/
Salah's current 19.5% goal conversion on all 75 of his shots would place him as the tenth most clinical finisher across the selected four year sample.
Salah's Top 15 'Easiest' Chances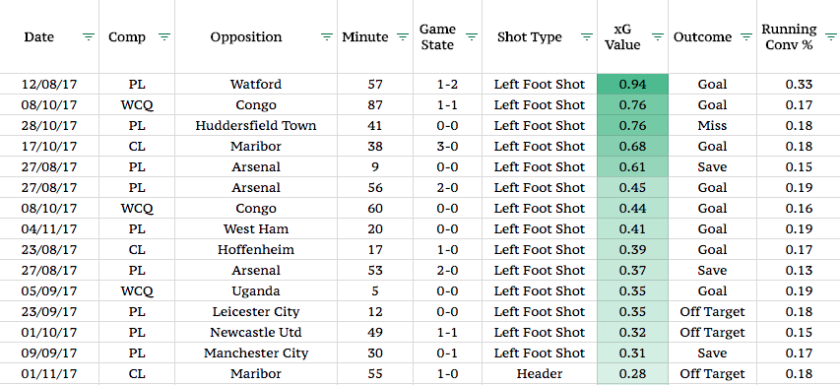 The full sample of shots, in chronological order, with a running conversion rate is available below. You can see how the vast majority of Salah's shots have a lower xG rate of 0.30 (or 30%).
Statistical Breakdown of All Salah's Shots in 2017/18 (Google Sheets)
Sixty-plus shots with less than a one in three chance of going in. My general perception – and clearly those of fellow Reds and fans of other clubs – was that he'd had a bigger proportion of 'big chances'.
What is a big chance? According to Opta …
A situation where a player should reasonably be expected to score usually in a one-on-one scenario or from very close range.
Thanks to Dan Kennett, who has tracked clear cut chances (the old brand name) over the past seven seasons, we know:
… the percentage of all shots that are non-penalty big chances has stayed very similar across the seven years; min of 10.9%, max of 12.4% with an average of 11.5%. So we could reasonably define that the top decile of non-penalty shots are definitely "big chances".

The seven season average conversion rate is 37.6%. But it has gradually increased year on year from 33.3% at the start to 46.2% last season.
One way to remove the Opta 'subjectivity' is to assign an expected goal value, with everything over that being classed a big chance. Dan suggested if we assign 0.35 (or 35%) then we are referring to the 85% percentile and above. According to this cut-off:
Salah has had 12 big chances in total, and ten non-penalty big chances.
He has converted eight out of 12, for a 66% conversion rate.
Taking penalties out, it rises slightly to 70% or seven out of ten.
The proportion of all these big chances is slightly above the norm at 16%, but nothing significant.
Even if you use all 15 shots, the conversion rate is still above 50%.
14 out of the 15 shots above were with his left foot!
That last point reminded me of this section of his scouting report earlier in the summer:
First of all, after watching around 150 clips, I'd only seen Salah touch the ball with his right foot twice. He dribbles with his left, shoots with it and I'd be surprised he doesn't brush his teeth with it either judging by its effectiveness. After watching more and more, he can clearly use his right when needs be, and even sets up a couple of goals with it, but he usually adjusts his body position so he's primarily on his favoured left peg.
The rest of this article is for subscribers only.
[ttt-subscribe-article]