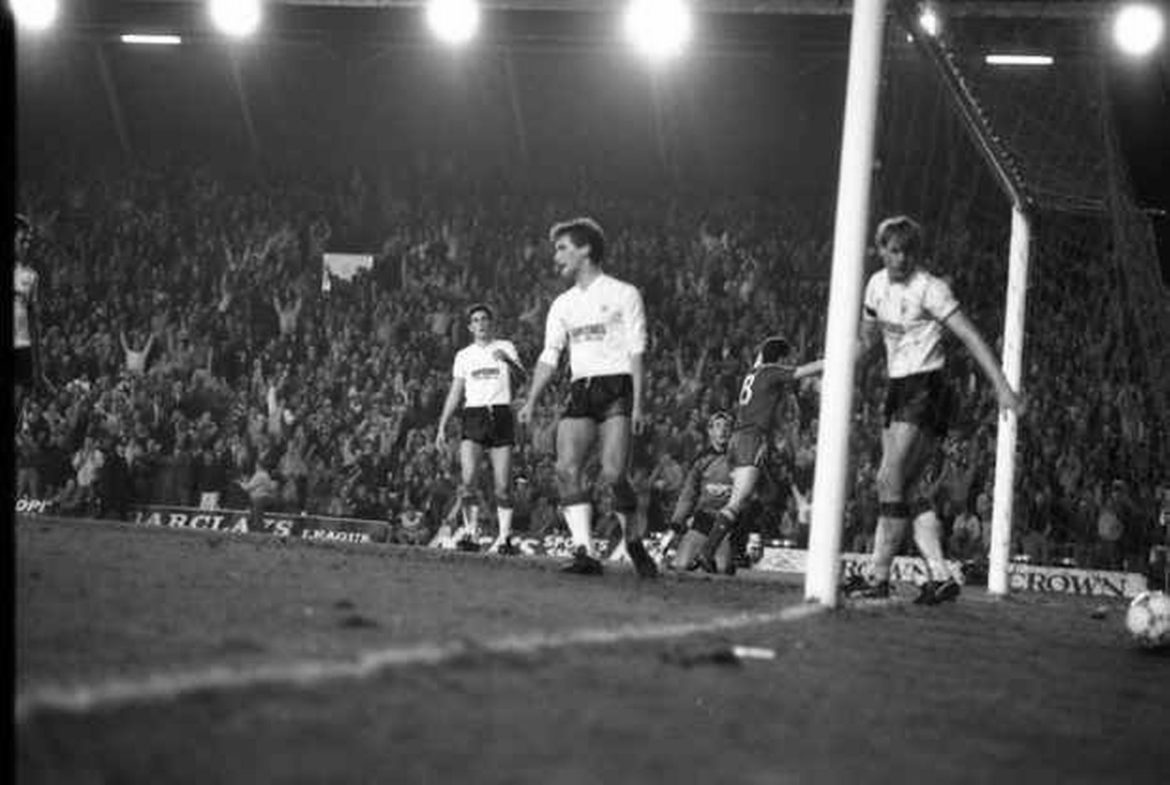 These stats are 100% unofficial. I have had no formal training in how to collate them, but from years of working with football stats I have a pretty good idea of how they are gathered. Videos in this article are marked up for desktop only and are unlikely to work on other devices. The full video of the match can be viewed on YouTube here.
Go to any Liverpool match this season, and you're sure to hear the following chant.
We hate Nottingham Forest

We hate Everton too (they're shit)

We hate Man United

But Liverpool we love you
To younger Reds, this must seem odd. Hatred of the latter two teams is self-explanatory, but Nottingham Forest? A team who haven't been in the Premier League for almost 20 years?
It seems hard to believe now, but Brian Clough's Forest team temporarily knocked Liverpool off their title winning perch both at home and in Europe in the late 1970s. Whilst they'd never reach those heights again, in the seven seasons between 1983/84 and 1989/90, Forest won two league cups, reached a UEFA Cup semi-final, and finished third on three occasions, including in 1987/88. Make no mistake about it, the match I am reviewing here was a big match at the time.
So much so it has previously been covered twice on this very website. Chris Rowland rightly included this match in his 'Memorable Games' series in 2010, and Paul Tomkins reviewed the game for it's 25th anniversary. The match was also covered in Jonathan Wilson's excellent book, The Anatomy Of Liverpool.
The title of Paul's article asked if this was the greatest ever Liverpool performance. Whilst I can't answer that definitively of course, I will be looking at how it matches up to some big Reds wins from more recent times.
When one team batters another, a common phrase used to describe the encounter is "men against boys". Yet in this match that's a fairly accurate reading of the two teams. According to LFChistory.net, the average age of the Liverpool side was 27.4, so they were in their prime. Meanwhile Forest checked in at a callow 22.8, and for much of the match that difference showed. But they were still a very good team.
You may recall from my analysis of the European Cup final with Bruges that I used ClubElo ratings to put the Belgian team's strength into context. If we look at this match, the Elo scores on the day were 1920 for Liverpool and 1822 for Forest. Looking at the current rankings, that's roughly the same as Chelsea (1911) hosting Sevilla (1820).
People often wonder how well this Liverpool side would've done in Europe. We'll obviously never know, but I can say at the time of this match, the two European Cup finalists, PSV and Benfica, had Elo ratings of 1870 and 1733 respectively. Real Madrid (one of the defeated semi-finalists) were rated at 1936, so a shade ahead of the Reds, but it's clear Liverpool were one of the best teams across the continent at the time.
To the match itself. The Reds didn't fly out of the traps in this one; after ten minutes they'd had just one attempt at goal, and that was from long range. Liverpool's passing was a little sloppy, and whilst not creating anything themselves, Forest were comfortable enough.
John Aldridge wasn't particularly in the game early on, and didn't have many chances in the match. In fact, he only had two shots in the whole game, but scored them both. Classic Aldo. In the early stages, he was actually more of a chance provider, and in total in the game he set up five opportunities: two apiece for Barnes and McMahon, and one for Houghton.
Though Liverpool weren't a particularly direct team, and certainly not by the standards of the time, Aldridge was a decent target man who could create chances through flick ons and lay offs. Two of the Reds' first three chances (whilst not brilliant opportunities) came about by him coming a little deeper and doing just that.
The first goal came in the 18th minute, thanks to the Reds' first clear-cut chance of the night. It featured a couple of aspects of play which repeated throughout the evening. Firstly, Liverpool won the ball and sprung into attack, and then there was a neat piece of intricate passing around the penalty area.
Maybe it's just me, but the celebrations seemed strangely muted. From the players, to the fans, to the unusually measured tone of commentator John Motson. I guess maybe 1987/88 was just too easy for Liverpool up to this point? It all feels like everyone thinks it's already 3-0. Perhaps at that point it often was that season.
I thought it would be interesting to compare the speed of the move with more recent goals. Using the Opta chalkboard here, I noticed for Mané and Sturridge's goals against Arsenal recently, it took about ten seconds between the ball being at the centre circle and the goal being scored. In the first goal in this match, it was about the same; I found this quite surprising. That said, I watched the video of Salah's goal against Arsenal, and that only took six seconds from half way to the back of the net! All very different moves of course, but it's interesting that in these simple examples Liverpool were cutting through a top team roughly as swiftly in 1988 as they do now.
By the time Forest had their first shot in the 26th minute, Liverpool had attempted seven, scored once, and seven Reds had created a chance and/or taken a shot. The only starting outfield players not to contribute directly to a shot all night were Ablett and Hansen, and as the following three clips show, even they both very nearly did.
What did you see there, by the way? More winning the ball and attacking, featuring passing in and around the box. None of those moves came off, but they were symptomatic of Liverpool's approach, and it worked time and again. As Jonathan Wilson wrote:
"Forest, like so many sides before them, began to find themselves under pressure, not facing too many specific threats as such, but slowly suffocated by the impossibility of relieving the siege … Liverpool's method, in a sense, was to create counter-attacks wherever they could."
The second goal followed a similar pattern. What I noted here was Barnes won the ball in the left-back position. Later in the game, when the score is 3-0 and there's less than 20 minutes to play, both Aldridge and Barnes were in a similar area battling hard to win the ball back. As much as the 1987/88 Liverpool team were rightly lauded for the quality of their football, they worked incredibly hard too.
Kenny Dalglish kept a diary that season, which was released as 'The Liverpool Year', and he wrote the following about Barnes:
"Some people seem surprised that a player of such obvious individual skill as John should come to a club like Liverpool whose successes have been based on teamwork but I think he will complement us and vice versa … He will contribute a great deal to the team effort. He is never shy of going back to help out in defensive situations."
He certainly wasn't as we can see here, and he passed to Beardsley who then brilliantly played in Aldridge for 2-0.
It's true of all truly fabulous performances that they simply can't be amazing for the whole 90 minutes. There are inevitable lulls, and of course however much a team outplays their opponents, the other team will have chances. But for around 15 minutes at the end of the first half of this match, Liverpool were simply electric.
Between the 29th and 43rd minutes, the Reds had ten shots, including six in the box and two clear-cut chances. Here's a compilation of the best moments. Sit back and, despite wonderful play by multiple Liverpool players, luxuriate in the majesty of Peter Beardsley.
WOW. Bear in mind, that period of the match also included the second goal, and the earlier clip I used of Hansen charging into their box. I've seen whole Liverpool matches without one move as good as some of the ones in that montage. The final chance in the collection featured another good knock down from Aldridge which lead to a chance. It was clearly a strength of his.
As I said, Beardsley was the stand out performer in that period. But one other thing I want to highlight from that spell is Barnes' position when McMahon has a shot from range. A couple of seconds later, the former Watford man is slamming a shot from inside the box against Steve Sutton's upright. There's no way he should be beating #2 (Steve Chettle) to the ball, but he does.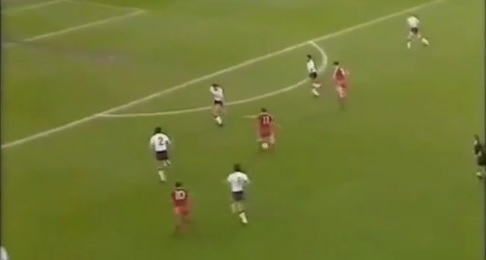 By half time, Liverpool had tested the Forest 'keeper with nine shots on target. To give that some context, since August 2008 the Reds have had fewer than nine shots on target in 314 of their 345 Premier League games. In other words, 83% of the time Liverpool don't have as many shots on target in a whole match as they did in the first half on this April evening in 1988.
The rest of this article is for subscribers only. 
[ttt-subscribe-article]