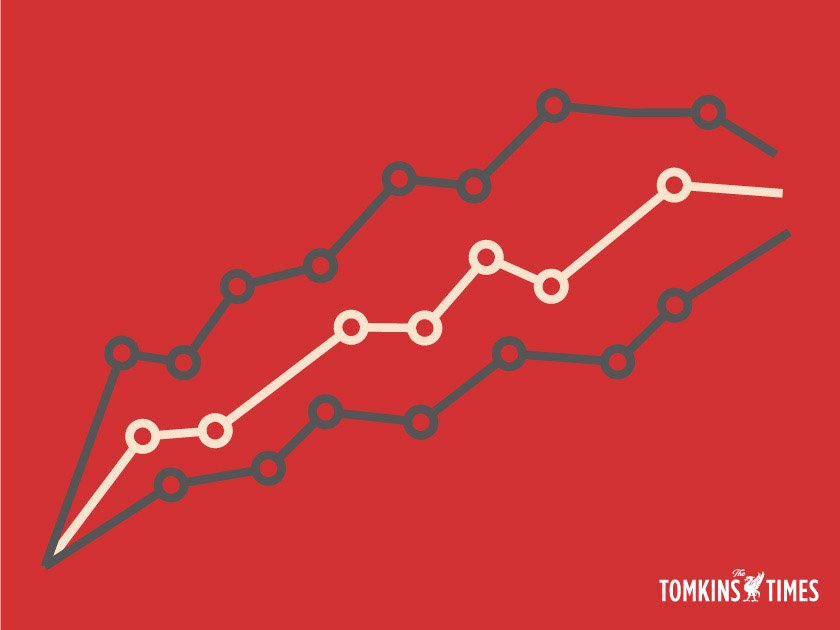 Although the title suggests these articles will be weekly, it actually indicates how far through the season we are at the time of writing. In fact they will be once a month. For a full explanation of how the radars are calculated, please see the opening article in the series.
There can be only one place to start this edition of the radar round-up: Liverpool's demolition of Arsenal at Anfield.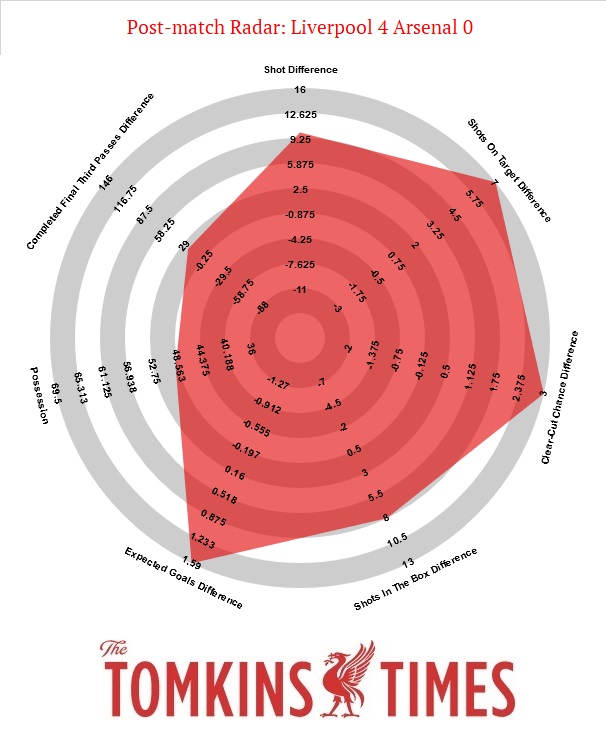 Impressive stuff. The possession and final third stats may have been fairly equal, but Liverpool completely dominated the shot numbers. Not only that, but their three best figures were in arguably the three most important categories: clear-cut chances, shots on target and expected goals ('xG').
The Reds weren't just dominant in those fields, they were radar breakers. They went three shots past the radar edge for both on target and clear-cut efforts, and almost a whole goal (0.94) over the xG boundary.
As my radar data goes back a shade over two seasons, the database contains 62 matches where two band one (top six) sides have met. From these games, Liverpool's performance against Arsenal now holds the record for the three aforementioned stat categories.
In fact, the Reds' figures on those stats would be pretty impressive if Arsenal were a band three team (and whilst they are currently 16th, I somehow doubt they'll finish there). They'd still breach the clear-cut chance boundary, be only one shy of the shots on target limit, and be under half an expected goal (0.46) from the outer limit of xG.
Speaking of band three teams, Crystal Palace's efforts so far this season suggest that they will probably end up in the bottom category. However, their underlying performance from 2016/17 rates them as a band two side, so for now they will be graded accordingly. Let's take a look at how the Reds got on statistically when they hosted Frank de Boer's team.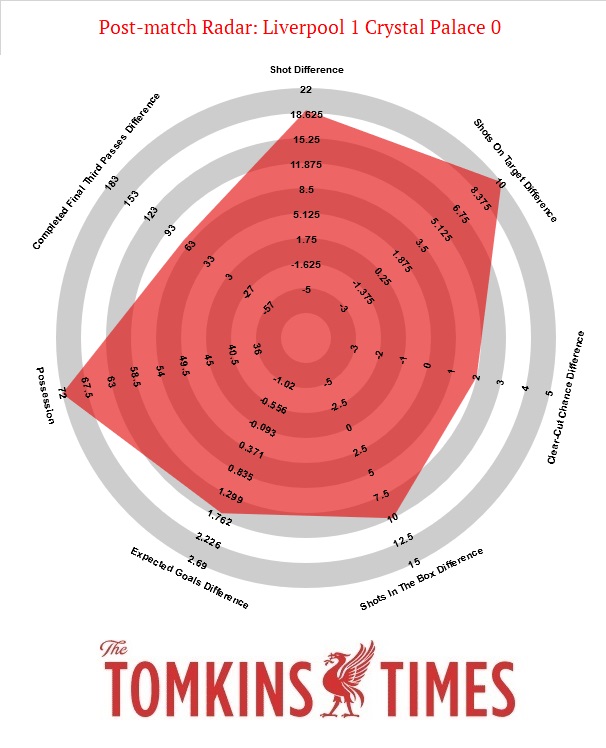 It's not as impressive as the Arsenal one, but then Palace wisely opted against playing right into Liverpool's hands tactically. The red shape on the radar would also be smaller if Palace were graded as a band three outfit. Nonetheless, every section of the radar is heading in very much the right direction, and as with Arsenal, the shots on target difference figure (which in this match was 12) exceeded the edge of the chart.
The rest of this analysis is for Subscribers only.
[ttt-subscribe-article]