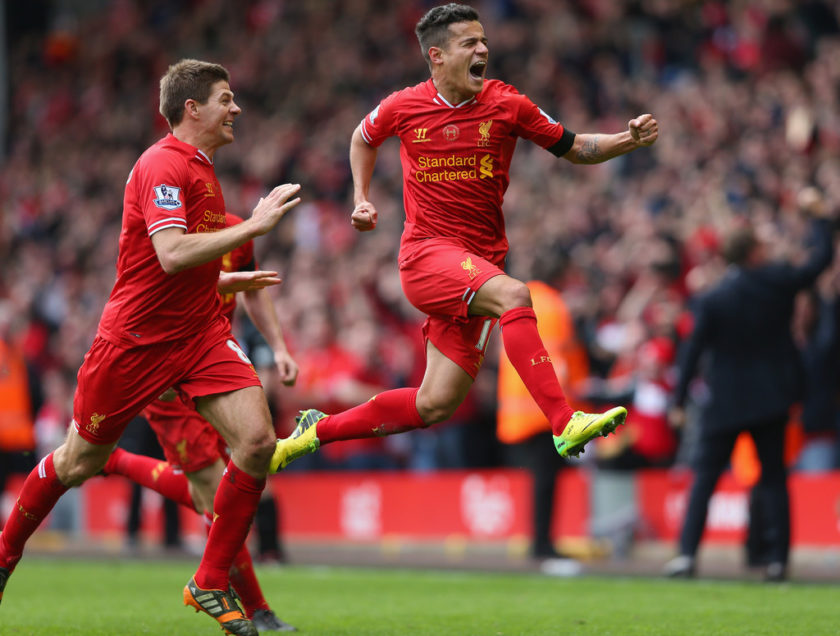 A Banquet Without Wine, by Anthony Stanley. Chapter 20 – Poetry in Motion
It wouldn't be too much of a stretch to suggest that there was something of a collective shrug of scouse shoulders as Brendan Rodgers and the transfer committee secured the signings of Daniel Sturridge and Philippe Coutinho. Both were the very epitome of the FSG, Moneyball-inspired blueprint; ultra-talented and young but not quite hitting the heights that their respective talents suggested they were capable of. Though there was the inevitable residual excitement that comes with any transfer of a mercurial South American, there was also a healthy dose of grounded realism – the £8.5 million arrival from Inter Milan had hardly set the world alight during his time in Italy, although a loan spell at RCD Espanyol pointed to a ceiling, in terms of talent, that could be very high indeed.
The English international striker Sturridge was, patently unfairly, seen by many as possessing a mercenary streak and a player that may have been difficult to work with though, it has to be noted, much of the unease stemmed from the fact that many Kopites were also uncomfortable about the Reds signing footballers that were essentially cast-offs from their perceived rivals. But the reality was that Roman Abramovich's insistence on big names at Chelsea worked in Liverpool's favour; Sturridge would soon usurp Fernando Torres as one of the best strikers in the Premier League and would do so in a red shirt. Even the most unbridled of optimists would be hard-pressed to have predicted it in January of 2013, but the arrival of an Englishman and a Brazilian was about to provide the catalyst for what would be a thrilling eighteen months.
In Brendan Rodgers' first few months at the club, there had been a perception that his stunningly gifted striker, Luis Suárez, had tried to do too much on his own, possibly not trusting the level of talent that was around him in the Liverpool attack. But the Uruguayan instantly recognised the potential of the new arrivals and this thrillingly effective triumvirate would serve up some sumptuous football over the coming spring, an electrifying and exhilarating appetizer for the main course Liverpool fans were about to dine on in 2013/14. In his autobiography, Crossing the Line, Suárez described his impression of his new teammates:
'Philippe was incredible. He changed us completely. He's the one that gave us faith in having the ball because his technical ability is so good. You knew that he wouldn't lose it, you knew that he would produce something special … you could see straight away that he was different. Daniel was about to become the best partner I'd had in my career … I could see that he would make a difference. When I watched him in training, my appreciation for his ability grew. I knew that he was quick but the way that he could finish really struck me. Every shot went in. Every time. He had the talent and Liverpool offered him the opportunity and continuity that he hadn't had at Chelsea.'
This new-look attacking force would immediately start to sow the seeds that would fully flower in the following season as they routinely put teams to the sword and racked up impressive wins in the second half of the 12/13 campaign. Norwich City were trounced 5-0 in a game that was notable for Suárez, the chief canary tormentor, only scoring one goal and Sturridge becoming the first Liverpool player since Ray Kennedy to find the net in his first three competitive games for the club. Suárez may have only notched the one against his favourite victims but he was in the middle of a prolific season as his astonishing gifts were rapidly solidifying. A hat-trick against Wigan Athletic in a 4-0 victory graphically demonstrated the Uruguayan's goal scoring prowess but his past indiscretions were undermining his chances of securing a PFA or Football Writer's award for player of the season. As The Times put it:
'Of the three leading contenders for the PFA award, Van Persie and Gareth Bale being the other two, Suarez's performance indicators have been the most eye-catching. Not only has he now scored more goals than his two rivals and has a superior goals-to-minute ratio, he also has more assists, made more key passes and more tackles. This in a Liverpool side in which he has been the only available recognised forward for a large period of time.'
Alas, as the season entered its final few games, the divisive Suárez handed the moral high ground to his detractors and sealed himself as the practically unrivalled pantomime villain of English football as he, quite shamefully, decided to bite Chelsea's Branislav Ivanović during the dying moments of a 2-2 draw at Anfield.
But ….
Well this is too forensic; too dispassionate. Poetry, outside of an English literature class, is rarely pathological. Who wants to study the mechanics of iambic pentameter or onomatopoeia when you can savour Ozymandias or Mid-term Break or Paradise Lost? We all know what happened to our Uruguayan striker, we all know the package that Suárez came wrapped in, a flawed hero that was about to explode in a kaleidoscopic burst of redemption as his unique talent crystallised, as his journey towards the very elite players in world football took a beguiling and thrilling quantum leap. To return to the poetical metaphor, and at the risk of stretching it too far, for Suárez and his cohorts that were about to thrill a new generation of Reds, it was Milton's Paradise Regained.
First though, with Suárez in the midst of a ban for his latest misdemeanour, and during an underwhelming summer of transfer dealings as, one after another, targets slipped through Red fingers, Brendan Rodgers had to fight off interest from Arsenal for the Reds' talismanic striker. The Gunners submitted a transfer bid which elicited the now-famous tweet from John Henry as he speculated on the possible narcotic preferences of the London club's hierarchy. Whatever they were indeed smoking at the Emirates, there was no whiff of indecision from the Liverpool manager as he summarily banished Suárez, now agitating for a move, to train with the reserves as he served out the remainder of his suspension.
Looking back, it's easy to wonder what could have been had the Reds secured even one of their top transfer targets during the summer of 2013. Henrikh Mkhitaryan, Willian and Diego Costa were all pursued by Rodgers but in the end the Reds' boss had to settle for Luis Alberto, Iago Aspas and Victor Moses (the latter on loan from Chelsea). Could one of the former trio have made a difference as the roaring flames of the 2013/14 post-Christmas form became less brilliant and deafening as the spring became summer. A lack of squad rotation and Rodgers' distrust of anyone outside of a cadre of around thirteen players, have all been mooted as possible reasons for Liverpool's thrilling challenge eventually fading. But then would a Willian or Mkhitaryan (Costa was almost surely never a realistic prospect as he angled for one final release clause caveated contract from Atlético Madrid) have held back the exhilarating and electrifying development of Raheem Sterling who, from November onwards, was one of the finest young players in Europe? We will never know the answer but the chemistry that was gradually built by Rodgers, the breathtaking interaction between the forward line as side after side toppled and were utterly vanquished, quite probably would not have fermented so well if one of the aforementioned trio had signed.
But, again, this is bordering on the forensic. Screw that.
The campaign that would develop into a mass, collective deluge of singing from the stands, of 'We are Liverpool' cascading throughout Anfield as goals and goals and more goals were witnessed with feverish joy, began – not with a bang – but with a series of relatively formulaic (but highly encouraging) wins. But is it memory playing tricks on me as I peer back in my mind? Is it viewing the beginning of the season through a prism of Red optimism that was to later unfurl if I claim that on August 17th, when new goalkeeper Simon Mignolet dived to his right to keep out Jonathan Walters' last minute penalty and deny Stoke City a share of the spoils, to claim that there was a faint stirring of nascent belief? Belief that we may be on the cusp of something special, that Liverpool were quite possibly in the midst of the planets aligning themselves perfectly in our favour (let's not mention storms; even if they are of the 'perfect variety'. The very phrase irks at this stage).
Ferguson's phenomenal regime was at an end up the road in Manchester and there was more than a hint that it was, in reality, the sheer force of his personality that that had dragged Manchester United to their twentieth league title. The Red Devils' noisy neighbours, a year after Sergio Agüero's dramatic last gasp winner had given them their first Premier League title, had parted company with Roberto Mancini and there were many who speculated that it may take his successor, the Chilean Manuel Pellegrini, a while to adjust to the unique rigours of the English Premier League. Chelsea had reappointed José Mourinho and he himself wrote off his new charge's chances relatively early with his frankly ridiculous comparison to 'little ponies'. Why should Liverpool think they should be discussed in comparative terms with these sides when, for the last few seasons, our rivals had, in reality, been more mid-table sides then the traditional table toppers? Because – and this is not hindsight talking – the belief already discussed had been slowly coursing through Red veins, building from a trickle to a surge, as the form at the end of the previous season had been cause for vast encouragement. It only took Mignolet's save and three successive winners from Daniel Sturridge – truly stepping up in the absence of Suárez – to help this surge become a tide, a sparkling Red sea of hope and anticipation.
Late September witnessed the return of Suárez (now, apparently, rehabilitated and ready to give his all) with Liverpool handily placed, despite a hugely disappointing home defeat to Southampton which had, for many, confirmed that we could still not quite trust these Reds. We all knew the Uruguayan was special, but he was about to show us just how unique a player Liverpool possessed. Arguably, from October through until February, there was no finer player plying their trade anywhere on the planet. It was astonishing, almost surreal, as Suárez seemed to be playing his own personal goal of the season competition. Who will forget his impromptu, improbable header from outside the box against West Brom or the fabulously cheeky nutmeg and outside-of-the-foot finish that preceded it? Or what about the finest example of finishing I have ever witnessed in one game as Suárez absolutely tormented Norwich City in early December. We watched something truly special, truly enchanting, that crisply chilly evening at Anfield and, if you'll forgive me an indulgence, I have to re-create part of an article that I wrote for the The Tomkins Times website not long after:
Anfield, 3rd December, 2013. Pre-Christmas cheer, the stadium feels slightly devoid of passion, there is a troubling disquiet in the air. We have been to Hull and back, have been handed our arses on a plate and have retreated meekly following an abjectly laboured and dull display. The media are already doom-mongering, pointing to portents that our Champions League push will, typically and inevitably, shrivel and die before the festive season begins. Liverpool have not begun this game against Norwich City particularly well; their passing game is slightly off and Norwich are having some joy with their high pressing. And then Luis Suárez, quite literally out of nowhere, transforms and transcends the mood. His is a forty-five yard volley of miraculous intent; an arc of triumph that gloriously soars, dipping and swerving, from his foot over a hapless Ruddy in the Norwich City goal. Ten minutes later the Uruguayan actually betters his brilliant first with a goal of such quality, cheek and imagination that it really defies description. And just for good measure during this astonishing performance, Suárez also indulges us with a fabulously improvised finish and an expertly-taken thirty yard free kick. Has there ever been a show of such breathtaking finishing witnessed at Anfield in all its illustrious history? Is there another footballer on the planet that could produce such a range of goals? Probably not and this performance completely and utterly obliterates any talk of throwing in the Champions League towel.
In the space of a week, just before we collectively sat down for our Yuletide dinners with the Reds gloriously looking down from the summit of the Premier League, Suárez destroyed Cardiff City almost single-handedly, one of his goals a ridiculously bending, curling, piece of artistry as he showed his vast intelligence, skill and appreciation for angles, while he also played a massive part in Liverpool's dismantling of Spurs at White Hart Lane. The latter was, thus far, the zenith of Rodgers' Reds as they, shorn of Steven Gerrard and Daniel Sturridge, summarily dismantled André Villas-Boas' Tottenham side. The dismayed, stricken and defeated manager simply became the first of a few to be sacked following obliteration by a Red tsunami. Former Spurs boss David Pleat opined that '(it) was a masterclass, a display of exhilarating football. Liverpool were speedy and purposeful with brilliant individual touches. They have produced a superb away performance.' The injured captain Gerrard sat in the Sky Sports studio, and as he waxed lyrical about the Reds, he may have been forgiven for wondering if his undeniably aging legs could again find a place in this dynamic and lethal outfit.
Stevie also sat out the next two games as Liverpool – dauntingly – faced both Manchester City and Chelsea away in the space of three days. The Reds were unfortunate in the extreme to emerge with no points from the brace of fixtures but the display at the Etihad Stadium in particular had Kopites purring and wondering just what could be achieved this season. But these losses saw Liverpool plummet to fifth in the league in what was starting to become a very congested top six.
The conundrum facing Rodgers – how best to get the captain back in the side – did not appear to be solved as Aston Villa came to Anfield in mid-January and raced into a 2-0 lead. Gerrard was deployed in a holding midfield role, part quarter back, part regista, in a bold move by Rodgers, and one that has been, to a degree, airbrushed in a flurry of revisionism since. Though the Reds fought back to secure a draw, many questioned the decision. It would prove to be a master stroke as Stevie got used to the position; all of his still formidable gifts, his ability to launch missiles, his razor-sharp footballing brain, and the sheer range to his passing were all to the fore as the season started to enter a critical stage. Gerrard may have not been able to quite get around the field like the captain of old, but in a rapidly maturing Jordan Henderson, Liverpool had an indefatigable Duracell bunny who could compensate for his captain's relative lack of mobility.
By the end of January, as Liverpool welcomed their neighbours from across Stanley Park to Anfield, there was no sense that we were about to embark on a near-historic run of results. Though the Reds were hopeful of securing a place in the top four and a return to the Promised Land of Champions League football, this was by no means certain. Everton, under Roberto Martínez, were on an upward trajectory and sat a mere two points behind Liverpool in fifth with a game in hand. Tottenham Hotspur were also breathing down our necks and, though they were hilariously floundering under the leadership of 'The Chosen One' David Moyes, Manchester United could never be discounted (at least at this stage of that season). Gerrard again started the Merseyside derby at the base of the midfield and there was a sense of slight trepidation as the teams walked out under the winter floodlights. Four goals later and all fears were forgotten – if not quite banished, then certainly brushed under the carpet as Liverpool fans gloried in another masterclass. But still, despite the nature of the win, despite the joy we got from Sturridge's lob and Gerrard's header and Suárez's run and adroit finish, there remained a lingering, inherent doubt. It had been a fine season so far but third was probably the best we could hope for. Slight distrust continued to loiter in the stands of Anfield and elsewhere. These barely articulated fears, that this campaign could still go pear-shaped, were merely given some credence by the following result, a disappointing 1-1 draw with West Brom.
Where were you at 12.30 on Saturday 8th February 2014? Can you picture your surroundings? Can you feel the air around you, the angst fuelled disquiet as the league leaders arrived at Anfield? Is it still there within you, persistent, enduring, that sense of incredulity as this fantastic tapestry unfolded before your eyes? The Spurs annihilation had been good but this was something more; this was a harbinger, a paean to glory scarcely felt, scarcely believed. This was all of our fears being dismantled as each goal went in, all of our hopes beginning to crystallise and swarm and gather a locomotive life of their own, a force that would not be denied and that would gather pace. Coutinho effervescent, robbing Mesut Özil, pressing like a rabid wolf, finding space, finding Sturridge. Said England striker's deadly, relentless, probing, exquisite touch. Suárez, the djinn, the force of nature and chaos, a Loki made flesh, tormenting the league leaders and scoring the best goal of the season that wasn't a goal as the inside of the post shuddered with the power of his talent. Henderson and Sterling, the great hopes, the transformation from sources of worry and irritable cynicism to stars being completed before our eyes, a benign metamorphosis in the space of a few months. Škrtel, the foundation of many a fear, the epicentre of unease for so long, continuing his unlikely goal scoring exploits.
5-1. And we never looked back. We refused to look back. We simply rolled our sleeves up and made the impossible dream a tantalising reality. Test after test came and were dealt with, hurdles were jumped. Dreams were forged.
But first the players had to believe. Personally, I feel that Gerrard's winning penalty a few days later against Fulham was when they started to consider the title a genuine possibility. Watch Stevie's leap as the Reds complete the comeback, watch as he strips off his jersey, as he clenches his arm in intoxicating and contagious triumph. This was not now about securing a top four place, not anymore; this was now about the title. About the Premier League.
It continued to rain goals. Goals from everywhere, goals from every angle. Suárez – after his phenomenal early to mid-season form – wasn't quite the impossible whirlwind he had been but others stepped up. Sterling became a new darling, Coutinho revelled and hinted at just what he could become capable of in the fullness of time, Sturridge just kept scoring until injury halted his inexorable feats. Twelve (12) goals scored in three consecutive away games against Southampton, Manchester United and Cardiff City signalled a virtual parade in the streets surrounding Anfield as Liverpool welcomed Sunderland with a giddy flood of red and smoke and sheer joy.
We all believed.
We believed when The Mackems – fighting desperately for their lives – were dismissed, despite some scares. We believed when Tottenham, now starting to buckle under Tim Sherwood, were swatted contemptuously aside at Anfield. We believed when two penalties from our captain foiled the pantomime villain that was Sam Allardyce and usurped his nefarious plans to neuter the claws of the Tricky Reds.
Anfield, 13th April, two days before the 25th anniversary of the Hillsborough disaster. A sun-dappled pitch, a heaving throng of Red, a strident sea – no, ocean – of belief and pride. Brendan Rodgers, proud and determined, overlooks his troops, overlooks the stadium as 'You'll Never Walk Alone' is belted out, as voice after voice joins in, as flags wave and ripple in the gentle breeze. The very atmosphere seems to exclaim in a dissonant flourish: 'this is ours, this title is ours, it will not be taken from us.'
A win will put the dream in our hands – with only four league games left to play – for the first time.
The blitzkrieg is so typical of so much of the past season as Manchester City – league leaders and pre-kick-off favourites for the title – look shell-shocked. There is no spite in the booing and baying of the Anfield crowd whenever a blue shirt has the ball, there is no malevolence; there is only want, of need, of desire to see a sweet dénouement fulfilled, to see destiny writ large. Sterling's goal is a thing of beauty, a swaying, beguiling movement that bamboozles Vincent Kompany and Joe Hart. Sturridge and Gerrard should probably score as the cacophonous crowd roar their heroes on. Škrtel's glancing header makes it 2-0 and there is such an outpouring of release and of joy that it is hard to even write these words. That feeling is still there, still tangible.
But that feeling is about to get better.
Manchester City are league favourites for a reason; theirs is a formidable squad, full of skill and strength and bite. They fight back in the second half after some typically questionable Liverpool defending makes it 2-2. Minutes later, David Silva is the length of a boot's stud from connecting with Agüero's low cross and giving City the lead, with an open goal gaping.
Tension, palpable fear, bile rising in your throat, nerves shredded. And then the 78th minute, when Coutinho swivels following a Kompany miscue.
Then the eruption.
Then the last few minutes, of the previous fear and anguish made to seem like a picnic in Disneyland, of Hendo walking but us scarcely noticing. All eyes are on that clock, on the referee's whistle as time slows to a shrinking puddle in the spring sun.
If you are reading this now, you witnessed that. You witnessed that magic. You will never forget it and nor should you. Never forget the tears in the captain's eyes as he gathers his teammates in a circle and entreats them with a scouser's passion, in the hoarse voice of one who lost a family member twenty five years previously to an unimaginable catastrophe.
'This does not fucking slip.'
I have to blink away the tears as I write this. Harrowing, beyond cruel, what is to come. Let's not go there, let's leave it at the image of a tumultuous, triumphant Anfield, of banners and flags waving in glorious victory. Let's leave it with the image of the sun shining down from a clear blue sky that afternoon, when it all seemed – not just possible – but probable. The pain is too great to do anything else; it is still a festering wound.
But, even with that haunting and devastating end, it was still poetry.
There's a cult film that was made in Ireland around the same time as when the Reds last won the league. The Commitments, a flick about a Dublin working class band trying to make it in the music industry and coming tantalisingly close to a breakthrough. One of the characters, with the memorable moniker of Joey 'the Lips' Fagan, gives a practical Shakespearean soliloquy to the crestfallen band's manager towards the end of the movie:
'I know you're hurtin' now, but in time you'll realise what you achieved. You're missin' the point. The success of the band was irrelevant – you raised their expectations of life, you lifted their horizons. Sure we could have been famous and made albums and stuff, but that would have been predictable. This way it's poetry.'
And it was poetry.
Poetry in motion.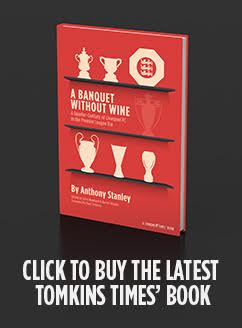 A Banquet Without Wine was originally published, chapter by chapter, for TTT subscribers only. It has now been collated into book format.