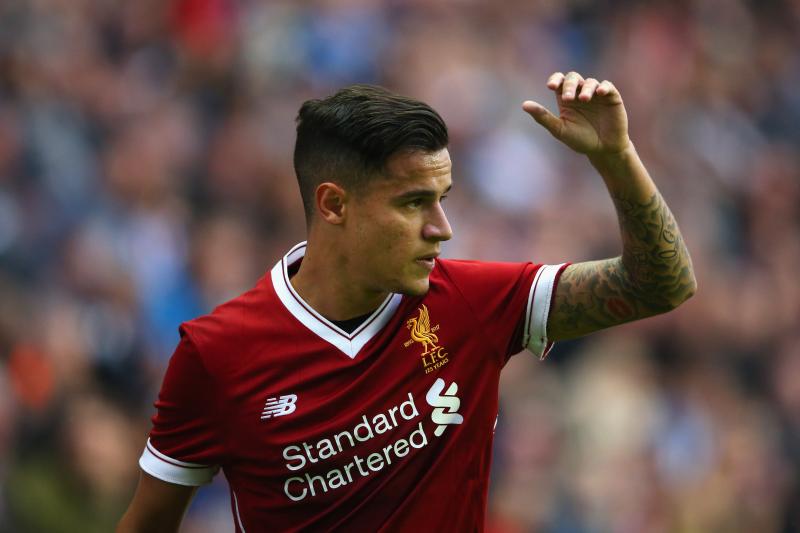 Okay, some thoughts on Philippe Coutinho, in semi-list form, based on my reading of the situation, which comes with zero insider information. I've tried to put them into some kind of order, but probably failed.
– To have bid for Coutinho (assuming that the bid was indeed tabled), it seems 99% certain that Barca got Coutinho's blessing. This is the way modern transfers work, especially if the player has friends to act as go-betweens (Luis Suarez, and Neymar, who spent this summer with Coutinho for Brazil – the pair go back a long way).
– Barcelona is the prime destination for Brazilians; original Ronaldo, Rivaldo, Ronaldinho, Neymar, just since the mid-'90s. It's the league South Americans love most. And of course, Barcelona also have Lionel Messi, who I think would be the no.1 choice for anyone to play alongside. Playing alongside Neymar and Suarez wouldn't be bad, either.
– If Neymar leaves Barcelona, it means Barca will have even more money to bid on Coutinho with, but not the lure of Phil getting to play alongside his mate. (But, money aside, why would Neymar take a step down in his career, to play in a worse league, at a worse club? That move makes little sense to me). I don't think Neymar is pivotal to the concept of Coutinho wanting to go there, but logically, it would be a factor.
– So we can assume that, while happy at LFC – which is undeniable, in its own way – Coutinho would be very open to move to Barcelona. (You can be happy with a Porsche but still upgrade to a Ferrari … or so I've been told, with my old Ford.) Barca are one of only maybe four or five bigger clubs in the world. They play in the Champions League every year, without fail. They win the league every other year. They get 100,000 at the Nou Camp. They have Messi. Messi! They're not quite at their strongest right now, and have rebuilding issues, but they're still full of world-class players.
– Do Liverpool say "one more year" to Phil? Or did that happen last year? This idea that Barca will replace Iniesta with Coutinho feels like it has been knocking around for a couple of years, so has there been dialogue in that time? Coutinho is 25 now, and may feel that this chance won't come around again if Barcelona turn to someone else. Or maybe he's happy to wait. He's got plenty of years ahead of him, but most clubs look to buy players before their value starts to dip, aged 28 or 29.
– Does Coutinho effectively go on strike, like Virgil van Dijk has? Can we handle the hypocrisy of wanting our targets to go on strike but expect our own players to be utterly honourable to their contracts? Do we want players to take a step up and be ambitious in joining Liverpool, but not allow our players to take the next step in joining Barcelona?
– Equally, I don't get the sense that Coutinho is the type to go on strike, but you never know; it won't make him a bad person. (The good news is that he played today against Leicester, and showed great quality.) I just think that part of Arsenal's problems last season was the uncertainty around their two biggest names, although they did actually improve their points tally, and Alexis Sanchez was often sensational. But the vibes at times were terrible.
– I assume Jürgen Klopp doesn't want to sell, and all indications are that FSG don't want to sell, either. But Klopp didn't want to sell Mario Gotze, yet tearfully the two parted ways. If anyone can persuade Coutinho to stay it's Klopp. But this is not any ordinary club in for the little Brazilian.
– Can Liverpool play hardball with Coutinho (threaten him with life in the "reserves"), if he were to agitate for a move, and then still expect van Dijk and Keita to push their clubs in the same way? What rights do players have? Clubs are quick to offload them when it suits their agenda.
– Forcing someone to stay against their will sends a strong message to the rest of the squad – don't try that shit with us. But it perhaps also says to players considering moves to Liverpool that "if you get a chance to go to the next level, they won't let you". As with most things, it can cut both ways.
– Selling a want-away player does not make you a selling club. Liverpool are not actively looking to sell Coutinho, and that's the big difference. But if a player wants out, then it gets complicated. It can go several ways. Manchester United could not hold onto Cristiano Ronaldo, at a time when they were winning the league and in Champions League finals. He left when they were at their peak; Madrid was a step up.
– Liverpool haven't won the title in the Premier League era while selling their best players. But they haven't won it by keeping them either. They did win the Champions League immediately after Michael Owen engineered a move away.
– People are reacting with so much emotion on this topic, but emotion isn't always good for clear thoughts. My issue is that selling your best player is not automatically a bad thing, as so many people are exclaiming. It could end up being a bad thing, of course, but history is very mixed on the results.
– Coutinho is a very important player for Liverpool, and is at a ripe age to continue improving – albeit probably now close to his peak, at 25. But it's nowhere near the level of importance Kevin Keegan had in 1977, nor Ian Rush in 1987, nor Luis Suarez in 2014. He's nowhere near as important as Steven Gerrard was in 2004 and 2005 when Chelsea made record-breaking bids, and that would have meant losing the best player to a Premier League rival. That prospect felt awful.
– Coutinho is the main man at Liverpool, although not by any great distance given the improvement of others, and the arrival of Mané. However, at Barca he would not get that status. Still, it's Barcelona, where being a team player obviously appeals.
– Naby Keita's best position is probably no.8 – goals, assists, dribbles and insane stamina. With the blistering pace (and goals) of Mané and Salah on the flanks, Coutinho seemed set to be the Reds' no.8 (and shone there today). However, could it be that Keita was being sought because it was known Coutinho was eager to leave, or could it be that Klopp wanted both? Either scenario seems logical, and that doesn't mean I know which one is true. I just find Coutinho and Keita in the same midfield a little on the small side, but maybe a taller full-back and a taller centre-back would solve a lot of the height issues that Klopp is clearly aware of. That said, having two great players in a team is rarely a bad thing. And maybe Keita has been targeted to challenge Wijnaldum or Lallana for a place.
– Coutinho is still not entirely proven in the no.8 role. But the performance at West Ham at the end of last season, and against Leicester today, suggest he could become very special there. He's starting to become more prolific. Consistency is his final hurdle in being indisputably world-class.
– Public utterances on players not being for sale mean just that – that the player is NOT FOR SALE. However, just as frequently they mean JUST BID A BIT MORE MONEY. So, they mean very little, unless you know what is actually meant, and whether or not it was just lip service and PR.
– Everything has a price. My modest house is not for sale; I like it, it suits me on many levels, and my poor health would make moving a big deal. But if someone offered me silly money for it – twice what it's worth, say – I would probably sell. (But only if I could find somewhere else that suits me as well.)
– Selling your best players is always a risk. But it doesn't mean the end of the world. Liverpool got even better after selling talisman Kevin Keegan, and Ian Rush left after 200+ goals in seven seasons, and the team got much better due to wise reinvestment. Southampton keep selling their best players to Liverpool but have qualified for Europe and reached a cup final since doing so. Lyon made an art-form of it a few years ago. Everton will probably be better this season despite selling their best player. Man United sold David Beckham and bought the little-known Cristiano Ronaldo.
– Life goes on after you sell your best players, even if you don't go about trying to offload them. You can get new best players. And while that's complicated, and not guaranteed it happens. Bar Jordan Henderson, none of Liverpool's best players were at the club five years ago. So, don't actively try to sell your best players. But if they want away, and are unsettled, will they still be your best players? Is an unhappy player as productive? We've all seen unsettled players lose their form. Does it disrupt the squad? Equally, does selling them demoralise those who remain? How can you know all the variables in advance?
– The fact that Liverpool aren't actively seeking to sell Coutinho tells me that the club is in good shape, and doing nothing wrong. It has a fairly strong hand, and will play it. But Barcelona is Barcelona. They usually get what they want, but there's more money than ever in the English game.
– It feels sickening when Liverpool's best players want to join English rivals. I hated seeing Fernando Torres join Chelsea. But when they go to Barcelona or Real Madrid, as have Suarez, Owen, McManaman, Alonso, et al, or Ian Rush with Juventus, then I generally wish them well. We don't own their entire lives and their futures. And if they're South American or Spanish, then them being in La Liga (and especially a city as warm and culturally familiar to them as Barcelona) makes sense to me. As much as we might love Liverpool as a city, most of the world would choose to live in Barcelona if given the choice.
– After Suarez, Liverpool lost Raheem Sterling, once he effectively went on strike. That felt like a big blow at the time. But life is about finding solutions, and right now I'm glad that Sterling leaving led, indirectly, to the arrival of Mané and now Salah: cheaper players who score more goals, and who want to be at the club. (Sterling may still fulfil his potential but hasn't quite as yet.) One door closes, another can be opened. Could, in time, that be Ben Woodburn?
– The timing is not great. Qualifying for the Champions League late time coincided with then selling Suarez. But the club is far healthier now. It feels like sustainable improvement, not a flash in the pan.
– There would be a backlash against FSG if they sold, but maybe not if Coutinho went on strike and forced it. But there was a backlash against FSG when they signed a great young player in Dominic Solanke. People are gonna rage, regardless. Confirmation bias means anything FSG do will have the trolls frothing at the mouth.
– If LFC resit all bids for Coutinho, then great! That's because that's what they want to do, and/or no acceptable fee was offered. If they decide to sell, then it's because of the complexities of the situation, and because they have planned to mitigate for the blow.
– In order for Liverpool to sell, then it has to be huge bid. The current English market is growing ever more inflated, so if Kyle Walker is worth £53m aged 27, what is Coutinho worth? On top of that, the money in English football possibly makes it easier for Liverpool to say "No", just as other English clubs are saying no to Liverpool and their rivals.
– To sell, there have to be replacements lined up. There can be none of the farce of 2012, when Brendan Rodgers let Andy Carroll go without a replacement, and then, even worse, Mario Balotelli became the last-minute replacement for Luis Suarez. To sell Coutinho and not reinvest would be hugely worrying. But This feels like the best period of scouting and buying players since 2004-2007. I feel that, for the first time in years, the club has joined-up thinking.
– The idea that Liverpool can only be good with Coutinho is black-and-white thinking. Believing all hope is lost if one player is sold is catastrophising.
– Liverpool have other creative players – no one quite as good, but different kinds of creative player. Keita, if procured, would be yet another, albeit a box-to-box goal scorer with an amazing ability to dribble and also chase back. Could more goals be scored by having someone like Keita win the ball?
– Liverpool clearly need van Dijk as they have no one else like him – the utter aerial domination and the immense pace, allied to footballing skills. I'd say the addition of Salah, van Dijk and Keita with the loss of Coutinho would be, in theory, a sizeable net gain. Losing Lucas and gaining Robertson and Solanke is a net gain. And the development of Woodburn and Alexander-Arnold is a net gain, as should be the progress of Grujic. Woodburn already seems to have uncanny vision for a 17-yr-old. Having all these players, plus Coutinho, would be wonderful.
– Players almost always seem to improve under Klopp. Perhaps the reason his main additions last summer did so well (Karius aside) was because he's just so good at putting players at ease, and having a tactical plan for them. So, Coutinho should continue to improve under him. But new signings might adapt more quickly than the average. Equally, the chemistry and understanding Coutinho has with his teammates, especially Roberto Firmino.
– Appreciate what you have. Love it, cherish it. (Phil – you're great!) But understand that nothing is permanent and things change. You need to adapt in life.
– I hope Coutinho stays. I genuinely do. He's getting close to world-class. The ideal situation would be to keep him and add van Dijk and Keita. That's a perfect summer with Salah already at the club. But what if Coutinho's ideal situation is the same as Barcelona's, and that's that he wants to be there? I wouldn't begrudge him the move, nor blame Klopp or FSG if they allowed it – but only if it were for a huge fee, and only if quality was already lined up in advance.
NEW TTT BOOK: A Banquet Without Wine: A Quarter-Century of Liverpool FC in the Premier League Era.