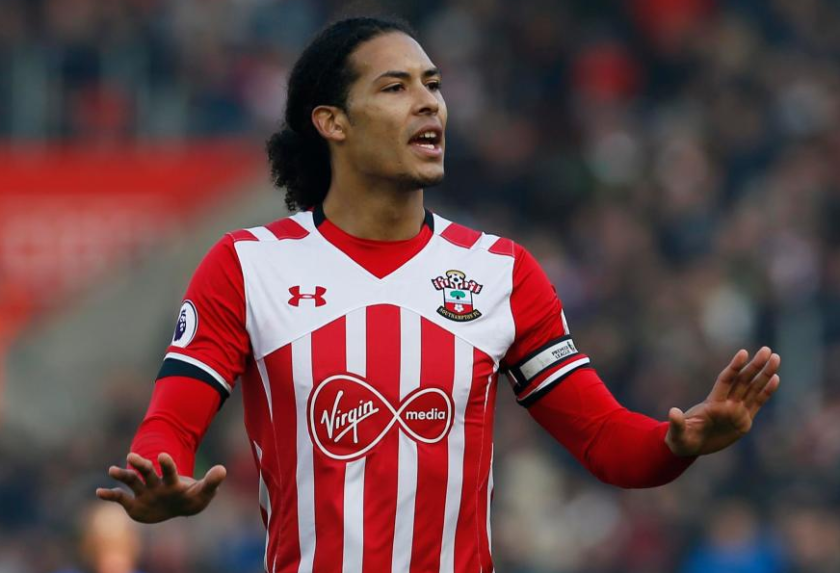 By Chris Rowland and Daniel Rhodes.
Here is our weekly round-up of five extracts from articles or comments that have appeared on the site during the past week.
This is just to provide a flavour of the debates our subscribers get involved in during the week. If you fancy a bit yourself, there's a Subscribe tab at the top. 
There are many puzzling questions that confuse even the greatest minds: the meaning of life, the universe and everything; trees falling silently in the woods; and using data to evaluate centre-backs. While you all ponder the first two questions, I'll focus on the latter…
This article started off looking at a whole range of different centre-backs from around Europe, but the sheer amount of clips required to form any kind of fair judgement on individual defenders meant I narrowed the scope to two players: the Reds' 'number one defensive target' Virgil van Dijk and a player who Jeff (the TTT doyen of naming players to watch out for) regards as "just about the best centre-back in Europe"…
Conclusion:
We've all followed the soap opera, so what happens is anybody's guess, but I've no doubt whatsoever that van Dijk improves our defence. The same would be true of Martinez, and maybe he could be the next signing if we ever need another centre-back. Having never played in the Premier League though, knowing how he'd adapt the demands of the English game, which sounds like a cliche from the mouth of a 'proper football man', is still an unknown. With van Dijk, we can see how strong the physical side of game is – against pace or power.
There's been so much made of the potential fee (upwards of £60m) that justifying it is fairly tiresome at this stage. This level of outlay will never be okay with some fans, and that's understandable. However, with all the work Paul has done on TPI showing that Man Utd bought Rio Ferdinand for a fee in excess of £85m when adjusted for inflation, then if we get six or seven successful seasons with van Dijk as a first choice, then £70m seems like a bargain to me.
2 – Jeff on goalkeepers after rumours linking Liverpool with Sevilla's Sergio Rico:
In today's world of transfer fees 10.5m for Sergio Rico is not a lot of money and needs to be viewed from the perspective of how much money do you pay for potential. This lad has already shown that he has the potential to be an outstanding maybe better goal keeper. If you have seen him play for Sevilla, you will know that at worst he will be somewhere between a competent goal keeper and someone who will be a very good good keeper if he simply stays at the same level of development and as I have said he does have the potential to be an outstanding goal keeper.
To me if you can pay 10.5 million for a goal keeper who has the potential to be an outstanding goal keeper, you write the check and say thank you very much. Now, there are people in Germany who believe that Karius will be an outstanding goal keeper and based on what he showed at Mainz there is reason to believe they are correct. Now, with two goal keepers who have experience in quality leagues who have the potential to be outstanding goal keepers and a lad in reserves who shows potential, Liverpool are in my opinion simply recognising that it makes sense to stock pile as much potential as you can because not every player who shows potential fulfils their potential and with Rico and Karius and the lads in the reserves, the numbers favour Liverpool in actually having an outstanding goal keeper.
Unfortunately, I do not believe there is any chance of Sevilla selling Rico for 10.5 million. Why? Well, if you have seen him play this past season and you have seen Jordan Pickford play this past season, Rico is the better keeper hands down. Enough said.
3 – Beez, on chance creation combos:
There is an excellent interactive version of this chart here. If you hover over a player's name it refines the visualisation to show you who that player created chances for. Once you've finished reading this article, go and have a play with it!
As always with chance combination data, I like to list a few things which caught my eye whilst researching the information, so in no particular order:
The top combination was Firmino and Coutinho, as they linked up for a total of 31 chances. Perhaps surprisingly, Firmino and Wijnaldum, with 24, was the next most creative partnership.
Coutinho, with 16, created chances for more different players than anyone else. The record from the last four years is held by James Milner, with 18, in 2015/16.
Gini Wijnaldum logged the most assists, but also the most chances that were subsequently put on target: 24.
Milner to Coutinho, with 11 chances created, was the only combination with at least ten chances that didn't feature Firmino.
Sturridge had one more shot on target than Wijnaldum and Lallana, but both of them scored at least twice as many goals as he did.
The top seven creative players all created at least one chance for each other.
Of the top nine creative players, the highest proportional relationship was from Henderson to Firmino. 28.1% of the total chances the captain created were for the Brazilian forward.
Coutinho only created one more chance for Sturridge (five) than went in the opposite direction.
4 – Padbet continues the centre-back debate, and the suitability of Virgil van Dijk:
I think most would agree that VVD is as close to a perfect fit as possible. Tall, strong, quick, can play. For me the price tag is a huge worry. I know it's not my money, I know that if we've got it to spend and if Klopp want him then that should be that. But still. But still, it's not hard to envisage the cameras on him from his first game. Waiting for that first mistake. Analysing the first goal we concede and specifically looking at what he could have done to avoid it. Nowadays, you make lists. You have your first choice and then some others. We've become well used to not getting our first choice players in frankly.
As for height, I can understand Jeff's view. You don't need to be tall to be good in the air or good at defending aerial balls. They may have operated at the other end of the pitch but Tim Cahill and John Barnes were both excellent in the air for small guys. Secondly, the stats can sometimes be misleading. Martinez may not have won too high a percentage of aerial duels but in how many did he put sufficient pressure on the attacker that he misjudged his header and the ball was won back. Similarly, stats may show a player has won a header but doesn't indicate if he's cleared it into the Kemlyn or dollied it up to an attacker on the edge of the area. You look at the likes of Baresi, Cannavaro and Mascherano then they compensated for their lack of height. If you can read the game, get in the right position, know how to challenge effectively then I don't think it's as much of an issue.
I do agree though that the general lack of height in the team could be seen as a hindrance next year. Hopefully Keita comes. He's short but he has the potential to be truly world class. I think Wijnaldum could find himself the odd man out next season frequently. I think Can could become a very important part of the first team. We had a televised game in the spring I remember. Lovren was having a real tough time against high balls and we made a specific change to drop Can between the centre backs whenever their keeper had it or they had it deep. He simply put himself in front of the target man and killed the threat stone dead. I seem to remember Neville moaning about it (Utd were in with a chance of catching us round then and he was in full agenda mode, criticising us whenever possible and trying to frame the news) and thinking how poorer an analyst he'd become. As an alternative, how about he follows Milner and makes his way to full back? He's obviously played at the back, has a great engine, can pass and tackle. He would certainly add some height and muscularity to the back.
5 – Anthony, on the bond between Defoe and Bradley Lowrey:
Can I just say respect to Jermaine Defoe. Huge respect. Everyone going into meltdown all summer over transfers of players unheard of two months ago. That poor little boy and his devastated family. Defoe and Bradley touched something inside each other, and though so sad, it's also heartening to see.
Articles Published on the site this week:
Monday July 3rd:
Centre-Back Scout-Off: Virgil van Dijk Vs Iñigo Martinez, by Daniel Rhodes.
Wednesday July 5th:
Making Chances, Making Goals – the Assists and Chance Combinations from Liverpool's Last Four Seasons, by Andrew Beasley.